Most interior designers hate ceiling fans and I get it – there aren't many rooms that don't look more beautifully decorated when the ceiling fan is replaced with an attractive overhead light fixture.  However, if you live in a house such as mine where some rooms never cool down as much as others in the summer, ceiling fans are a necessary evil. We have ceiling fans in each bedroom of our home and now my husband is lobbying to add a fan to our home office, which I'm in the process of remodeling from its former life as a dining room. I'm not loving the idea of adding yet another ceiling fan to our home but since our home office is as close as my husband gets to having a man cave, I'm trying to stay open minded and have done a lot of looking to see if I can find a fan that I could live with. Before getting to my favorite fans, let's talk about the golden rule of ceiling fans – a simple design is best:  
You can even get your fan to blend into its surroundings and almost disappear by having one with clear blades or
blades that are the same color as the ceiling:
Another important tip is to be sure and keep the height of your ceiling in mind when selecting a fan – once hung, the fan blades should be a minimum of 7′ from the floor.   In searching for a fan for our home office, I've found that there are a lot of very attractive ultra contemporary fans and a lot of ugly, ornate traditional fans but very few good-looking, transitional fans. After MUCH looking, here are my ten favorites (note – some of the links below are affiliate links):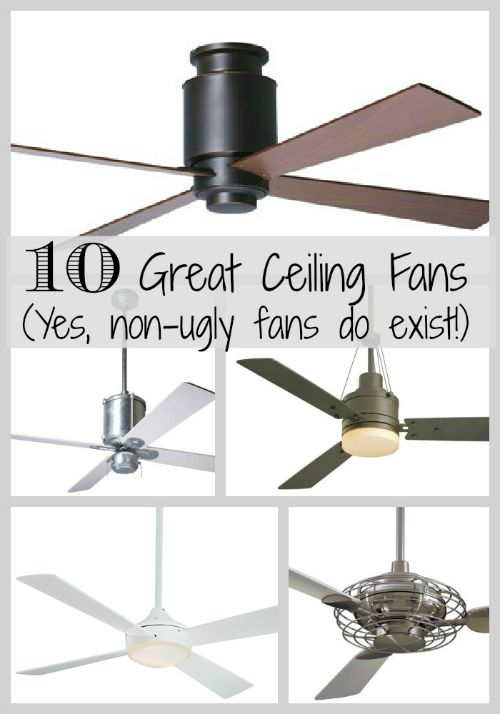 The 

52″ Industry Ceiling Fan

 made by Modern Fan Co. has a galvanized finish and five choices in blade colors (I prefer the nickel). I love this fan's old school, industrial feel!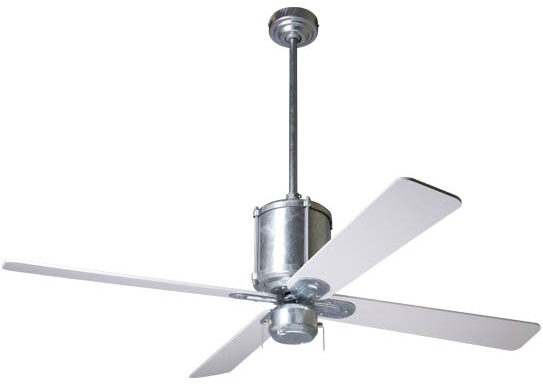 The 

Industrial 56″ Three-Blade Indoor Ceiling Fan

 from Westinghouse is the most contemporary of the fans on my list.  I love its sleek, simple design and nickel finish and I really, really love its price (under $50 at this time!). The fan's description notes that it is truly designed for industrial spaces and that industrial fans are not recommended for household use but there are tons of rave reviews from customers who bought this fan for their homes – I recommend that you read the full description and reviews before deciding if this is the fan for you.  Due to how low down from the ceiling the blades on this fan are located (about 17″), it wouldn't be a good choice for a room

 with 8′ ceilings.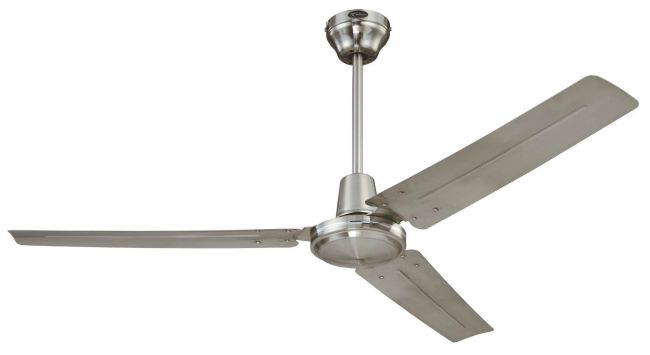 The 

52″ Lapa Fan

 from The P

eriod Arts Fan Company has a simple, classic design that really appeals to me. It comes in a 

rubbed bronze finish with either black or mahogany blades. It is also available in a 42″ version.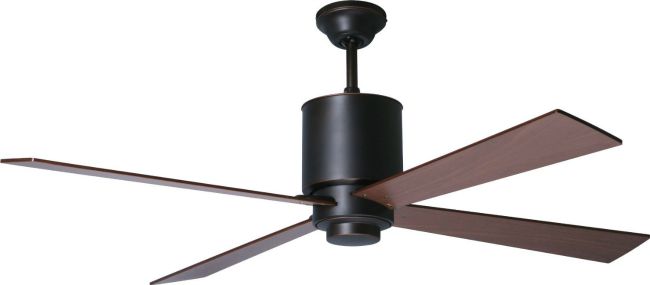 If you have 8′ ceilings, you can skip the down rod and instead go with the Lapa Hugger Ceiling Fan (this is currently the top contender for our office fan!):
I'm a firm believer that all ceiling fans look better without attached lights so choose one without lights if you have can lights or other sources of lighting. That being said, I really like having lights on the ceiling fans in my girls' rooms and will settle for something less attractive to have the convenience of attached lights. If you are in need of a ceiling fan with lights, the Industry Ceiling Fan and Lapa Ceiling Fan above come with light options.  My other favorite options are: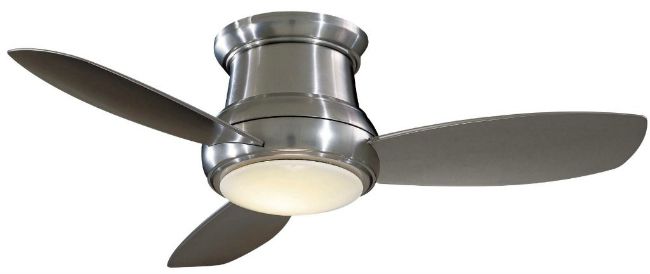 The 

Schoolhouse Fan

 from the Period Arts Fan Company has a classic schoolhouse light and traditional fan blade design. The light fixture on this fan is my favorite of the bunch.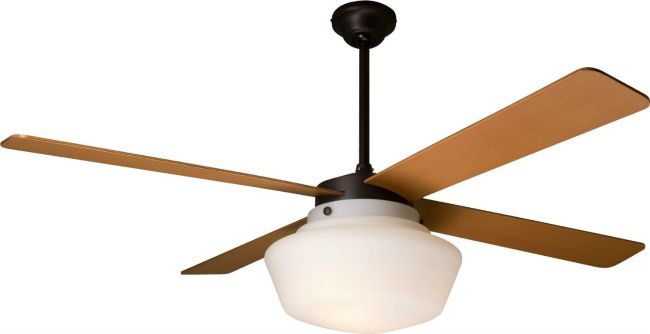 The 52″ Acero fan is another fan that has some traditional elements, but a clean design that gives it a more contemporary feel. It is available in

polished nickel

 (below),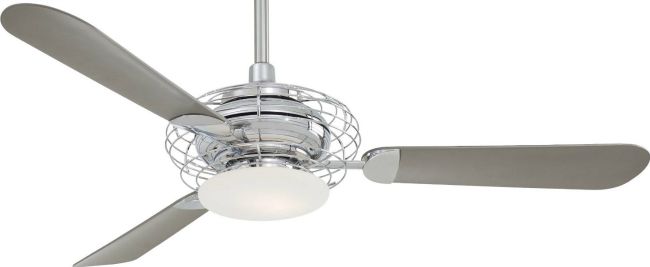 oil rubbed bronze/mahogany (below),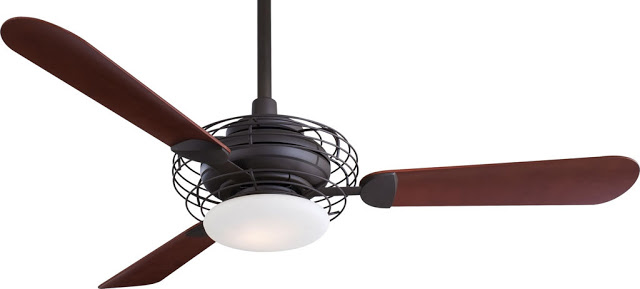 and brushed steel/mahogany. The fan comes with a cap that can be used if you don't need the light: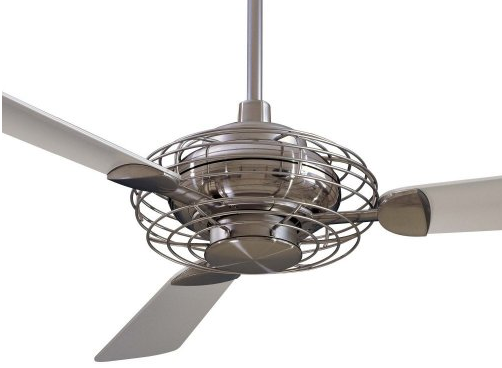 The 52″ Mika-Aire Aluma fan has a simple, modern design that would work well with almost any style of décor. If you'd like a fan that blends in with your ceiling, choose the 

flat white

 color or if you'd like to add an industrial vibe, it is also available in 

aluminum

.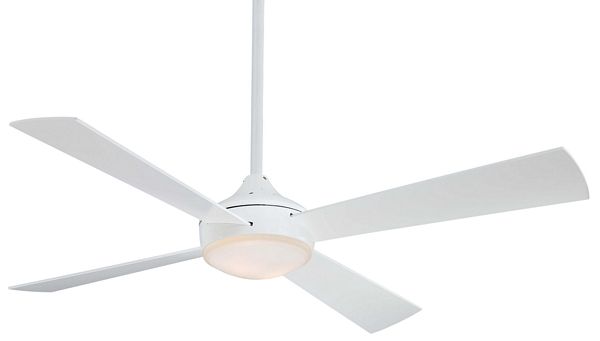 The 52″ Mika-Aire Strata Ceiling Fan is similar in design to the Industry Ceiling Fan and Lapa fan but I like the light on this fan better than the optional light for those two fans.  It is available in

galvanized metal

 (below)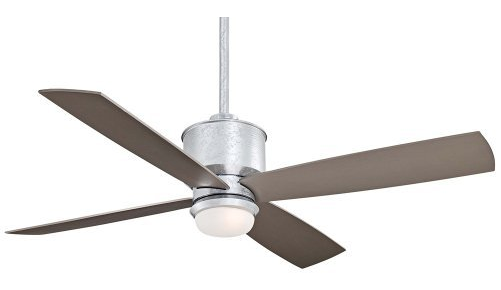 or smoked iron (below):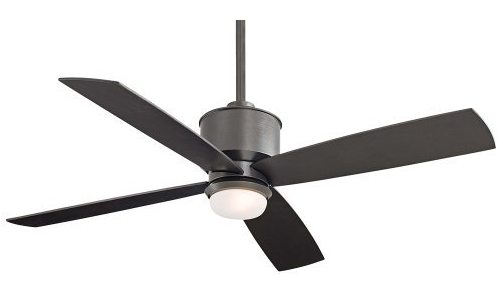 The 

Highpointe Ceiling Fan

 from Emerson has a busier design than most of the others but I like that it has some unique character. It is available in a brushed steel finish with dark mahogany blades or a golden espresso finish with chocolate blades (shown below).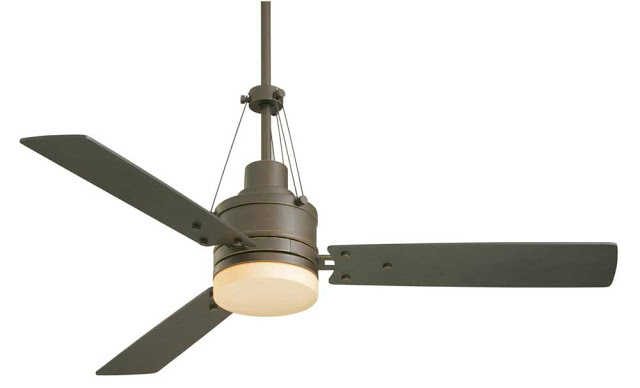 I'll leave you with one final, inexpensive option for those of you who already have a fan but hate the ugly light kit (I've got three of them myself!). Paint the fan blades if they are an ugly color and then change out your dated light kit for a 

drum shade fan light kit

 from Shades of Light to update and transform the look of your fan: