Happy Memorial Day weekend! I hope you all have a good mix of backyard barbecues, parades, and patriotic events lined up and that those of you who are hitting the highway have safe drives. Along with the typical Memorial Day weekend fare, I'm hoping to finally get our little garden going, spruce up our outdoor space, and put together my latest IKEA find. Have you guys been to IKEA lately? I was loving what I saw on my recent visit, including a new VIKTIGT line with beautiful glassware along with furniture, baskets, rugs, and other accessories in natural materials. A few of my favorites are these woven VIKTIGT storage baskets:
and this natural fiber chair:
They also have a new ANVANDBAR collection that's pretty cool – I love, love, love this ANVANDBAR hanging tray and carried it all the way to checkout before deciding it was silly to buy because I really have no good place for it (and I'm the world's best plant killer…yep, there's that too):
What did come home with me was this KLASEN outdoor serving cart that's going to do double duty as a drink station for backyard gatherings and a grill cart: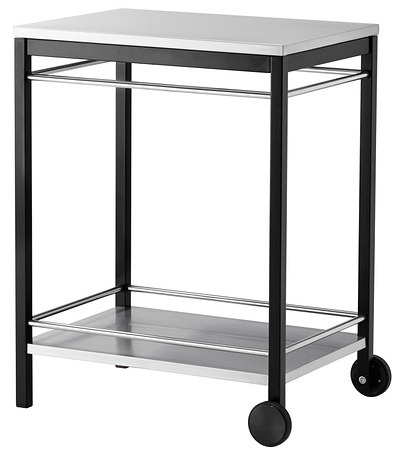 I've also got a few new outdoor pillows on their way to spruce up my tired old patio set. I struck out in my outdoor pillow search at all of my typical shopping haunts but found some awesome ones on Etsy including these six favorites (numbered links to each pillow are below image):
And one last quick thing to share with you all – several of you emailed and commented asking about how to do the triple fold napkins that were part of my progressive dinner table setting. They're simple to do but tough to explain in words alone so I took a few pics to put together and show you how:

I'm off to enjoy my weekend – hope you all do the same! I'll see you back here next week with some pics of my (hopefully) spruced up outdoor space!