Living outside of NYC, there's one thing that we're never short on….house guests! From friends who stop over for a night while on business trips to NYC to families who come on vacation to spend a week with us and tour around the city, we've had more house guests in the two years we've lived in Connecticut than in the 15+ years before moving. We have a guest room with a queen bed but having another bed would be a definite plus so I'm thinking about getting a daybed that doubles as a hangout spot and a second guest bed. Something like this beauty from the home of Kristin of The Hunted Interior:
or this darling daybed that Ashley and Jamin of The Handmade Home used in their daughter's room:
We actually have the perfect spot for one – this cute second floor landing area (that is currently a complete snoozefest):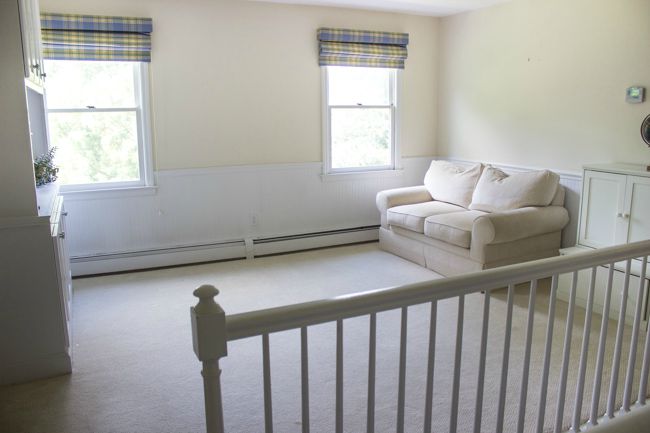 We haven't touched this spot since moving in (it's in big time need of a paint job and new window treatments at minimum) so it's about time that we prettied it up and made it more functional. Right now there's only one member of our household who hangs out here regularly. Here's a hint – she's furry and has mad ruin-the-back-cushions-of-our-sofas skills….
Hope loves this spot since it gives her a birdseye view of anyone coming and going from our house so we might just have to get creative and make her a little window perch if her favorite loveseat gets swapped out for a daybed.
Choosing a daybed won't be easy – there are some great ones out there right now. My current favorite is this Boho Daybed by CB2 – don't you love it?!
Other options are Land of Nod's Jenny Lind Daybed:
and Pottery Barn Teen's Elsie Daybed & Trundle (which would actually give us two extra beds):
Do you guys have a favorite? Have you seen any other pretty daybeds that you think I should check out? I'll keep you posted on what I end up choosing along with the rest of the domino-effect fallout that's sure to come once I change out "just this one thing" 🙂