This post was sponsored by one of my favorite companies, Walker Zanger. All opinions and love for Walker Zanger's tile are 100% my own. 
Earlier this week, I headed off to Las Vegas to attend KBIS (Kitchen & Bath Industry Show) – we're talking thousands of square feet of beautiful new kitchen and bath products that were eye candy for my design-loving soul! I attended as a guest of Walker Zanger (a company I'm 100%, completely and totally obsessed with – they're the geniuses that made my fireplace tile!) and logged some serious miles walking the floor of KBIS for two days, taking it all in and doing some trend spotting. There was so much good stuff that I couldn't wait to dish with you guys about it, sharing my favorite new kitchen and bath products from the show along with the newest trend-making tile collections from Walker Zanger. Ready to check out seven of my favorite kitchen and bath trends?

Mixing Classic Elements with Fresh, Modern Ones
Classic design elements in kitchens and baths aren't being thrown out the window, they're being reinvented in new ways and mixed with modern elements. This kitchen by La Cornue at KBIS is a great example – it includes classic design elements like marble countertops and subway tile that are made fresh with the addition of more contemporary sink and swing-arm light fixtures along with a pot rack with hooks in a decidedly modern design: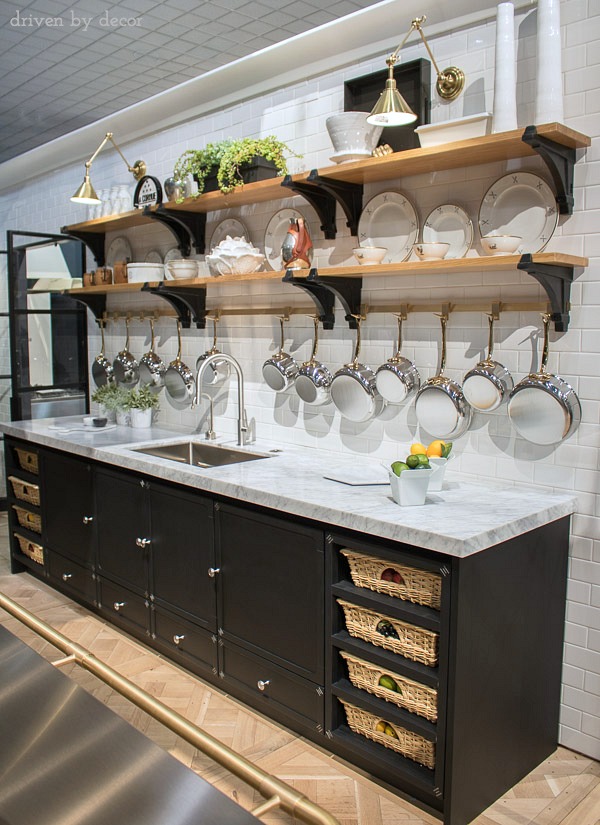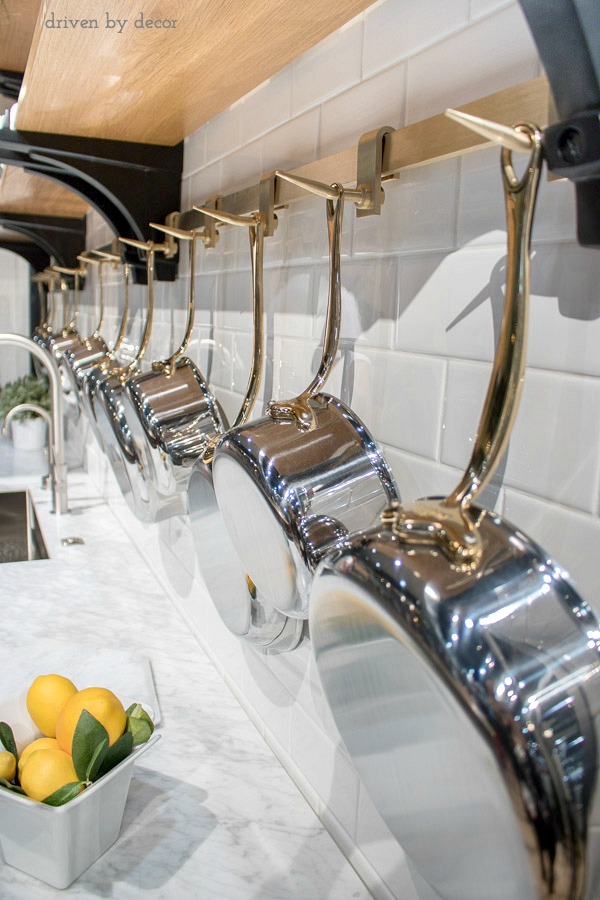 The same trend is seen in Walker Zanger's Lucca tile collection where classic marble is reinvented in fresh, more modern designs – gorgeous!
Hidden, Integrated Appliances
The integration of kitchens with living and family rooms continues with designs that make kitchens feel less utilitarian and more of a space to gather with family and friends. Integrated appliances have been around for a while now, but the newest lines on tap for 2016 are seamlessly hidden. Would you ever guess that there's hidden refrigeration in this gorgeous bar by Perlick?
Custom Kitchen and Bath Options
Things that you never had the option to customize before are becoming customizable. This kitchen island is the perfect example – you can raise and lower the height of it with the touch of a button so that it's the perfect height for the tallest member of your family all the way down to your kids.
There are new, innovative ways to customize your tile too. Walker Zanger's new "Edgy" tile from their Kaza Concrete collection includes the option to customize the mix of colors, flat vs. dimensional tiles, and even the direction that the dimensional tiles are rotated:
It strikes an impeccable balance of artistry and technology that won it a Best of KBIS gold award at the show!
Beautiful new additions to Walker Zanger's Studio Moderne tile line also provide endless options for mixing and matching to create a design that is uniquely yours:
Mixing Metals
For the past few years we've seen a trend in mixing metals such as a brass faucet mixed with a stainless steel sink or brushed gold light fixtures in a kitchen with satin nickel cabinet pulls. For 2016, the trend in mixing metals continues in a new way – appliances, light fixtures, and kitchen and bath hardware that mix different metals within that one product. One of my favorite examples is this new La Cornue range designed by Suzanne Kasler – I love the beautiful mix of silver and gold accents:
Texture (Lots of It!)
Home products are becoming more tactile with textures that make you want to reach out and touch them! One of my textural favorites from the show was the newest line of Stikwood (peel and stick reclaimed wood planking) that not only has a gorgeous wood texture, but also printed patterns that give it even more dimension:
Walker Zanger is also on top of the trend towards texture with their new Knit collection of tile that not only has textural options like Twill, Corduroy, and Quilt but also gives the option of an angled design for a shingled look that adds even more of a textural element:
Integrated Bathroom Lighting
A major new trend for bathrooms in 2016 is the integration of lighting into bathroom mirrors. Instead of needing to leave room on each side of your mirror for sconces, you can have a mirror that's the full length of your vanity with integrated lighting around the entire perimeter of the mirror:
or at just the sides or the top:
Black & White in the Bath
While kitchens boasted lots of unique, new color options in appliances, cabinetry, and countertops, black and white reigned as the trend for bathroom design in 2016:
Walker Zanger's Ripple tile from their new Sketchbook collection is on-point with this trend and also has the additional element of interest of unique hand-painted strokes that bring each individual tile to life:
Which of these design trends is your favorite?