This is a sponsored conversation written by me on behalf of Delta Brand. All opinions and text are my own.
A couple of weeks ago I had the opportunity to take a quick trip to Chicago for a Day of Inspired Design with Delta® Faucet – a trip that's all about soaking up design inspiration while touring around a beautiful city is pretty exciting stuff for a design-lover like me! And even though I thought the trip might possibly be cursed from the get-go (right before I left one of my daughters got sick and our clothes dryer, vacuum, and one of our toilets all broke), it ended up being an amazing experience. I'd love to show you all a little bit about my inspiring day and also give you a sneak peek of my upcoming room remodel inspired by the trip! Many thanks to Delta for inviting me along – I couldn't get packing fast enough!
Design inspiration can come from anywhere if you just open your eyes and take a look around but the honest truth is that sometimes life gets so busy that I've got my blinders on. A day in a new city focused on having the time to look all around and soak everything in was just what I needed to recharge my creativity and get new design ideas.
Our day started on the rooftop terrace of the gorgeous LondonHouse hotel where our tour guide for the day filled us in on some Chicago history and the beautiful architectural details all around us. The view from the hotel terrace was amazing! The weather wasn't totally cooperating at the beginning of the day (it was perfect bad-hair-day drizzly weather at first) but I took a second quick trip up to the terrace a little later in the day after the sun came out so I could snap a pic and share the pretty view with you:
Soon it was time for us to venture out! We had the cutest mode of transportation to tour the town in – say hello to Polly the Trolley and the rest of the gang on the trip with me:
Do you see any familiar faces (mine is hidden in the back row on the left)? The other bloggers on the trip were Lauren of Bless'er House, Dabito of Old Brand New, Chelsea of Making Home Base, Reichel of Copy Cat Chic, Julie of Julie Blanner, Sarah of The Ugly Duckling House, Kim & Scott of Yellow Brick Home, Jocelyn of Grandbaby Cakes, and Kirsten of Simply Grove. Also along were our hosts John and Sherry of Young House Love (so sweet and fun!) and Jennifer and Kate of She She who are up and coming artists and do amazingly creative art installations.
Our first stop was the newly remodeled Brizo and Delta Chicago showroom in the Merchandise Mart. Wow, so much eye candy!
First we all grabbed a bite and sat down to learn a little more about Delta and its faucets. I always love seeing behind the curtain of a brand and getting to know what they're all about and Delta truly impressed me. I already knew that their faucets are beautiful but what I didn't know is that they are just as passionate about creating lasting designs and smart innovations that make our lives easier as they are about making beautiful products. They put a tremendous amount of energy into studying how we move through and use our kitchens and bathrooms every day and then base new innovations on those insights. It's that human insight that led to the creation of their Touch2O® Technology that turns on kitchen faucets with a simple arm tap when your hands are dirty and also their toilet seat with a built-in night light (where was this when I had little kids? Genius!). A quote of theirs from the day that stuck with me is, "There can be magic in simple solutions" – love that!
After hearing from Delta, John and Sherry talked about the inspiration behind several of their beautiful home designs and then Jennifer and Kate shared the inspiration behind some of their artistic endeavors – both were great talks from people passionate about what they do!  Next it was time to play with the faucets! Looking around the showroom made me want to rip out every single faucet in my house – it was one gorgeous faucet after another. But the one that I really fell hard for is this Cassidy™ bathroom faucet – the clean-lined, elegant style has the "traditional but with an edge" vibe that I was looking for, especially with those gorgeous cross handles:
I think the traditional Chrome finish would work best in my house but I was so tempted by their Champagne Bronze finish – it's a stunner! Once I was done drooling over the finishes and petting the faucets, we moved on to our next stop… the Chicago Cultural Center:
It wasn't just the outside of the building that was stunning… the interior architecture was unbelievable! This magnificent dome made of Tiffany glass cut in the shape of fish scales was so inspiring. It's amazing what a stunning display can be created out of the simplicity of repeating just one simple shape:
These massive arched windows were another favorite feature – I love how all of the different geometric shapes fit together:
I could have stayed at this one stop for hours but it was time to move on! We hopped back on the trolley and rode over to Museum Campus:
It's a beautiful 50+ acre park that sits alongside Lake Michigan with a view of the water and the Chicago skyline that was fantastic:
Do you want to see what happens when you drop off a dozen photography-happy bloggers at such a pretty site?
Cameras and iPhones galore! I was part of the photography-happy crowd too, even though you can pretty much only see my shoes (I'm close to the tree).
From there we headed to the Centennial Fountain which has a beautiful tiered waterfall along with a huge water arc that shoots water across the river on the hour:
It was beautiful even on a cloudy day – I can only imagine how gorgeous it is all lit up at night! From there it was on to our next stop… lunch! The restaurant ("Ēma") turned out to be every bit as inspiring as our other stops – I was dying over this ivy-covered ceiling and the basket lighting:
Both added so much life and warmth to the space! And how about this beautiful centerpiece – apparently I need to start working some veggies into my flower arrangements because I LOVE how the pepper and flowers play off of each other:
After refueling with lunch (I would highly recommend Ēma by the way – everything we ate was delicious!), we headed back to the hotel for an Inspiration Collage Challenge where Delta challenged us to design a kitchen or bathroom refresh incorporating inspiration from our Chicago tour. The women from She She presented several different design prints that they had created (they're so talented!) and after choosing one that spoke to each of us, we grabbed a few art supplies along with wifi enabled mini printers to print out pics from our phones and go to work (this is Dabito working his magic!):
As part of my design board, I chose She She's black and white koi fish design which they created to represent the movement that occurs when something is immersed in water – so gorgeous and definitely something I'd love to have in my home! After incorporating several Chicago pics that inspired me, some paint chips, and some fabric and wallpaper swatches to tie it all together, this is the black and white goodness that I came up with:
From the modern elegance of the Cassidy faucet at the Delta showroom and the dramatic effect of the repetitive fish scale pattern at the Chicago Cultural Center to the warmth of the basket lighting at Ēma and the intersecting graphic lines of the ironwork along the river of the Centennial Fountain, this is a design that I can't wait to create! And while I didn't win the design challenge (congrats to Dabito and Kim & Scott who did!), I'm still going to get to see my design vision come to life! And it's in a space that needs it sooo badly – our guest bathroom. Have you ever seen a bathroom more boring than this?!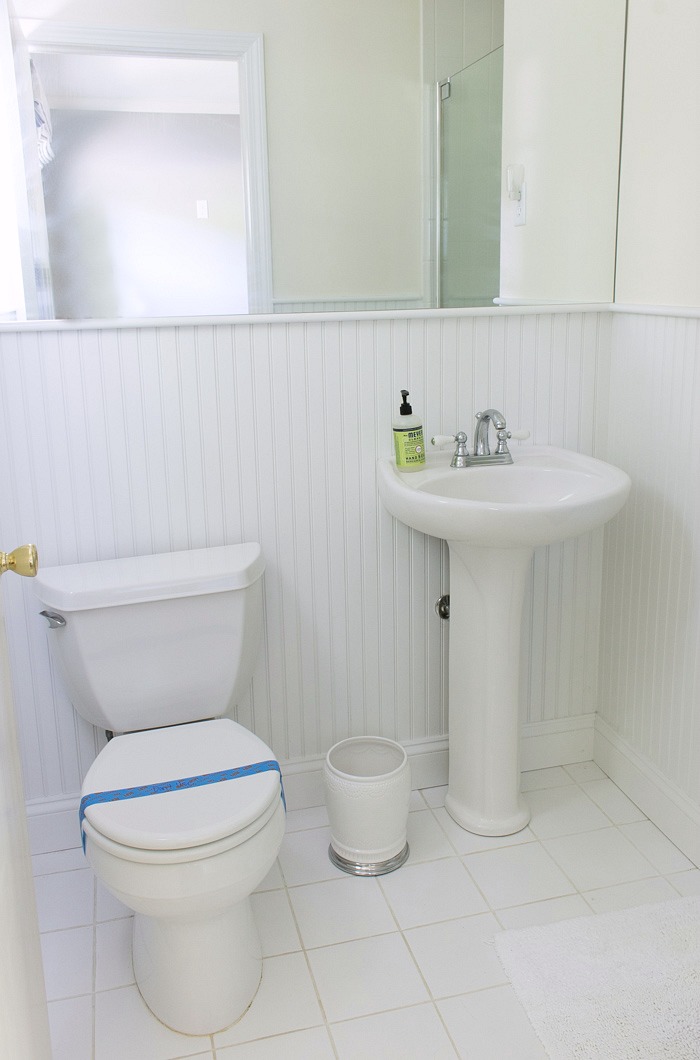 Yep, didn't think so! So we've got a white toilet, white floor, white pedestal sink, white beadboard, white rug, and white trashcan along with a toilet that recently broke, stained floor grout, a pedestal sink with no spot for guests to put their toiletries, and an old, ugly faucet with a rusted drain. So much work to do in such a small space! Over the next several weeks I'll be figuring out all of the last little details and bringing my design board to life with the help of Delta – can't wait!
Thanks so much for stopping by and taking the time to read about my Chicago trip. I think it'll be fun seeing this misfit bathroom be totally transformed – I've got a few ideas up my sleeve that I'm pretty excited about and will be sharing soon! Until then, the folks at Delta put together a fun video of the trip so you can see a little more about our day – enjoy!
XOXO,