The holiday season is one of my favorite times of year but as you know, it can be one of the most expensive times of year. Between buying gifts, a new outfit or two for holiday parties, and holiday decorations for my home, in years past I've had a few make-me-want-to-cry January credit card bills! But the last several years I've cut down on our holiday spending quite a bit and today I'm partnering with Walmart.com to share some of the changes I made to help keep the dreaded budget in check:
Establish Holiday Decorating Traditions
Here's the beauty of the holidays – when you decorate with the same old stuff for other seasons, some might consider it boring but when you decorate with the same holiday decorations from year to year, it's called a tradition! We have lots of holiday decorating traditions in our house such as our Christmas advent tree (more on that in a minute) and  decorating our dining room with the same star anise wreaths on the back of the chairs five years and running: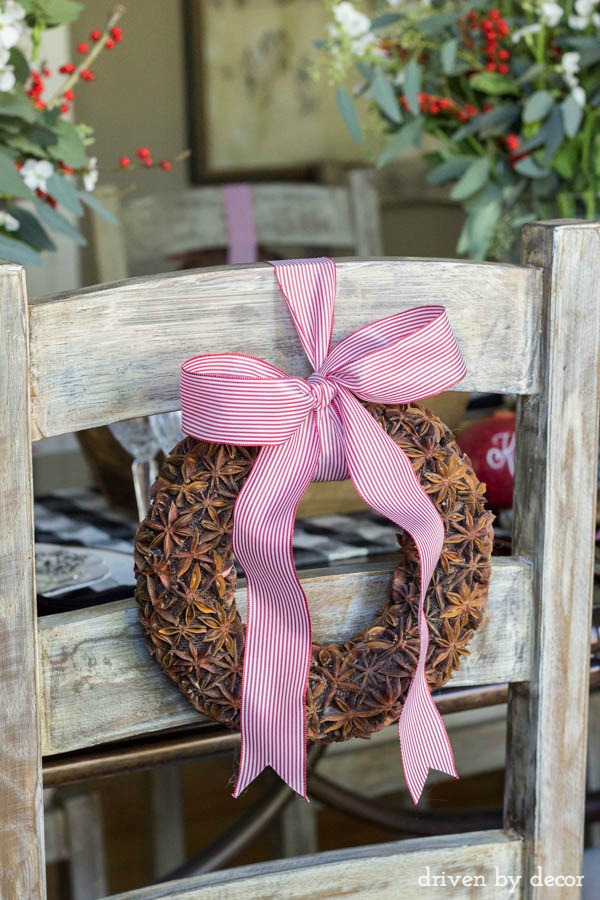 The more decorating traditions you establish, the less money you'll need to spend on new decorations each year!
Snag Greenery from Your Backyard
The cost of greenery to decorate your home for the holidays can add up pretty quickly so use whatever you can from your own yard. I make my own front door decoration every year using branches from an evergreen tree in our front yard – it takes me less time than it would to shop for a wreath and of course it's free!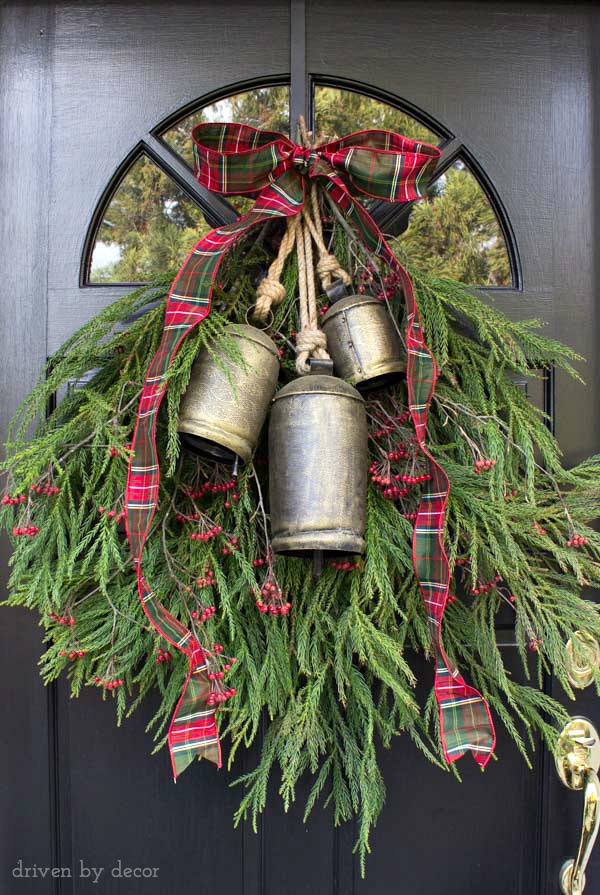 Even something as basic as clipped branches from boxwood bushes can look beautiful when arranged in a vase with some red berry branches.
Pin the Home Decorations You're Eyeing
If you're a Pinterest user, be sure to Pin any holiday decorations that you're eyeing. Pinterest often notifies pinners of price reductions on things they've pinned which might save you some holiday bucks! Just make sure that you pin directly from the store where it's for sale and that in your Pinterest settings, under Notifications you have "Price changes on your pins" turned on to "Yes". I recently started a Pinterest board called "My Favorite Things" where I pin all of my wish list items!
Decorate with Presents
When you've got spaces in your home that feel like they need a little holiday touch, wrap a few of your presents ahead of time and add them as holiday decor. It's a double bonus of getting your wrapping done early plus having your space decorated without spending any extra money!

Know When to Go High and When to Go Low
Just like buying furniture and accessories for a room, some holiday decorations are worth spending extra money on while you can go for budget buys with others. It's typically worth it to spend more money on items that you foresee using over the holidays for years to years to come (like an artificial Christmas tree) while those one and done items like wrapping paper can be bought on the cheap! Walmart is one of the stores that I hit throughout the holidays for budget buys – my every-year buys there include pajamas for my girls (they have the best fuzzy pajama bottoms around!), wrapping paper (both the polka dot box and wrapping paper on the bottom present in the above pic are Walmart finds from this year) and ribbon, ornaments to use on the tree and as gift toppers, and treats for the mini buckets for our annual advent tree: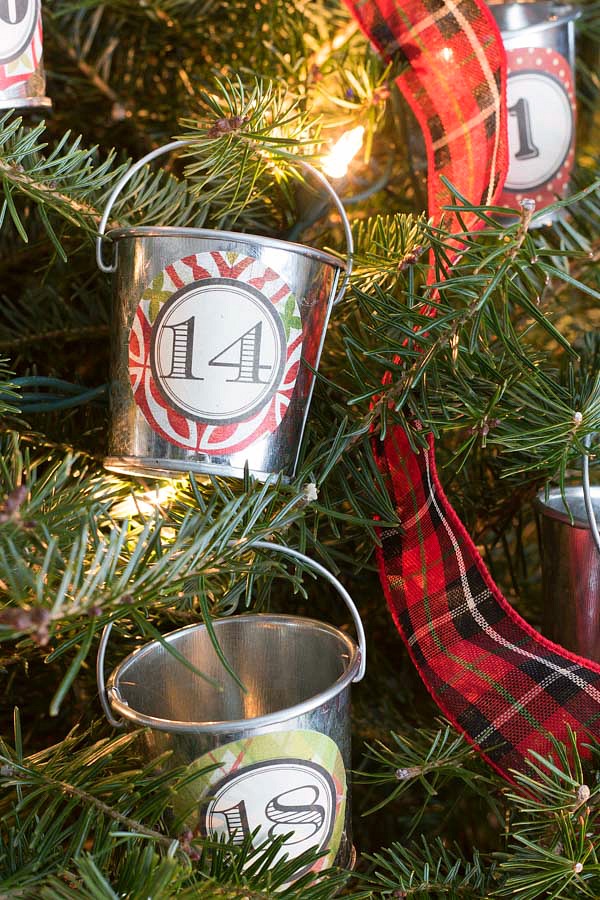 The mini galvanized buckets themselves actually came from Walmart too (I added the numbers to them!). I was late in setting up our advent tree last year but this year I got it up and ready to go (other than a few more buckets that need filling) with a few days to spare!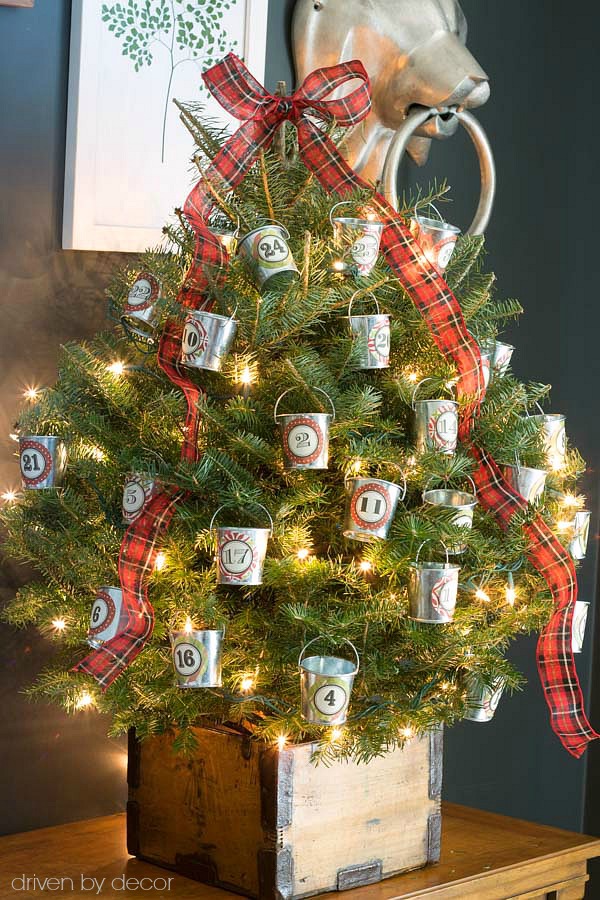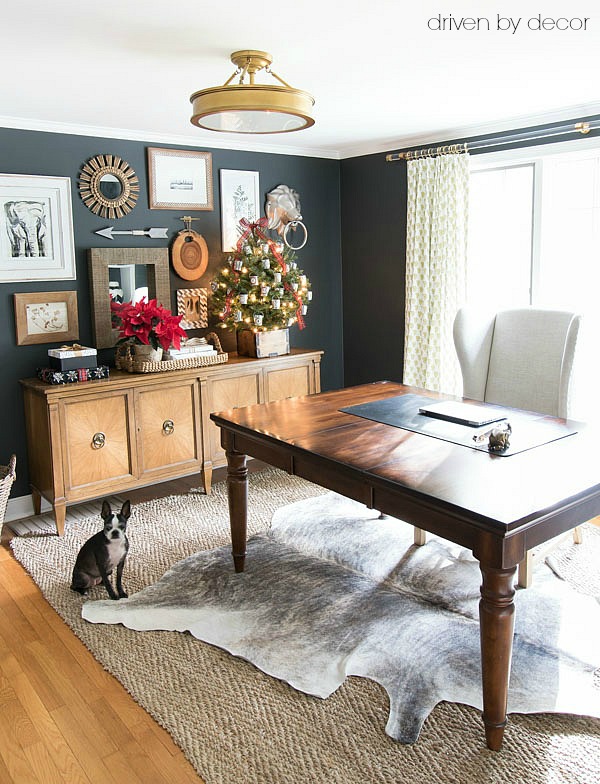 Along with shopping at our local Walmart, I've ordered from Walmart.com over the holidays too – there's a much larger selection than what you find in the stores and I love that I can find lots of items that have either free shipping or free ship-to-store for pick-up. It also shows whether the items you're looking at are available in your local store in case you need something same-day. The online site has lots of great budget finds just like you'd expect from the store but you can also find some higher end items too – these are some of my current Walmart.com holiday faves (clicked the numbered links at the bottom of these images to get to each individual item!):
Great stuff, right?! I'm especially crushing over the brass lantern set (they'd look so good next to my fireplace!) and the cute plaid monogrammed stockings and I haven't ever seen those wreath & garland storage bags before – so smart!
And wrapping things up with a final sticking-to-your-budget tip… shop early! I don't know about you but if I haven't gotten my shopping done well before Christmas, I start panicking about finding things and end up spending a lot more money on gifts and things for my house just to make sure I don't end up empty handed. What about you guys – do you have any money-saving tips of your own to share or Walmart holiday faves that the rest of us should be on the look out for? Don't think I don't know that some of you are serious black belt shoppers! 🙂 

– Shop The Post –

This post was part of a sponsored collaboration with Walmart.com. All opinions and product selections are 100% my own.