Decorating a home with kids and pets means balancing style with practicality. If having a gorgeous velvet sofa means that our dog can't come snuggle up on the couch with us, it's not worth buying. And if I find super cute placemats that are going to get ruined the first time my kids spill on them, they're not worth buying either. Except, um, that's exactly what I did. I fell for the cutest placemats at HomeGoods and bought them without giving much thought to how we would use them day-in and day-out without ruining them since they're not exactly washable. So we've continued to use our old ratty placemats to keep the nice, new ones looking nice, all rolled up in one of the nesting crates in our kitchen. How ridiculous is that?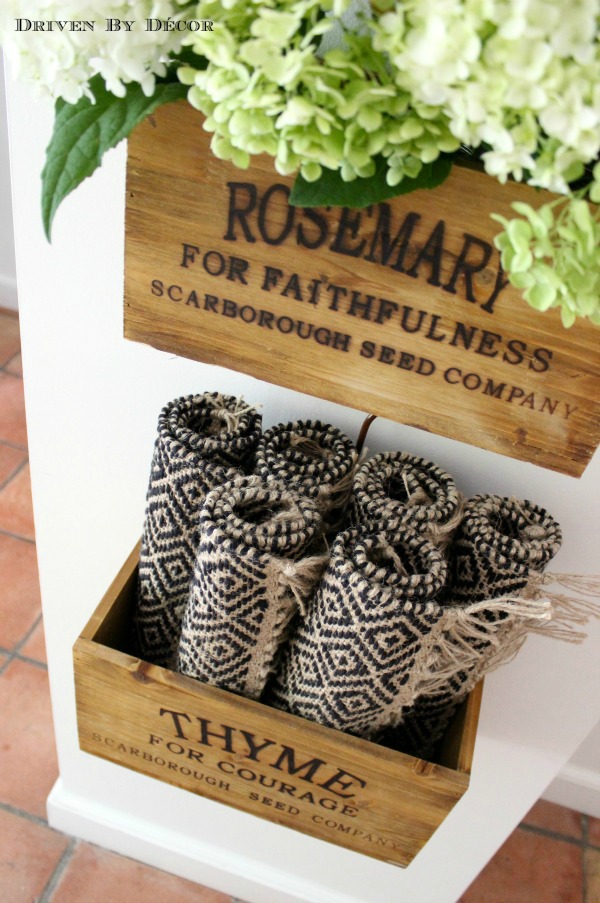 My first thought was to buy some smaller washable black placemats to layer over the top of mine but after striking out on finding something that worked sizewise, I came up with a better solution. I bought marine-grade vinyl (sold by the yard at Jo-Ann fabrics) and cut it about 1 1/2″ shorter in both the length and width than my placemats. Now at mealtime, I simply throw them on top of my nicer placemats and there's no more worries about drips and spills:
The vinyl is easy to cut, doesn't fray, and anything and everything that you get on it wipes off right away with a damp paper towel. You can cut the vinyl in a simple straight-lined rectangle, use decorative edged scissors to make more of a patterned edge, or round or cut off the corners to add a bit of interest:
So we're now getting to enjoy our too-pretty-to-use placemats, I'm not stressing about dinnertime messes, and our woven placemats are staying in great shape so that when we do have guests over to eat, we can use them (minus the vinyl) and they're not a stain covered mess!
I guess that the other solution to the problem is to buy washable placemats in the first place, right?! Ha – but that would just be too easy… 🙂
And one last little piece of goodness to share with you guys today – in just two weeks (December 1st), I'm teaming up with some of my favorite bloggers for the second annual 12 Days of Christmas Tour of Homes! I'm sure that you all recognize quite a few of these ladies – they've all got loads of style and will have some great inspiration to kick start your holiday decorating! I'm really looking forward to it and hope that you all are too!