While I love so many things about Christmas, I don't love having to run around from crowded store to crowded store searching for the perfect gift for everyone on my list. I enjoy shopping for my own kids and my nieces and nephews but it's the adults that I run into a problem with – we all truly have everything that we need.  This year, my extended family decided to switch up our Christmas gift giving and limit our gifts to under $5 for each adult. The idea is to either buy something inexpensive (I'm sure there will be a lot of Dollar Store gag gifts) or make something simple. I've searched around for the best homemade gift ideas and have found 15 great ones that I love and know you'll love too!
I adore these DIY Printed Candles – all that you need is a candle, an ink pad, and a rubber stamp. Who doesn't love lit candles around the holidays? A pair of these would a great gift!
If you like to get creative in the kitchen, Martha Stewart shows us how to make peppermint flavored Candy Cane Marshmallows that would be a great gift alone or paired with a mug and some gourmet hot chocolate. 
Another idea that I love from Martha is to create Teacup Candles by melting down old candles and filling up antique teacups (use one that you already have or find a pretty one at an antique or thrift store) with a wick and the melted wax.  If you have some teacups in your family that were inherited from someone special but you haven't found a use for them, this could be perfect.
Several weeks ago I posted a tutorial on DIY Personalized Wood Hangers using inexpensive IKEA hangers and rub-on letters. I made mine for our guest closet, but they would also make a great holiday gift if personalized with cute sayings or even a few inside jokes.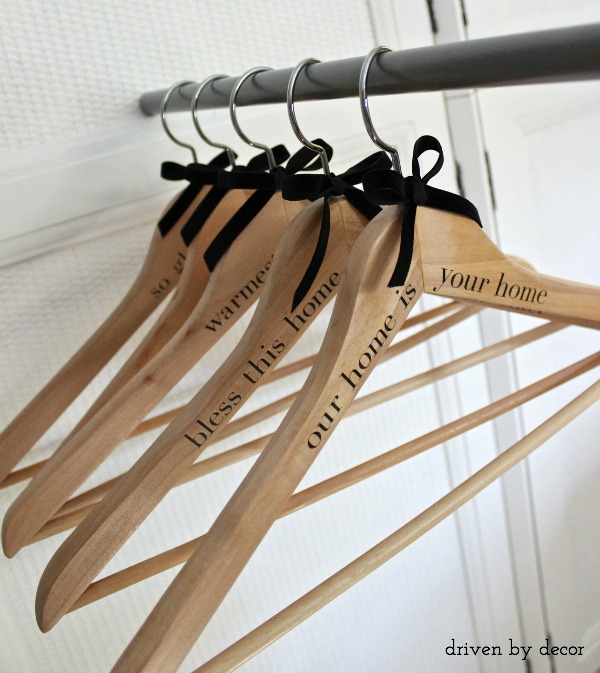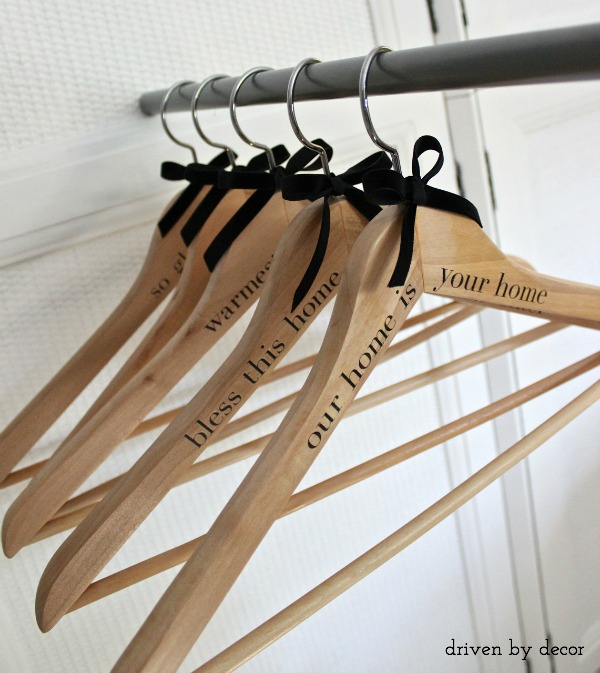 I have an ugly bottle of hand sanitizer that sits by my kitchen sink so I'm loving this idea for a Monogrammed Hand Soap or Sanitizer from The Idea Room. So simple – with a bottle of hand soap or sanitizer, an overhead transparency, and some Goo Gone, The Idea Room's tutorial will help you turn an ugly hand sanitizer pump into a decorative gift.
Bakerella shows us how to create this super cute mason jar filled with all of the yummy stuff that goes into making Cowgirl Cookies.  Although this batch was created with pink M&Ms, if you used red and green ones and tied a festive holiday pattern to the top of the jar, you'd have a great holiday gift.  
For the movie lover in your life, create a Movie Theater Gift Pack by adding a few strips of "ADMIT ONE" tickets (included as a free printable in the tutorial) and some popcorn and favorite chocolates or candies to red & white plastic popcorn holders that Target currently has them in their $1 bins. If you want to spend a little more, add a gift card to your friend or family member's favorite theater. 
Delia Creates shows us how to make Homemade Beeswax Lip Gloss in a great step-by-step tutorial. By personalizing the labels that you place on top of the lip gloss lids, I'm sure this would be a very appreciated gift.
Blog a la Carte shows us how to create Utility Cord Bangles (yes, out of utility cords!!) using some fairly basic crochet techniques. I'd like the blue one please!
If you have a friend or family member that loves to decorate, I'm sure they'd appreciate receiving this Jute Wrapped Monogram Wreath that we're shown how to make on the blog Two Twenty One.  It would look great on a front door, hanging over a mirror, or even just propped up on a bookshelf or mantel.
For the book lover on your list, Country Living shows us how to create a DIY Ribbon Bookmark. If you have any vintage jewelry in your family that sits in a box unused, this idea would be perfect!
Finally, Better Homes & Gardens has a detailed tutorial on making a Snowflake Tea Towel. While I would skip the part of the instructions showing you how to make the snowflake stamp (I'd just buy an inexpensive stamp at Michaels), their tutorial provides info on the type of ink to use, how to best use your stamp, and how to set the ink with an iron.  
I hope that these ideas will spark your creativity as much as it did mine! Good luck with your holiday shopping list!