Before we talk design, can we talk about the snow that's coming our way? I'm not one to get too freaked out about snow but when they start throwing around words like "crippling and potentially historic blizzard" and predicting 20-30 inches of snow and wind gusts of up to 50 mph, that's when I start getting a little bit worried… I made three separate trips to the grocery store yesterday like only a newbie New Englander would and am loaded up with water (since we have a well, no power  = no water), firewood, and, all of the other snowstorm essentials. And even more importantly, I picked up a gallon of paint to finally get going on my foyer if we're snowed in for days. Wish me luck.
So let's talk fireplaces because I still haven't figured out what I want to do with mine. Seriously. Here's what I do know – after debating whether or not to get rid of the blue and white tile, it's a go – that tile is soon to be outta here.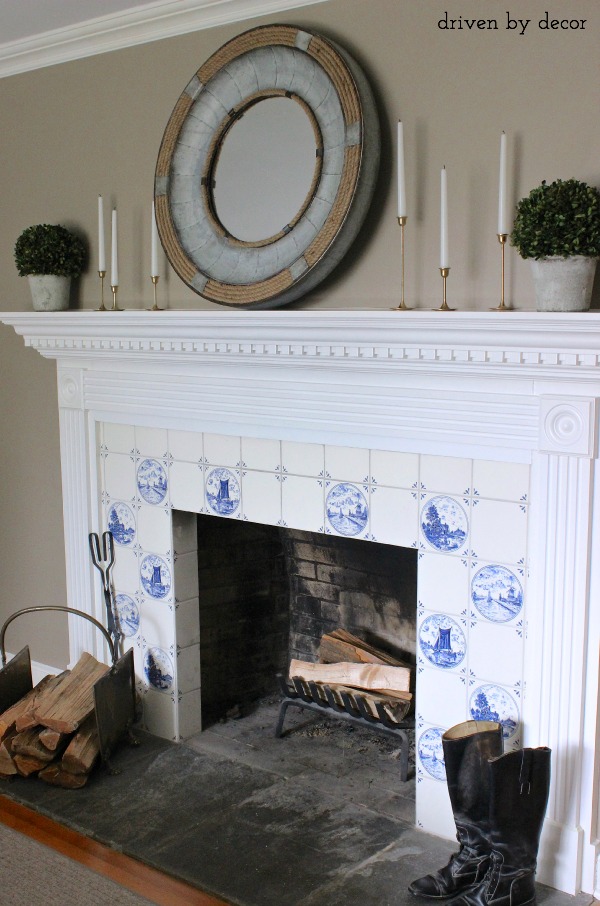 The tile definitely has charm but I'd like something that's more my taste. And I found out that the backing of the top tiles has eroded and some significant repair work is needed just to keep the tile as-is. And did I mention that as-is includes a cracked and then reglued tile front and center? Not pretty.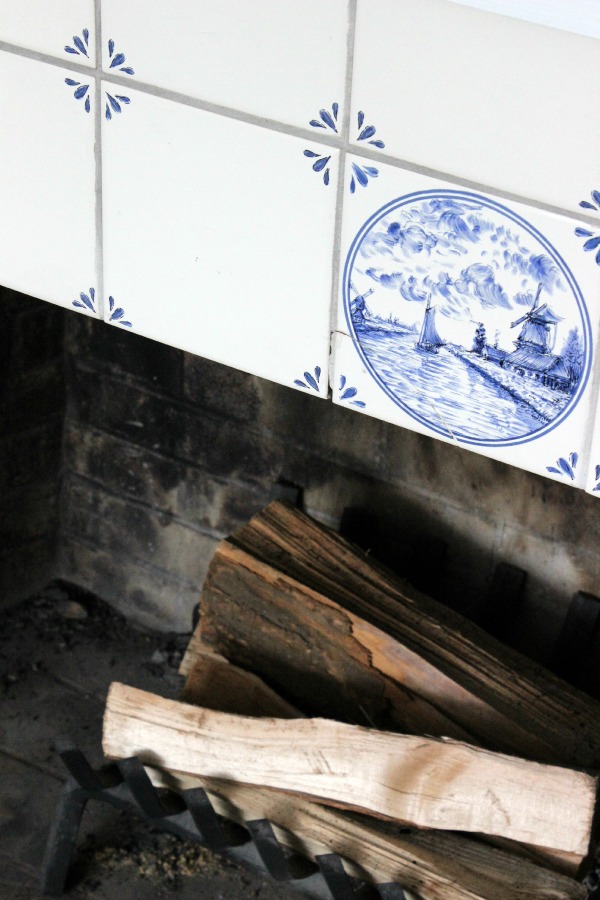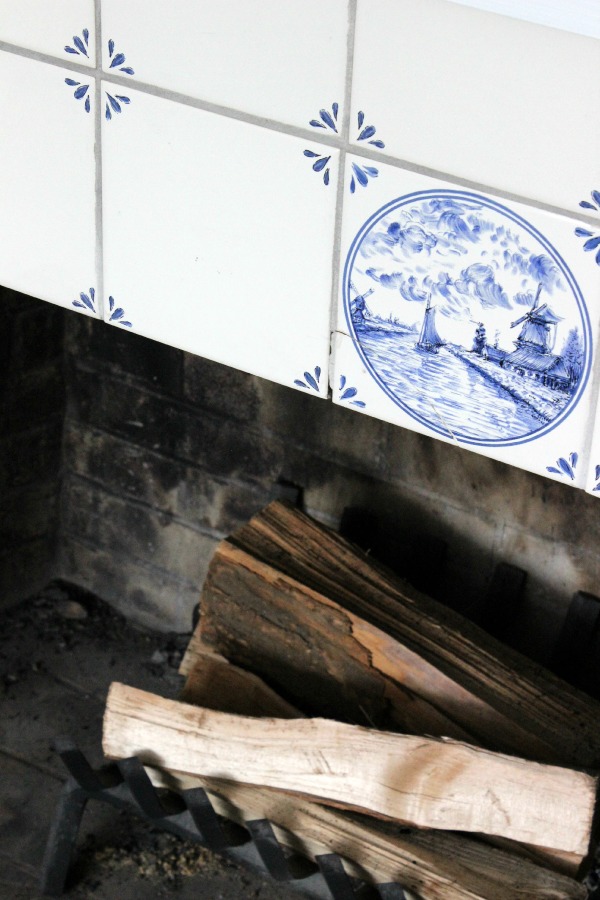 So what's left to decide? It's all about the domino effect – if I'm ever going to replace or remodel our mantelpiece, it makes the most sense to do an overhaul of both the surround and mantelpiece at one time. The mantel itself isn't too bad but the rest of the mantelpiece (especially the side pieces) are really wimpy. Like, flat as a pancake wimpy: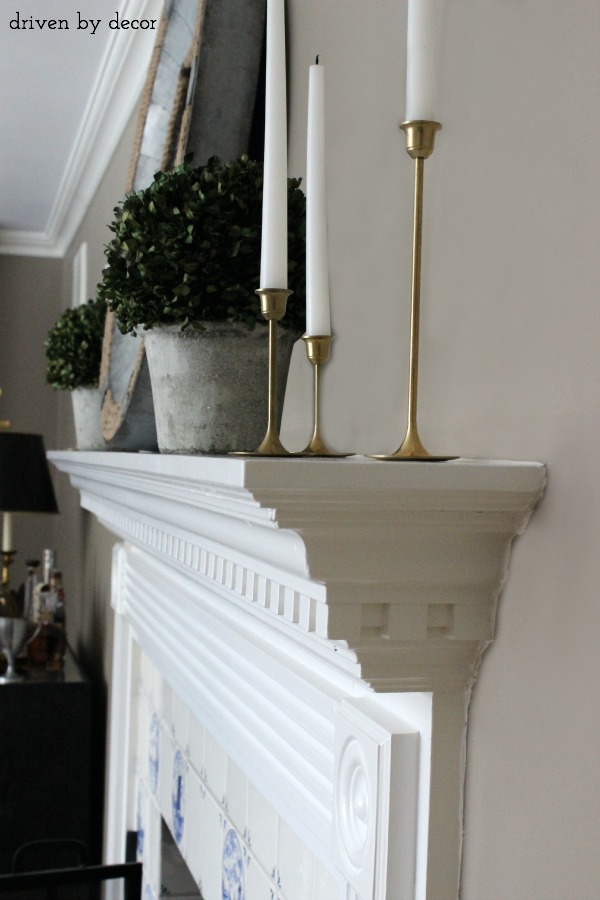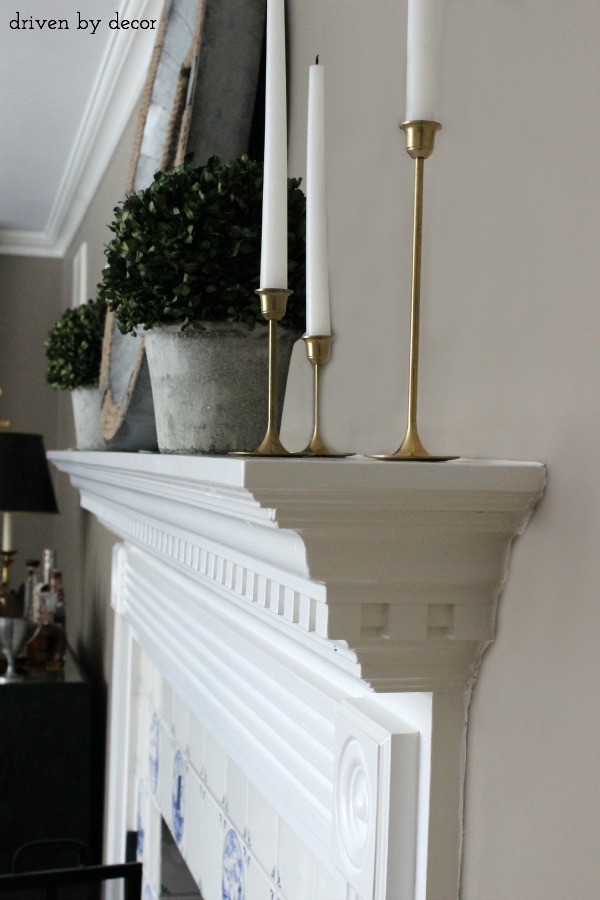 So, here's what I'm thinking. I could either (a) go with a completely different mantelpiece such as a salvaged one or (b) beef up my existing mantel. If you follow me on Instagram, you already know that I was exploring option (a) at the end of last week. I found some gorgeous mantelpieces at one of my favorite haunts and fell in love this natural wood mantelpiece that was salvaged from a farmhouse in Virginia. If it was about $200 or so, it would have been a no-brainer but of course that's not the case – it's big bucks.
I could see it looking so stunning though – I would imagine pairing it with a very simple surround for a look like this:
A far cheaper option would be to build-up our existing mantelpiece. I would leave the mantel itself alone but change up the rest of it. I searched out some fireplace designs for inspiration – these are a few of my favorites: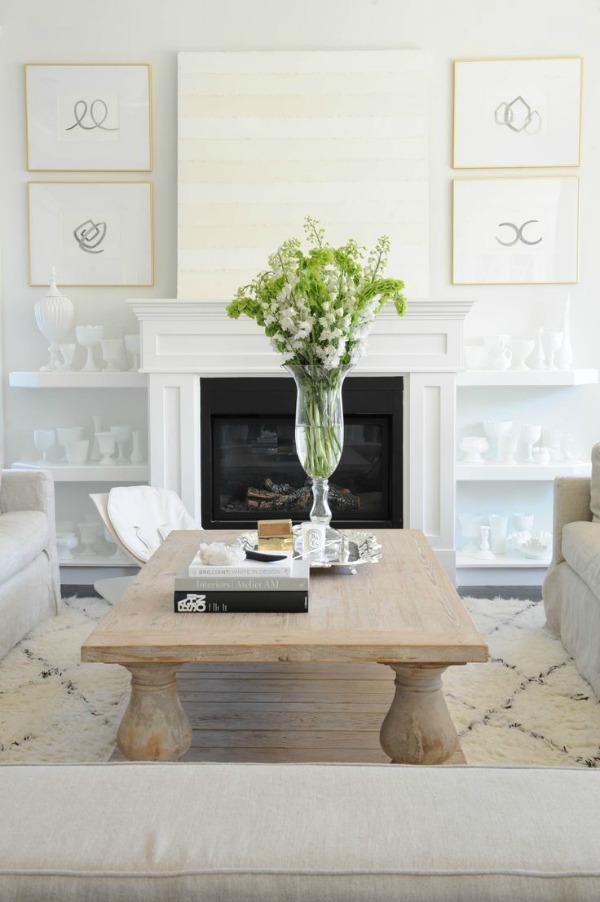 What do you all think? Would you spend the extra money for a unique, salvaged piece or beef up the existing mantel and used the money that was saved towards one of the many other reno projects on the to-do list?