Do you guys sometimes wonder if I'm missing some pretty standard rooms in my home? Where does this girl sleep? I've never seen even a peek of her bedroom. And where does her family eat? There's no kitchen table in sight. Do they have a family room to hang out and watch tv in or do they just sit in the living room at night and stare at each other?
I figured I'd share one of those not-yet-done, rarely-seen-on-the-blog spaces today since it's moved its way up near the top of my to-do list: our kitchen eat-in area. I'd love to be able to tell you it looks like this (Kristin has amazing style!):
But it's a much more unfinished (ok, let's be honest…boring) space: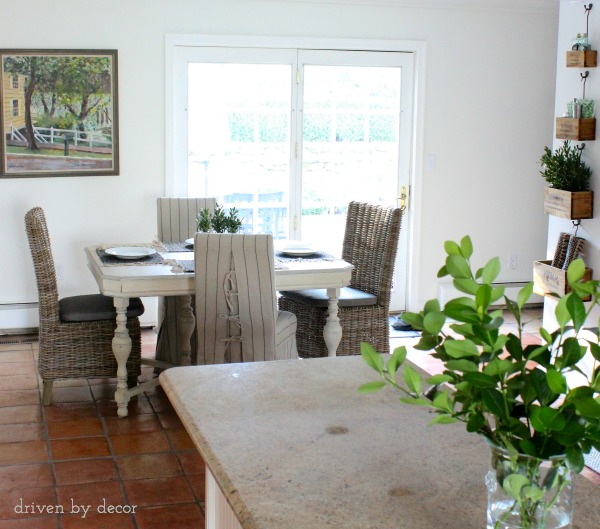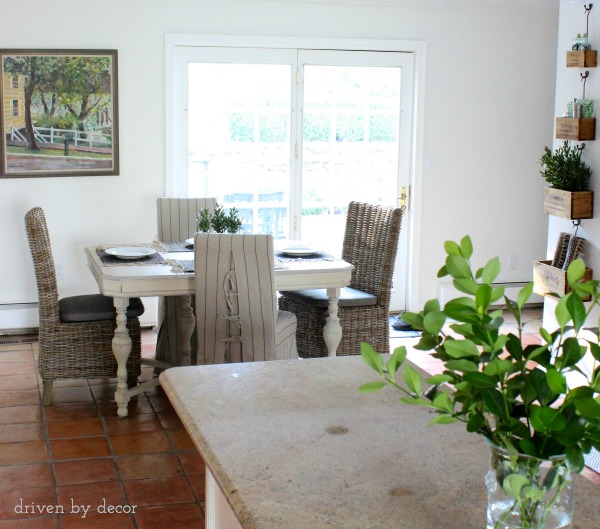 So here's what I'm thinking to whip this space into shape:
#1 – Strip and refinish our kitchen table back to it's original state. I bought it already painted and it does have an attractive distressed finish:
but in a room with white walls, the color just dies (and I love my white walls – I have no plans to change that!). My friend Jennifer has an identical table and look how beautiful it looks unpainted: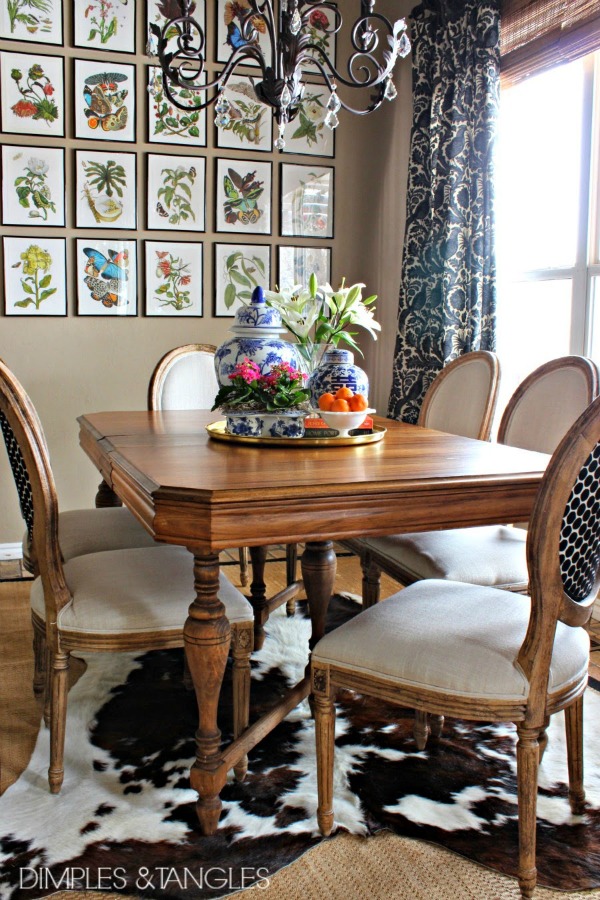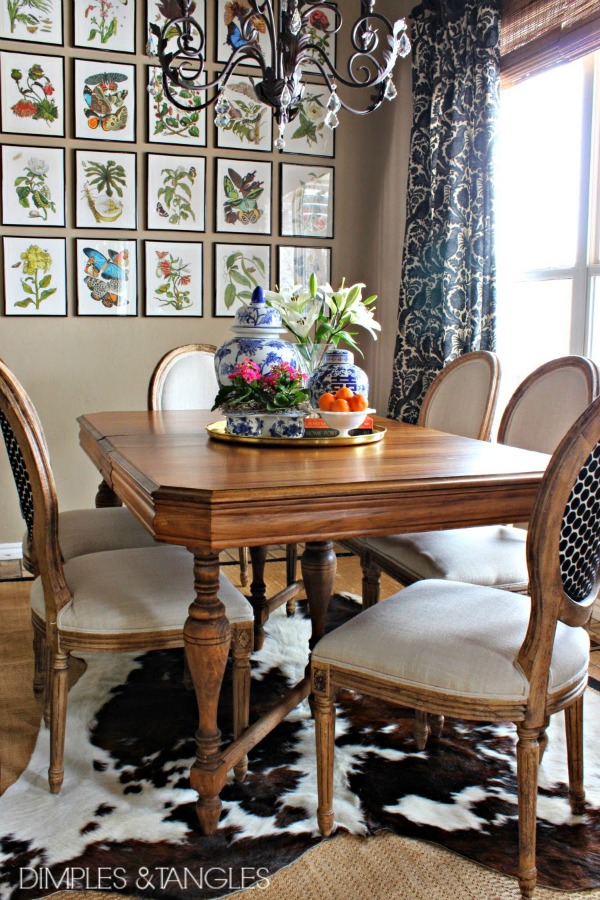 Plan #2 – Build a corner banquette. I miss the banquette we had in our old house and love to relax and curl up while eating rather than sitting upright in a chair. I have something like this with cushions and pillows in mind:
except that we have baseboard heating so the bottom of the banquette would have to be entirely open. It's going to be a a little tricky to design.
#3 – Once I know where our kitchen table's final resting spot will be, I'd like to install a chandelier rather than just relying on can lights for lighting. I haven't done a lot of looking for light fixtures yet, but something unique and with great texture like this beaded chandelier is totally up my alley:
#4 – Add art to the big blank wall above the future banquette: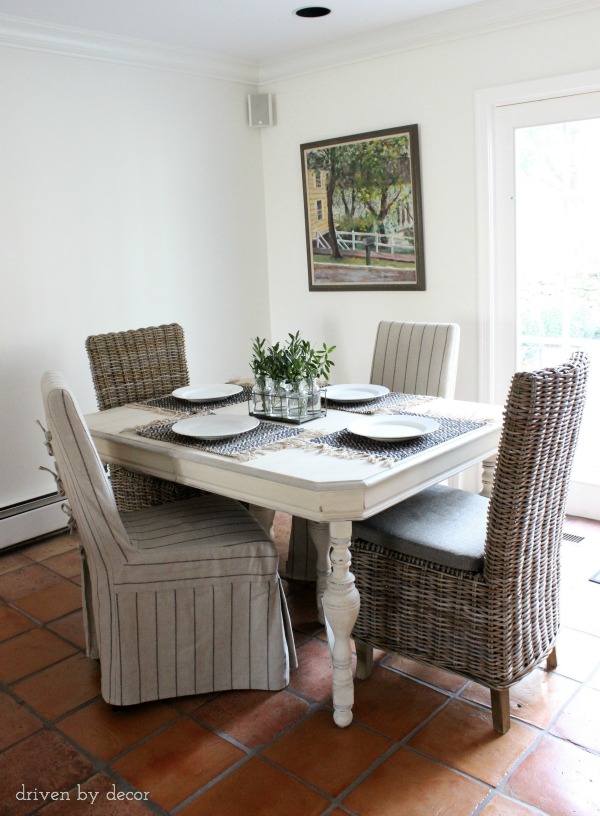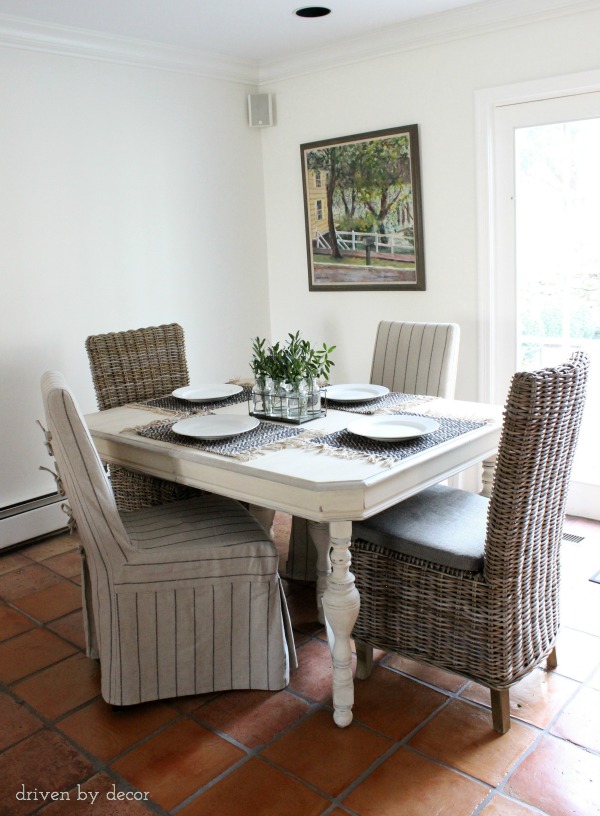 I'll most likely add a gallery wall of oil paintings because I've picked up a ton of them at flea markets and thrift shops since moving to CT. Everything is more expensive in CT except oil paintings – I didn't pay more than $20 for any of these:
So that's the plan – what do you guys think?  By the way, you were all were so helpful with suggestions for our kitchen seating area – I haven't made any definite decisions on chairs yet but I'm getting closer thanks to all of your input – you're the best!