Thanks to Lutron for sponsoring this post. All opinions and love for my new Lutron motion sensor are 100% my own. 
Have you guys tackled your holiday to-do lists yet? I wish I could say that I've crossed everything off of mine but who am I kidding, I'm a procrastinator extraordinaire when it comes to holiday prep. While I'm pretty much finished planning our big Christmas Eve dinner and decorating our home (I'm always tweaking though…our kitchen baker's rack was my latest victim):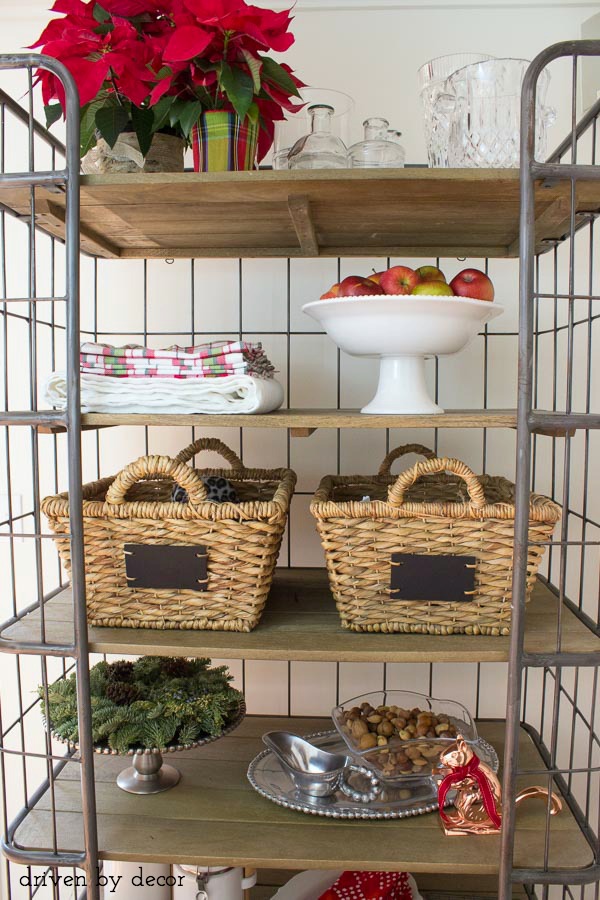 I've still got plenty of gifts to buy, a gingerbread house to build with my girls, and several little tasks to get our home holiday ready for overnight guests. I knocked out one of those tasks over the weekend and am now wondering why I didn't do it years earlier because I'm loving it as much as I think our overnight holiday guests will.
It has to do with the kinda wacky way that our house is laid out – the original house was pretty small and over the 60+ years since it was first built there have been several small additions, one of which is our guest room. Apparently it was originally a separate structure where the owner saw patients for her private psychiatry practice. Then at some point, walls were knocked down and it was incorporated into the house with a kitchen eat-in area and laundry room added to bridge the area between the house and our now guest room. I've shared pics of our kitchen baker's rack and hanging herb crates a few times and while the shot I usually take gives the impression that this is a little dead-end niche,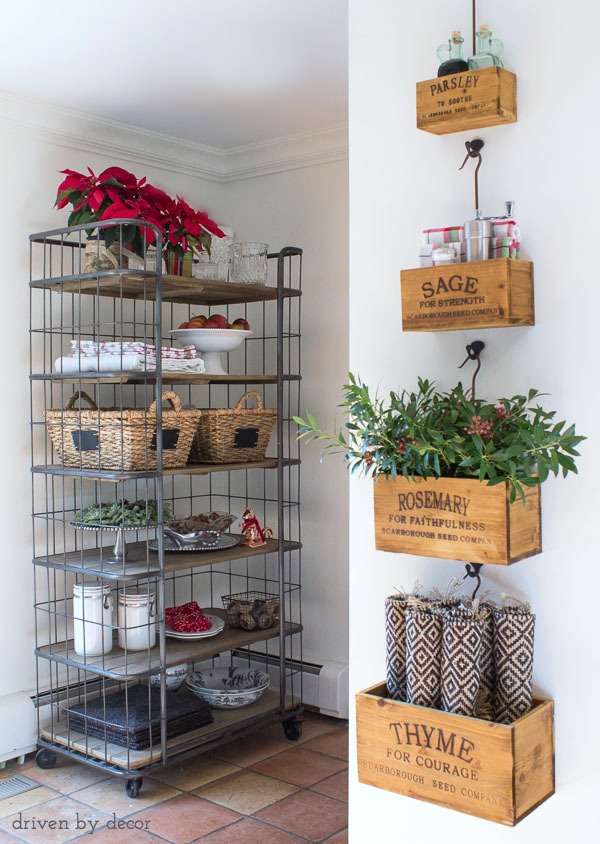 it's actually the pathway back to our guest room: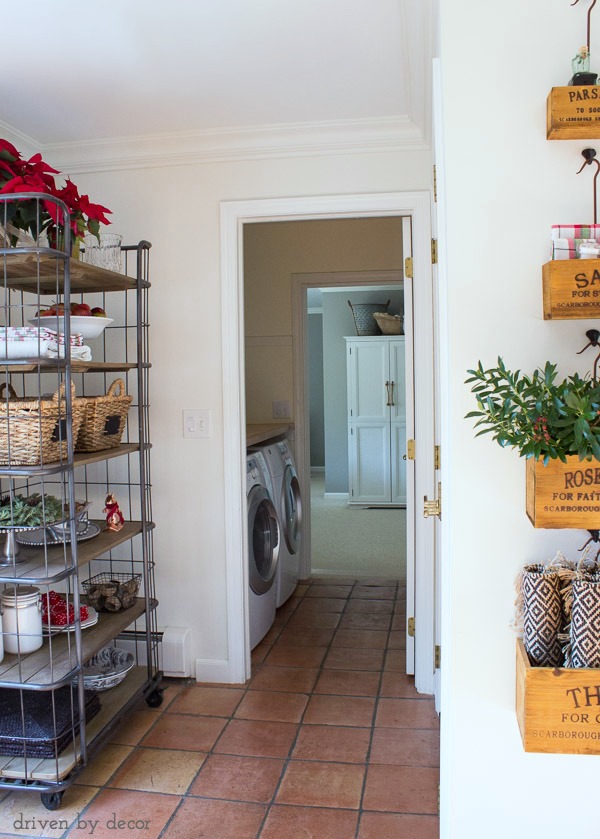 I know, kinda weird to walk through a laundry room to get to the guest room, right? It's actually worked out pretty well for us but it does come with its issues like the need to have a clean laundry room 🙂 and that it's a windowless space where I'm always having to turn the lights on and off while juggling a laundry basket on my hip. Also, when guests come out of the guest room in the evening, if the kitchen is dark, they've got to blindly search for the switch in the laundry room to see where they heck they're going.
Well, I knocked out both issues at once with the installation of a Lutron Maestro motion sensor that turns the lights on when you walk into the laundry room and off a few minutes after you leave. The installation was simple and hassle-free (it took about ten minutes) – we just turned off the circuit breaker, pulled out the old switch, disconnected the wires from the switch and wired them to the new sensor, and then mounted it to the wallbox with a new faceplate (every outlet is different so read the instructions included with the dimmer to determine how to install your own).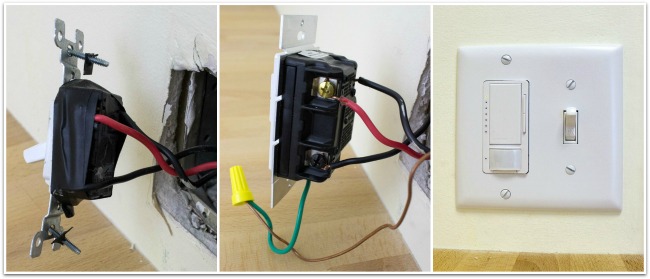 We've now got hands-free light control! I've honestly always wanted to try one of these motion sensors but was a little skeptical of whether they would be sensitive enough to always pick up on someone coming into the room. It turns out that my motion sensor gets the lights for me every single time right when I'm just about to walk in: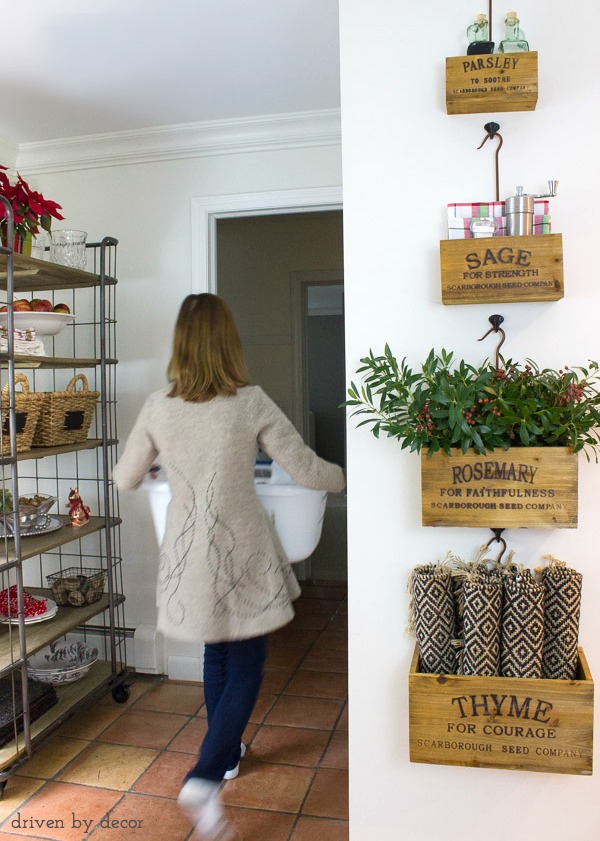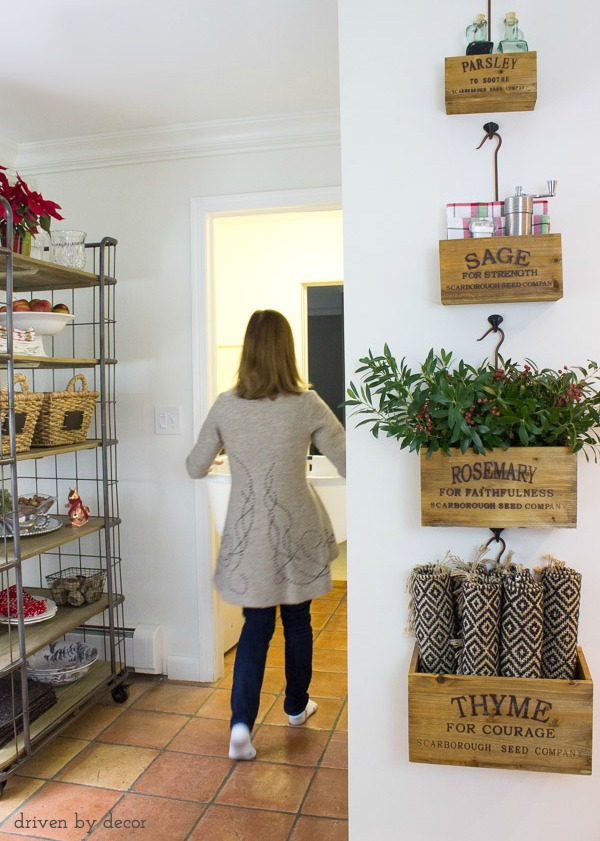 and the double bonus is that it will also work in reverse for my holiday guests when they're coming out of their room at night, lighting the way into the kitchen. This sensor is one smart cookie – it has XCT sensing technology that ensures the lights stay on even when there's not a lot of active movement in the room (like when you're reading on the couch) and it will stay off when the sun is shining and there's already plenty of light in the space. And there's also the benefit of saving energy costs from the lights not being left on (if you have a household of frequent leave-the-lights-on peeps like I do).