The view out of our living room window is a beautiful one this time of year. Many of the bushes and trees are in full bloom with others not far behind. And while we always have a lot of wildlife around, we are loving getting to see all of the spring babies! Last week my daughter and I watched as four baby foxes romped around our front yard under the close watch of their mom. So with all that going on outside our front window, it's no surprise that our window seat has become the place everyone wants to be!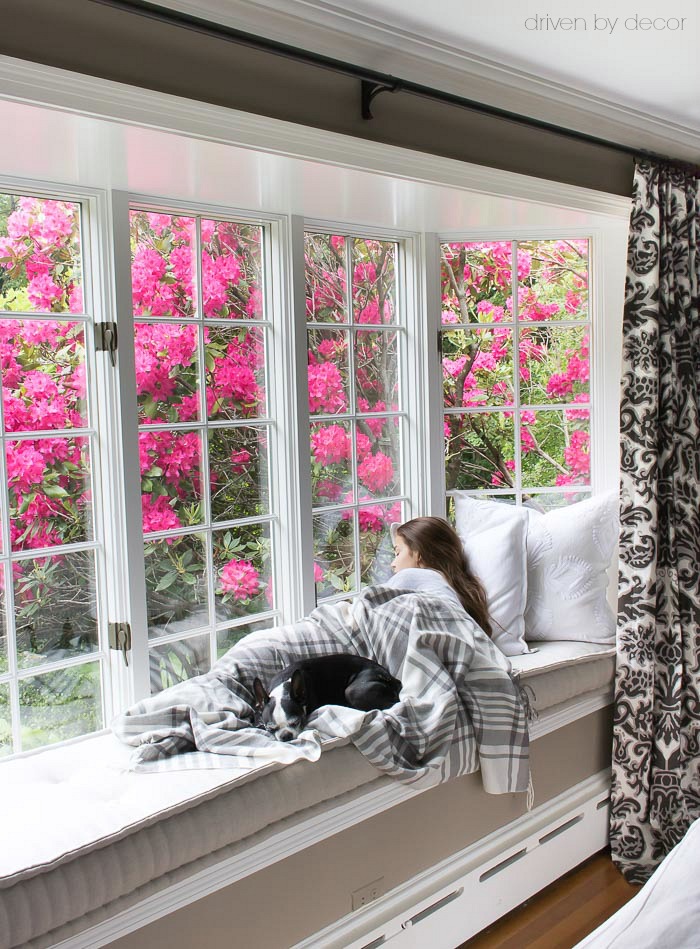 When we moved in almost a year ago, I blogged about my plans for a new French mattress-style cushion to replace the thin red & white one that came with the house.
And while I replaced the cushion months ago, I realized that I hadn't gotten around to showing your our new cushion (which I love!) and passing on some info about who makes them and what to expect with pricing in case you find yourself in the market for one.
While searching for someone to make my cushion, I found that true hand-rolled edge French style mattresses are made by companies specializing in custom mattresses. I contacted one such company (Charles H. Beckley in NYC) for more information and a price quote and they graciously sent me this gorgeous photo example of their product:
I have no doubt that their craftsmanship is impeccable and the mattress would have been amazing, but unfortunately it was out of my budget (over $2500 not including fabric). My next step was to call around to several upholsterers but none of the ones I contacted had any idea what I was talking about when asking about a French mattress style cushion. I then found that Calico Corners makes them (using foam as the base) but my quote from them was well over my budget as well (over $1,000 not including fabric). If you notice from looking at the side of the cushion, there is a lot of hand stitching involved so it's quite labor intensive.
Finally, a local fabric shop gave me the name of a wonderful woman who specializes in making cushions. She had never heard of a French mattress style cushion before but she was willing to give it a try. She recommended that we reuse the foam from the old cushion and double wrap it in Dacron and she gave me a very reasonable quote of around $200 (not including fabric or foam). So I gave her a bunch of pictures showing what I had in mind and crossed my fingers and hoped for the best. And let me tell you, I've got to give her some major sewing props because even though it was her first go at this type of cushion, she did such an amazing job! 
It took her more time to make than she had expected so she said she'd likely charge more for any future requests but she enjoyed the challenge and was excited to add a new cushion option to her repertoire! 

So if you're in the market for a French mattress-style cushion and want to keep the price low, cut out the middle man by bypassing stores such as Calico Corners (where both Calico Corners and the person actually making the cushion have to make a profit) and go directly to someone in your area with experience making cushions. Local fabric stores (ones that don't make their own cushions and upholstered pieces) are usually good sources of referrals.

I hope to see you back here tomorrow when I share some of my favorite projects that were linked up to Best of the Nest!