We are a family of dog lovers and have a boston terrier that we all adore.  She is 100% spoiled and can usually be found on a lap, snuggled in one of our arms, or getting a belly rub on the couch: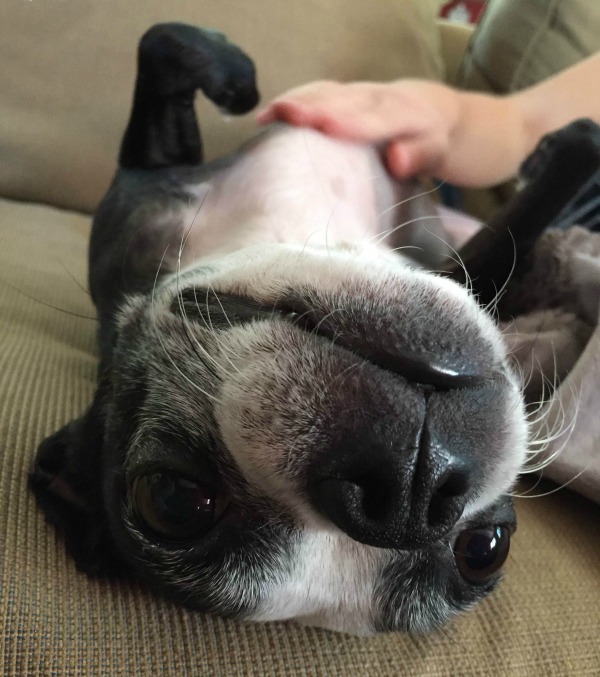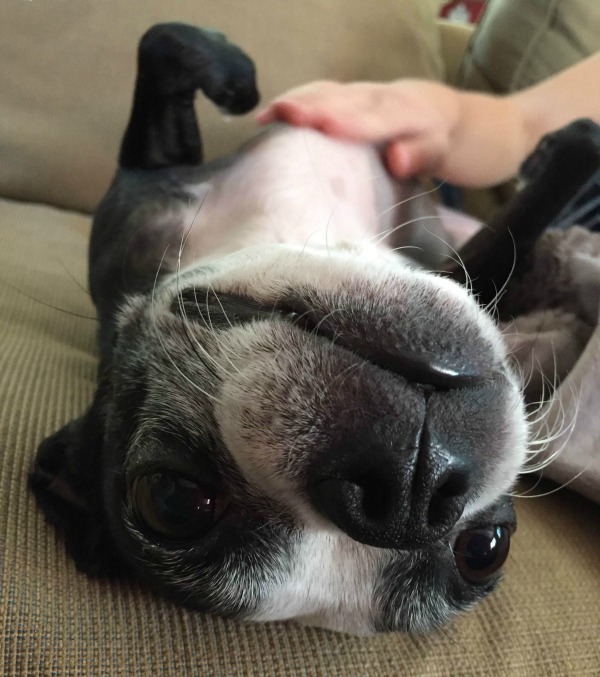 Our bed from when we adopted Hope has now seen better days and I'm looking to replace it with something that's super comfy and is in a color and pattern with fits with my home's decor. There are so many fun options out there!
If I had an unlimited budget, there are a few Frontgate pet beds that would be tops on my list, like this awesome Shag Pet Lounger:
or this chic Skyline Pet Bed:
For those of you with more modern taste, check out this Cowgirl Chic Lounge Bed – I love the high sides and nailhead trim!
Before we get to the pet beds that you and I may actually be able to afford, I have to show you this one just for kicks – Haute Diggity Dog sells a NYC Taxi Bed with "NYC DOG" license plate and a zip off cover for easy cleaning.  Cute but in a crazy kinda way… 
Moving on to some more reasonably priced pet beds, several of my best finds are from one of my favorite online shopping sites, etsy.com.  Bow Wow Beds sells made-to-order pet bed duvet covers that can be stuffed with sleeping pillows, towels, blankets, memory foam, or even an old pet bed. They are made in durable cotton duck canvas and are available in lots of great designs and colors.  My favorite is the chevron:
The price of the chevron pet bed duvet cover depends upon the size but they're definitely reasonable.  And if you're not a fan chevron, there are loads of other patterns to choose from:
I also found a company called  Molly Mutt that makes some fabulous dog bed duvets.  They sell their duvets with "stuff sacks" that you fill with old clothes, blankets, etc. and insert into the duvet.  
One of my favorite Molly Mutt duvets is this green Title Track duvet: 
This gives you an idea of what the stuff sack looks like and how it works with the duvet:
I also love the Northwestern Girls design:
If you'd rather buy your pet bed from a local store rather than ordering online, Home Goods is the place to go for a stylish bed at a reasonable price.  Here are some of the many pet bed options at a recent trip to my local Home Goods:

A pink Cynthia Rowley pet bed fit for a princess:


or some more down-to-earth dog bed options with great fabrics:
Enjoy your weekend everyone – we are looking forward to going to Mount Adams' annual Reindog Parade this Saturday.  If you're a Cincinnati local and haven't ever been, it's a lot of fun and proceeds benefit the SPCA so check it out!
 XOXO,