When it comes to seasonal decorating, I'm all about keeping it simple. Because hauling boxes of stuff in and out of storage and then packing and unpacking accessories for the next holiday or season just isn't my idea of fun. Instead of going all out, I just do a little rearranging, mix in a few seasonal accessories (using greenery from my yard and other natural elements when I can), and enjoy the simple, unassuming elegance of "less is more".
My favorite "accessories" this fall? Feathers. I may just have to add feathers to my list of obsessions because I've now got them in all sorts of beautiful shapes and sizes. I've added some to a little flea market trophy cup that sits on a woven tray in our living room,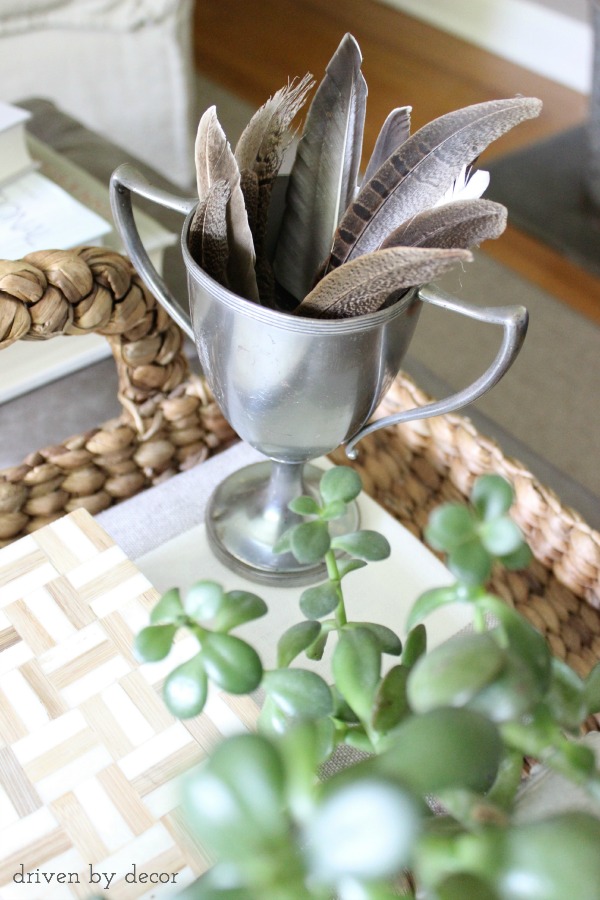 and also to this little brass thrift store beauty that's in our kitchen,
and I'm working on a little feathered something for our dining room (more on that in the next week or two!). My fall dining room table decorations couldn't be simpler – two bundles of dried grasses with burlap ties flanking a mango wood bowl:
After tying the grass bundles with the burlap, if you fan out the bottom the grasses will stand on their own:
Once the leaves outside turn colors, I plan on clipping a few small branches and throwing them in the wood bowl but I'm ok with leaving it empty for a bit – the inside of it is actually the prettiest part:
In the living room I threw a wood bead necklace on top of a few design books sitting on our ottoman:
And outside I added a new fall ribbon to the star anise wreath that I've had for years. I bought the wreath at Target but you could also make your own using the DIY tutorial for the star anise wreaths I made for the backs of our dining room chairs.

I made the bow from wired ribbon I found at Michaels (believe it or not, Michaels had hardly any fall ribbon left when I went earlier this week – the space it was in has been taken over by rows and rows of Christmas/holiday ribbon already – so crazy!).
So do tell – what's your fall decorating M.O.? Do you keep it simple or go all out?