Even though we've still got a few weeks left before we move to our new house, in my head I've already decorated every room. For the most part, it's just a matter of figuring out where to use our existing furniture and accessories in the new space. The living room is a bit different though because in the new house it's about five times bigger than our current living room space. We're going to need several pieces of new furniture but we're keeping it on a tight budge since we'll only be in the house for two years. After looking to
options for inexpensive sofas
, we'll likely go with the IKEA EKTORP sofa and I'm planning to put a console table behind it – there's something about the look of a console table behind a sofa that I've always loved! (
post includes affiliate links – full disclosure statement available {here}
)
I love the idea of having a console table with a marble top too – like
{this beauty}
that would look beautiful right behind a sofa or anywhere else in the room: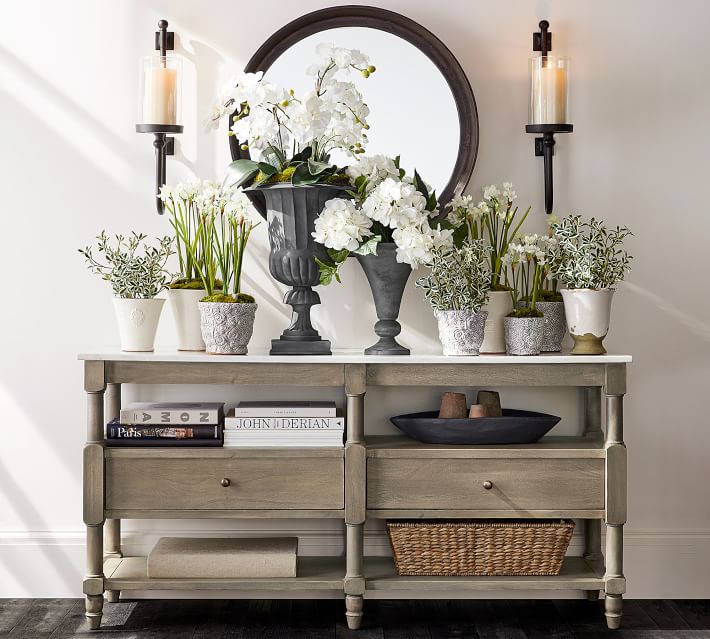 What I also love about console tables is that they are so versatile. In addition to looking great behind sofas, they can also work beautifully against a wall in a foyer or pretty much any room of your home.The space underneath consoles is the perfect place for a few baskets or a couple of ottomans that you can pull out for extra seating in the room. 
An inexpensive bench for our foyer is next on my shopping list – hopefully my streak of lucky shopping mojo will continue. Hope you all have a great weekend!