Living away from our extended family means that we have a lot of overnight house guests throughout the year. We love their visits and do what we can to make them feel comfortable and welcome during their stay. I recently got rid of my mismatched plastic hangers in the guest room closet and upgraded to wood hangers from IKEA. I used them as-is for a while but then decided to add some personalized touches to make my hangers special for our guests.  It was a super simple DIY that makes our guests feel warmly welcomed: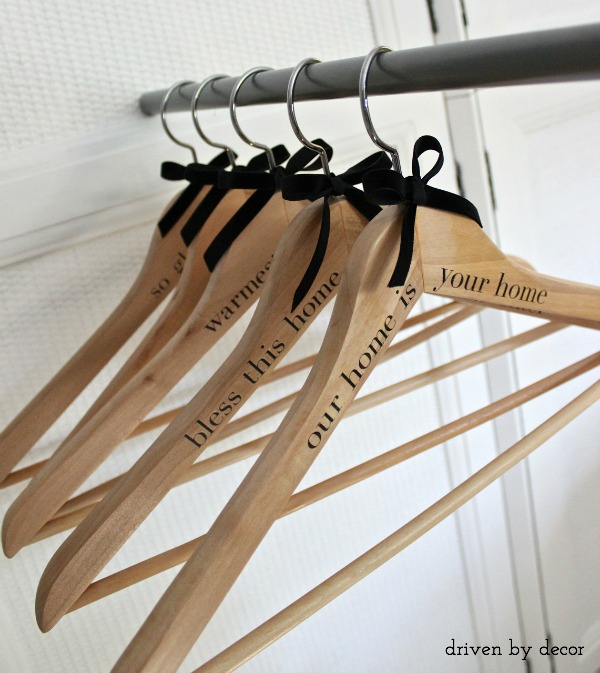 Creating the personalized hangers couldn't be a simpler DIY:
Start with some inexpensive wooden hangers (I used IKEA's BUMERANG natural wood hangers – they are $4.99 for a pack of 8. There are also several inexpensive wood hanger options on Amazon (affiliate link)).
Decide whether you want to use rub-on letters or stamps to add words to your hangers – both can be found at scrapbooking stores or craft stores. The benefit of using rub-on letters is that you can cut them out and plan the spacing of your words much easier than you can with stamps. The benefit of using stamps is that the words will likely wear a little better than rub-on words. I went with the rub-on letters because I had them on hand and since my hangers were going in our guest room, I wasn't worried about them getting a ton of wear and tear. (Update: I've had my hangers for about two years now and the rub-on letters show only very, very minor signs of wear)
If you are using stamps, simply stamp each letter on an ink pad and then onto your hanger. If you are using rub-ons, cut out the letters that you need from your pack of rub-ons, plan your spacing, and then place each letter (one at a time) where you want it to go on your hanger. Use a popsicle stick or transfer tool (usually included the pack of rub-ons) to rub over the letter so that it sticks to the wood.
(Optional) Use ribbon to add small bows to the top of each hanger once you're done with the lettering.
I personalized five of the wood hangers and mixed them in with the other hangers that I left as-is.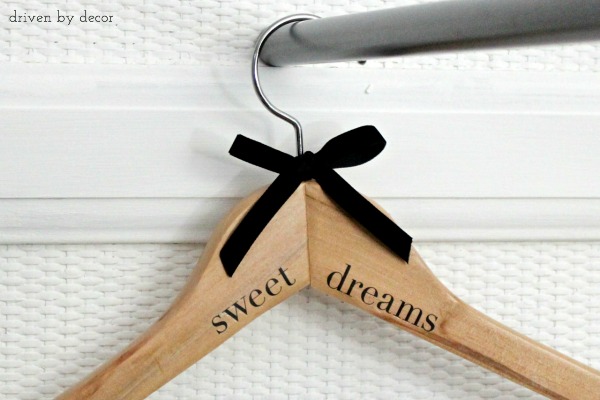 The phrases that I used are:
our home is your home
sweet dreams
warmest welcome
so glad you're here
bless this home and all who enter
They're great for our guest room but would also be perfect for use in a hall closet or to give as gifts. For a personalized holiday or birthday gift, you could personalize them with a monogram or clever saying (inside jokes would be great here!). For wedding gifts, you could personalize several with the bride and groom's names and their wedding date. And child sized wood hangers with personalized sayings would make wonderful baby gifts!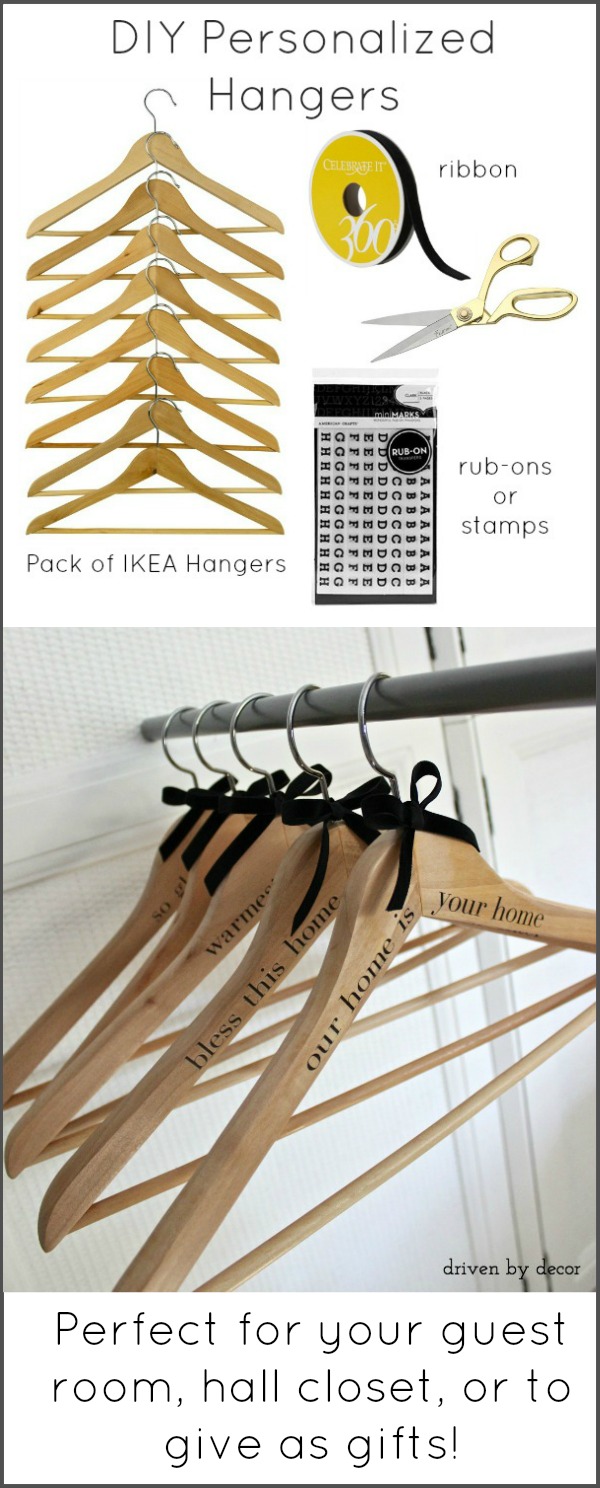 My wheels are spinning about some of the funny things I could put on hangers to gift to family and friends that would give them a laugh each time they saw them…