Almost all of the doors in our house are standard six paneled white doors. My daughters' closet doors are where the "almost" comes in – they were flat paneled hollow doors that stuck out from the rest of the space like a sore thumb. So as part of the recent remodel of my tween daughter's bedroom, I decided to glam them up! 
So much better than the boring, flat ugliness that these doors had going on before their makeover:
And the whole project was done without any power tools – no miter saw, no brad nailer, nada – other than a simple drill. The materials that I used included inexpensive panel molding that I bought at my local hardware store (you want a low profile molding – mine measures 1″ wide and 5/16″ at its thickest point),
a miter box and saw (I bought mine at Home Depot),
wood glue (I used Elmer's Probond Advanced which I had left over from another project),
some small brad nails, a hammer, a drill, caulk, wood filler, painter's tape, a level, and paint. 

The first step of the project is the one that takes the most time – deciding what type of pattern you want to create and figuring out the measurements for each piece of molding that you'll be cutting. The closet doors that I worked on were each 30″ wide by 79 1/2″ tall. These are the measurements that I used to create my paneling pattern:
Once I figured out how long each piece of molding needed to be, it was time to go to town with the miter box and cut all of my molding pieces to size. The molding was easy to cut but there were lots and lots of cuts to make so it took a while – about 2 1/2 hours from start to finish. If you have a miter saw, by all means, use otherwise just crank your iTunes and get sawing!

Before jumping any further into the project, if you are going to replace the door's hinges, do it now! Sometimes new hinges can slightly change the alignment of the doors and you want them in their final position before you start measuring and leveling the molding pieces. I replaced these rusted, painted over old ones with some new matte brass ones.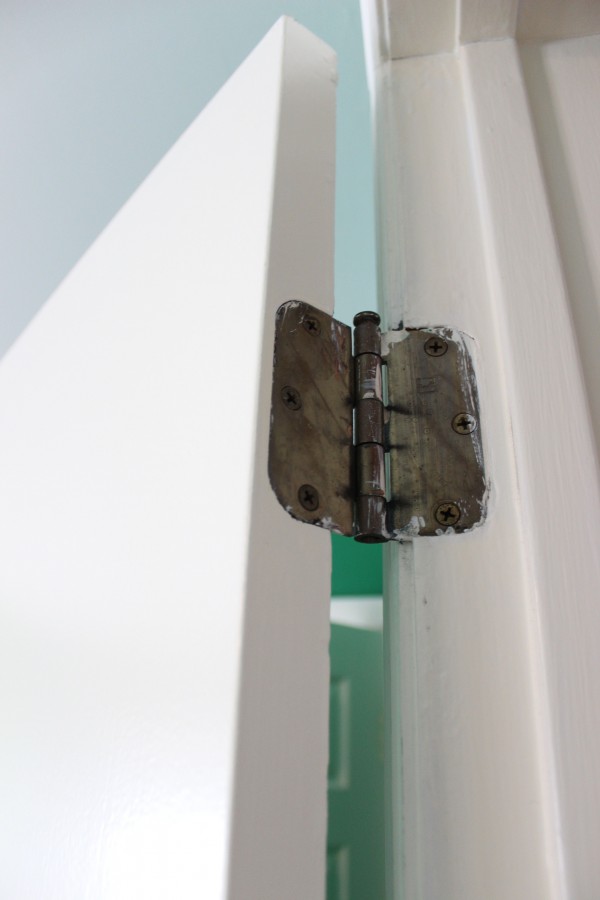 Now it's time to mark up the door, making measurements with a level and pencil to mark the spots where the molding pieces will go. Once I was done doing that, I taped each of the molding pieces in place with blue painter's tape and double checked that everything was level and aligned:
To adhere the molding to the door, I added a line of glue to the back of each piece of molding and pushed it into place, securing it to the door with the blue painter's tape and wiping away any excess glue. A tip here is to not put too much glue on the ends of the molding pieces – if you do, it will smush out and go under the end of the neighboring molding piece, gluing the end of that piece down before you've gotten a chance to put glue on the rest of the back of it. 
Using glue alone worked great for all but about six of the long molding pieces. These pieces were not totally level and so both ends would not stay flush with the door while the glue dried. For these difficult pieces I added a small brad nail to the end of the molding piece that was sticking up to get it to stay down while the glue dried. Since even small brad nails can easily split the wood of molding as thin as the panel molding that I was using, I predrilled a tiny hole in the molding before tapping each brad nail in with a hammer. Once the glue has dried, the painter's tape can be removed and the small nail holes can be puttied and sanded.

The final step is to caulk any gaps and paint the entire front of your doors. My doors had oil-based paint on them so I used Benjamin Moore's Advance, which you can use to paint over oil-based paint yet it cleans up like latex paint. The only bummer is that there's a long dry time between coats.

For the closet door pulls, I bought IKEA's 13″ TYDA handles:
and spray painted them gold with Design Master's Gold Medal spray paint from Michael's. I also had to hunt down larger screws for the handles than the ones that they came with – it turns out that they are metric screws so were a bit harder to find. 
What I love about this project is that there are so many fun options for the design of your doors! I think I'm going to try out a different design when I redo the closet doors in my other daughter's bedroom – maybe something similar to the molding design on this beautiful black cabinet:
So many fun possibilities!