My daughter had a bunch of leftover salt dough from a project she was working and that's when inspiration struck to use it to make place card tags for our Thanksgiving table…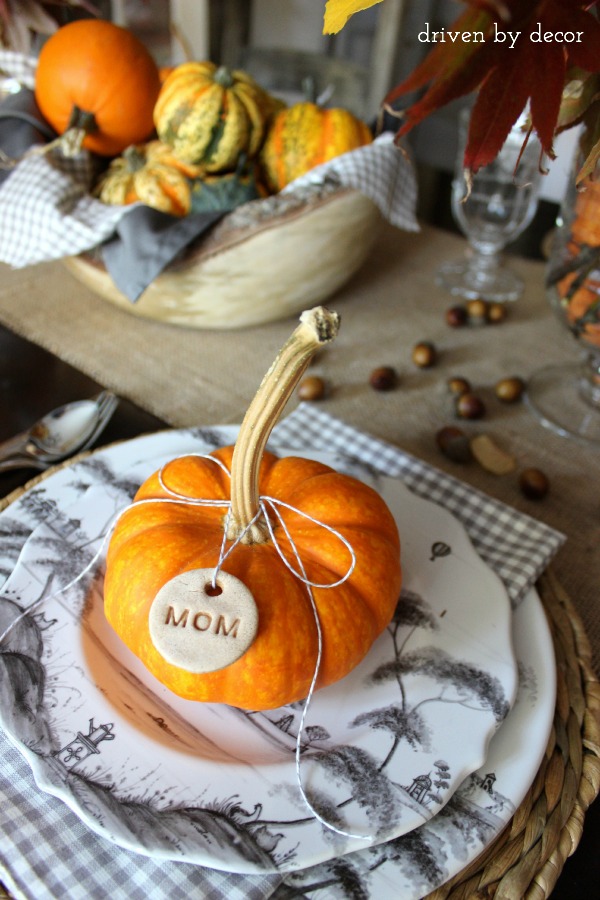 Once the place card tags were made and tied onto our little pumpkins the rest of the table came together pretty quickly: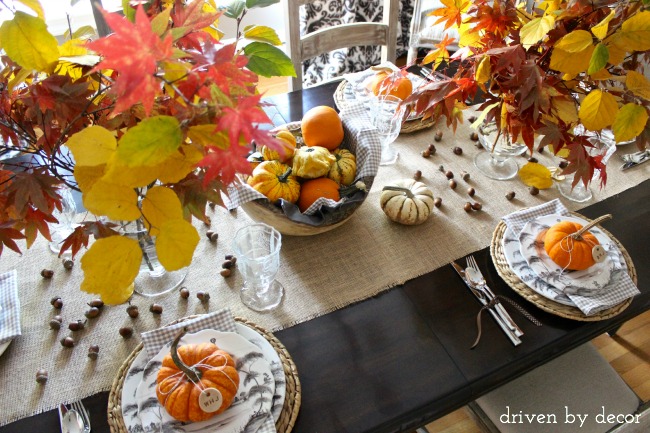 The salt dough tags were super easy to make. Simply mix ½ cup salt, 1 cup flour, and ½ cup warm water and stir. We rolled the dough out and used circle cookie cutters to make our tags, along with a straw to make a hole for the string and some letter stamps for everyone's names. Once done, we baked the tags at 325 degrees for 45 minutes to harden them. We left them natural in color but once they're baked you can paint them if you want a different look. The only letter stamps we had were pretty big so other than MOM and DAD, we used everyone else's initials: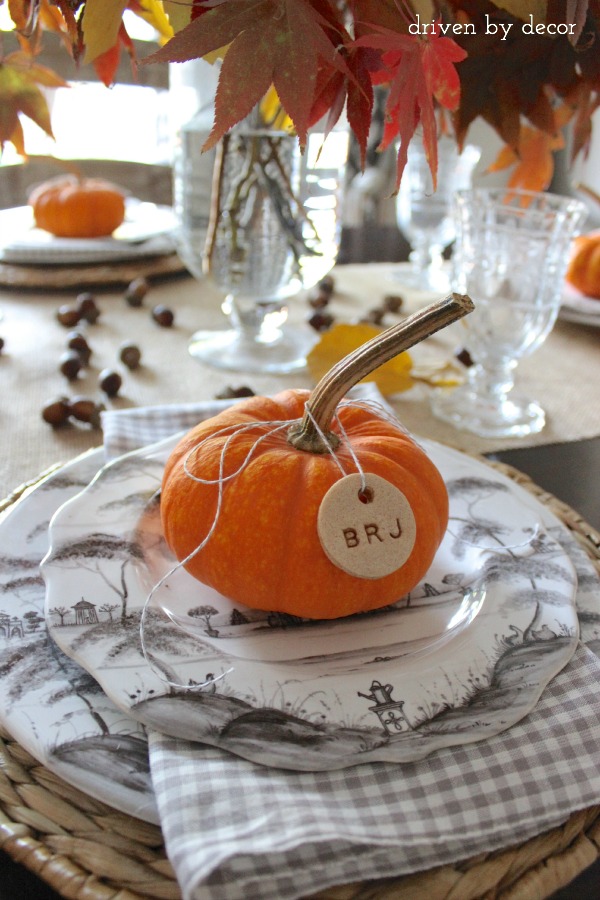 Next to each plate is a set of silverware that is together with a ribbon: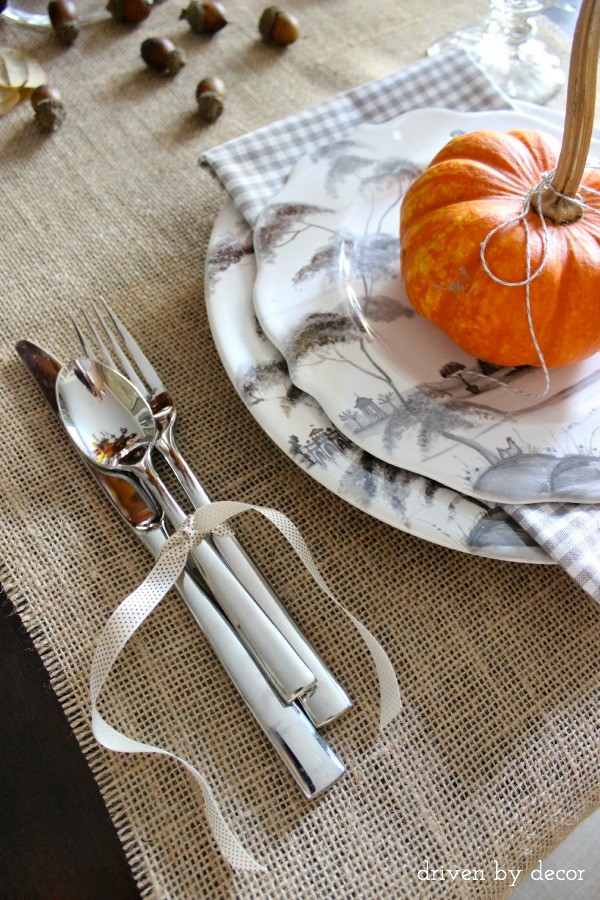 For a simple centerpiece, I put the mini pumpkins and gourds I bought earlier this fall into a wood bowl lined with two different fabrics, including a cute plaid one that I recently found at Joanne's: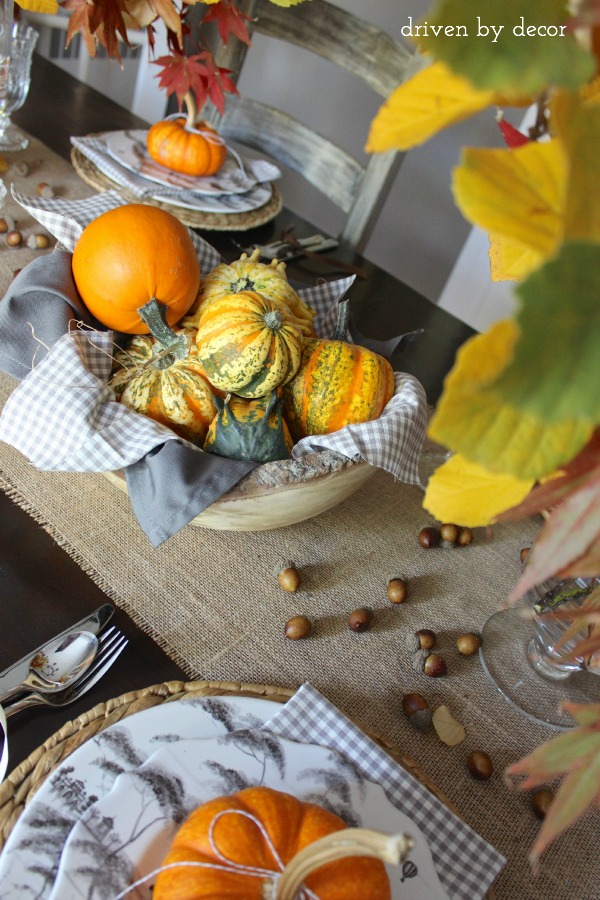 On either end of the wood bowl, I placed branches with brightly colored fall leaves in vases of water. Who needs to buy flowers when you've got such beautiful colors right outside your door?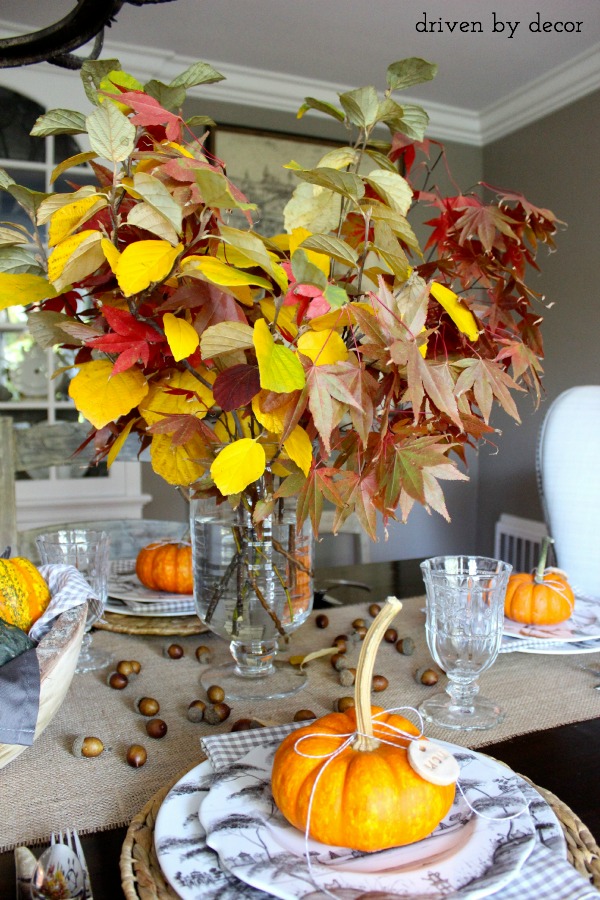 I finished off the table by scattering a few acorns along the runner – they are faux acorns (no bugs!) with real caps: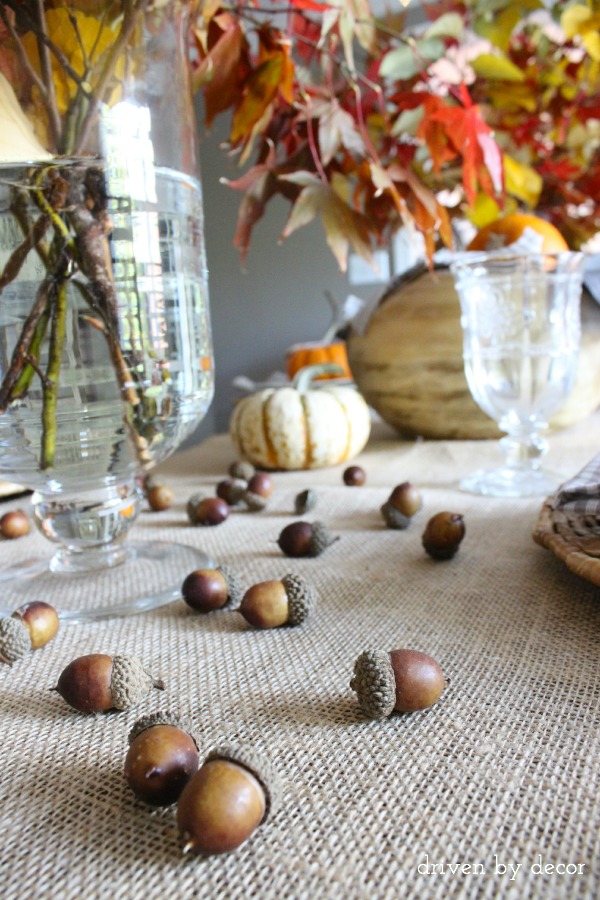 While the acorns will last forever, unfortunately the branches don't last very long, even in water, but if you like to keep your table decorated for a few weeks like I do, it's simple to go outside and cut some more branches every few days. Once all of the leaves are off the trees, I'll cut from our evergreens instead, but for now I really enjoy bringing the beautiful fall leaf colors inside: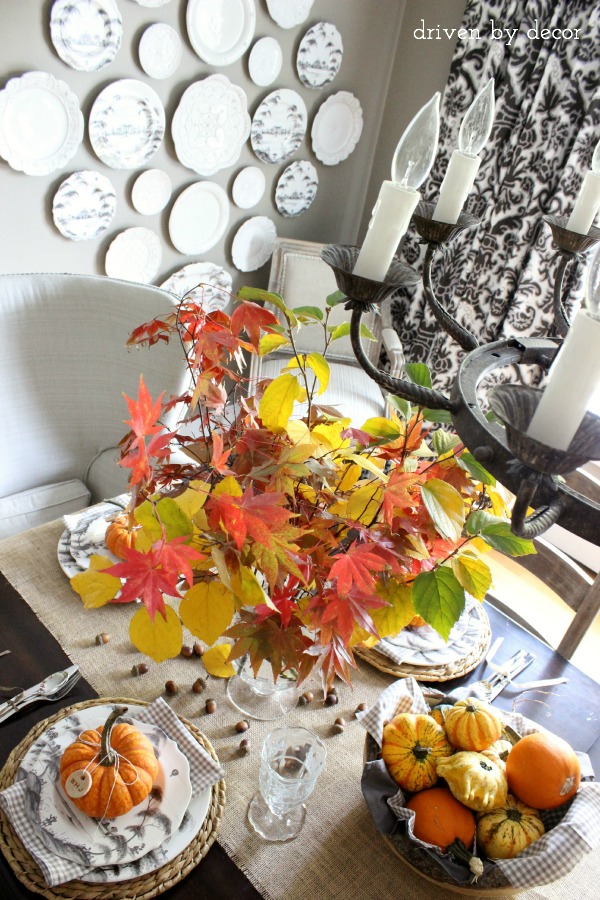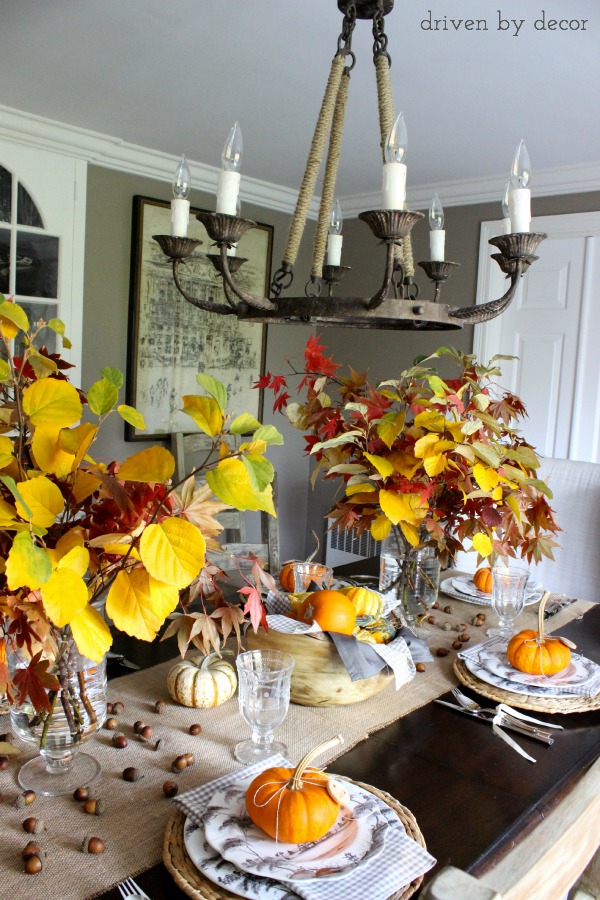 I also wanted to share a recipe that's perfect for making around Thanksgiving or the holidays. It's a sausage and egg breakfast casserole that is super quick and easy to make and the best part is that you can mix it up the night before so that when you get up in the morning, all you have to do is pop it in the oven and you have breakfast for eight. Because who wants to be messing up the kitchen making eggs and bacon the morning after you spent hours in the kitchen making Thanksgiving dinner? Not this girl.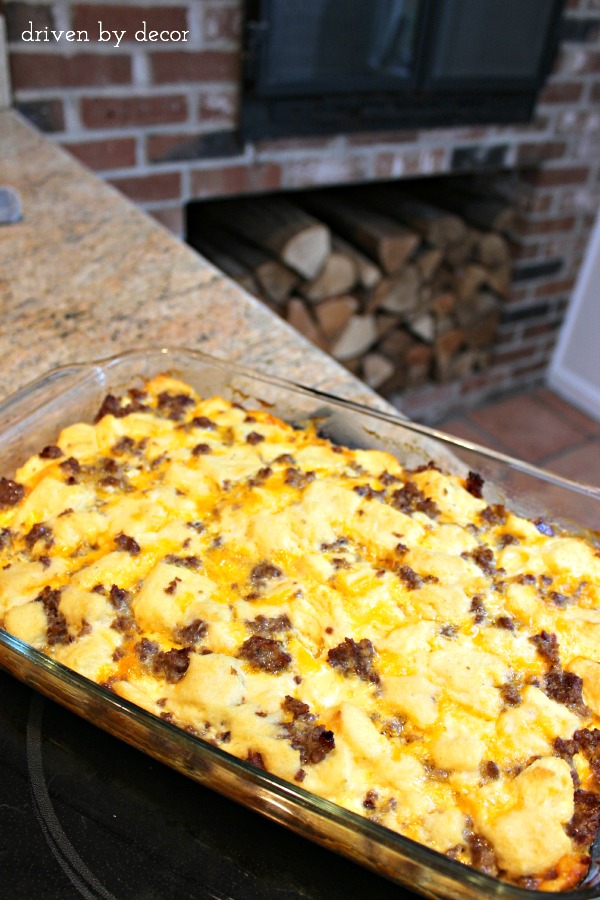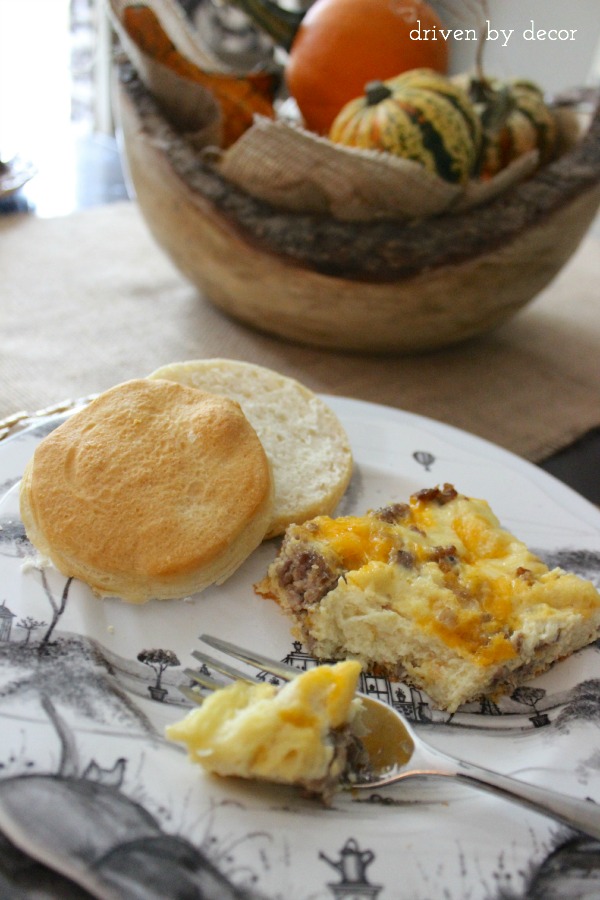 SAUSAGE AND EGG CASSEROLE
1 pound bulk pork sausage (I use Jimmy Dean regular)
6 slices white sandwich bread (with crust cut off) cut into ½ inch cubes
1 cup shredded sharp cheddar cheese
6  eggs
2 cups milk
½ tsp salt
1 tsp dry mustard
In a skillet, brown and crumble sausage; drain and set aside.  In a large bowl, beat eggs; add milk, salt and mustard. Stir in bread cubes, cheese and sausage (you can also add your own mix-ins like mushrooms, peppers, etc. if you'd like!).  Pour into a greased 9 x 13 baking dish.  Cover and refrigerate for 8 hours or overnight.  Remove from refrigerator 30 minutes before baking.  Bake uncovered at 350 degrees Fahrenheit for 40 to 50 minutes or until a knife inserted near the center comes out clean.  Makes 8 servings.  Tastes great with salsa!
Hope you all have a wonderful holiday!