We moved to our house two summers ago and have been fighting an uphill battle with our yard from day one. We had an accepted contract on the house in March but didn't close on it until June and unfortunately the previous owners didn't maintain the landscaping that spring. So when we pulled up to our new house for the first time since seeing it under snow in March, my first thought of how much I loved all of the blooming hydrangeas was quickly followed by the realization that everything was so overgrown that you couldn't even make your way along our front walk: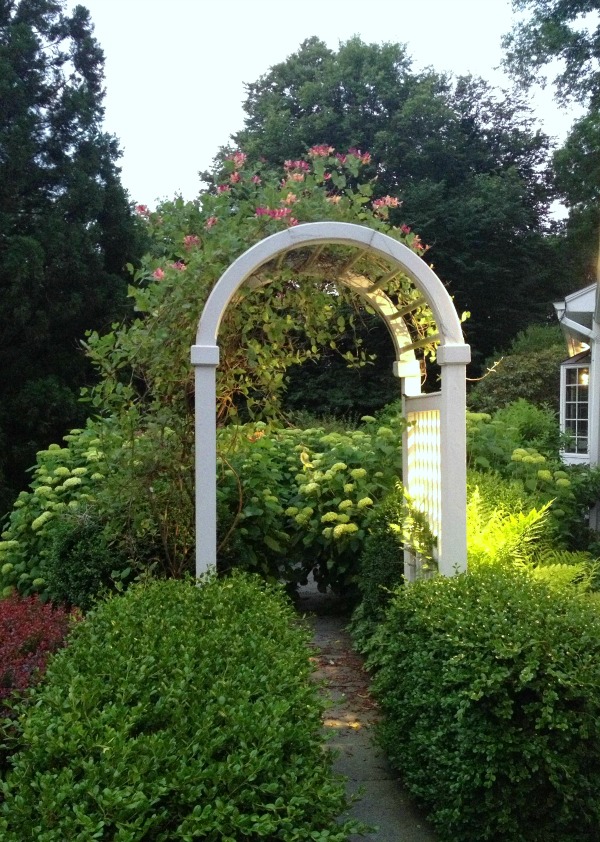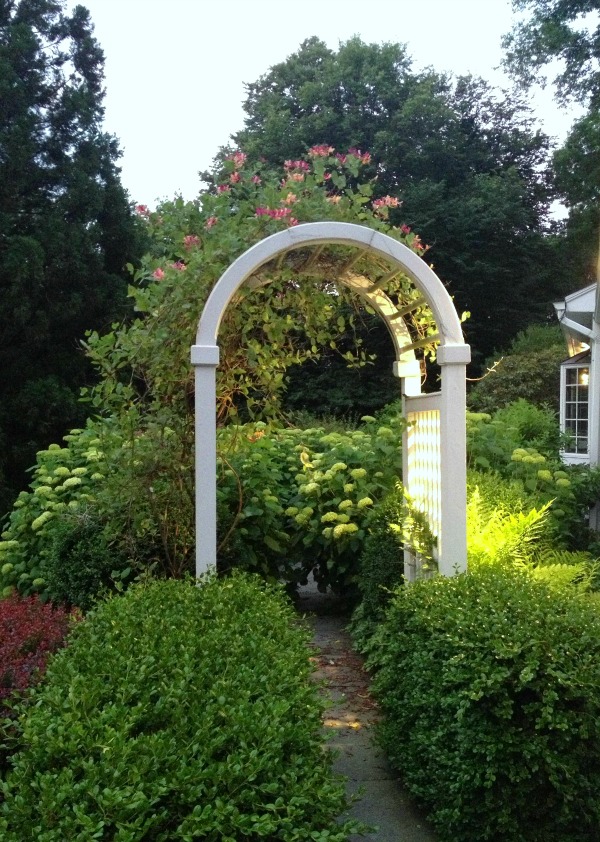 A bid from a landscaper to get everything trimmed and weeded was…$1500. So there went our big brainstorm of hiring the job out. My husband and I have worked on our yard a ton since that first summer to get it back into shape and the biggest challenge has been combating the weeds. We have well water which makes me worry about using harsh chemicals like Roundup to get the job done. So over the past two years I've experimented with several different formulas for organic weed spray and thought I'd share the one that's worked best for me.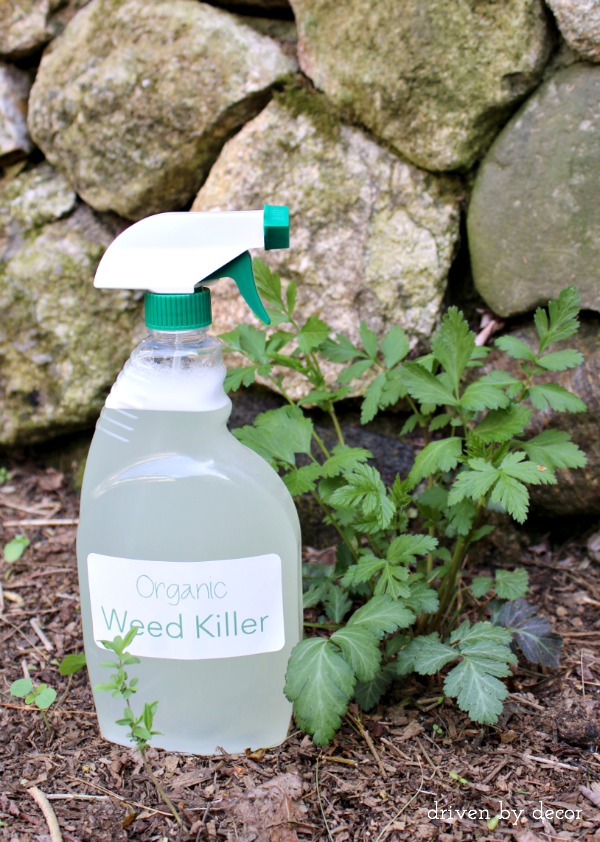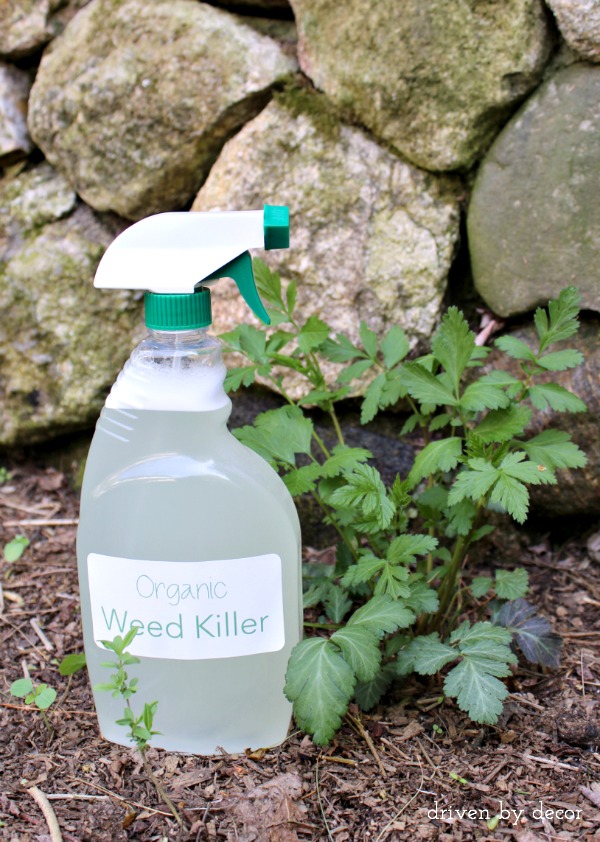 The formula is actually super simple – it requires only three ingredients that you probably already have on-hand: white vinegar, table salt, and liquid dishwashing soap. The vinegar/salt solution is what actually kills the weeds and the dishwashing soap is what helps the solution adhere to the leaves of the weed. Here are the simple directions for making your own organic weed spray:
Fill an empty 32 oz. spray bottle most of the way with white vinegar
Add 1/4 cup table salt and stir until dissolved.
Mix in 2 teaspoons of liquid dishwashing soap (I use Dawn)
Shake well
It works best when you spray the weeds on a sunny day when there's no rain in the forecast for a few days. Now I'm not going to pretend that this organic mixture works just as well as Roundup because it doesn't. It takes longer for the weeds to die and more stubborn weeds sometimes require a second spray but it does work on most weeds and definitely gives me some piece of mind about chemicals getting into our drinking water. I also like that I don't have to worry about my girls and our dog and their exposure to harmful chemicals when playing outside.
And while we're talking weeds, I'll share my other weed fighting tool that I bought since moving here and seriously couldn't live without.  It's Fiskar's Uproot Weed and Root Remover (affiliate link) and I love it because it's made to use while standing up (and it's fun – even my girls don't mind doing a little weeding with it). It has four stainless steel claws arranged in a circle that you push down into the ground around the weed: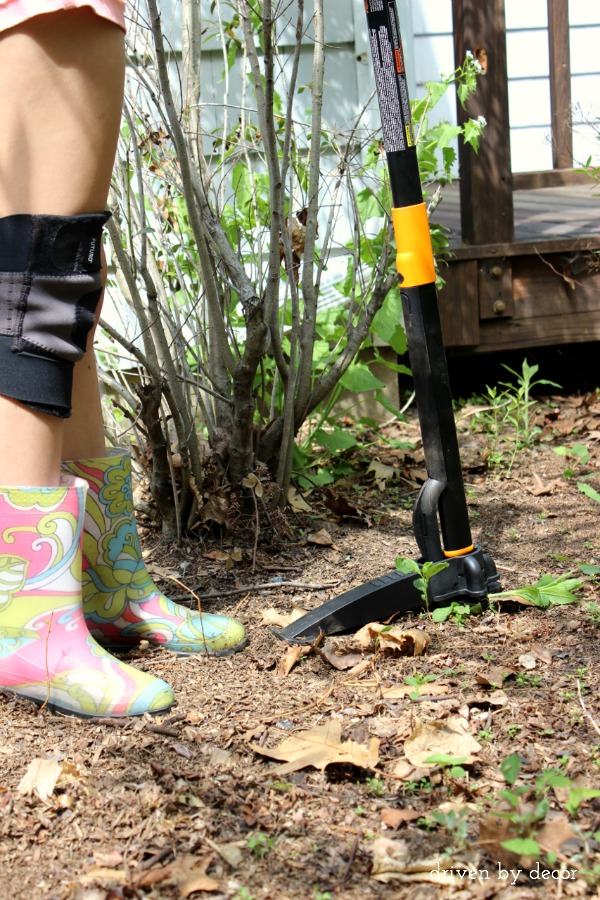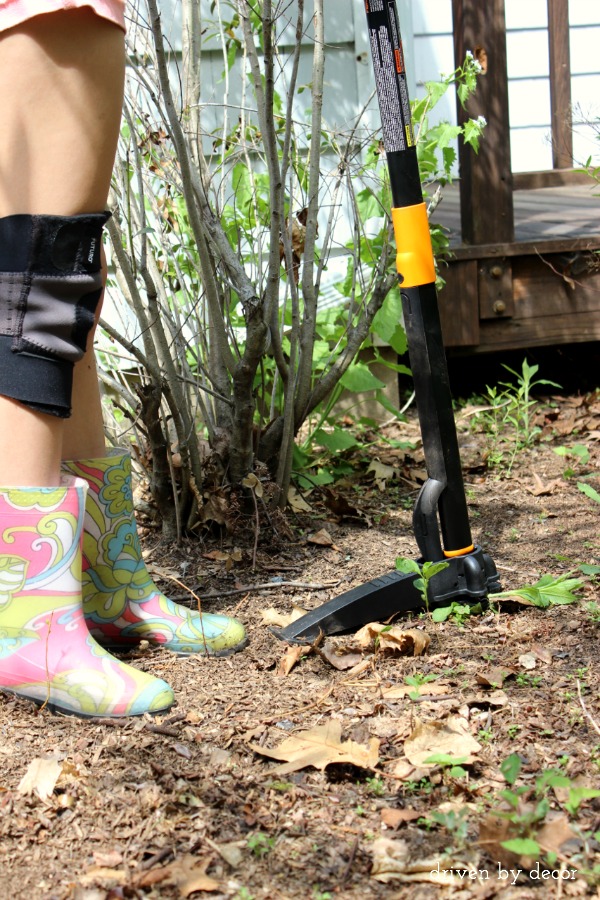 Then you step on the foot rest, lean the weeder back, and it pulls up the weed, root and all!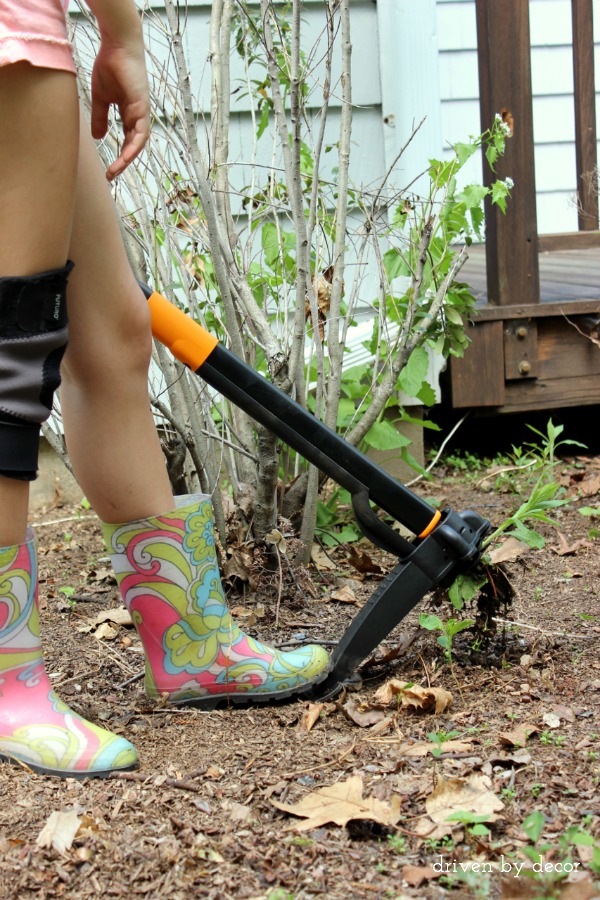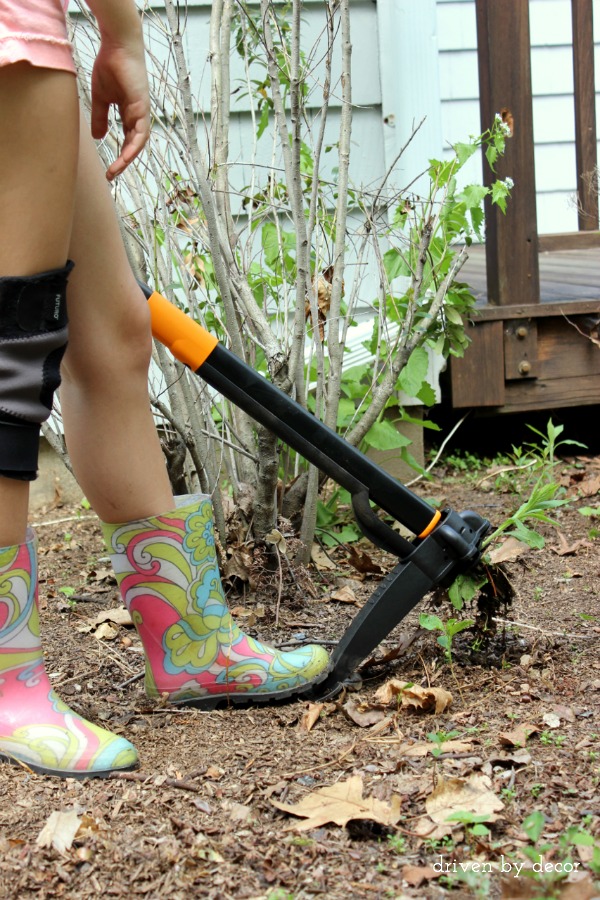 You can then just push the eject mechanism on the handle and the pulled weed is ejected from the tool. Sooo much better than kneeling or bending down for hours to weed! For the weeding around our house, I use this tool for bigger weeds like dandelions and then spray the smaller weeds with my organic weed spray.
So as you can see, lots of fun stuff has been happening at our house this week. #not. I'm hoping to wrap up the bulk of our pre-mulching prep work by the end of the weekend and get back to working on some of the inside projects that I've got planned (and am pretty excited about!). Enjoy your weekend!