Updated for 2015!
For years, we've carved our pumpkins in good ole jack-o'-lantern form (triangle eyes and all) but a few years ago we tried using a pumpkin carving pattern and now we're hooked! There are loads of great free carving patterns online and I thought I'd share some of my favorite patterns along with some links that will give you hundreds of other options.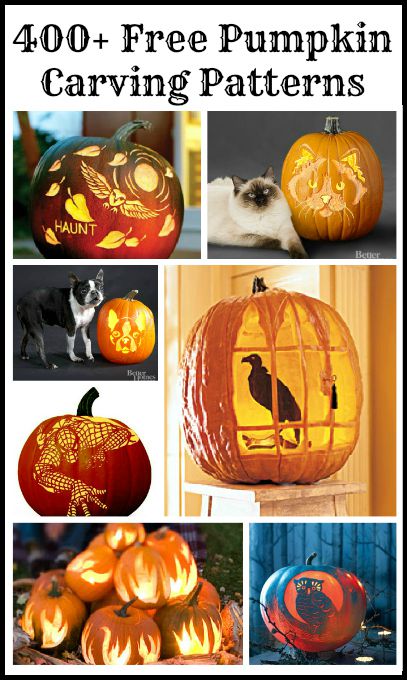 First of all, if you haven't used a carving pattern before, it's pretty simple: you clean out the pumpkin as usual, print out your pattern (if needed, you can resize it on your computer or use a photocopier to get the pattern size that best fits your pumpkin), attach the pattern to the pumpkin with tape, use a nail or piercing tool to make closely spaced pin pricks along the stencil lines, and then use a small knife to carve the pattern. You can pick up an inexpensive pumpkin carving kit locally or order a carving kit off of Amazon (affiliate link).
Being a total animal lover, some of my favorite stencils are animal-related. A great source for patterns of all sorts of different dog breeds is Better Homes and Gardens' Carving Stencils of Favorite Dogs. Some of my favorites are the golden retriever pattern,
and the pug pattern: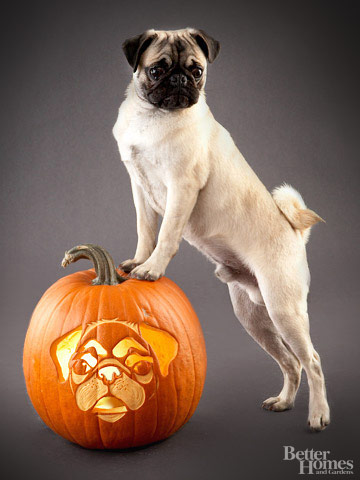 but there are tons of other cute ones too (dachshund, Boston terrier, labrador retriever, beagle, boxer, etc.)
Better Homes and Gardens also has a collection of Carving Stencils of Favorite Cat Breeds with breeds such as Ragdoll, bengal, American shorthair, Persian, and others.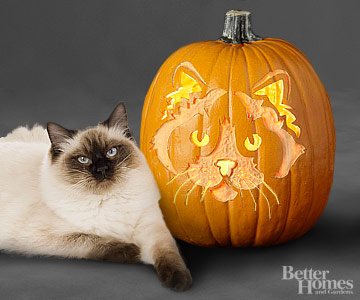 Along with dog and cat patterns, Better Homes & Gardens has some great Woodland Themed Pumpkin Stencils such as this owl carving pattern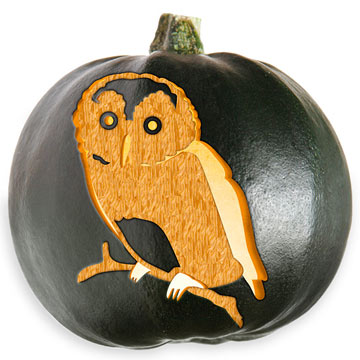 and this raccoon carving pattern: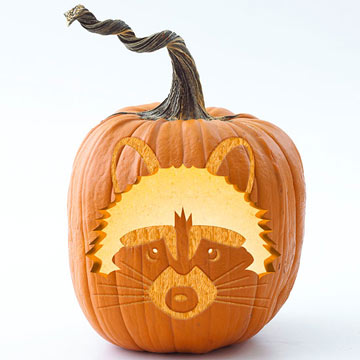 Martha Stewart's online site includes several pumpkin carving patterns, including a pattern for creating this funky faux-bois pumpkin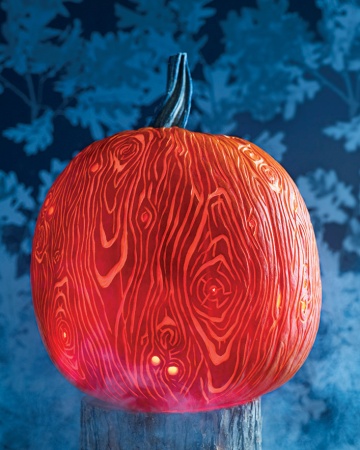 as well as this more traditional night owl pumpkin: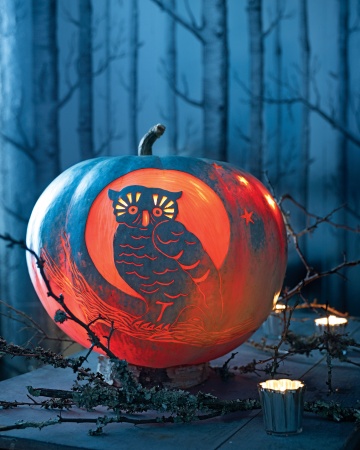 Other design favorites we've found are this haunted tree pattern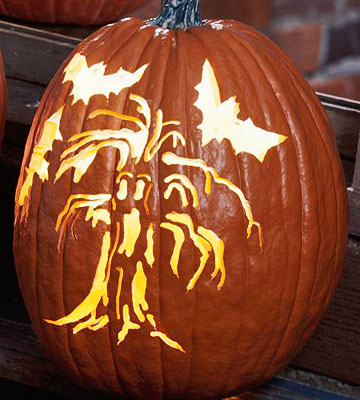 and a flame design pattern that allows you to create a faux campfire with a group of small pumpkins:
There are lots of patterns of super heroes and other kid friendly characters but my favorite is this intricate pattern of Spiderman: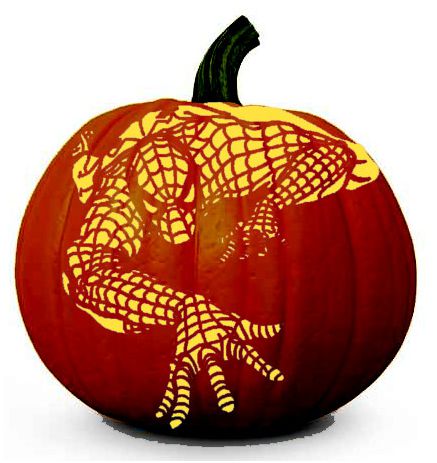 A few of my other favorites are this owl and falling leaves pattern,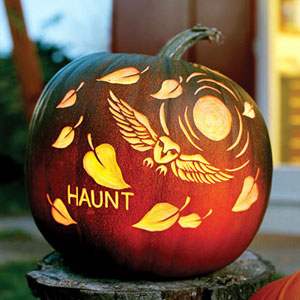 Happy Goblins pattern,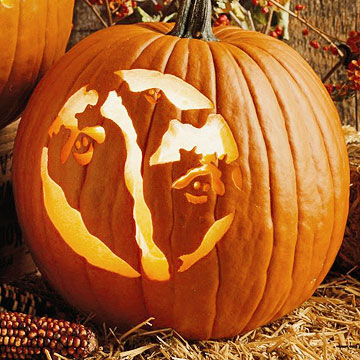 and, for those of you who like to go all the way, a Vulture's Cage pattern:
There's lots and lots of other free patterns out there – here are some great sources if you want to continue your pattern search:
Celebrating Halloween: over 100 templates including traditional designs, travel themes, floral patterns, Angry Birds, Transformers, Tinkerbell, decorative words, & more

Pumpkin Masters: 12 creative templates

Halloween Pumpkins: 38 templates in a variety of designs

HGTV Beginner Halloween Pumpkin-Carving Templates: 34 templates designed for beginner carvers

DLTK Pumpkin Carving Patterns: over 50 patterns in a variety of designs

BHG Vampires, Werewolves, Ghosts, & Other Iconic Halloween Pumpkin Stencils:
20 traditional designs

Pumpkin Pile: Hundreds of patterns including traditional designs, cartoons, movie and sports figures, super heroes, celebrities, animals, video games, and car symbols

Martha Stewart Carve By Color Templates: a collection of creative carving templates including etched pumpkins, fanged pumpkins, silhouettes, and much more

Pink Ray Gun: lots of unique designs such as Ghostbusters, Jon Stewart, Vampire Bill from True Blood, Michael Jackson's Thriller, Harry Potter, and more.

Looking for some fun Halloween treats to make too? Check out this post on Halloween treats to see how to create two quick and easy ones – popcorn monster hands and witch hat cookies!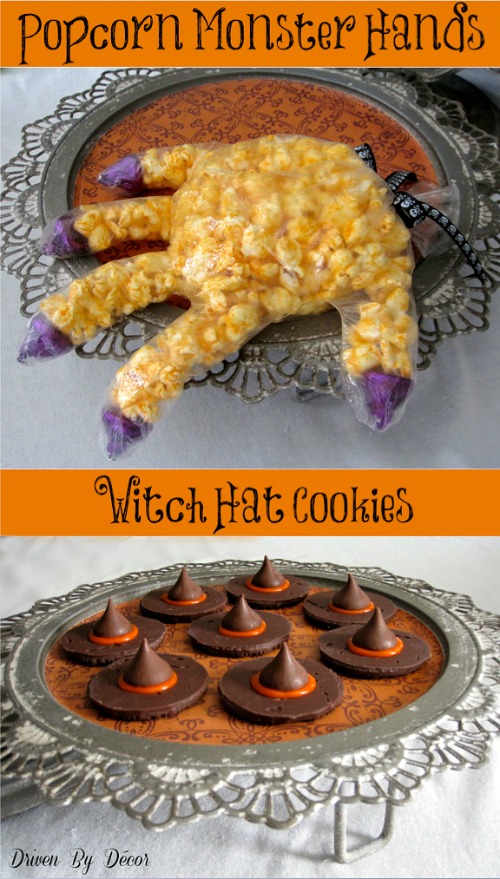 Happy carving!