I love popping into Pottery Barn for holiday inspiration and after seeing a super cute mummy pillow there last week, I thought it would be the perfect little thing to DIY and add to our Halloween decor. It turned out to be about as simple of a DIY as there is – so simple that it would be a great activity to do with kids!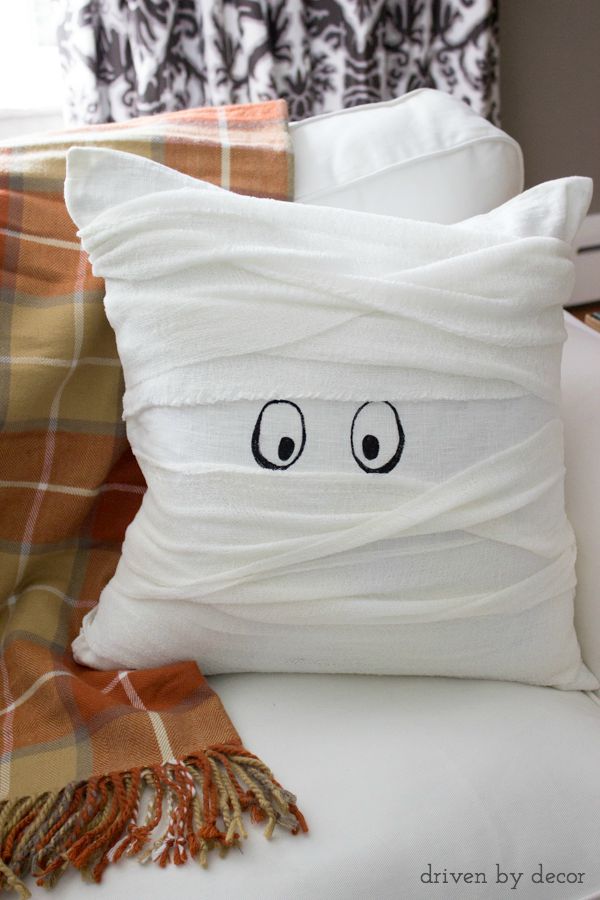 The supply list is short – a white VIGDIS pillow cover from IKEA (only $7), black craft paint, a fine brush, two 3 yard rolls of cotton gauze (mine was 4.5″ H), and white medical tape. The first step is to paint the mummy eyes on your pillow with the black craft paint and a piece of cardboard in between the front and back of the pillow so the paint doesn't bleed through. And guess what? Mummy eyes aren't perfect so if they're a little lopsided or uneven, all the better – no perfectionism needed here!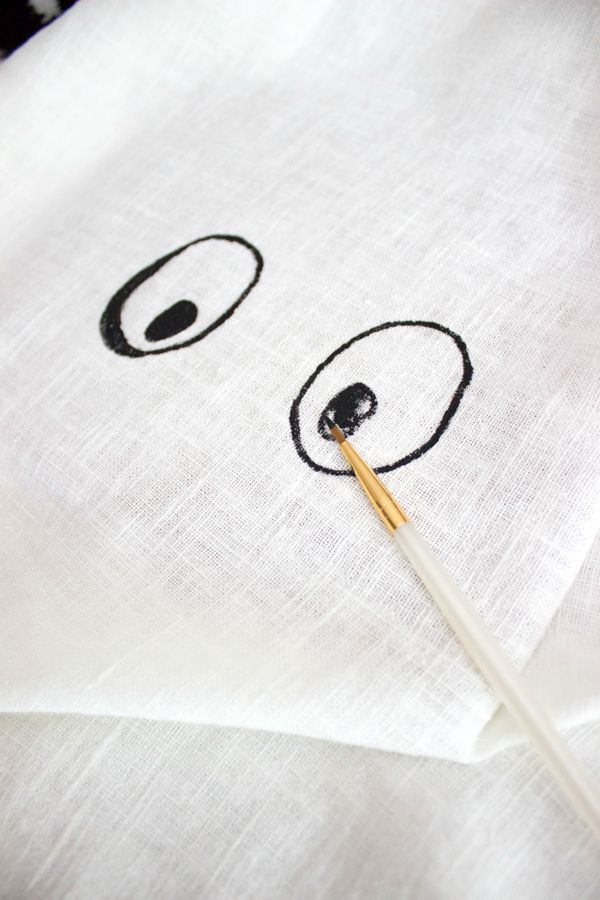 Once the painted eyes are dry (they dry pretty quickly!), take your first 3 yard roll of gauze and tape it to the back of the pillow (white medical tape will blend in best):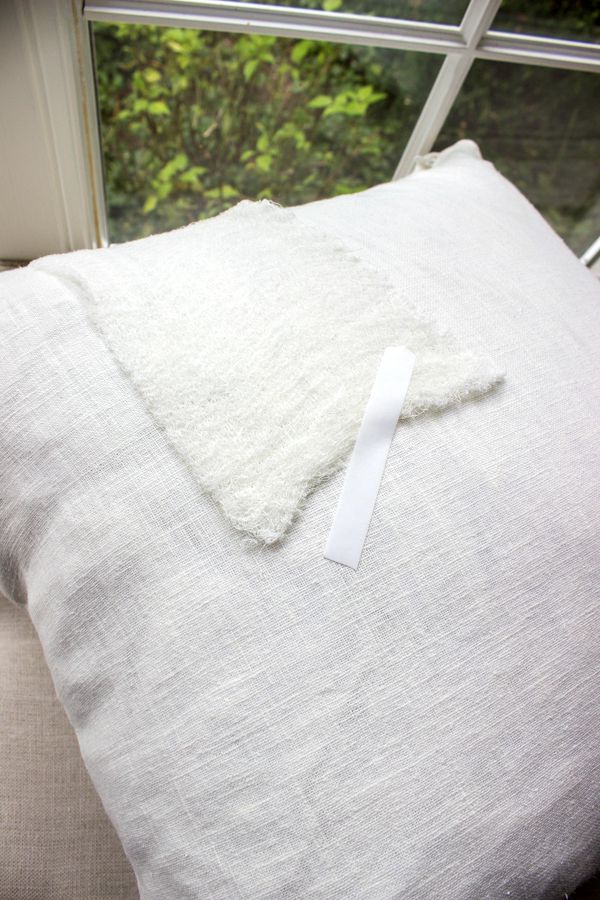 Wrap the first roll of gauze around the top half of the pillow several times, giving it a twist here and there. Either secure the end of the roll to the back with tape or tuck it into a loop of rolled gauze. Repeat the same process around the bottom half of the pillow using the second roll of gauze. Done!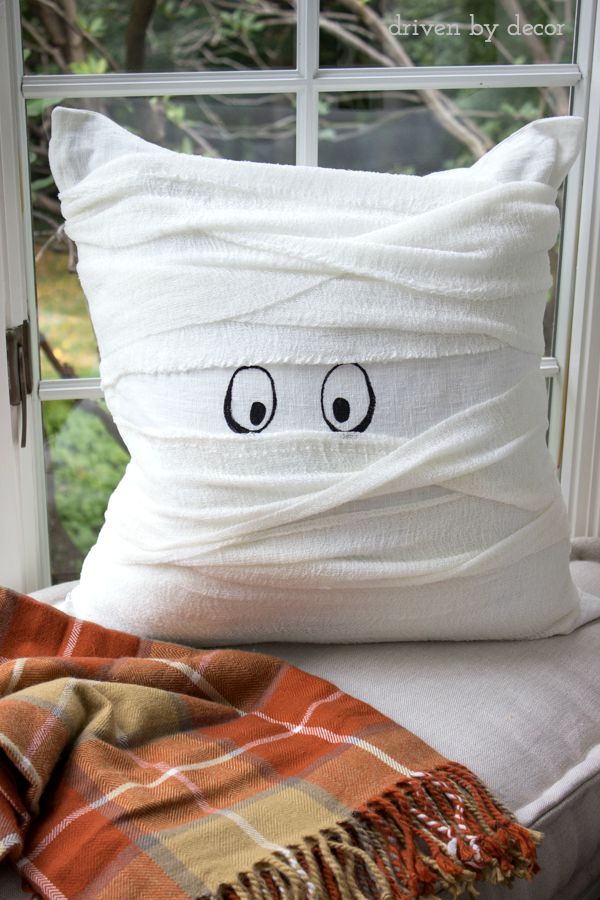 I'm not really doing my poor mummy pillow justice just propping him up on a plaid throw when he would look best snuggled among several other fall pillows on the couch but this is the scene behind the scene right now in our house: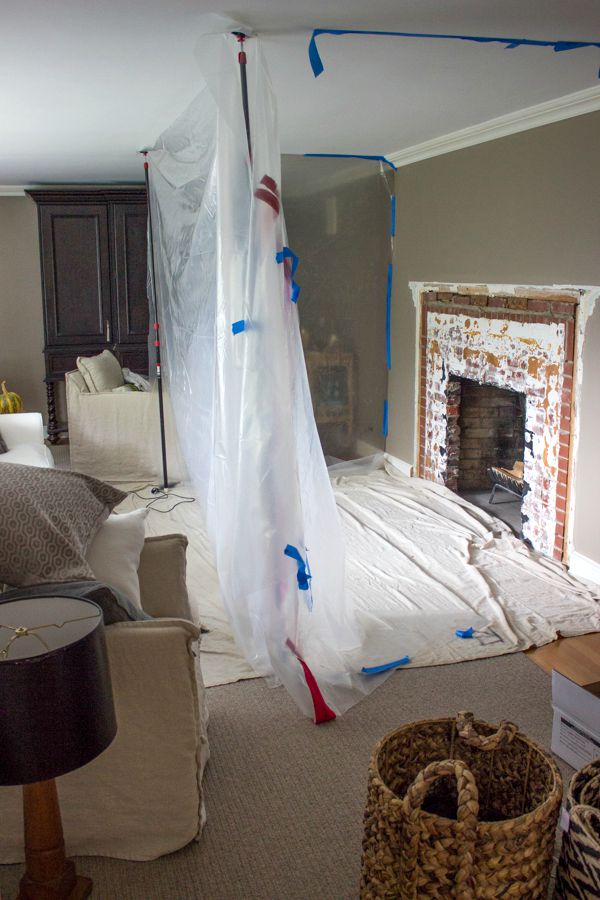 My contractor demolished our fireplace weeks ago (and set up the plastic walls to keep the demo dust from spreading all over the room) and then it's been one delay after another with the tile guys (they have sworn that they are finally coming on Monday!). But that's how it goes with remodeling – it has to get worse before it gets better, right?! I'm trying to be patient because I'm thinking that the new fireplace will be worth it in the end.
Hope you guys enjoy your day. I'll see you back here later in the week!