I've been checking Craigslist religiously for the past several weeks looking for an inexpensive console or credenza to sit against the blank wall in our home office:
which is directly across from the built-in bookshelves that I showed you last week:
Over Memorial Day weekend, I found an inexpensive credenza on Craigslist that was the perfect length, lots of closed storage (a big plus!), and very pretty, classic lines and hardware. The Craigslist picture was really grainy so I didn't have high hopes but I was pleasantly surprised when I saw it in person so home with us it came!
Once I got home I found a Baker Furniture plaque in one of the inside drawers so I know that it's a very well made piece. The sellers told me that it was purchased sometime in the 1960's.
So here's the problem – my plan was to buy an inexpensive credenza or console and paint it the same white as the bookcase on the other side of the room. But now I'm feeling like it's just wrong to be painting a vintage Baker piece, especially since the doors have a beautiful starburst design that would be ruined by painting it. I'm totally questioning my plan…
I can't leave it as-is because the wood tone looks terrible with the wood tone of our desk (which is in the bottom right on the pic below):
Unless I wanted to do something different with the desk…So what would you do? Paint it? Strip it and restain it? Sell it (hopefully at a profit) and go with something else? Some other options that I've been batting around are to go with a smaller console with baskets or ottomans below it and chairs flanking both sides of it: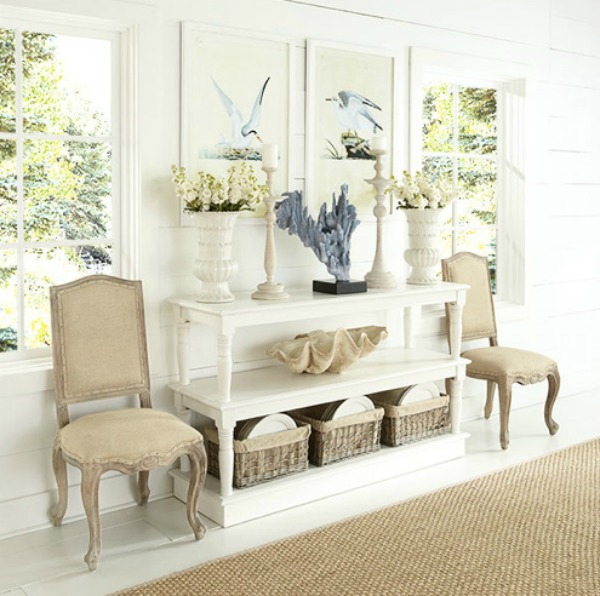 I also like the idea of two console tables pushed together because for future homes, it would give me the option of one long table or two tables that could be split up and placed in different rooms:
The downside of going with an open console is that I'd be loosing a lot of the storage space that I'd have with the credenza. So I need you all to dish out your opinions – what would you do if this was your room?!