It's been musical rugs over at our house lately – I thought I had our entry rug all figured out when I placed my new West Elm geometric rug by the front door. But it ended up being a no-go for that spot (I'll fill you in on why in a minute) so I decided that I was going to bite the bullet and go custom to get the 4′ x 5′ size that I needed for my odd little entry space. But after going to a few carpet and rug stores, I realized that the only carpets that I could get cut to size and bound without breaking the bank are all kinda ugly. So what's a girl to do but take what she's already got (a chunky 4 x 6 jute rug) and do a little DIY to make it the custom size that's just right for the space: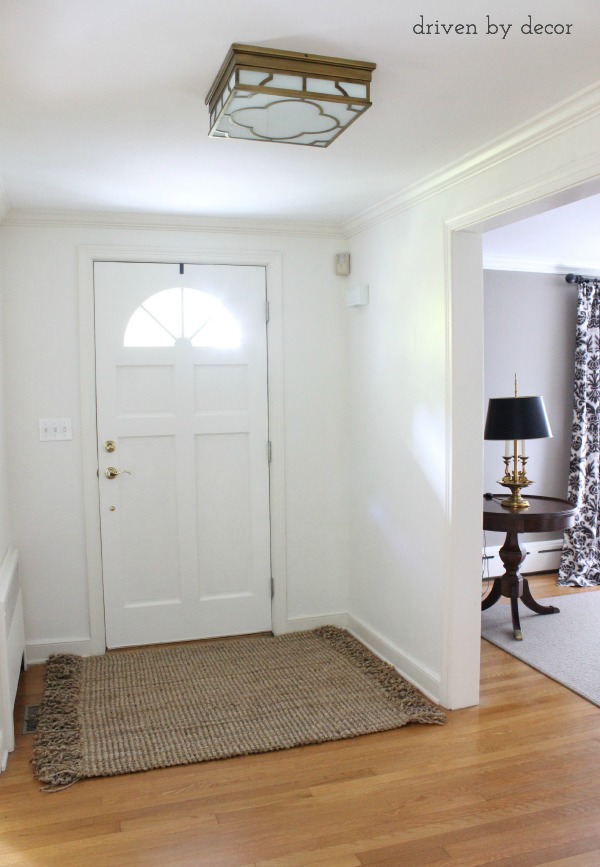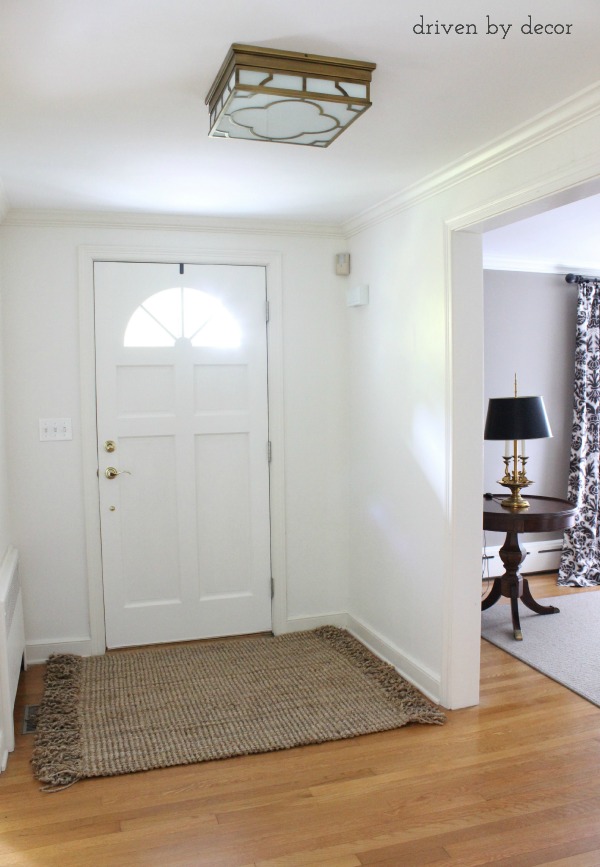 Here's how it all went down. The 4 x 6 jute rug that I started with worked perfectly in the entry of our old house but it wouldn't fit widthwise in our new one so I had it running lengthwise down the hall. It was too big. So recently I replaced it with a 3 x 5 West Elm wool dhurrie rug that I loved but after living with it for a while I decided that it was too small (I know it doesn't really look it in the picture but trust me that in 'real life' the size looked off).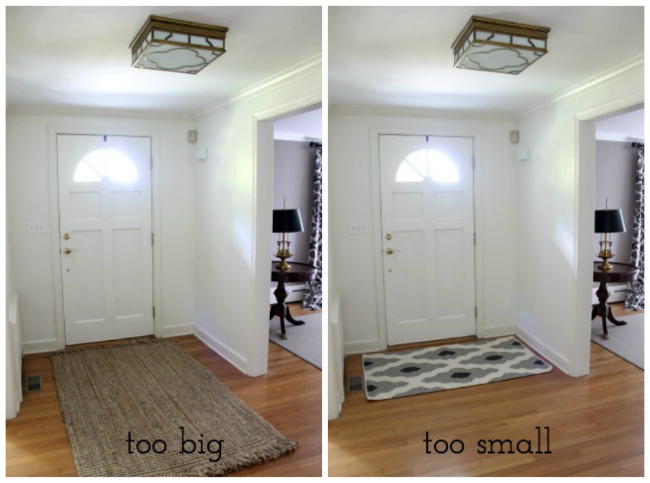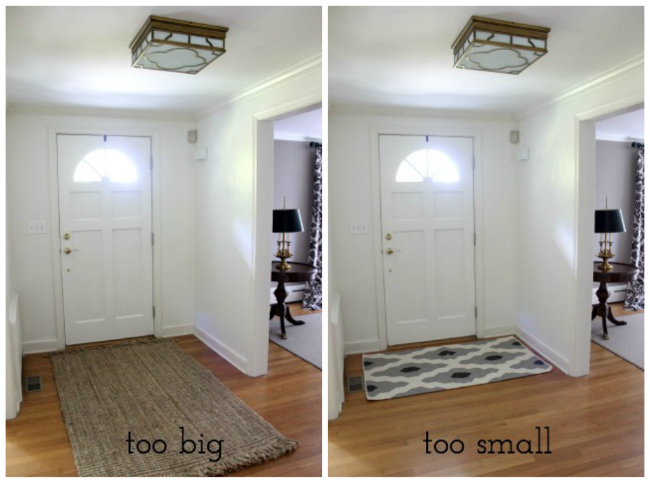 What was the "just right" size? 4 x 5. Hmm, if only I could get rid of a foot of my 4 x 6 rug….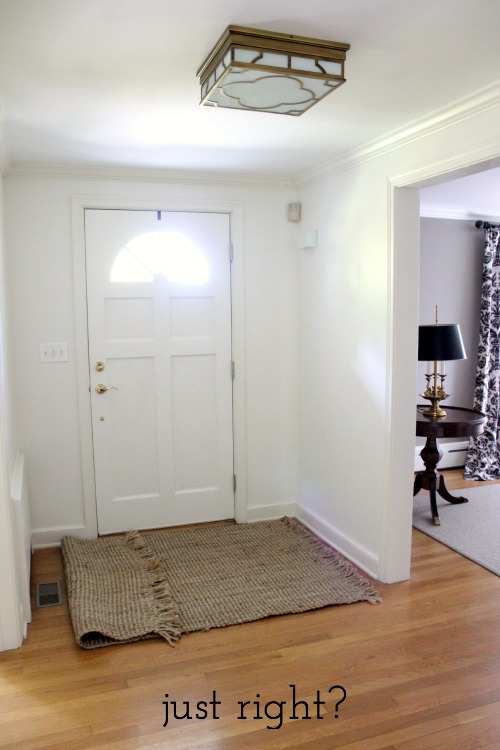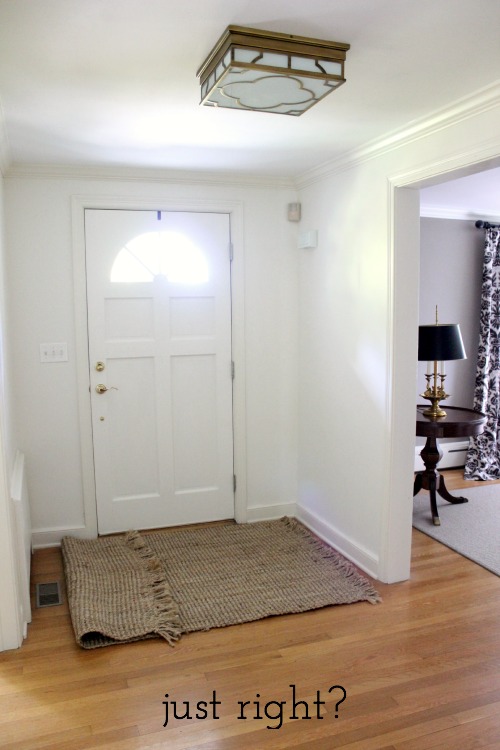 That's when I had the idea of doing a DIY resizing of my jute rug. A few hours later I said hello to my new 4 x 5 chunky beauty!: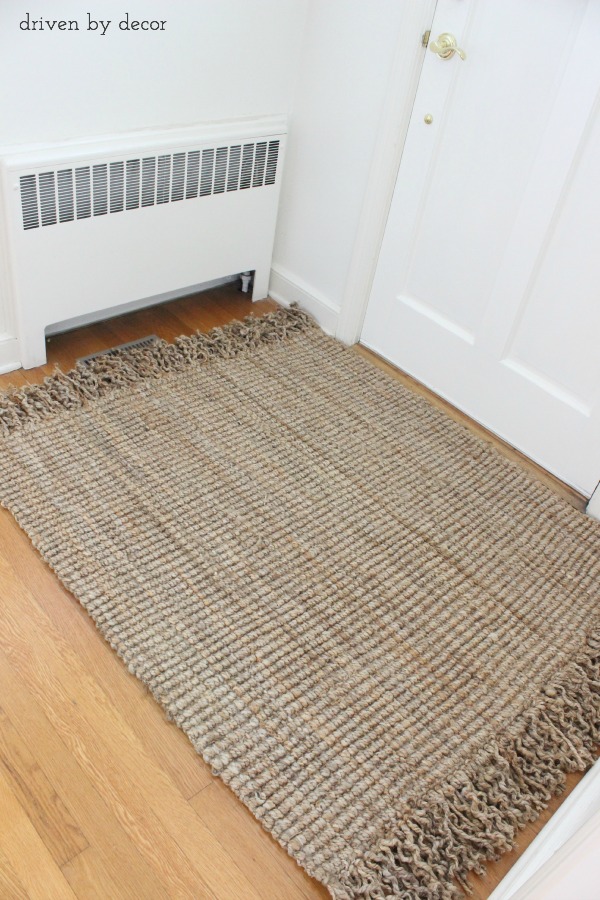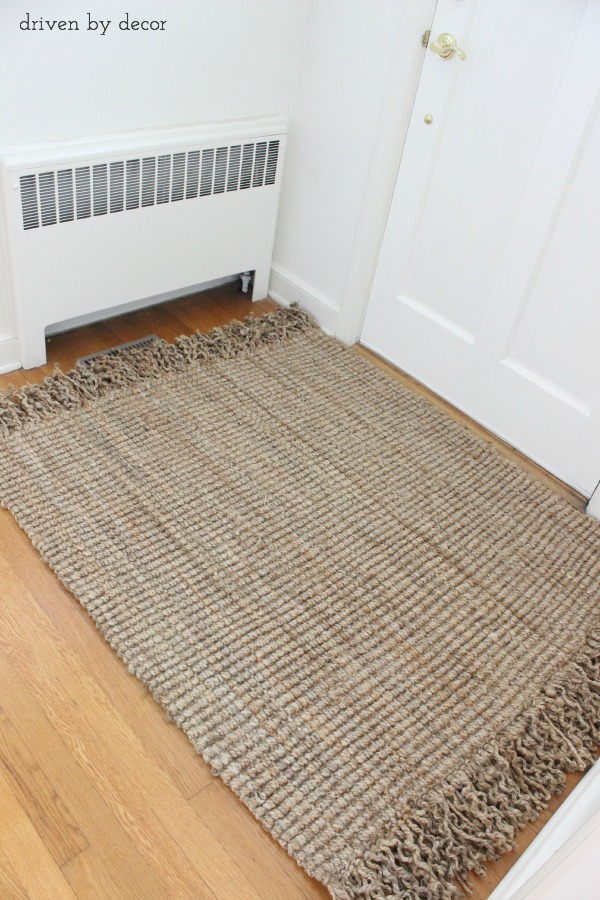 And goodbye to the old size that annoyingly overlapped the doorways to the living and dining rooms: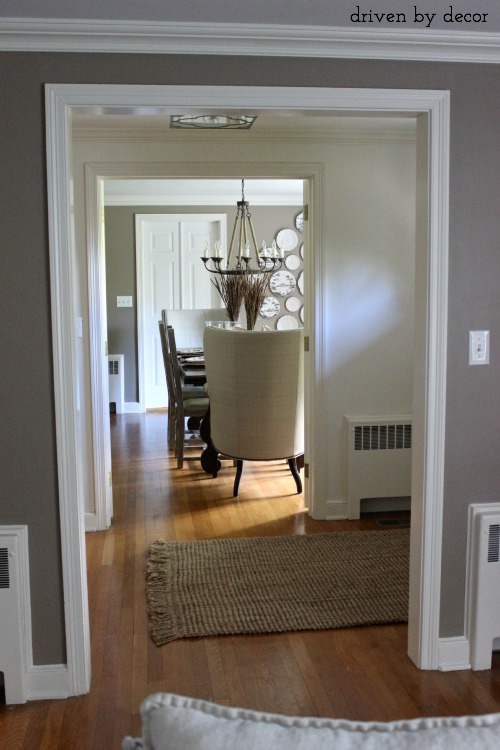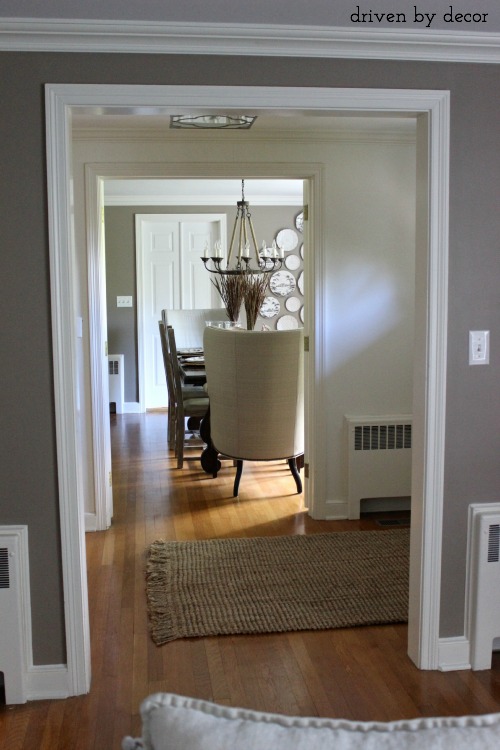 My newly resized 4 x 5 rug is much better behaved – she's big enough to fill up the entryway but not so big that she disrupts the flow from room to room: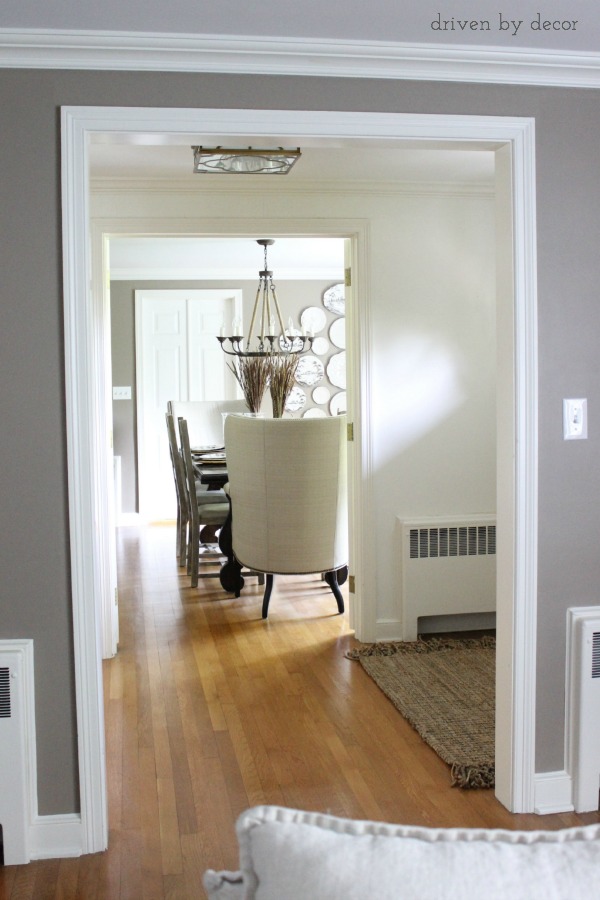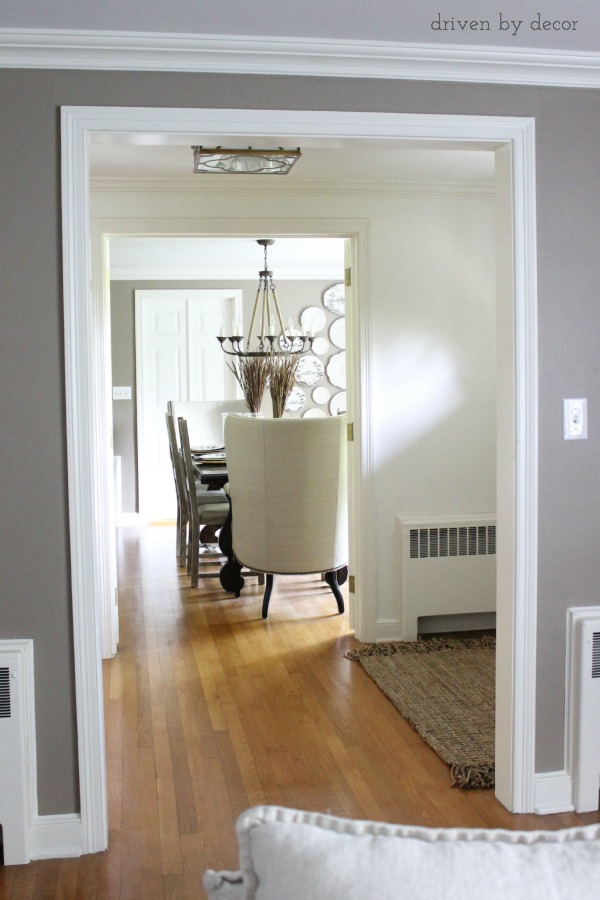 The DIY rug resizing wasn't the quickest of DIYs (it took me about 3 hours) or the cleanest (you wouldn't believe how much junk/dirt comes out of the rug when you unweave it) but it was simple to do and so worth it in the end. The key to this DIY is to start with a natural fiber rug that is handwoven and has fringed ends (mine is this inexpensive chunky jute rug from Rugs USA).  The width of the rug stays constant but you can shorten the length of it as much as you need to. You'll want to  shorten it from both fringed ends so that the look of your final fringe is the same on both sides.
Start by untying all of the fringe knots on one side, paying close attention to how they were tied. Once that's done, start un-weaving it. Keep going until you have unwoven the number of inches that you had planned. Now, it's time to reknot the end. For my rug, I noticed that there was an ongoing pattern of two curly strands and one straight strand. To retie the ends, I made a loop with the straight strand: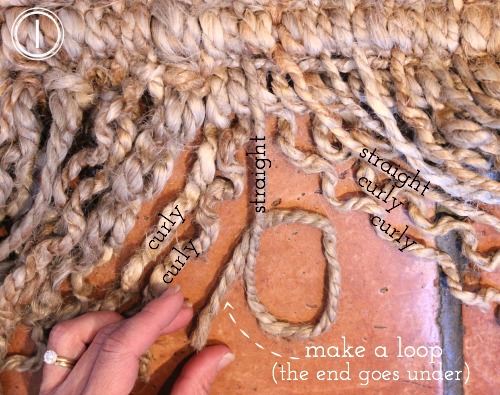 and then put the end of the straight strand through the loop from front to back: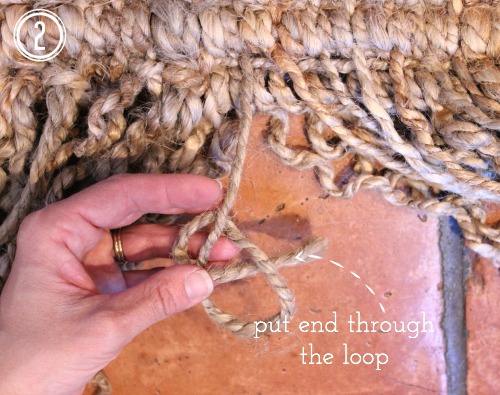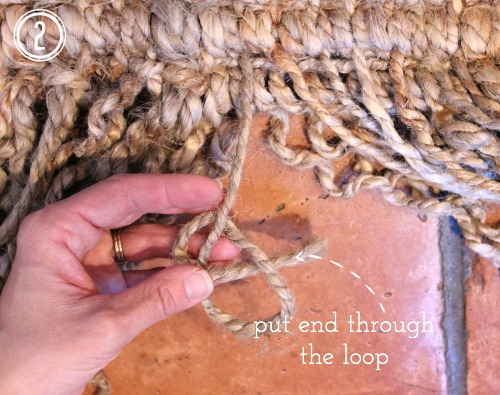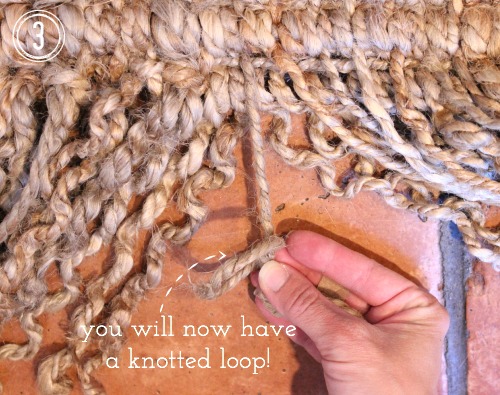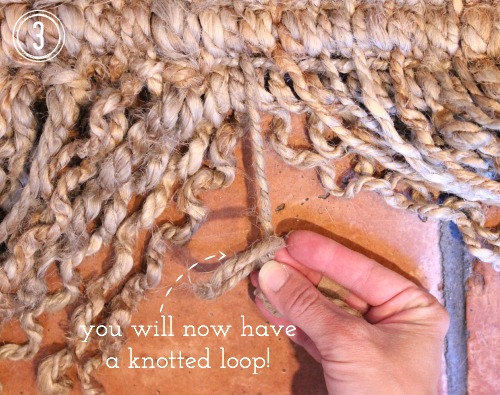 Take the two curly strands to the left and put them through the loop you just made: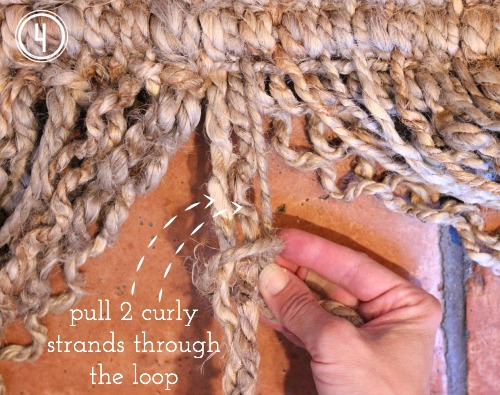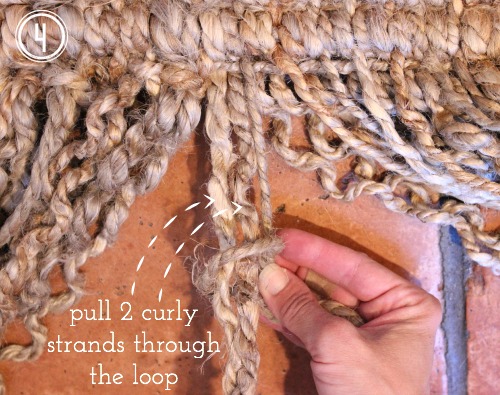 Flip the curly strands up out of the way and pull the loop tight so that it becomes a knot.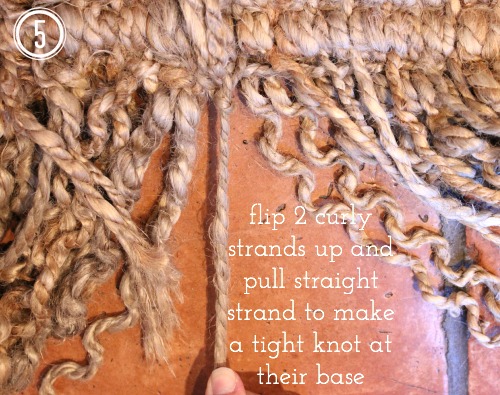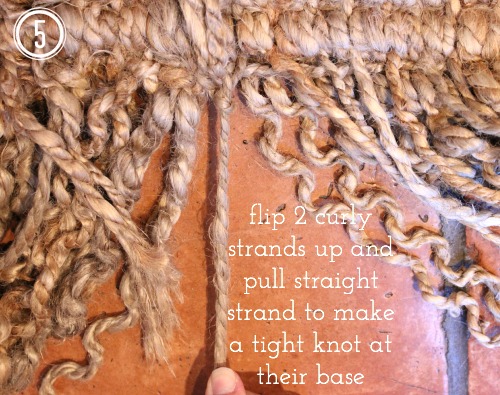 You've finished your first piece of knotted fringe! Just keep moving down the line tying one knot after the next. At the end, trim your fringe to the length you want. Loud music and caffeine help.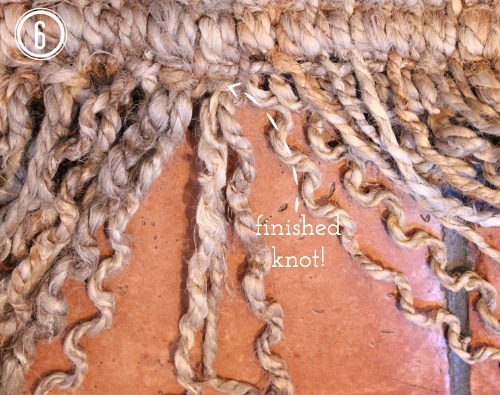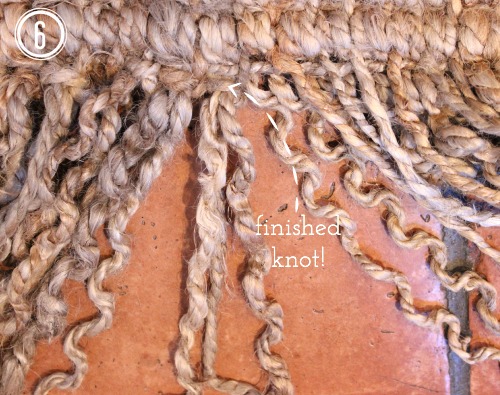 What you'll find is that your newly knotted fringe will be curly! I actually love the curly fringe and think it adds to the look of the rug but if you're not a fan and are really ambitious, I'm guessing that you could iron the fringe straighter.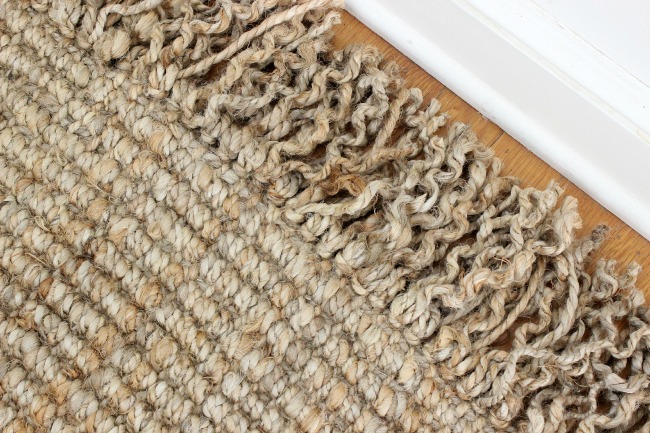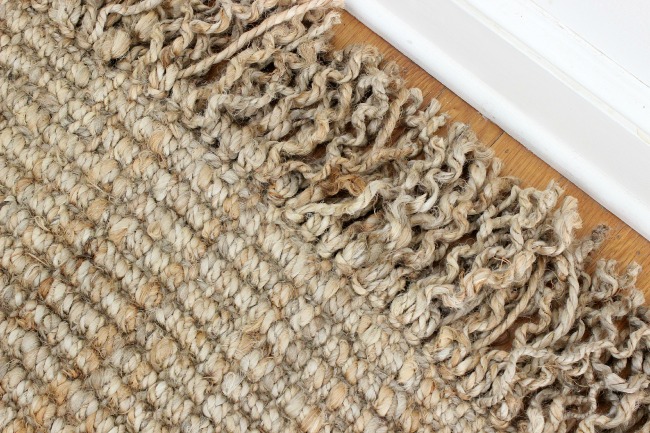 As a side note, for any natural fiber rug that's being placed over hardwood, be sure to use a rug pad! I've learned the hard way that without a pad, the rug can rub and change the sheen of the area of hardwoods it's covering.
So I've gotten one more foyer project done….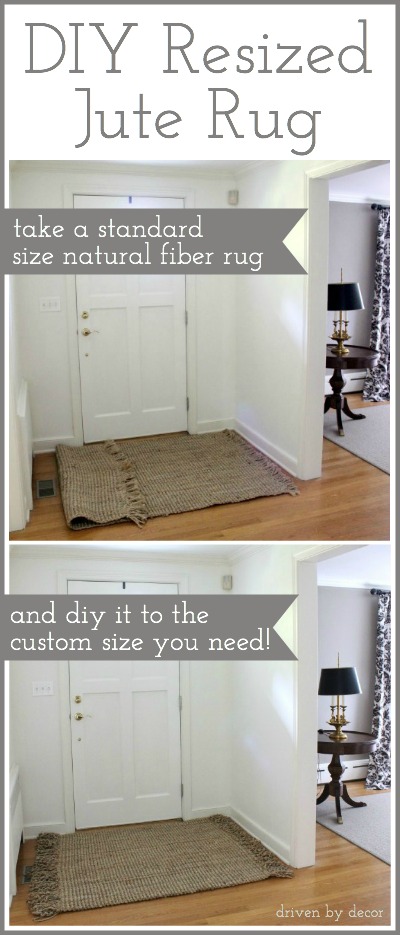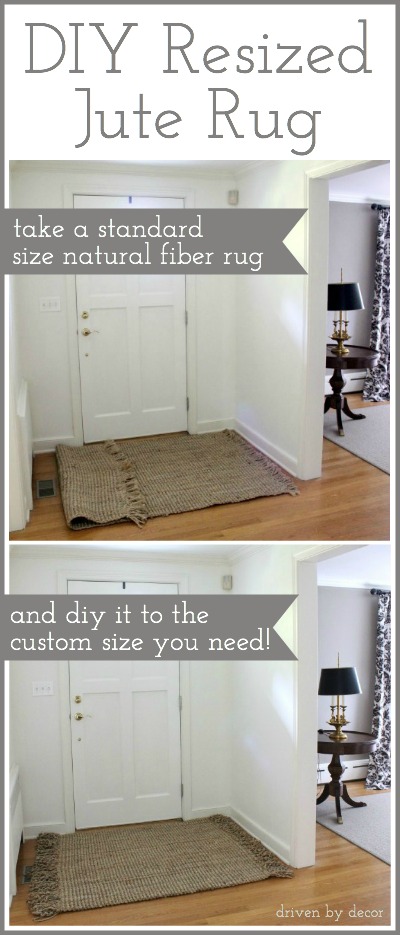 but I still have several left to go including adding some color to the walls (I'm choosing from these gray paint options) and possibly painting the door too – wouldn't it look so much better if it was black like it is on the front? And remember my tag sale bench? It will soon be making an appearance in a new, improved version of its former self! It's all coming soon!!