I'm excited to be sharing some before and after pics of our kitchen remodel with you guys today along with answers to some of the questions you've had about cabinet refacing, our choice in granite, and of course the popular, "Why in the world did you do a kitchen remodel if you're just going to be selling your home?". Let's talk cabinet refacing first.
Why did you chose to reface your cabinets instead of replacing them?
Two main reasons – cost and speed. The cost of refacing our cabinets (which involved laminating the existing cabinet frames, adding new wood doors, full extension drawers, and drawer fronts, and adding decorative molding and new hardware) was a little more than half of what we would have paid to get new wood cabinetry installed and pretty similar to what we would have paid for new IKEA cabinetry (assuming we did all of the IKEA cabinet assembly and installation ourselves).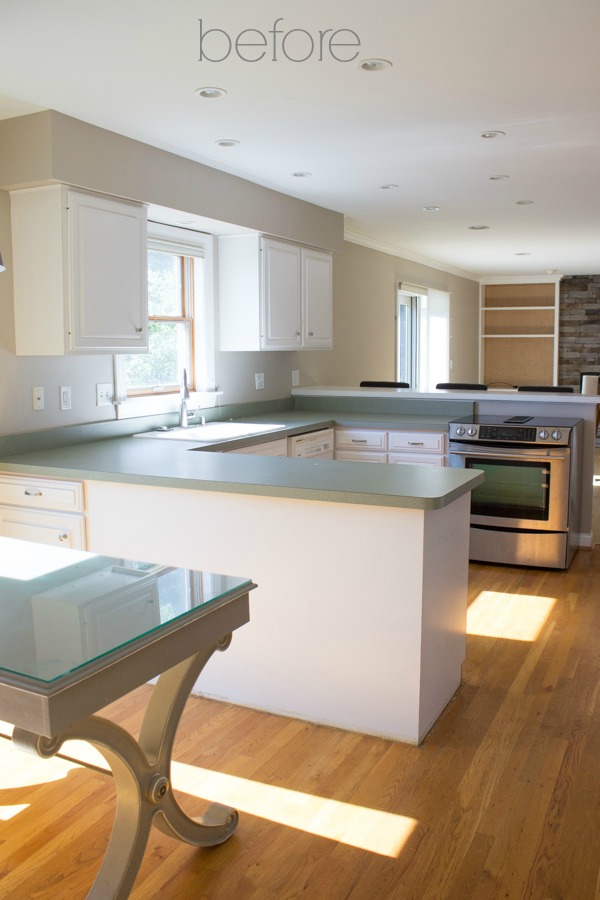 Since we had only a two week period from when our renters left to when we wanted to get our house on the market, speed definitely played a role too. The whole kitchen was done in four days!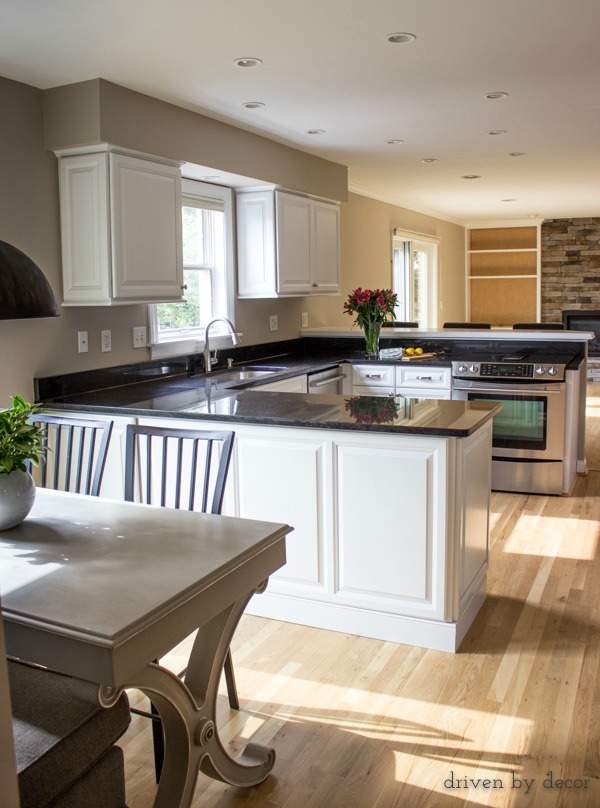 What do you like most about the new kitchen?
I'm a sucker for decorative molding so the new molding on the back of the kitchen peninsula makes me pretty happy. Before, the back of the peninsula had a recessed drawer and cabinet all the way to the left and the rest was a flat wasteland of laminate: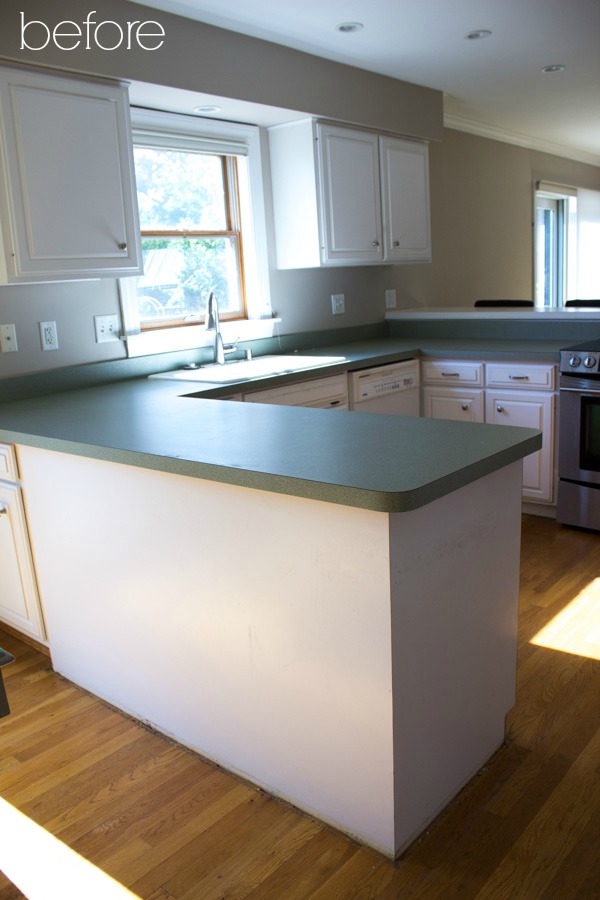 As part of the cabinet refacing, decorative panels were added on the back and side, including a push-to-open door at the far left to access the cabinet that's there. The new molding along the base of the cabinetry is pretty killer too.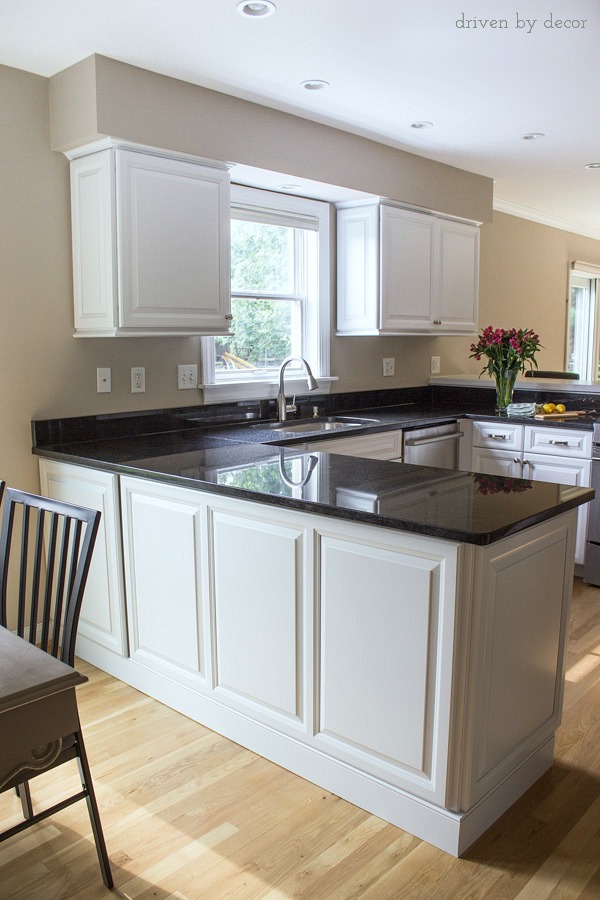 What new appliances did you get?
We kept our stainless steel range but got a new refrigerator and dishwasher. You may not be able to tell from pictures, but the new counter-depth fridge made a huge difference in our kitchen. The old one stuck way out from the counters right into the path that you take to get to our family room (psst…pay no attention to the man in the corner – it's my hardworking dad helping me remove the shoe molding before the floors got refinished 🙂 ):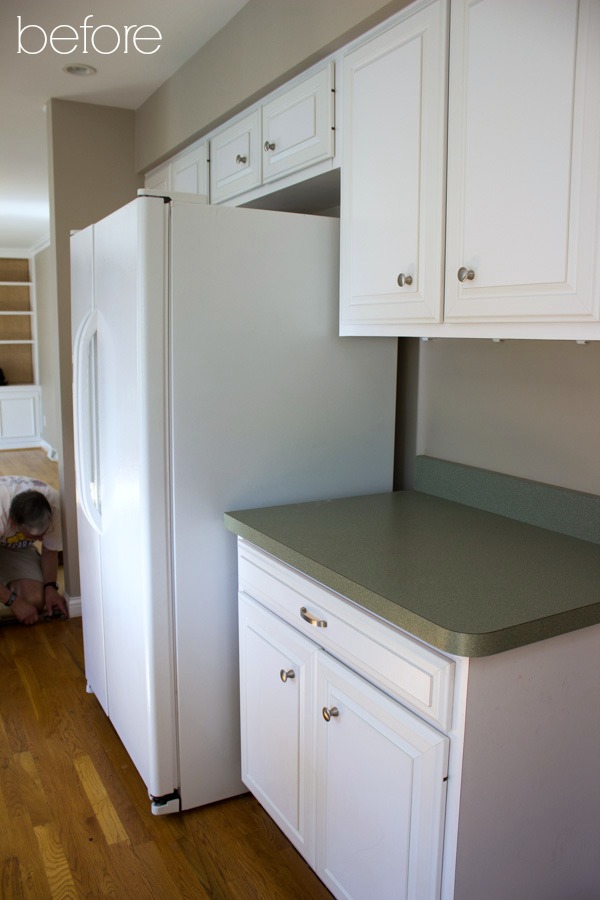 As part of the remodel, the space between the two base cabinets was widened so that it could accommodate the width of a counter-depth fridge. I went with a KitchenAid french door fridge that was a display model at Lowe's and on clearance for $1,000 off. We also replaced the old dishwasher with a stainless steel Bosch that got great ratings and was well priced.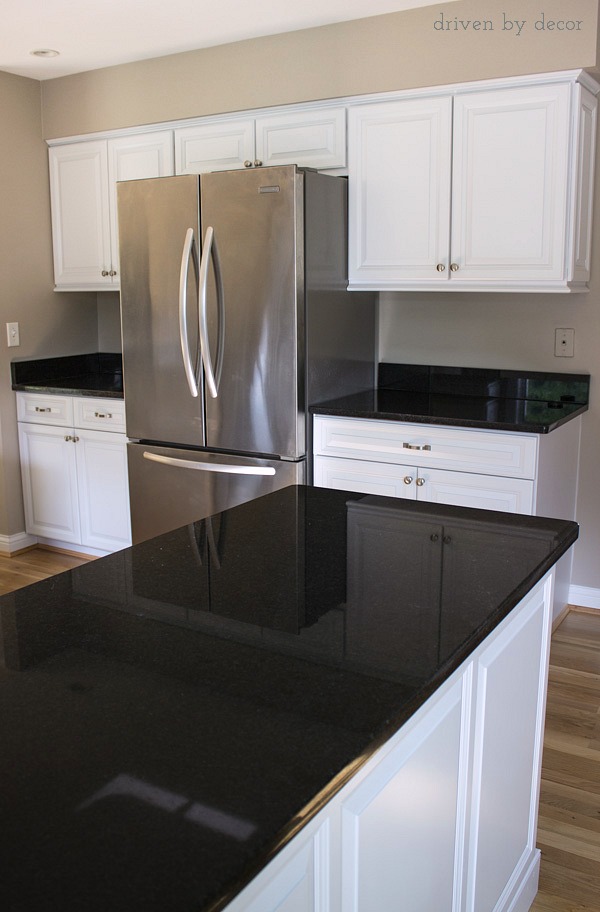 What granite did you choose?
Our old countertops were this lovely mint green laminate so pretty much anything would have been an improvement, right?!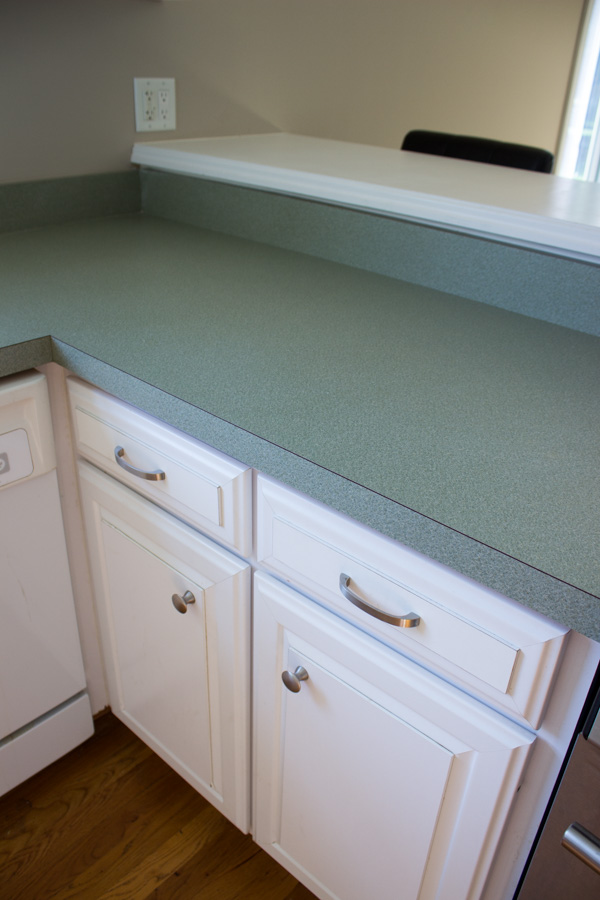 We stuck with an entry level granite since we were working with a budget and jumping up just a level or two in granite resulted in a pretty big price jump. Out of my three favorite entry level granites, I went with Black Pearl (also called Black Uba Tuba) and love it!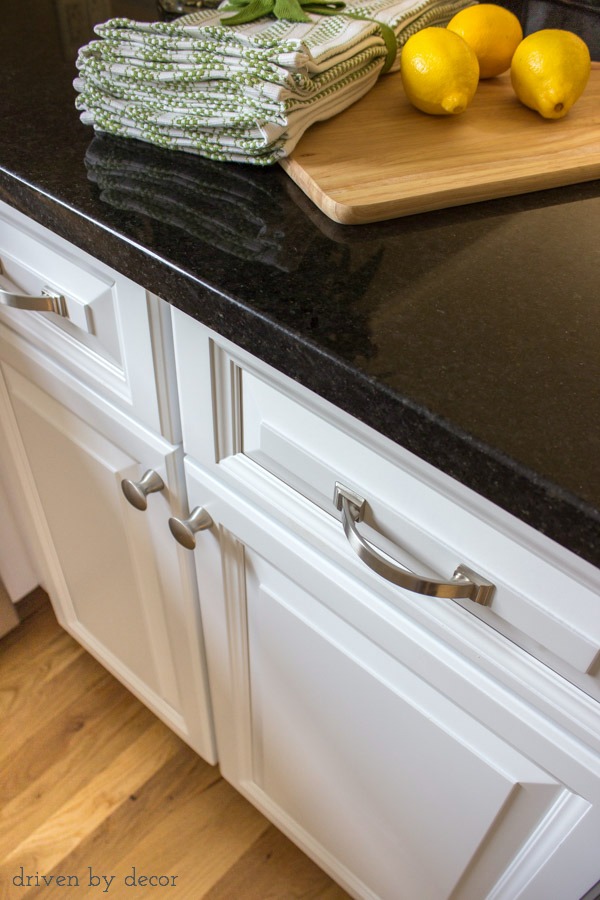 Why didn't you remove the soffits?
Ideally, I would have loved to have taken out all of the soffits but then I would have needed all new, taller upper cabinets. Also, over the sink it would have created an issue with where to stop and start the crown molding since the crown molding in the family room ends where the soffit begins. I would have also loved to have tiled the backsplash but there were time and money issues there too. Fortunately, these are all fairly easy things to change if the future homeowner chooses to.
Where did you get the furniture in your eat-in area?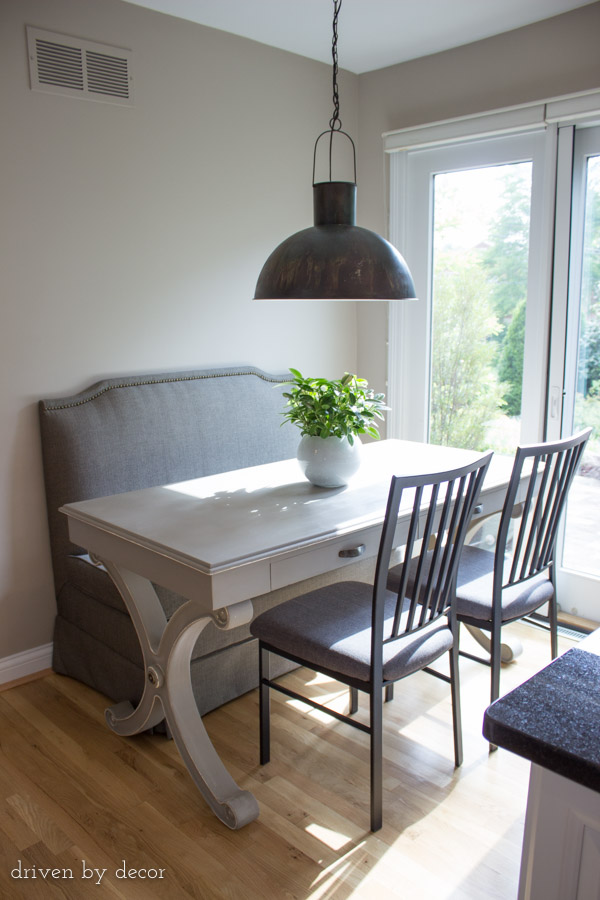 The upholstered bench is the Hampton Bench from Ballard Design – I supplied my own fabric, which is a Sunbrella fabric from Calico Corner. I've had the bench seat for several years now and it's held up really well. The "table" is actually the Whitley Desk that I got at the Ballard Outlet several years back and painted with Annie Sloan Chalk paint. The pendant light was from Wisteria but is no longer available.
The chairs were a new purchase since we didn't have room in the car to drag back the two chairs that we used to use in this spot. I ended up snagging two Room Essentials Basic Dining Chairs in Black (affiliate link) from Target. They were on sale for only about $30 each and look surprisingly nice for the price!
What company did you use for your cabinet refacing?
I used a company local to Cincinnati called Cincinnati Cabinet Refacing – the owner, Jim Dowd, is the one who does all of the work and it's a company I'd highly recommend if you happen to be in the Cincinnati area. Otherwise, I would get quotes from several different cabinet refacing businesses. One question I'd be sure to ask is about the materials they use. The drawers and door fronts used in our project were solid maple whereas other companies use cheaper materials like thermofoil.
Why in the world did you crazies do a kitchen remodel if you're just going to be selling your home?
Ok, nobody really asked me this question (you guys are too polite) but I'm sure some of you are wondering what the heck our reasoning is for remodeling our kitchen. Here's why. In the seven years that we lived in that home, we remodeled pretty much every single square inch of it and also put on a large master bedroom/bathroom/laundry room addition. The one thing that we hadn't finished is the kitchen – we were planning to do a big kitchen remodel when we moved back to Cincinnati. When we realized we were going to be selling the house instead of moving back into it, in order to get the money out of all of the other renovations we did, we felt that we needed to do the kitchen too so that our house was 100% move-in ready and would sell quickly.
So now that the kitchen remodel in our old house is a wrap, it's time to jump into working on some changes in the kitchen in our current house. More on that to come in the next few weeks! Have a great weekend everyone!