It's hard to believe but it's already been a week since I came back from my trip to Round Top, TX. I went into the trip not really knowing at all what to expect but it ended up being such a fun getaway because of both the people I was with and the treasures that we found. As with most antique fairs, we would wade through (and I literally mean "wade through" – there was mud and water everywhere) tent after tent, finding nothing other than junky garage sale finds only to then stumble upon something fabulous. I had to pass up a lot of great finds since I couldn't justify the cost to ship them home but I did get a pretty impressive stash home via my suitcase!
It was probably a good thing that I didn't live within easy driving distance because there were so many things I passed up that I would have bought in a heartbeat if I could have thrown them in my car. Especially some of the architectural salvage pieces I found. Can I tell you how much it pained me to leave these beauties in Texas?: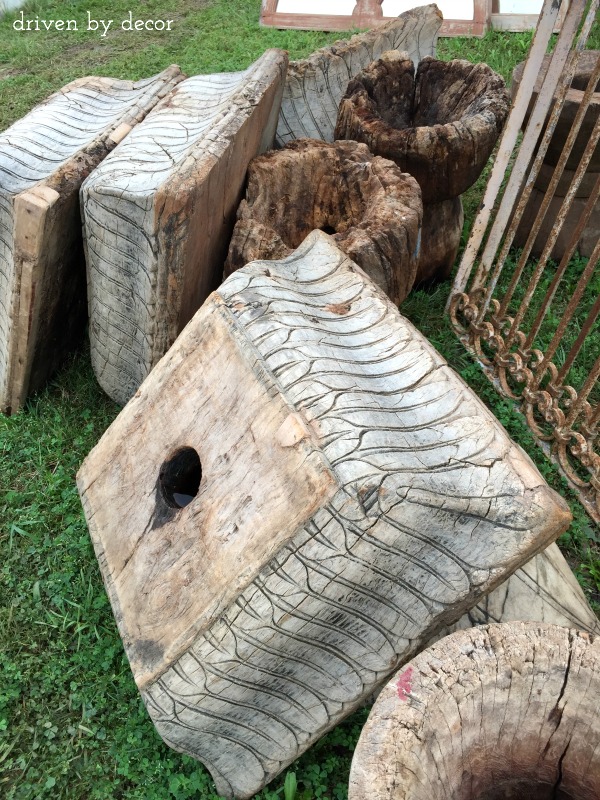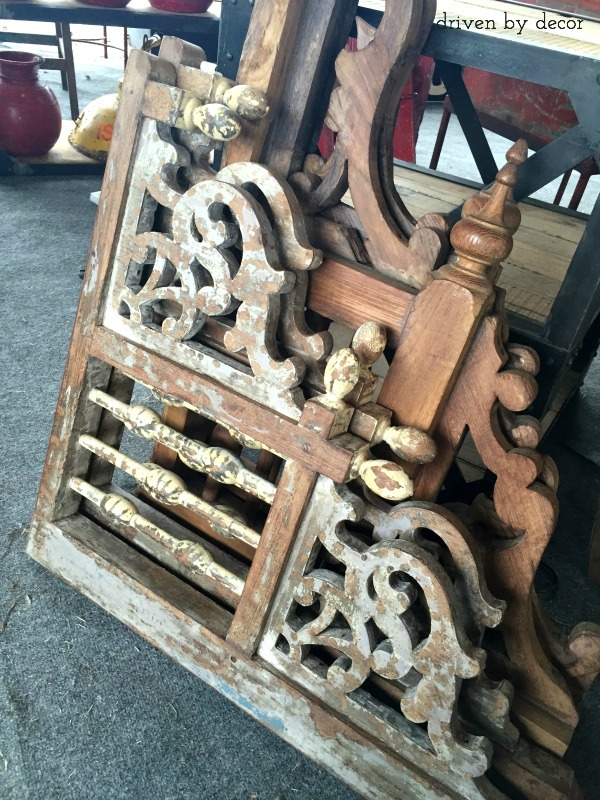 And these corbels that I shared on Instagram – I sat and stared at them for forever. Trying to figure out where the heck I could use them in my home. Trying to think how the heck I could justify their high price tag. I hope they found a good home – I'm so sad that it wasn't mine….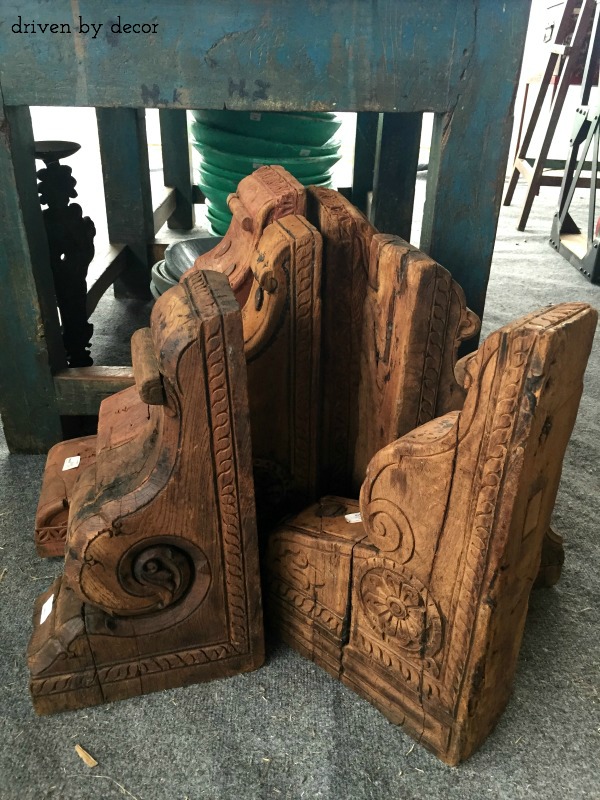 There were also a lot of fabulous unfinished wood pieces to be found – it seems like things are trending away from the painted pieces that we've seen so much of over the past several years. One vendor had the most gorgeous raw wood pieces with exquisite details such as this beauty: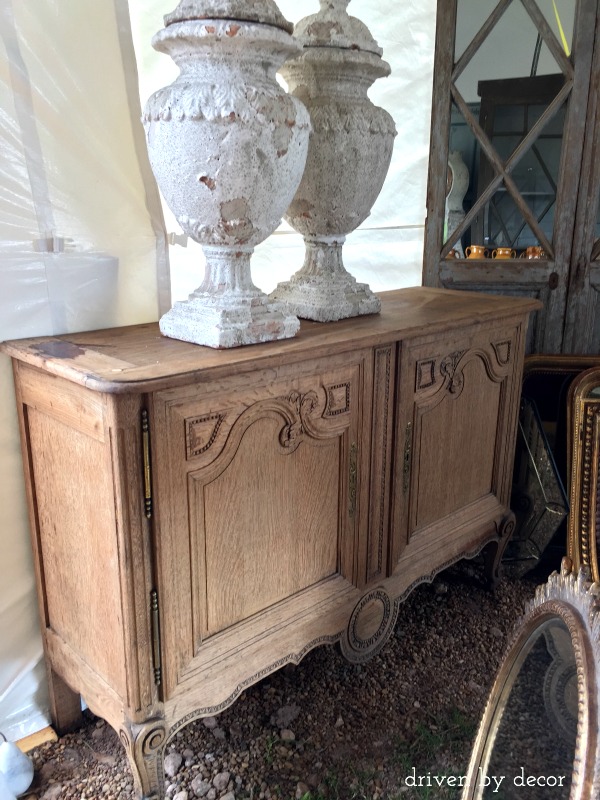 And a neighboring vendor was selling the most amazing little drink tables made with slices of petrified wood – I wanted the one on the left so badly and swooped it up before anyone else could claim it as their own only to then look at the price tag (over $300). I sadly returned it back to it's spot…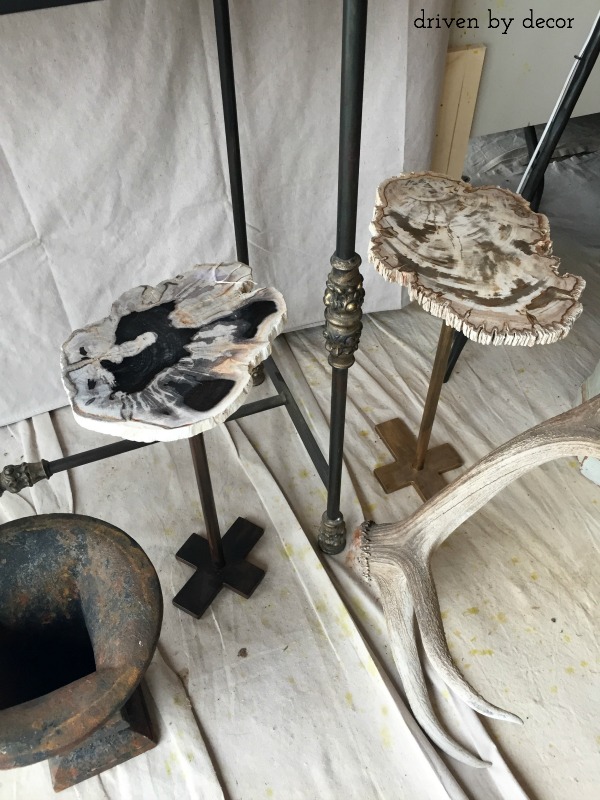 Round Top had lots of tents with industrial finds – large metal letters and signs seemed to be around every corner: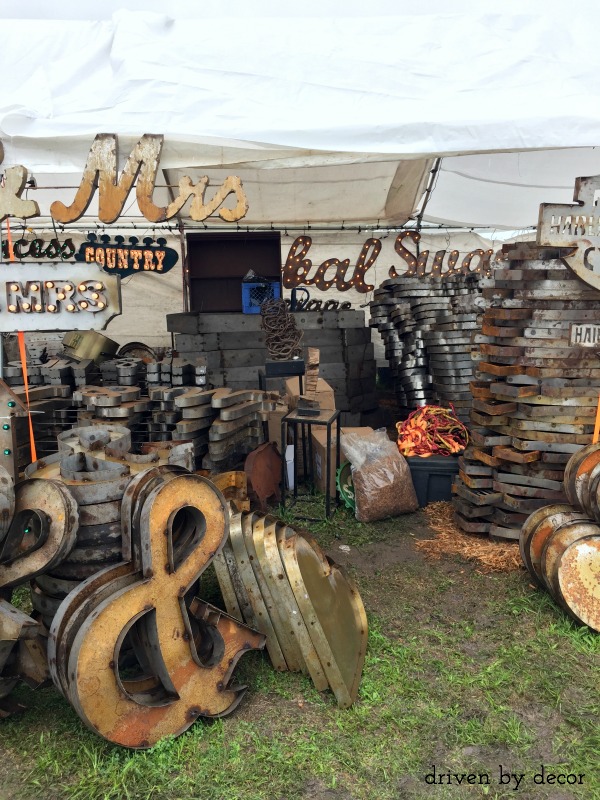 And you all know I have a weakness for natural elements – these balls made out of twisty vines were amazing: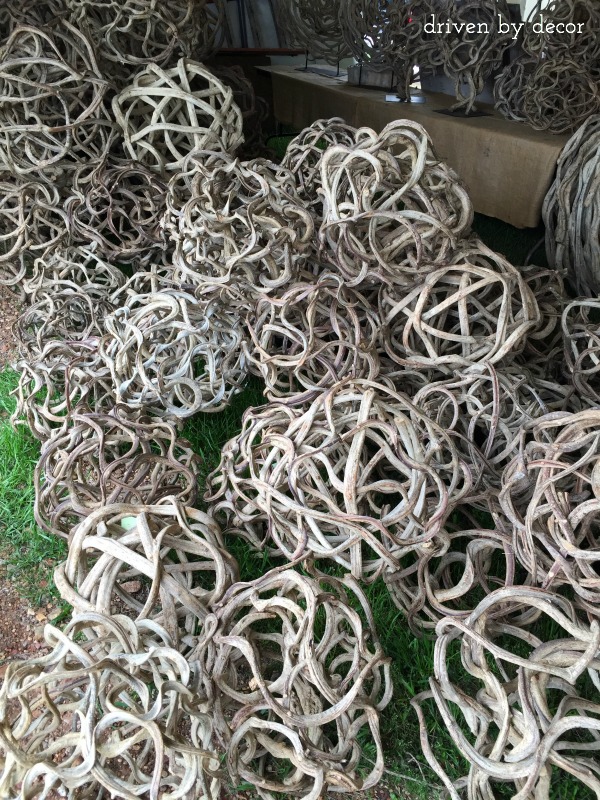 And we saw lots of breadboards – some vintage and some reproductions: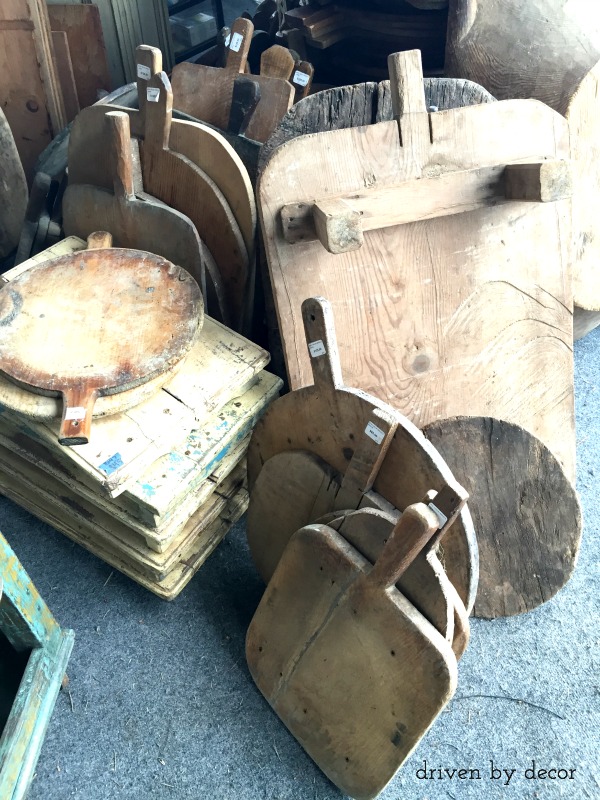 I won't keep going with more pictures but can you kinda get an idea of how hard it was to decide what to buy and what to leave behind? Especially when you're as indecisive as me? It definitely helped that I narrowed down my options to things that weren't too fragile or expensive and were small enough to fit in my suitcase (I left lots of extra room). So what did I come home with? Two of these bowls: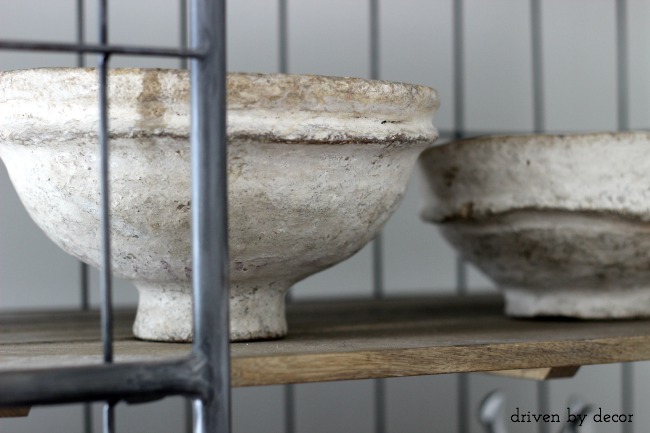 They look extremely heavy but they're actually made of paper mache and are as light as a feather. They ended up finding a home on the baker's rack in our kitchen: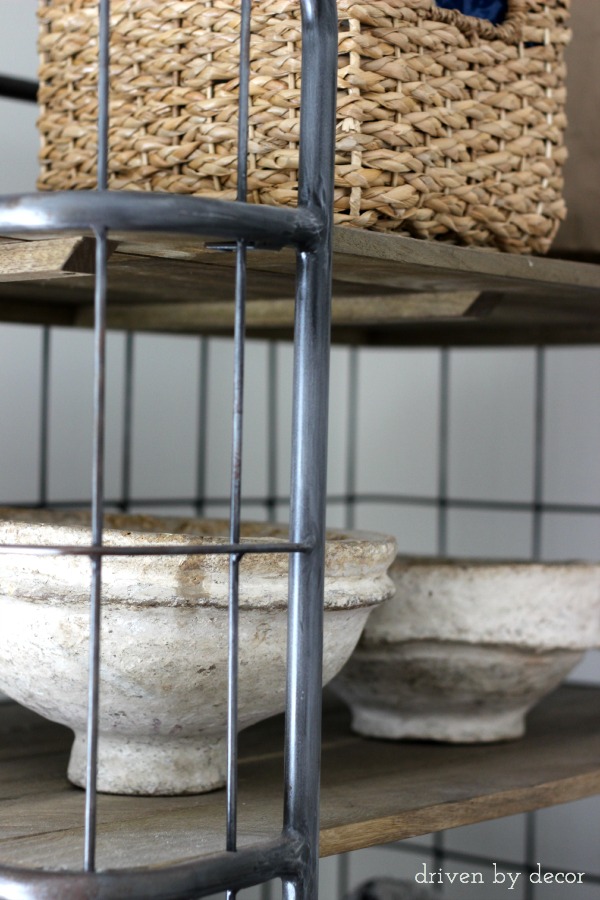 I also found a rustic wood caddy to hold my favorite oils and spices next to our stovetop: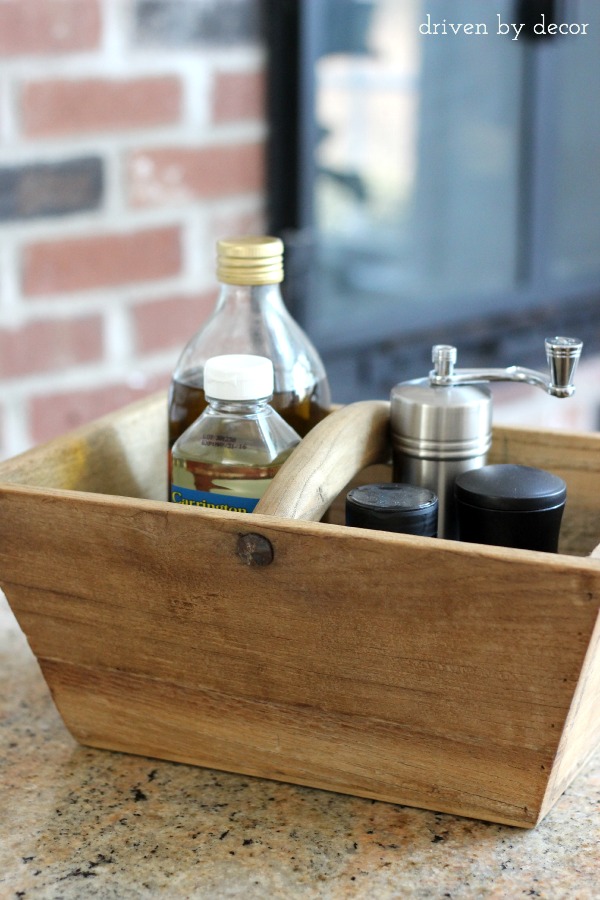 And for some reason I fell in love with this little lock – it's a reproduction but definitely has a worn, vintage feel. When I noticed that the numbers on the front of it were our anniversary year, I took that as a sign that it needed to be mine…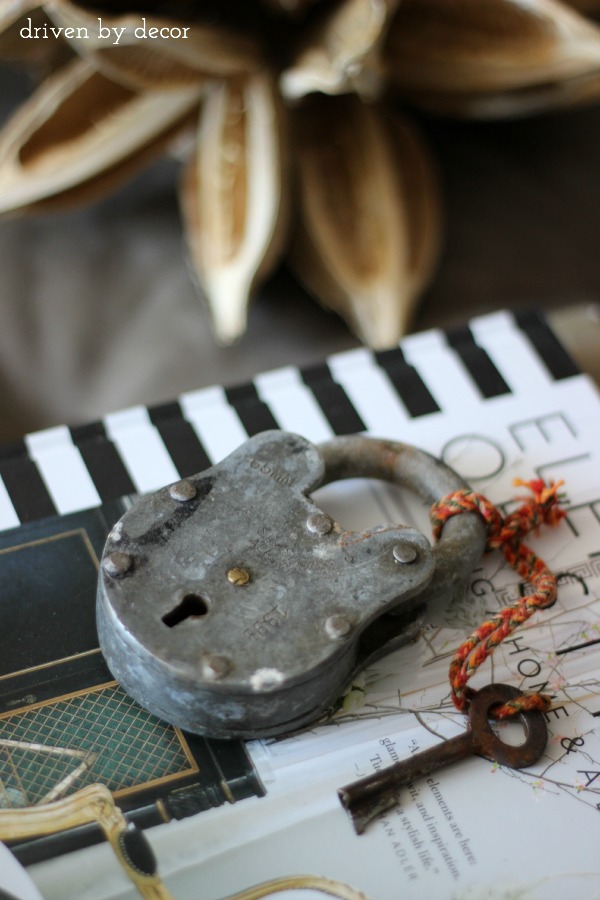 For those of you who haven't been to Round Top – it's definitely a must-do-at-least-once kinda trip. Texas was beautiful, the people were so friendly, and there were so many great finds. Our hostess, Kimberley from Off the Cape, found us such a beautiful place to stay, had prearranged discounts with some of her favorite vendors, had a nice breakfast ready for us every morning, and gave us all of her best tips on where to shop and how to haggle for the best deal. It was such a wonderfully stress-free way to experience Round Top for the first time. She'll have more guided trips down the road so if it's something you may be interested in, you can shoot her an email at offthecapevintage@gmail.com.
I'm sure I'll be itching for Round Top trip #2, especially if I can talk this same group of ladies into going back with me. Kimberley's friend, Kim, along with Cindy from Rough Luxe and her daughter couldn't have been sweeter or more fun to hang out with (this pic of all of us was taken about 1/2 hour before I shoveled down a big piece of that famous Royer's pie!):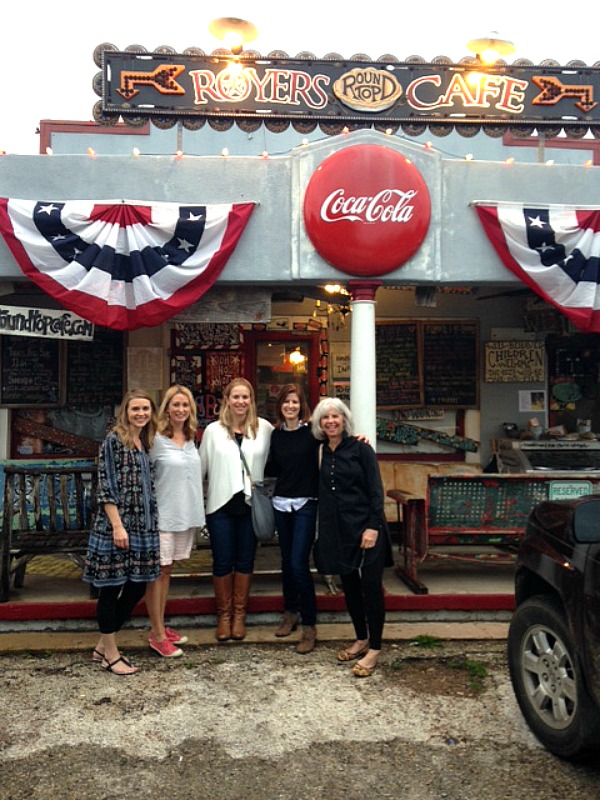 Debra of 5th and State arrived a little later (and without luggage because the airline lost it for almost 24 hours!) and was the life of the party. She had a knack for finding the most unique treasures: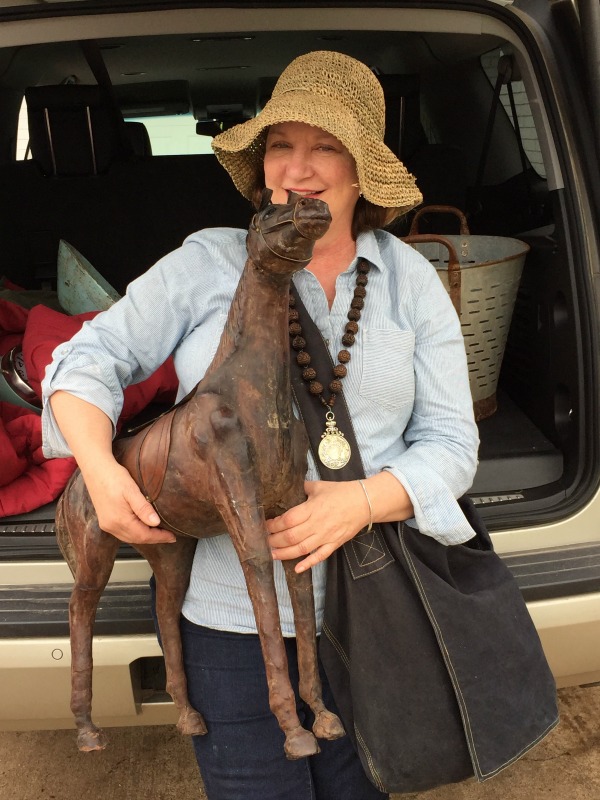 I'm hoping to tackle the Brimfield Antique Show in Massachusetts this year with Lisa and am anxious to see how the two shows stack up to one another. Any advice out there for tackling Brimfield that would help out two newbies?