Updated in 2017
Late last fall we had our rotting, warped wood deck ripped out and replaced with a tumbled paver patio. Now that we have this new outdoor space, we'd love to add a sectional where we can relax and enjoy hanging out with friends and family. But wow… the prices of outdoor sectionals from the stores we first looked at were crazy (like $3k+ for the size we needed). Dropping thousands of dollars on a sectional just isn't in the cards for us so I continued to look (and look and look…) for something more reasonably priced. I figured I wasn't the only one looking for a decently priced sectional so I'm going share my outdoor sectional finds (post includes some affiliate links)!
IKEA's ARHOLMA Sectional
IKEA's ARHOLMA line includes both 4- and 5-seat sectional options.  It is made of a durable handwoven plastic rattan at a very reasonable price and you can combine different seating sections to get the size and shape that you need..The cushions are extra but they aren't all that expensive. The combination of pieces to create the size sectional we're looking for (including the cushions) is under $1000 – MUCH more doable!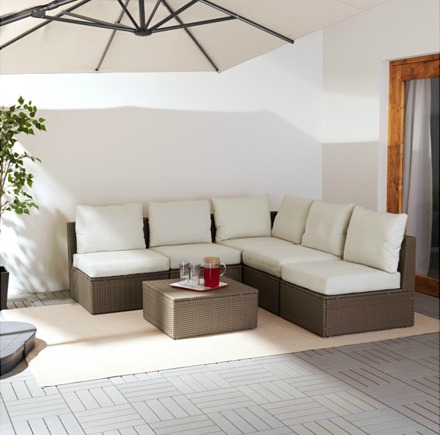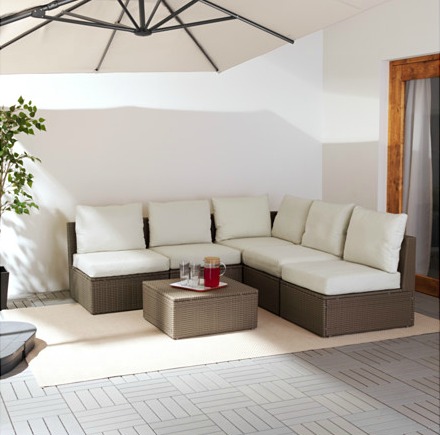 I took a trip to IKEA to check it out in person and thought that overall it was fairly comfortable (the cushions are on the thin side though), attractive, and a good find at a very reasonable price. My only issue with it was that the color of the plastic rattan was a lighter brown that I expected from the online pics. Also, since first publishing this post, several people have chimed in to say that the cushions stain and sun fade easily – I'm not sure if IKEA has improved them since then or not.
IKEA's APPLARO Sectional
Another option from IKEA is a sectional from their APPLARO line. These sectionals (there are 4-, 5-, and 6-seat options) are quite nice looking and have the option of cushions in either black or beige. The biggest negative for me about this sectional is that since it's made from acacia wood, it requires some maintenance (IKEA recommends restaining it 1-2 times a year).



And as a sidenote, I thought that the APPLARO Bench with Panel and Shelves was a really nice, simple outdoor potting bench: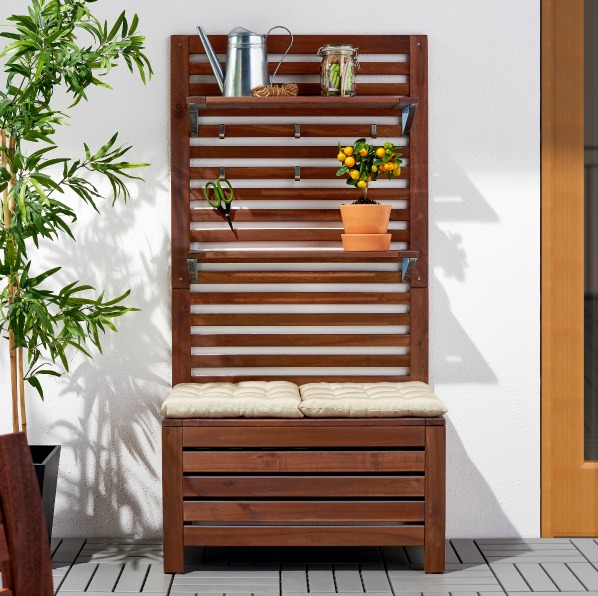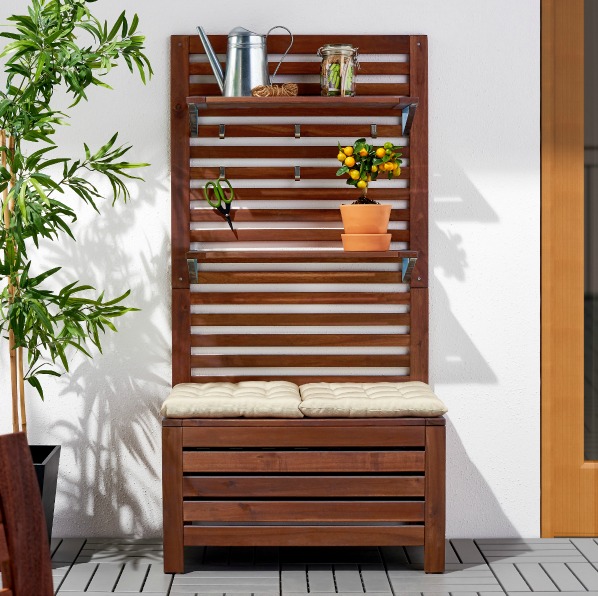 Moving on to some inexpensive outdoor sectionals from other stores…
Riam Grey Rattan Sectional
The Riam Gray Rattan Sectional comes in both Grey and Dark Brown wicker rattan options. It's a really nice looking sectional for around $1k and gets overwhelmingly positive reviews.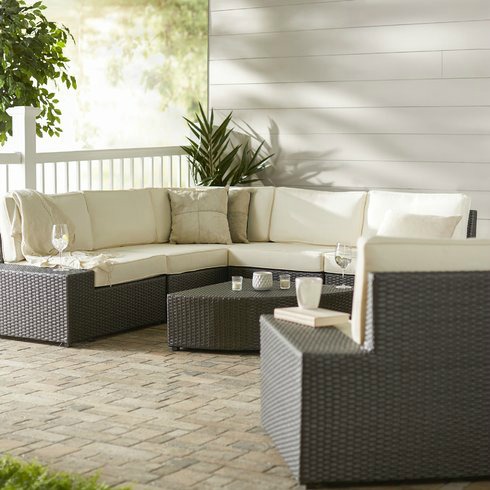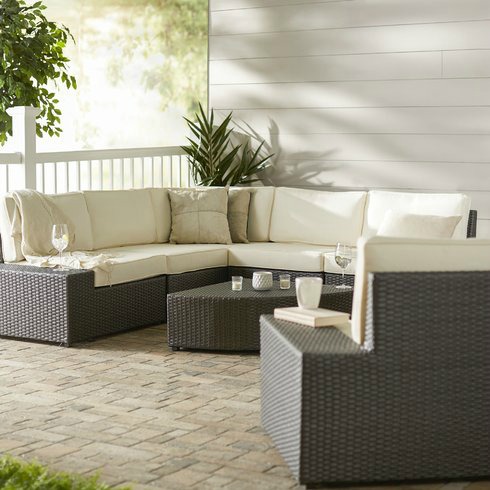 Gray Veracruz Outdoor Sectional
The Gray Veracruz Outdoor Sectional consists of putting together three different pieces (end pieces, middle pieces, and corner) so one of the benefits is that you can create pretty much any size and arrangement that you need! I've seen it go on sale fairly frequently for a very reasonable price!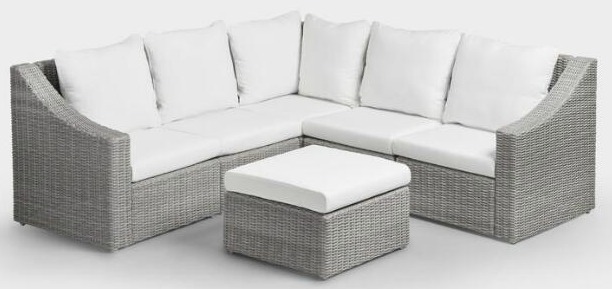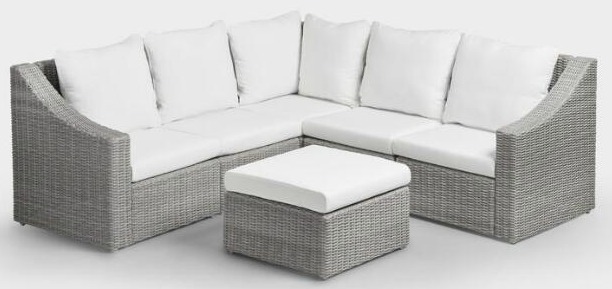 Mainstays Sandhill Outdoor Sectional
The Mainstays Sandhill Outdoor Sectional is the best priced one of the bunch – under $500 at the time of writing this post! It comes in both Tan and Blue cushion color options and gets surprisingly great reviews considering the price!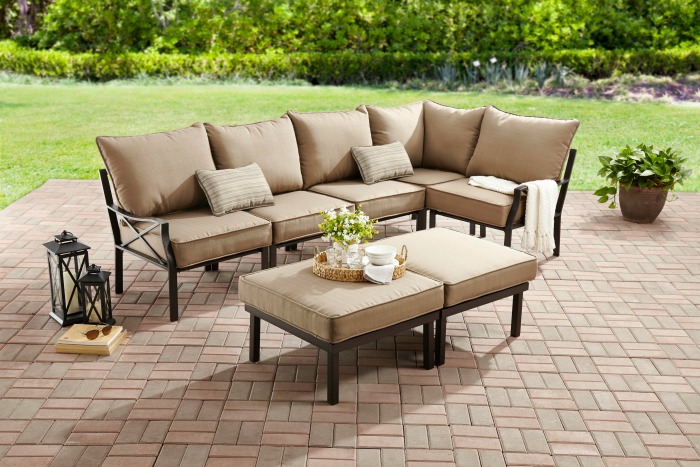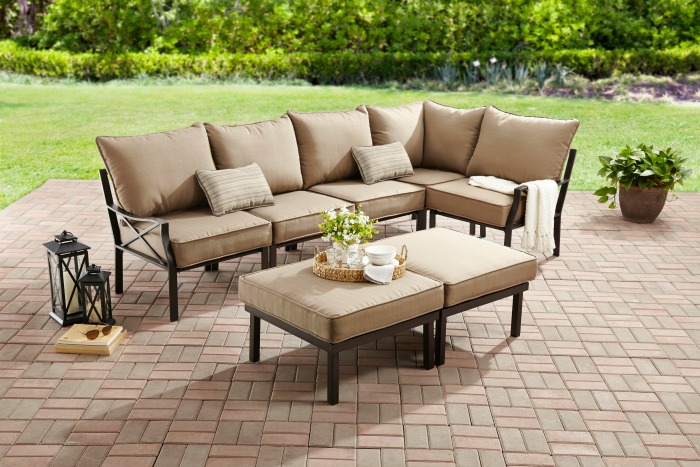 Those are the best inexpensive sectionals I've found to date! How about you guys – do you have any other favorites to add to the list?