Thanks for all the love for our new coffee station that I shared last week! I'm not sure how I'd drag myself out of bed in the morning without knowing that a hot cup of coffee awaits me and I love that everything coffee-related is now in one organized spot (and away from my crowded sink area).
Several of you had questions about what we used to seal our new butcher block countertops where our coffee station is set up so I'm going to fill you in on those details today.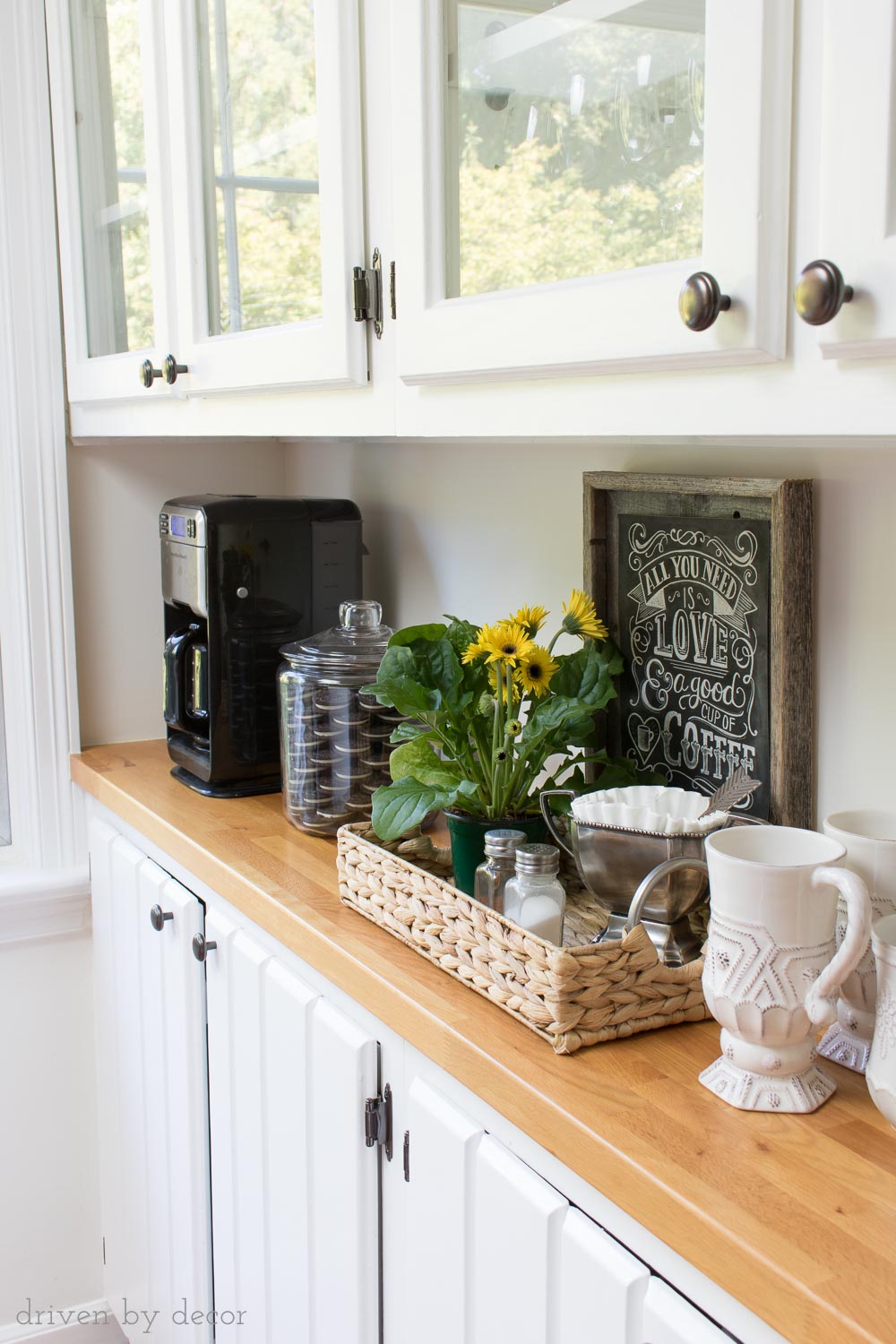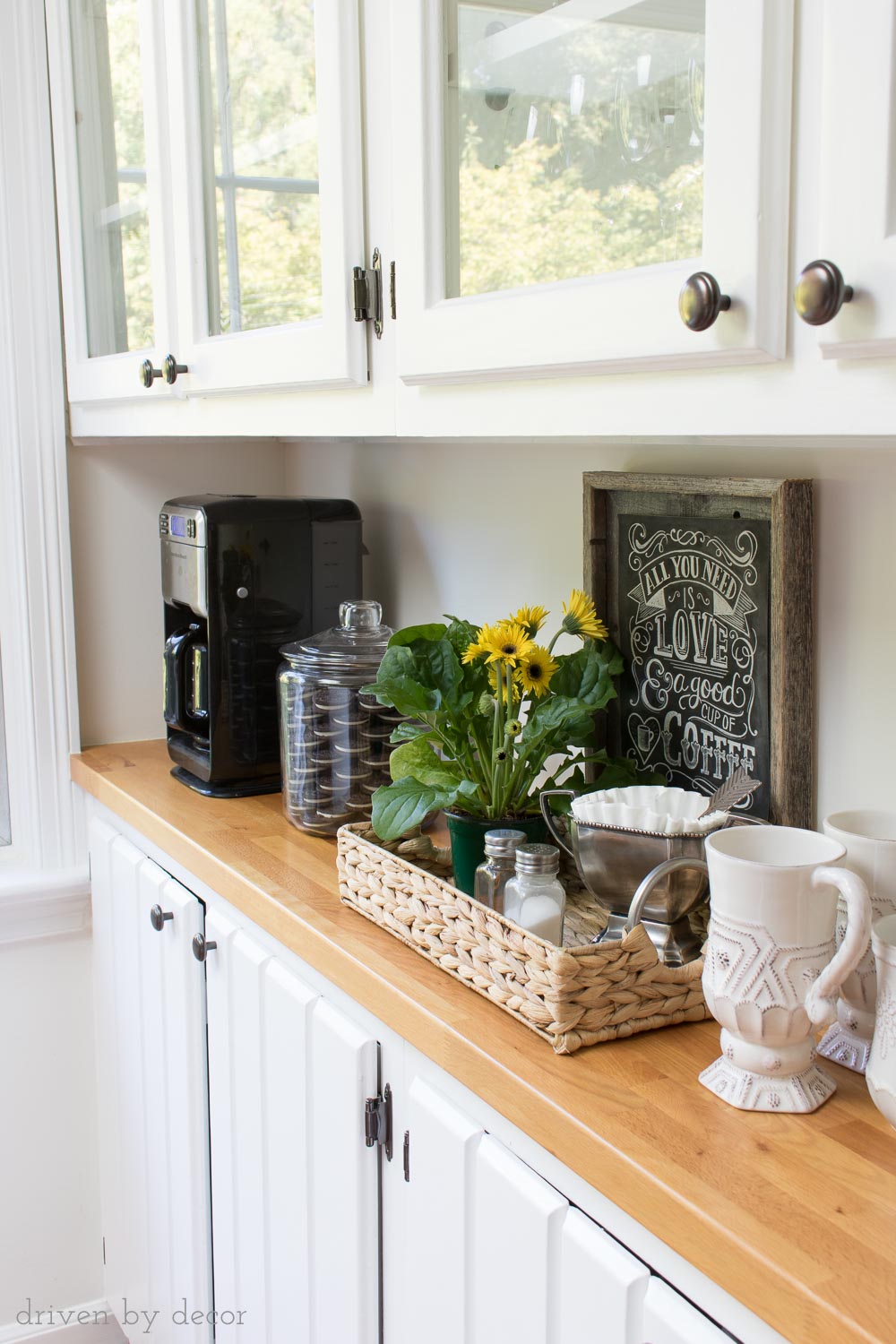 You may remember that we started with a tiled countertop and backsplash in just this one area of cabinetry at the far end of our kitchen. And not just any ole tile – we had a cow. And a pig. And some fruits and flowers. Cute? Yes. My style? No.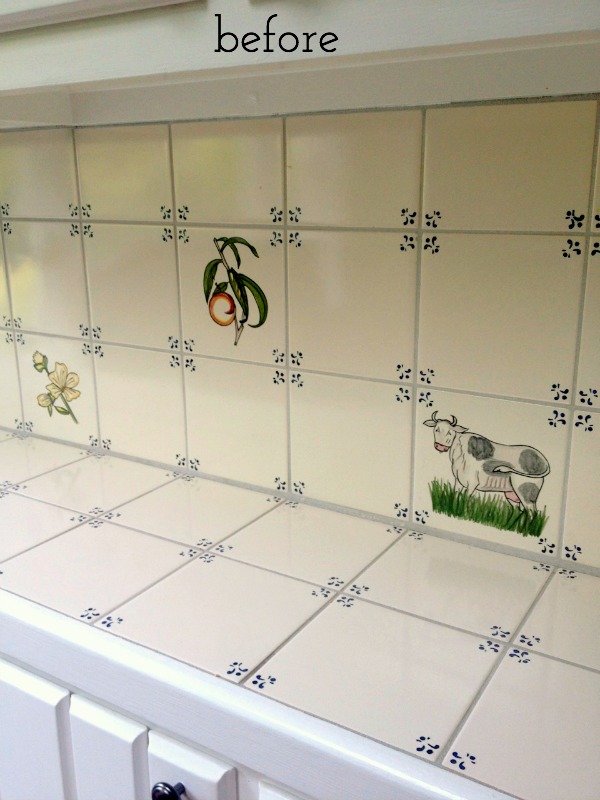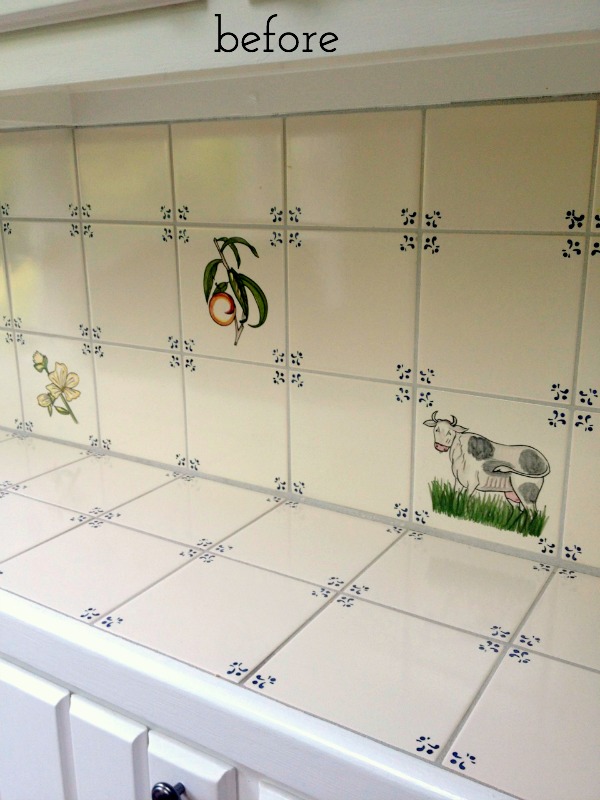 So we (and when I say "we" I mean my contractor – I hired out for this one!) ripped out the old backsplash and countertop and installed butcher block that I bought at IKEA. Once installed, it's important to treat or seal the butcher block to keep it from drying out and staining. There are a lot of options for products to treat butcher block, but one of the simplest and least expensive is mineral oil. And that's what I went with for the first several months. You simply apply the mineral oil generously, let it soak in, and wipe off the excess. You need to do it fairly regularly at first but then only about once a month after you've gotten through several applications.
But here's the problem that I found with mineral oil. Any paper that you lay down on it will absorb the oil from the butcher block and stain the paper. Even if it's been weeks since you oiled it. I'd love to say that our kitchen is always neat as can be with no random school papers strewn about but…not so much. After several papers got ruined by laying them down in the wrong place, I knew that mineral oil wasn't going to work for us.
So after a lot of research into other options, I ended up going with Waterlox and I'm so glad I did – I love it! It's a blend of Tung oil and resin with a water-resistant finish that's also food safe. The company has great instructions on application of Waterlox on their website that are a must-read before using it, but the main steps are to sand the butcher block, clean it with mineral spirits, and then apply 3-5 coats of Waterlox with 24 hour dry time between coats.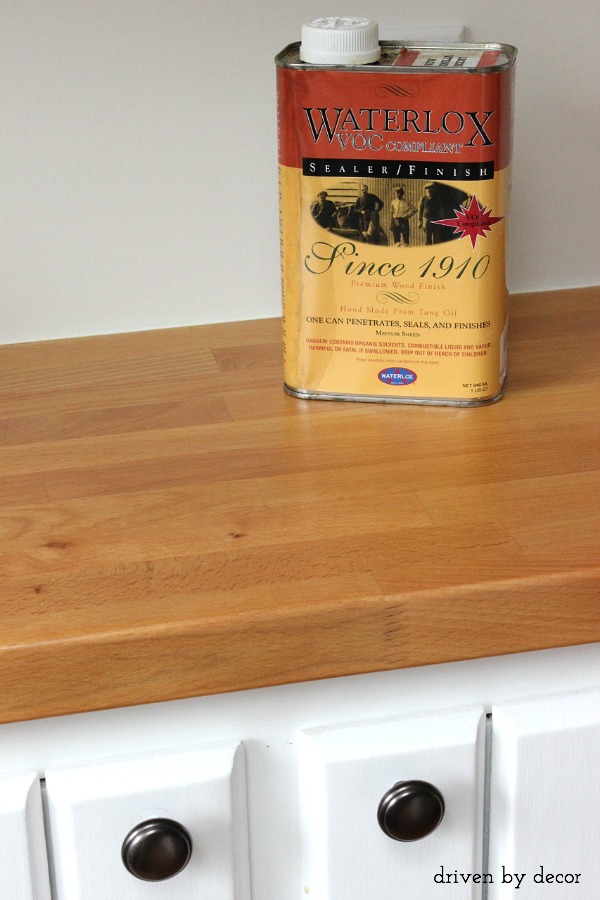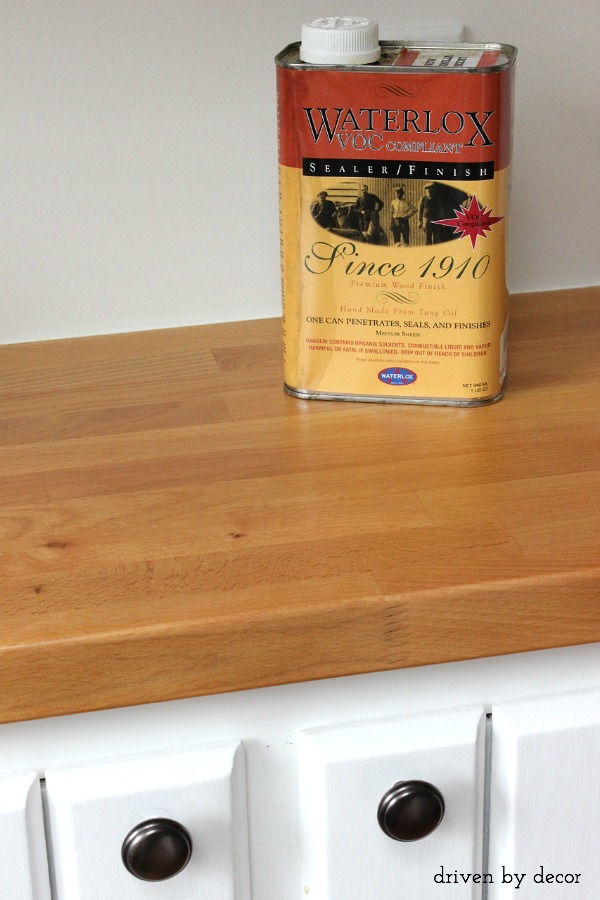 Waterlox comes in three different sheens but it's recommended that you start with Waterlox Original Sealer/Finish for the first coats and just do the last coat in either the satin or high-gloss finish if you want a different sheen. I'm not a big fan of shiny countertops so after three coats of the Sealer/Finish, I applied a coat of the Waterlox Satin which is less glossy. Since I wasn't doing a very large area, I was able to just buy the small sample size to do this last coat which was a plus since Waterlox isn't cheap!
The color of the butcher block definitely changes depending upon the treatment that you choose with the Waterlox making the butcher block a deeper, just slightly more orangey color than the mineral oil.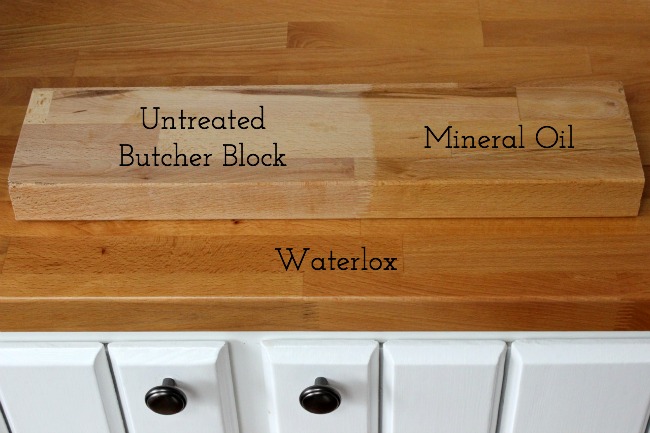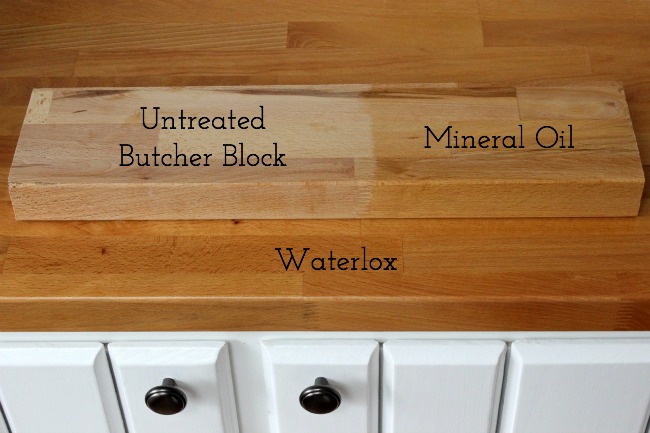 You can see the difference even more clearly looking at this angle – the countertop was sealed with Waterlox and the board on top of it was treated with mineral oil: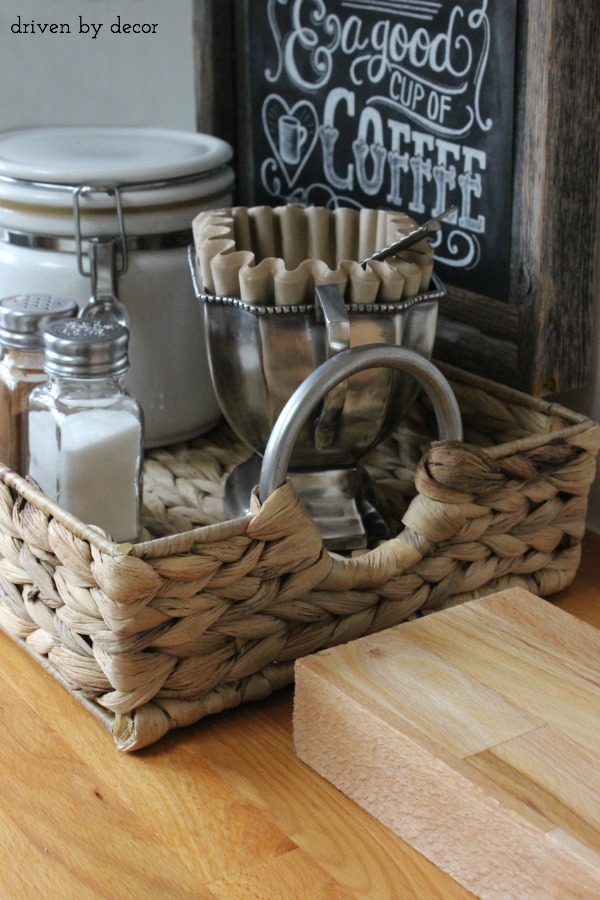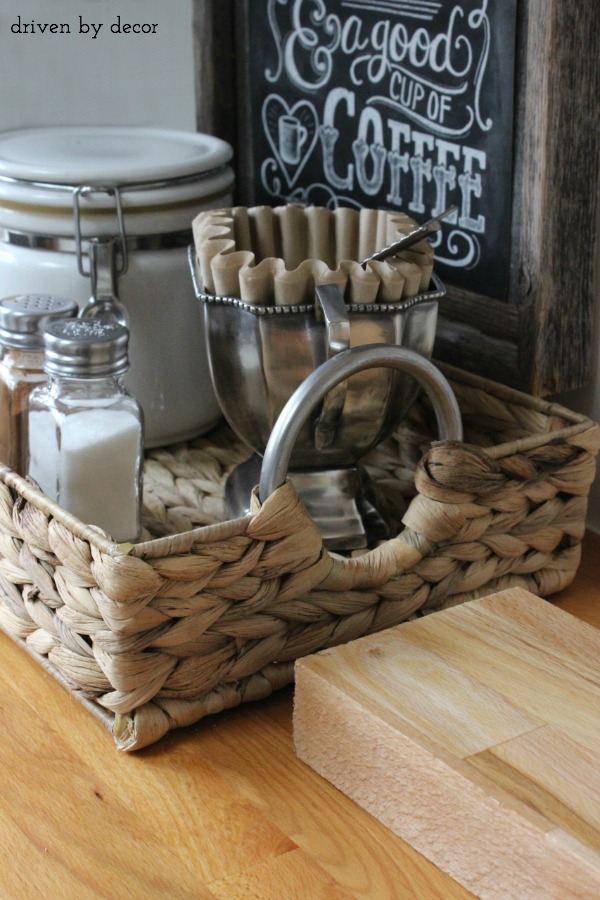 Honestly, I prefer the lighter look of the oiled countertop to the darker Waterloxed countertop but with all of the other advantages of Waterlox (no more oil spots on stray kitchen papers, no more monthly maintenance, and better water resistance) it was the way to go for us.
So that's my long-winded answer to your short question about our countertops. Butcher block countertops aren't for everyone and we only have them in this one spot with granite in the rest of the kitchen but I love them and honestly wouldn't hesitate to use them throughout a kitchen. How about you?