My morning cup of coffee's going to be brewing in a whole new space starting today – I finally finished putting together our long overdue kitchen coffee station!
(full source list at end of post)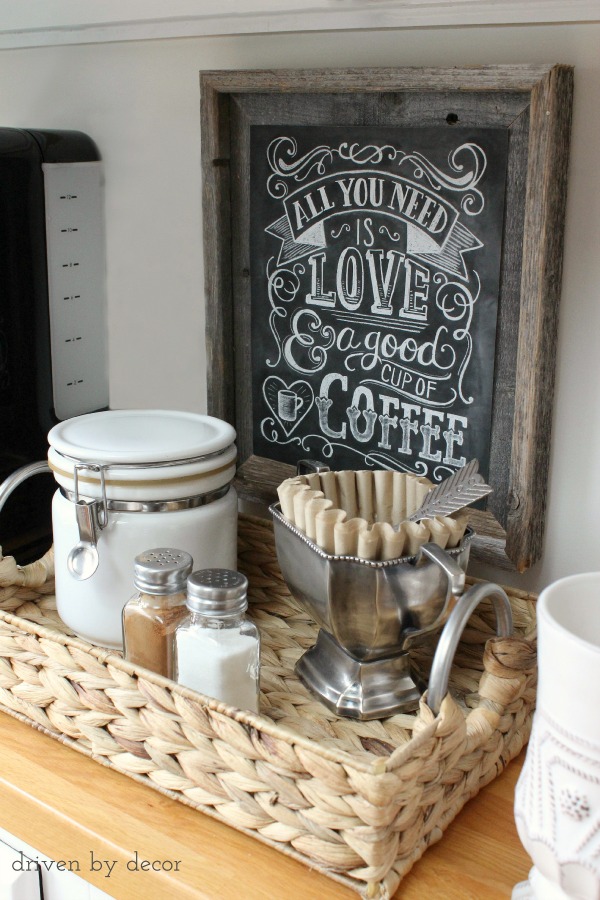 As part of "Operation Clear Off the Kitchen Countertops Around the Sink", I relocated the coffee maker from beside the sink to across the room where we installed butcher block countertops and two outlets several months ago. Our new coffee bar is pretty simple – along with a coffee maker and mugs, I hung my much-loved chalkboard print above a basket holding our coffee beans, filters, coffee scoop, and sugar and cinnamon shakers.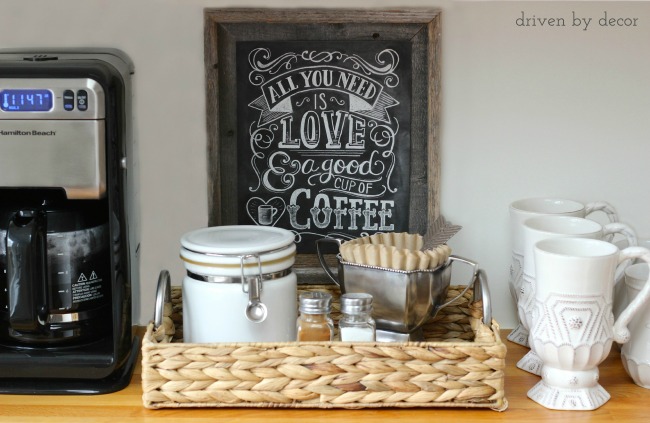 Our filters and heart coffee scoop fit perfectly in a little trophy cup that I found at the Ballard Outlet over the holidays: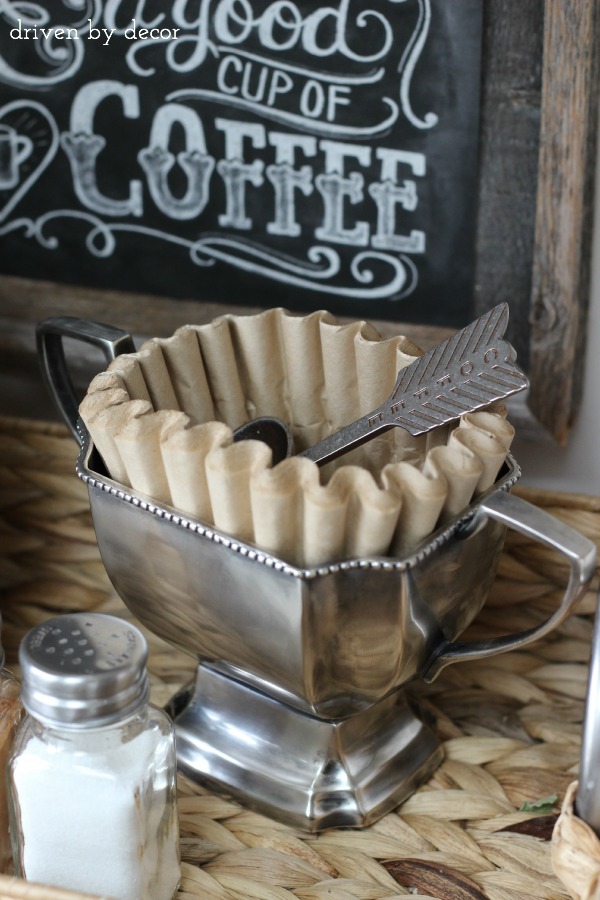 and the cinnamon and sugar are in inexpensive salt & pepper shakers from Walmart: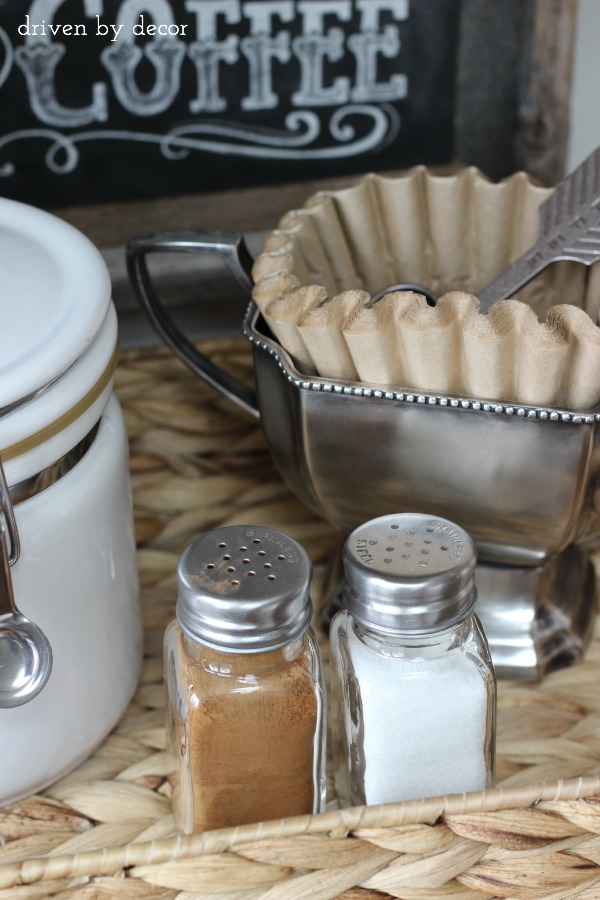 The big hold-up on this project was the coffee maker. The base cabinets that our butcher block countertops rest on aren't very deep so there wasn't enough countertop space to be able to pull our old coffee maker forward enough to add the grounds and water to it. It took quite a bit of searching but I finally found a coffee maker that works well with shallow depth countertops and also gets great ratings. The filter basket swings out to the front rather than the top so it's easy to access:
and to fill it with water, you simply remove the water reservoir from the back (the coffee maker is on wheels so it's easy to access), fill it in the sink, and then place it back on the coffee maker for brewing:
I'm loving having more countertop space around our sink (now I just need to get rid of that microwave!) and the cabinetry area at the far end of our kitchen has turned into a great workhorse, housing both our coffee station and family charging station: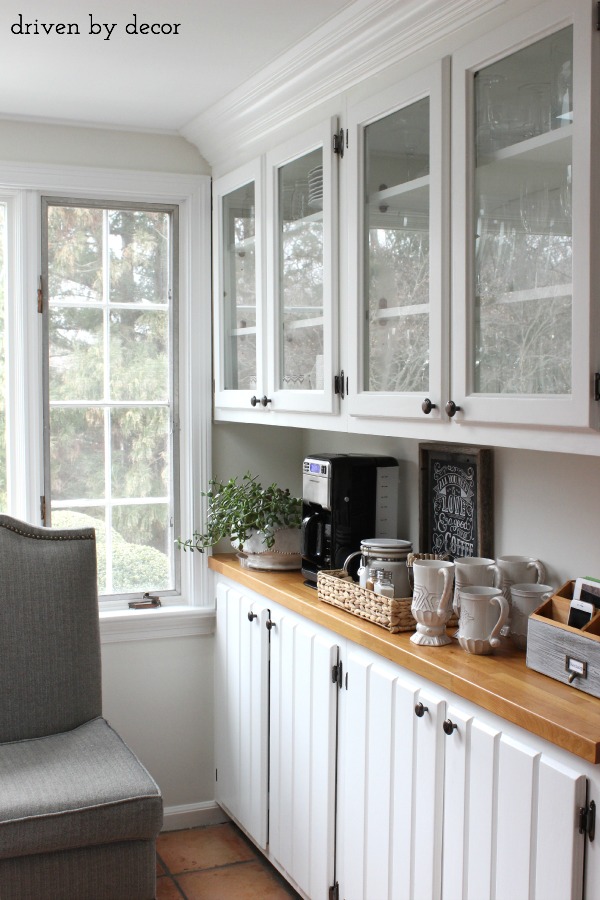 It's looking pretty different from the tiled, no-outlet space we had when we moved in: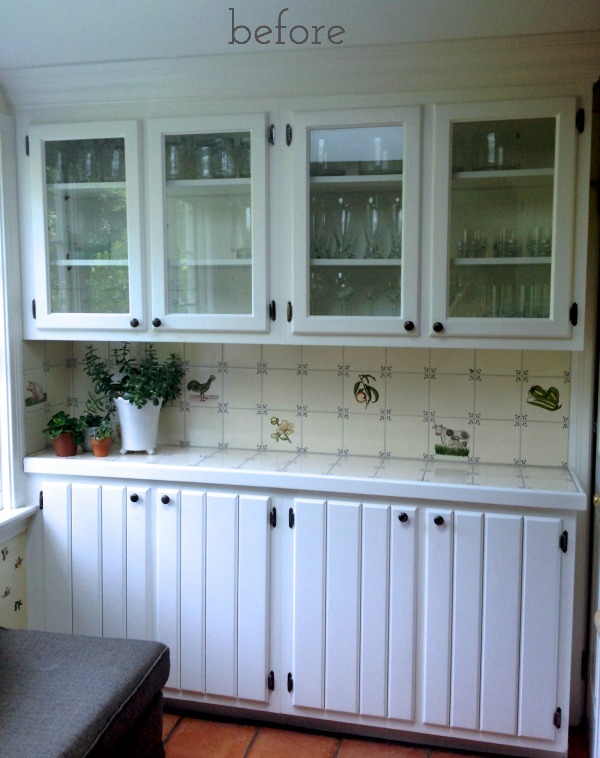 There's lots more work to do in our kitchen but I figured that focusing on my source of morning caffeine was the best place to start. I'm sure my fellow coffee lovers out there would agree 🙂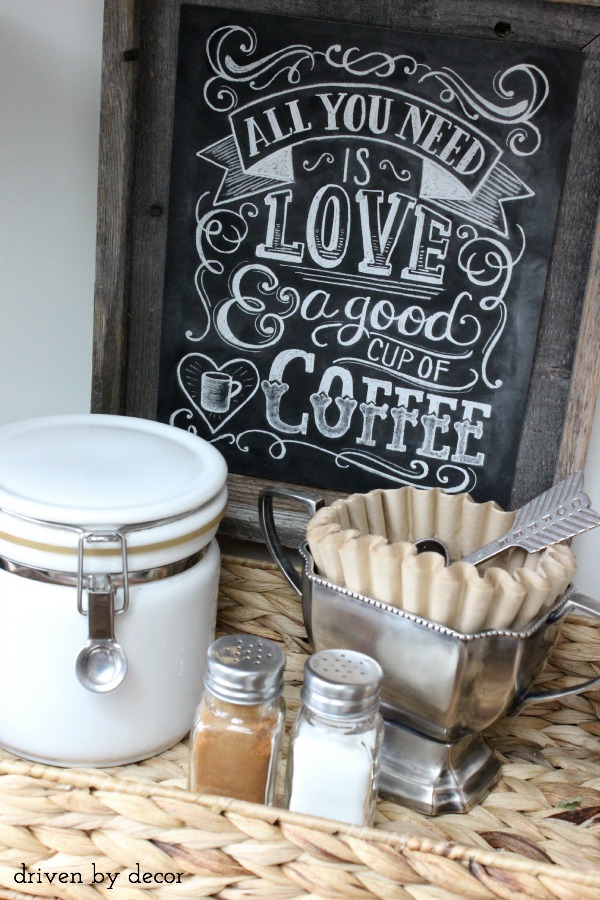 (includes affiliate links – see my full disclosure statement {here})
Coffee maker: Hamilton Beach 12 Cup Coffee Maker
Chalkboard print: Lily & Val – "All You Need is Love & Coffee" Print
Chalkboard print frame: Hobby Lobby
Trophy cup: Ballard Designs Outlet
Heart Coffee Scoop: Beehive Handmade on Etsy 
Salt & pepper shakers: Walmart
Basket: HomeGoods
Mugs: Available {here}
Wish you all were close enough to share a cup with me! Have a great day,