One of my favorite parts of decorating a room is hanging new window treatments – I'm continually amazed by what a difference they make even when you keep them simple. And simple is what I usually do – give me a beautiful rod and simple full length drapery panels in a favorite fabric and I'm a happy girl.
But what about those tricky windows where a typical drapery rod and panel aren't going to cut it? You know which windows I'm talking about – bay windows, corner windows, recessed windows, and even those window-like french doors. When I was visiting my parents this past weekend, I realized that their house is full of tricky windows. It's also full of beautiful window treatments that solve the you-can't-use-standard-drapery-panels-with-this-window dilemma. I thought I'd share a few of my favorite with you guys.
Their dining room is one of my favorite rooms in the house – it's open to the rest of the house on two sides and has a long wall of windows on the third side: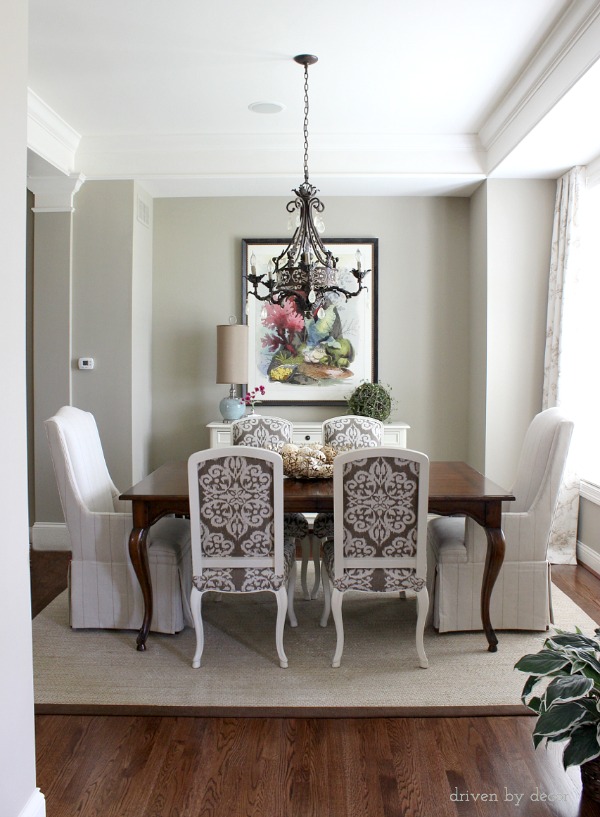 Using standard drapery panels on these windows would end up covering up way too much of the windows since there's no space on either side to stack the panels back: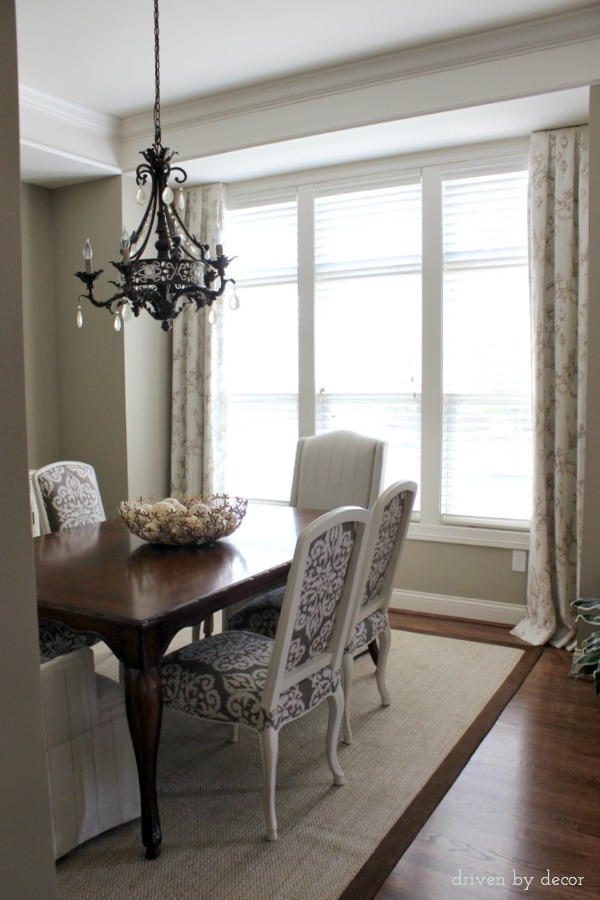 So instead, simple pleated treatments are mounted on a short board on each end of the window. You don't need as much fabric (in width) for this type of window treatment as you would for standard panels so it might give you some room to splurge a little more on your fabric.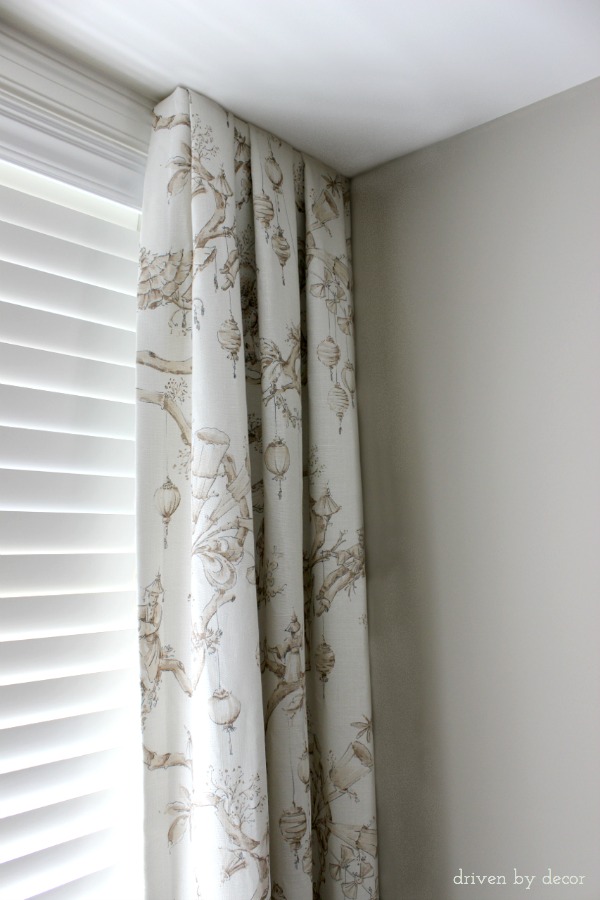 My parents' dining room drapes have a 2″ break at the floor, which is a great look for this type of treatment, especially in a more formal room: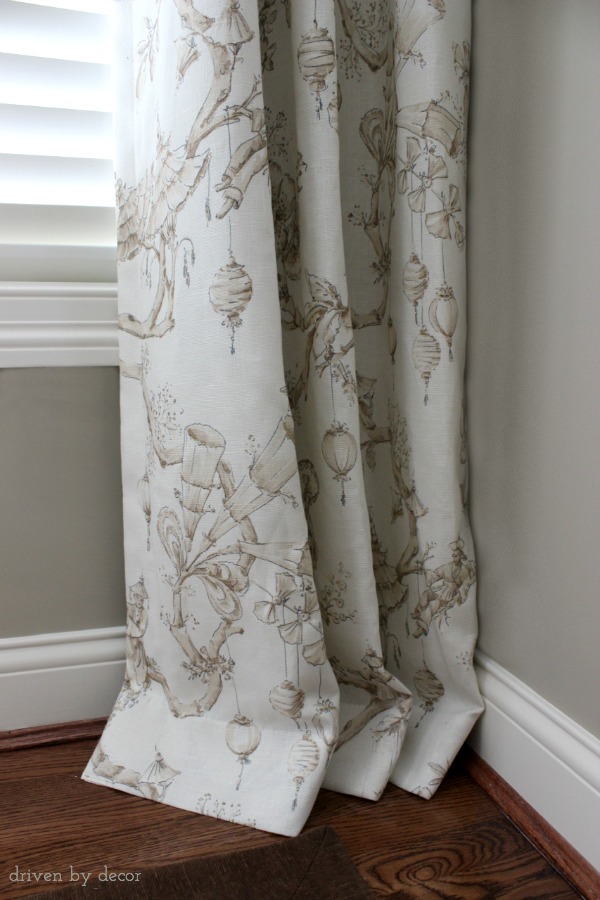 Moving on to the master bathroom, this window is also recessed with walls flanking it on each side. The window is beautifully treated with a layered valence: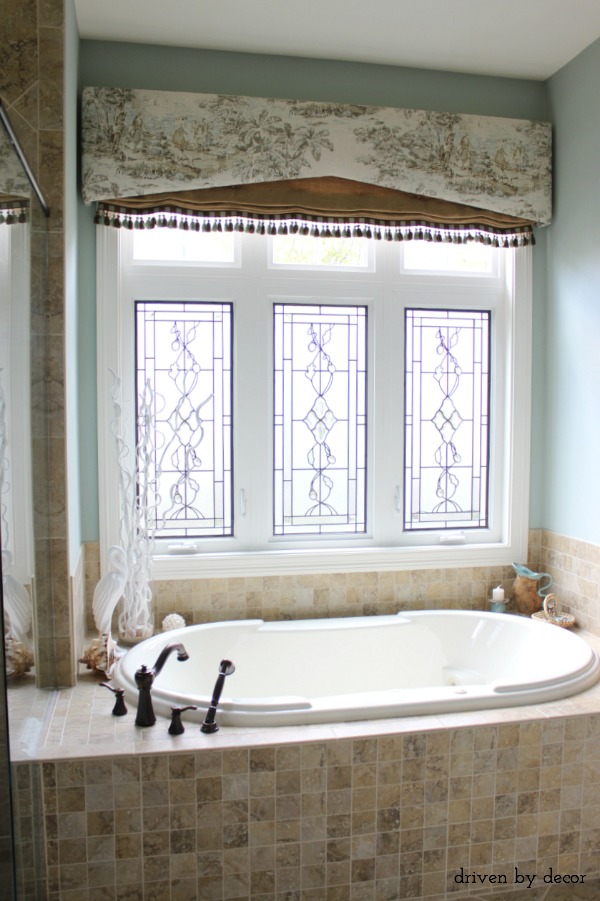 I love the mix of the tailored top layer with the more decorative tasseled bottom layer: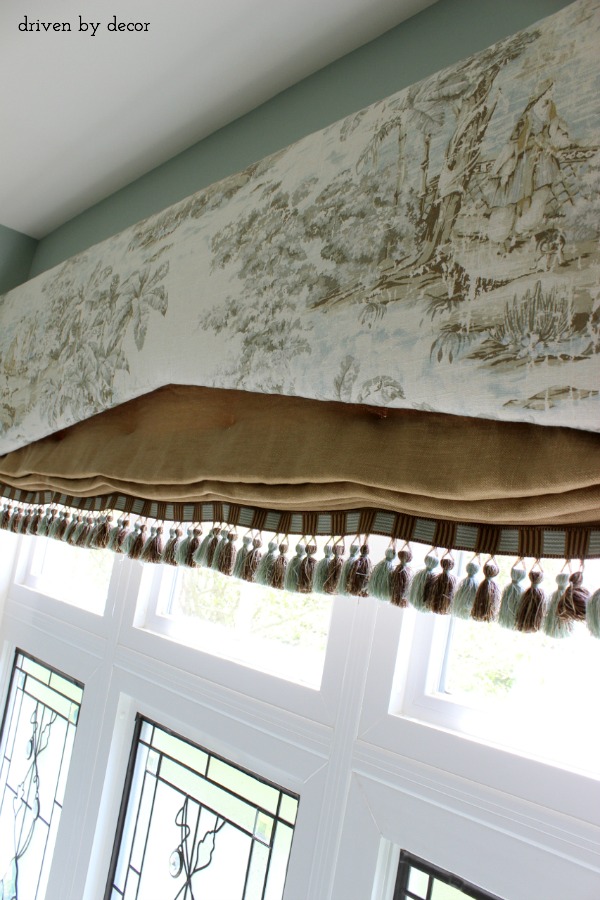 The master bedroom has a large bay window, which is treated with four faux shades and full length puddled panels on the ends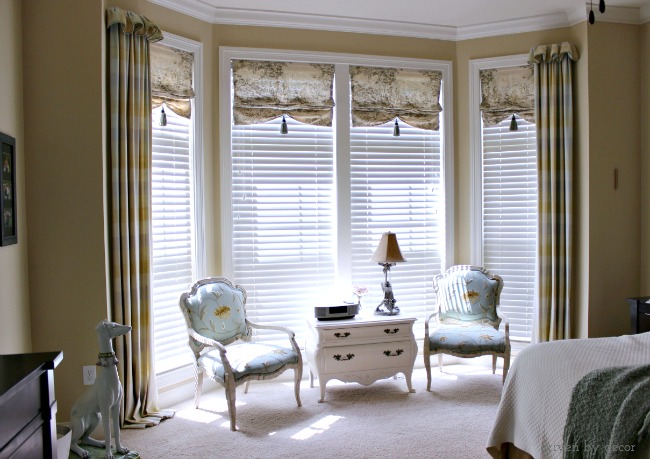 which are each topped with a short, trimmed ruffle: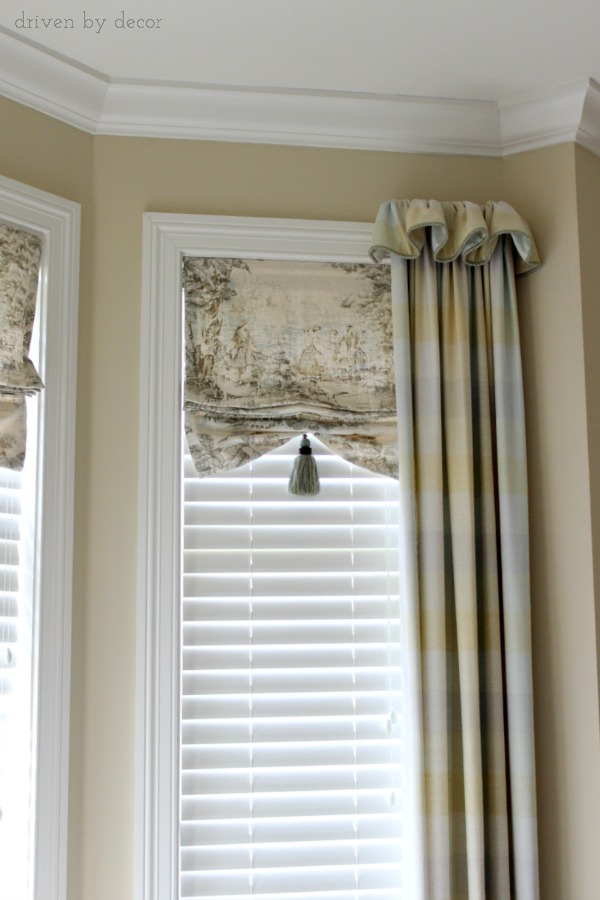 And finally, the family room and kitchen (which are open to one another) have the same tailored valence on each of the windows to unify the space, including this recessed window under the family room bench seat,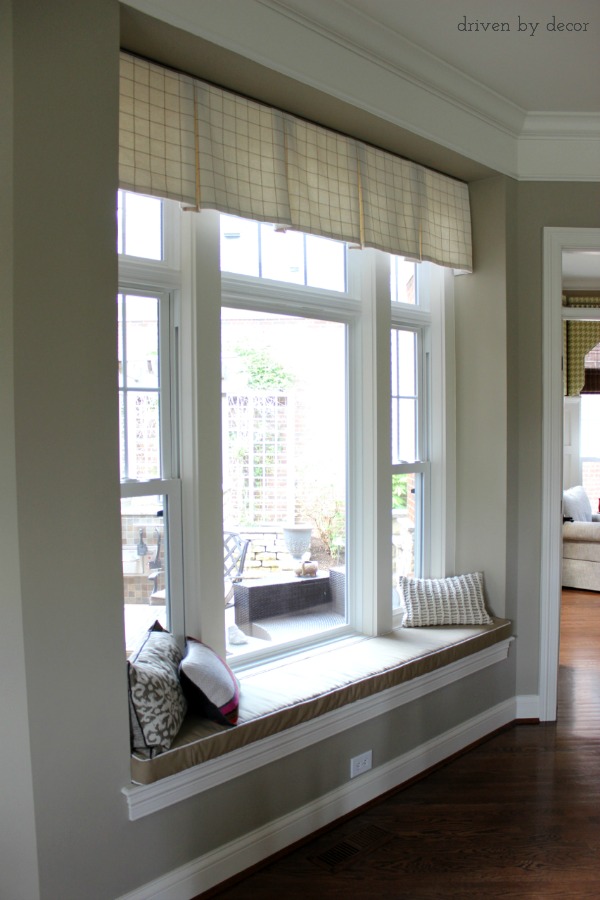 the french doors leading from the kitchen to the patio,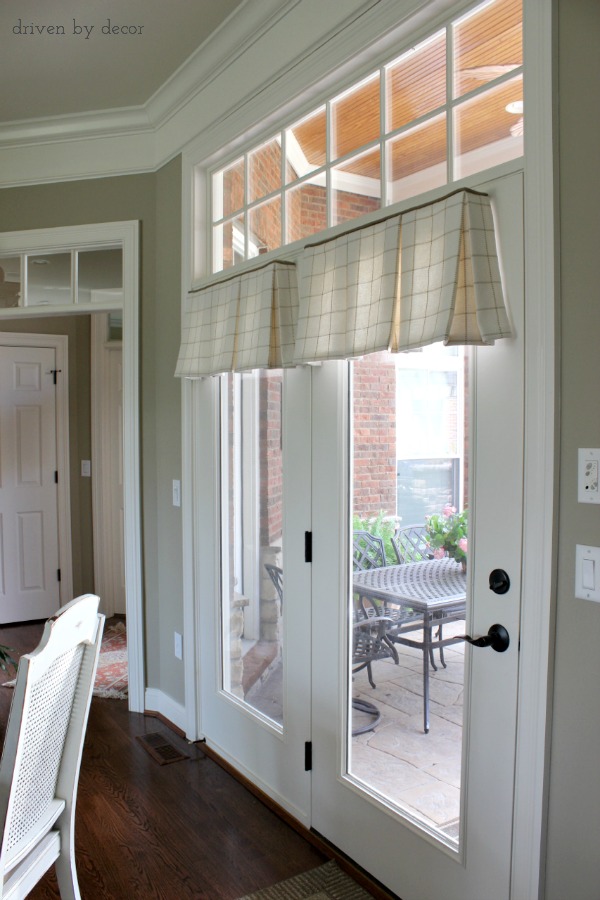 and the long window above the kitchen sink: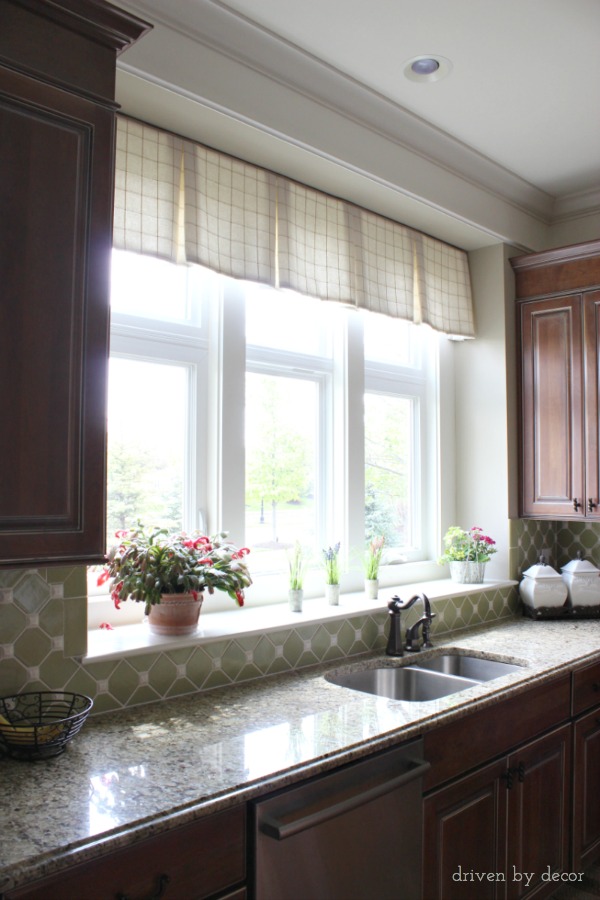 At some point I'll have to take you all on a tour of my parents' home that includes more than just the window treatments. They have some drool-worthy furniture pieces, which you may already know if you follow me on Instagram and saw this weekend pic of their couch that I fawn over every time I'm there: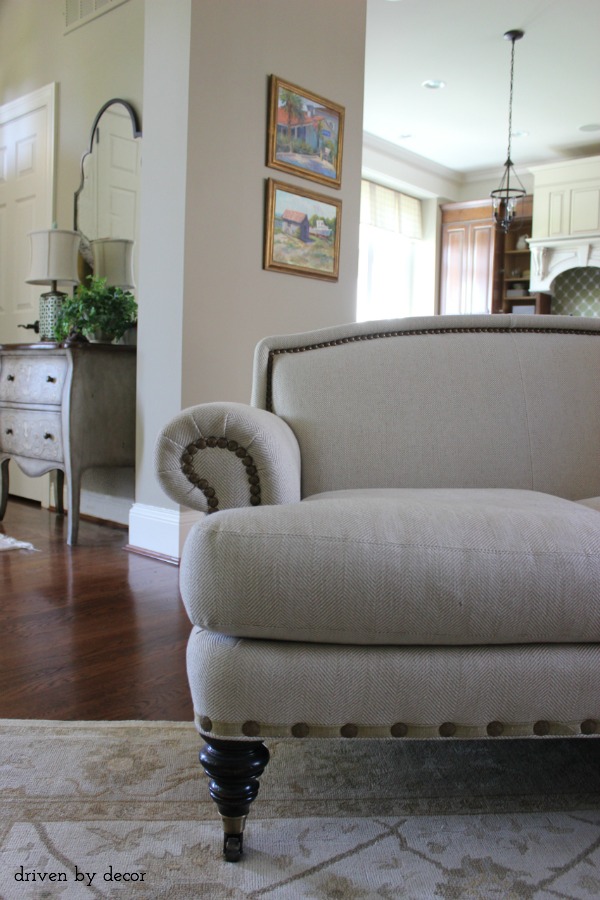 I just flew back home yesterday and am not quite ready to get back to the reality of my to-do list that grew to epic lengths while I was gone. Better go knock some of that sucker out! See you all later in the week,