Today's the day – are you ready to see everyone's gallery wall reveals? Led by the talented Mary Ann of Classic • Casual • Home and Cindy of Rough Luxe, it's the third and final week of the Project Design series on creating gallery walls. If you're a little late to the party, you can catch up here:
Week One:  Gallery Wall Inspiration
Week Two: The Gallery Wall Plans for My Home Office
Now on to the reveal! The blank black wall above my home office console is blank no more: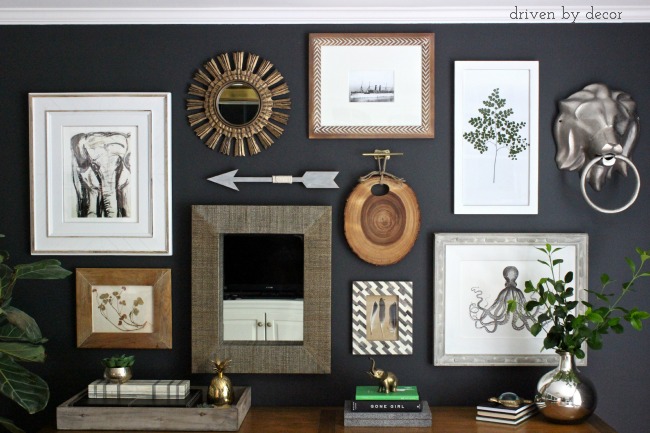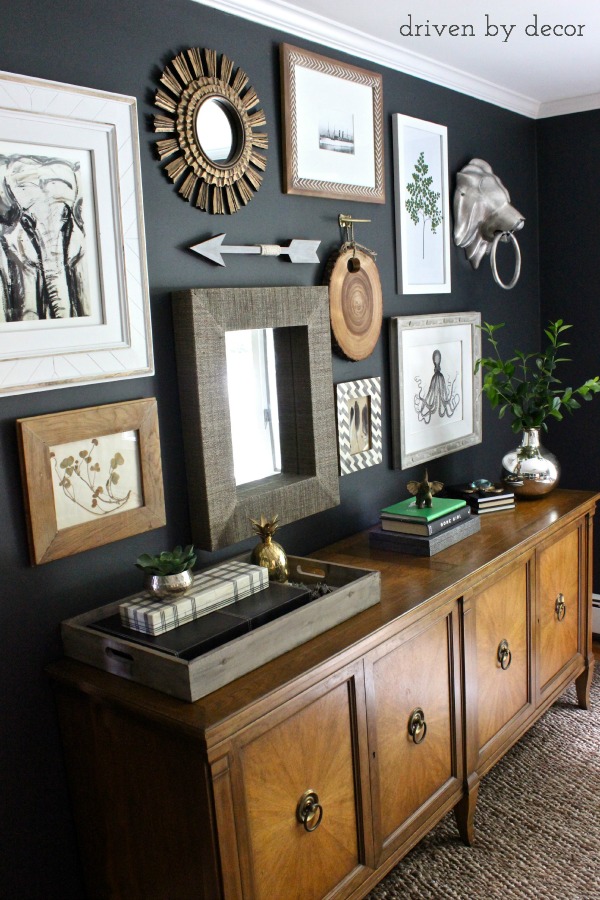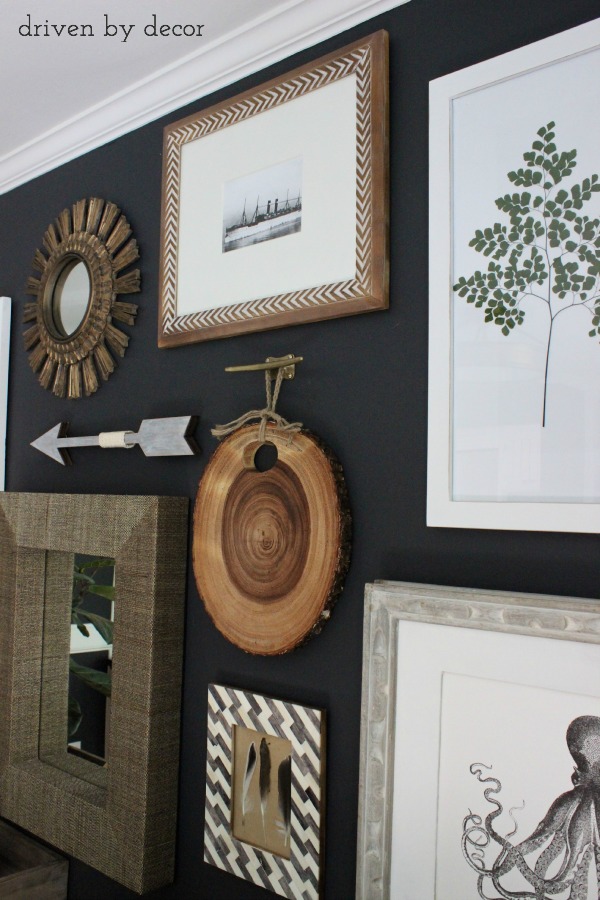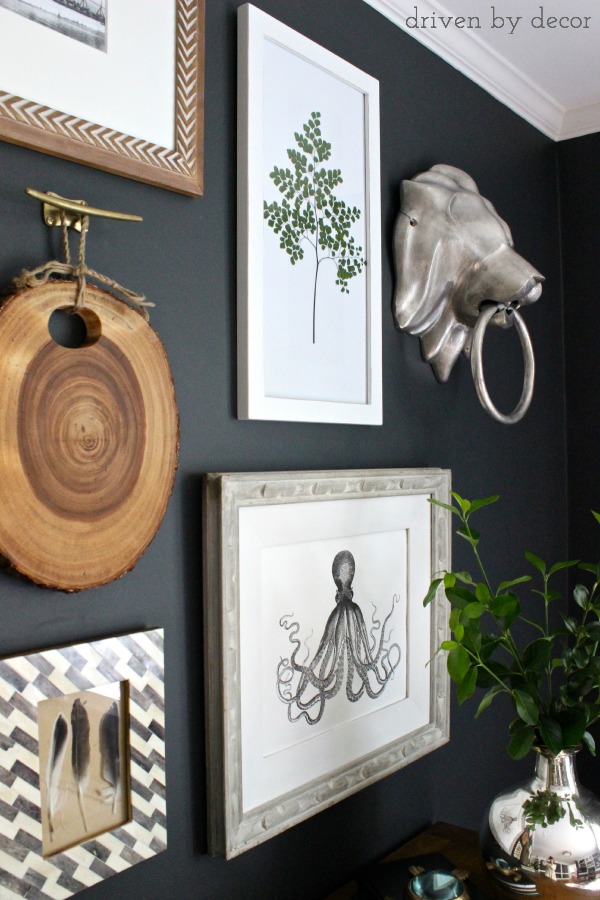 And since it's always fun to see how rooms evolve over time, this is the "before" of the wall when we moved in a little over a year ago: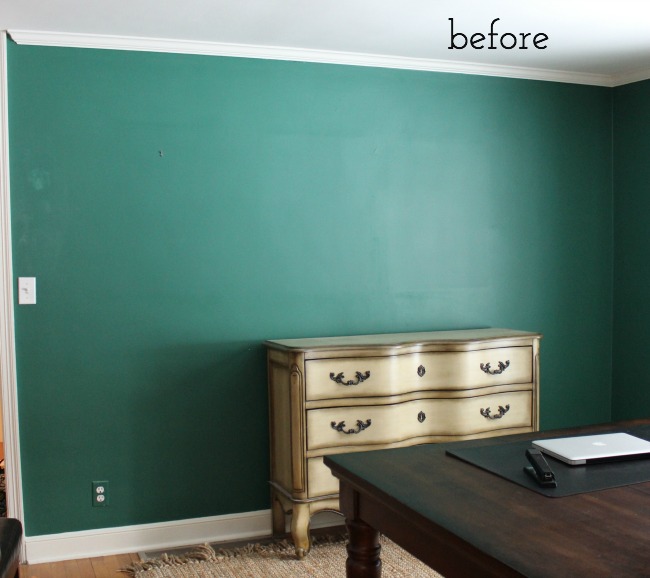 and now the "after":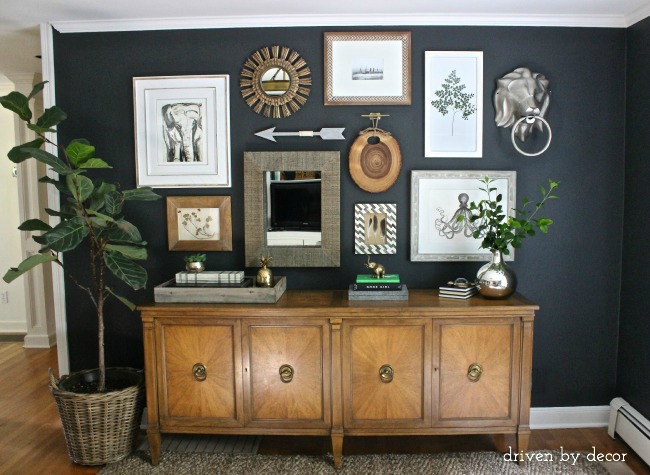 I was hoping that my new drapes would be done and hung up before the reveal but no such luck – they will flank the large window on the wall to the right and fill up the empty space on the right end of the console so things will look more balanced.
I kept the styling of the console itself to a minimum to let the artwork take center stage but I did add a few books, decorative storage boxes, and (of course) a little bit of brass goodness: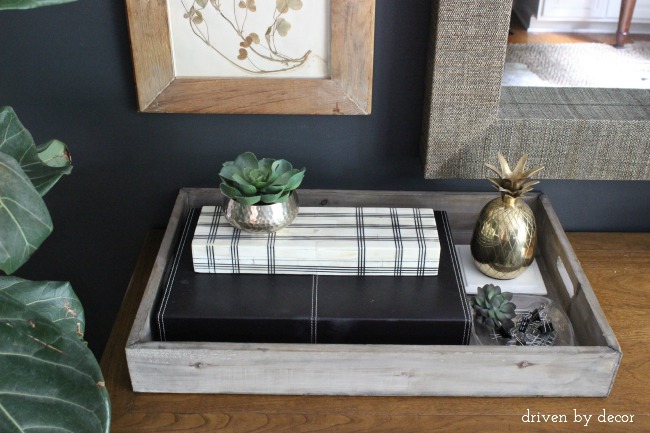 Along with revealing my gallery walls, I also thought I'd share some tips that helped me the most in getting my wall done: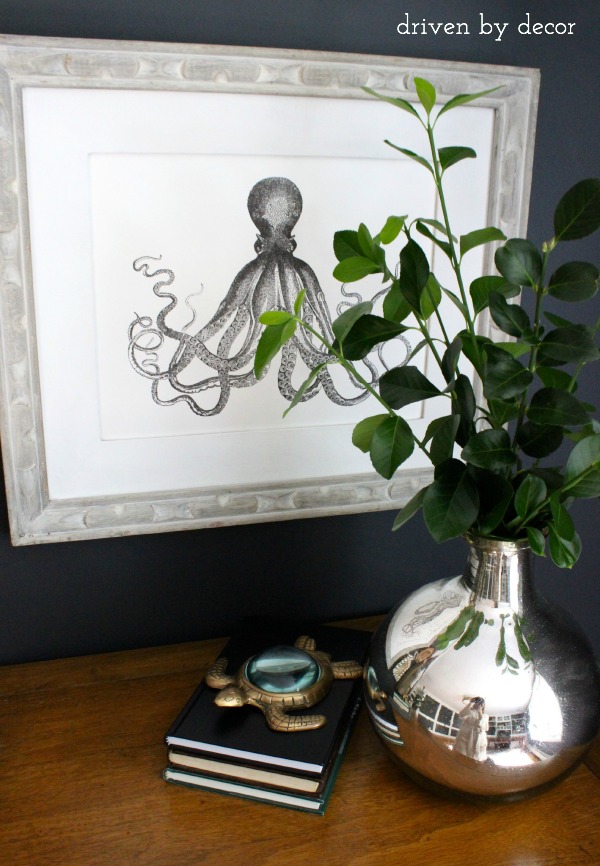 The frame around my octopus print is one of my favorites and it was only $3 at a local flea market. When you're shopping for frames, look more at the size and style of the frame than the color because the color is something that you can easily change.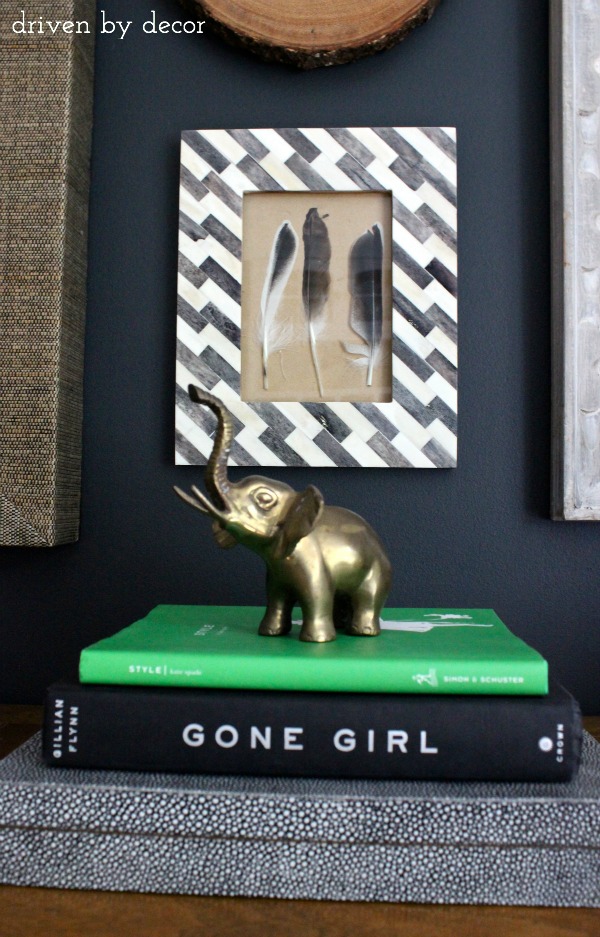 Art doesn't have to be expensive. You can find loads of free printables and graphics online (I found my Octopus print at The Graphics Fairy) or just go out in your own backyard and find some beautiful leaves or feathers to frame.

Clear some floor space and tape off the amount of space that are working with for your art wall. Then play around with the arrangement of your pieces over a few days before deciding where you're going to place everything. Once you think you've got your final arrangement, you can take your planning one step further (and save yourself from filling lots of extra nail holes) by cutting pieces of kraft paper in the shape/size of your art and taping them on the wall so you can tweak the layout in its final space before hanging your art.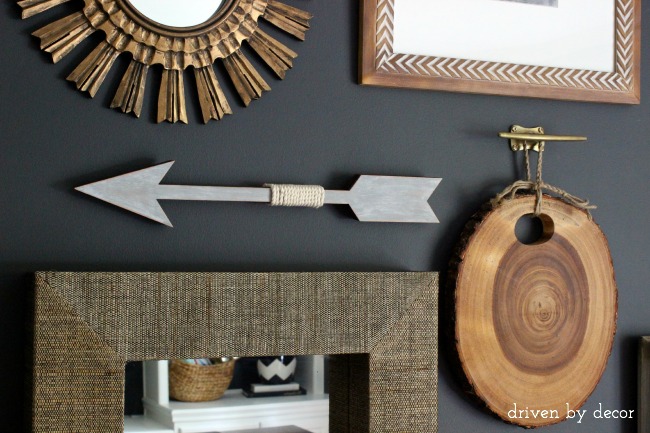 If you look closely at the arrangement I laid out on the floor, you'll see that I was originally going to place feathers over my woven mirror but once I got a few pieces up on the wall I could see that it wasn't going to look right. I didn't have anything long and skinny to replace it, but instead of rearranging my whole wall, I went on the hunt for a piece in that specific size to fill the space.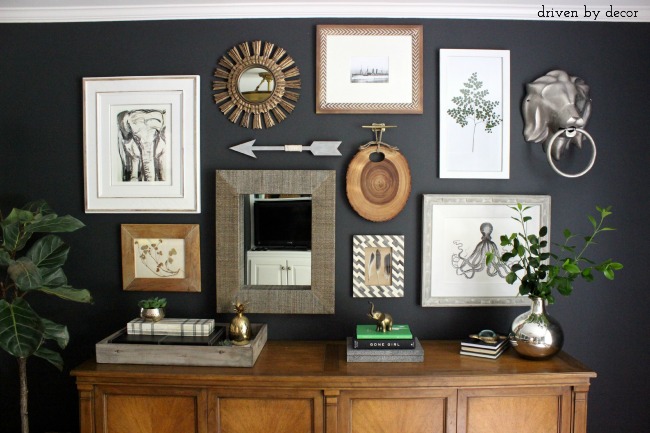 My comfort zone is creating gallery walls in a grid pattern where everything is perfectly spaced – I just get out my tape measure and level and go to town. And I started out wanting to do the same thing with my eclectic gallery wall but you know what? Eclectic gallery walls should not only have eclectic pieces but also eclectic spacing – using the same spacing throughout your wall just won't look right. As a good rule of thumb, about 2-3″ between pieces is a great place to start but then play with your pieces and move them around until they look right to your eye.
Update! Want to know where I found something in my gallery wall? Check out this post with my gallery wall resource list!
Ok, that's enough from me for today – you've got lots of other gallery walls to see! I'll do a post soon sharing all of the sources for my gallery wall but in the meantime, jump over to see the final gallery walls from the other eight Project Design bloggers – you are in for a treat!
Thanks for stopping by!