I'm probably giving you all decorating whiplash at this point after talking about painting our entry, fixing up our bar cart, hanging new drapes in our office, and fixing up our kitchen eat-in area all within the past few weeks. Of course it'd make the most sense to completely finish one or two of these before starting anything else but what fun would it be for me to not throw some more decorating chaos into the mix? So I'm adding in a project that's long, long overdue – finishing up my tween daughter's bedroom that I remodeled almost a year ago. Remember it?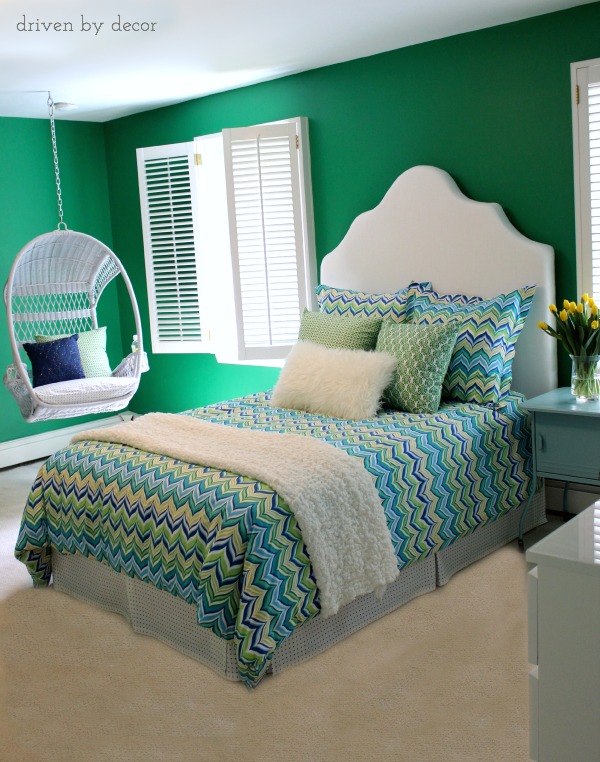 There's a large wall in her room that's totally bare and needing some pizzazz to match the rest of this colorful space. My daughter and I have been collecting purses for months with a plan to create a decorative wall of purses to store all of her many "little things". Notepads, animal figurines, lip balms…the list goes on and on of all of the little things that she loves to collect but we haven't found a great home for.
And after finding two more purses on clearance at Target last week, we finally have enough to create our wall!
The only thing we have left to figure out is the type of wall hooks to hang the purses from. Because plain ole generic wall hooks aren't going to cut it – I wanted to find something fun and unique that my daughter loves. After a ton of searching I came up with some great ones for her to choose from. I thought you guys might like seeing them too in case you're on the look-out for cool hooks for projects of your own (note: some of the below links are affiliate links).
Any favorites? I'm rooting for numbers six and eight but the decision is totally up to my little one. I'll let you know what she decides and hopefully we'll have a fun new purse wall to share with you all in the next few weeks!