Over the past six weeks, I've been remodeling our powder room as part of the One Room Challenge and let me tell you – this space has been a bear with unexpected hurdles and setbacks at every turn. If you haven't been following along from the beginning and want to catch up on how things went down you can check out the first five weeks here:
Week 1: The bathroom "before" & a plan
Week 2: Choosing a medicine cabinet & sconces
Week 3: A Tale of 3 Medicine Cabinets
Week 4: #3 is Gonna Work
Week 5: See Ya Later Yellow
And now at week six, it's the end of the challenge and I'm so excited to show you all how my bathroom makeover turned out!
Source List Included at End of Post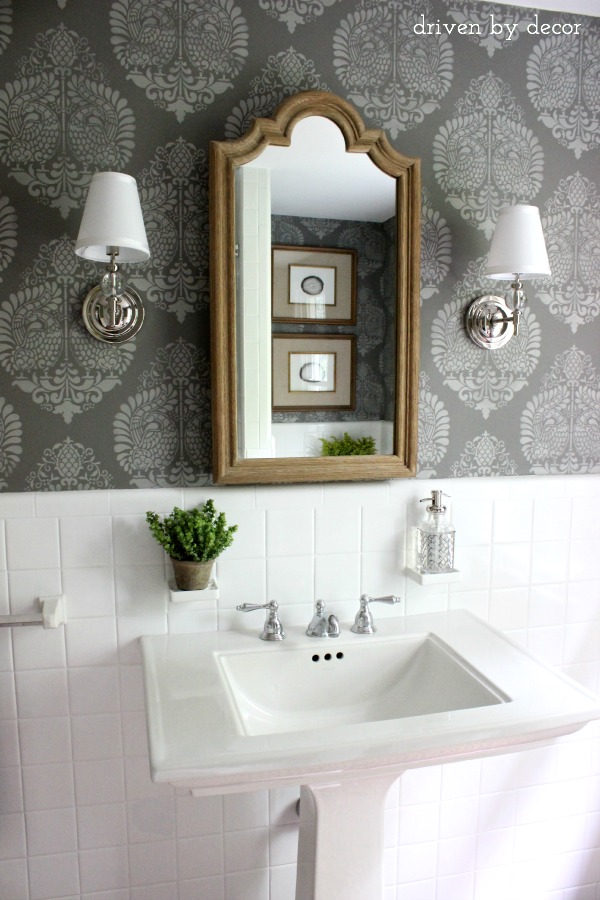 Do you all remember what it looked like before? Bye bye wallpaper, vanity bulbs, and plain jane mirror…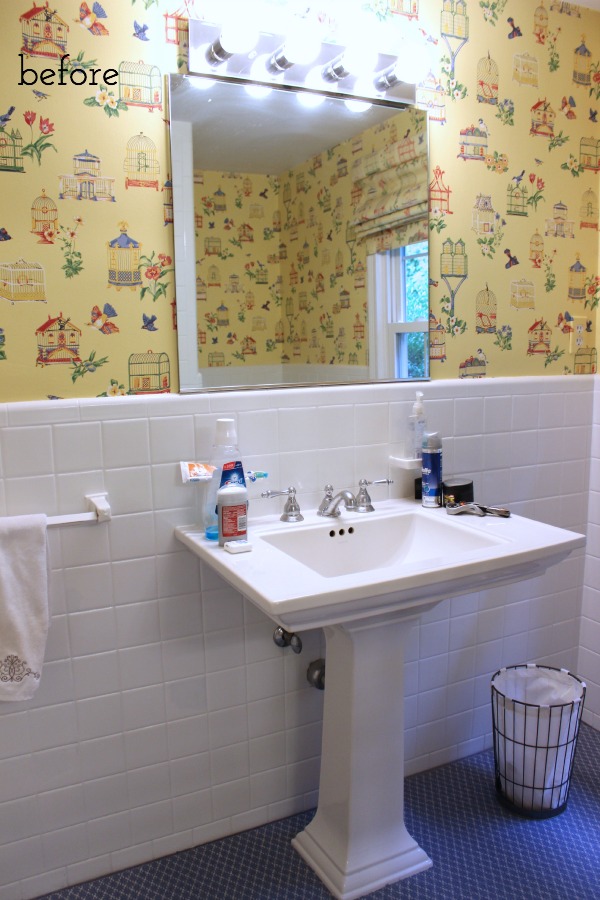 Hello to newly painted and stenciled walls, wood medicine cabinet, and glamorous sconces!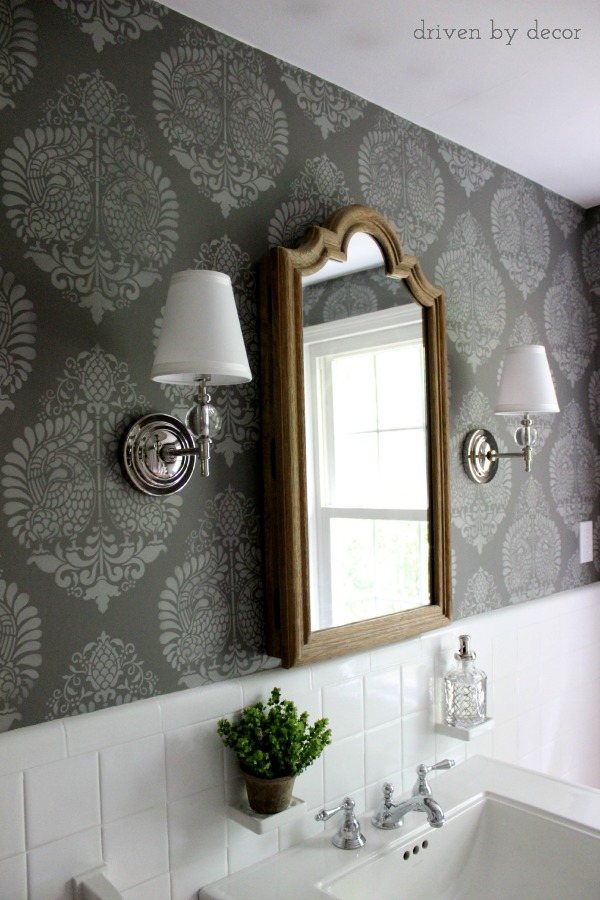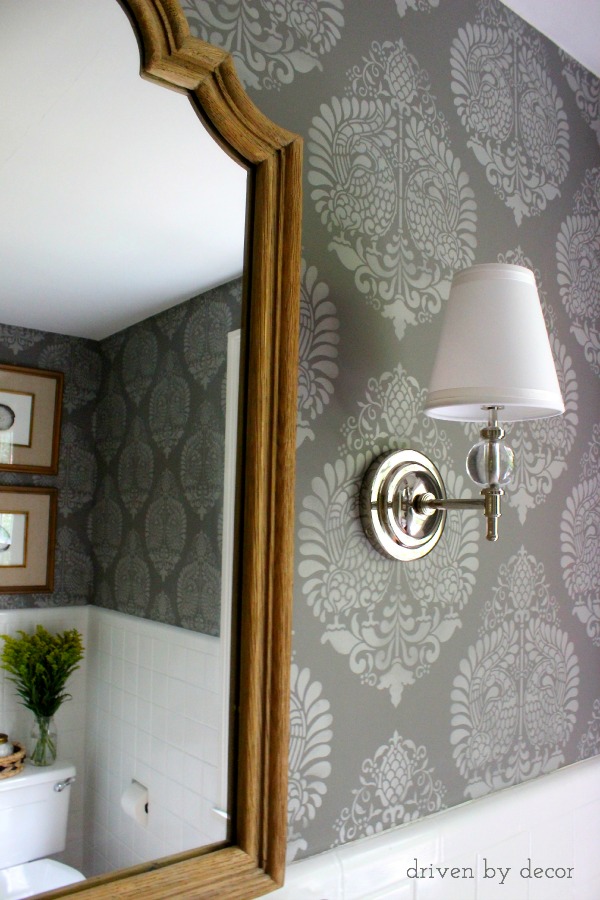 There were several awkward things to work around in this bathroom, including the built-in soap and cup/toothbrush holders. I originally had some semi-elaborate plans to fix them up but then realized that they'll work just fine as is. The cup/toothbrush holder turned into the perfect plant stand: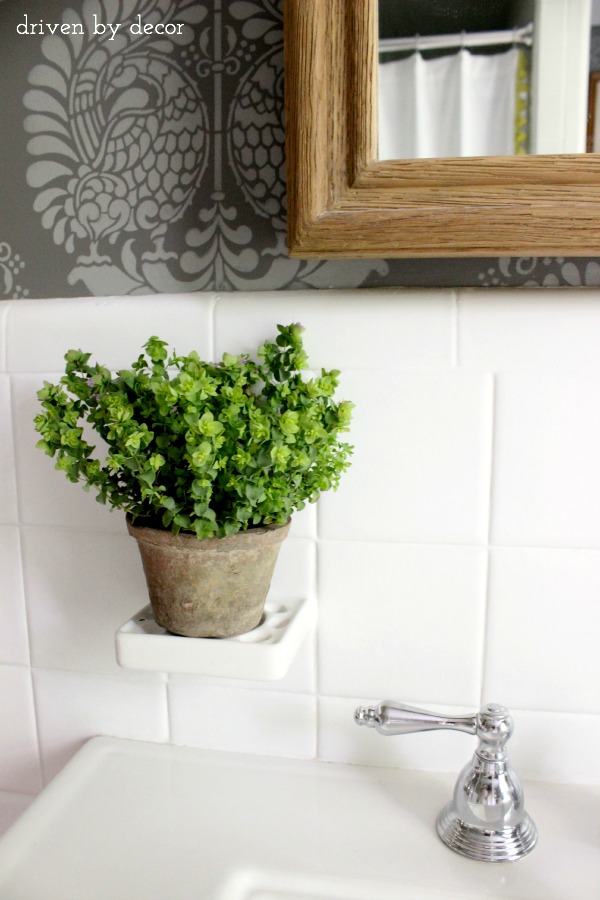 and the soap dish fits my new HomeGoods soap dispenser like a glove!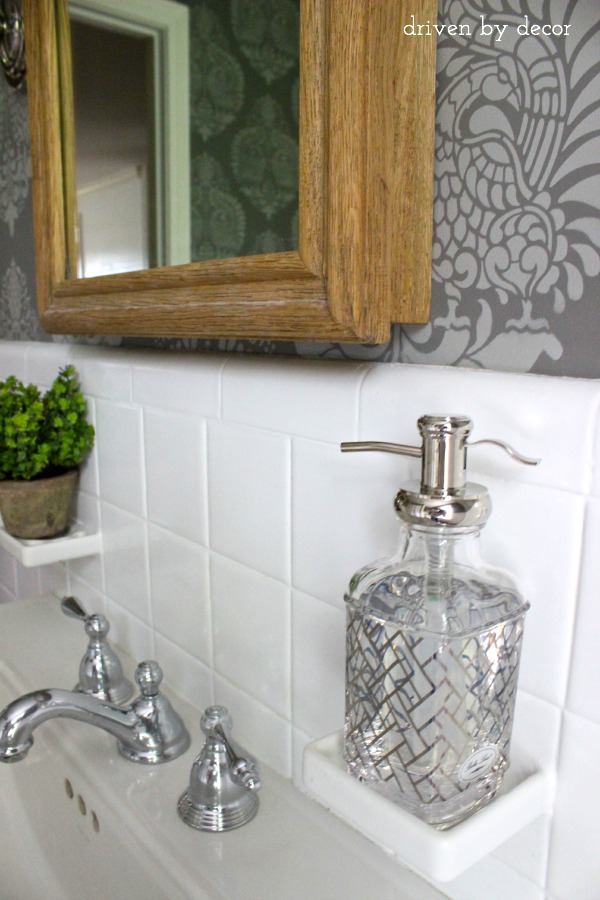 This bathroom is the one that my husband uses to shower and get ready in so some storage for all of his bathroom junk was priority #1. We switched out the plain builder's grade mirror…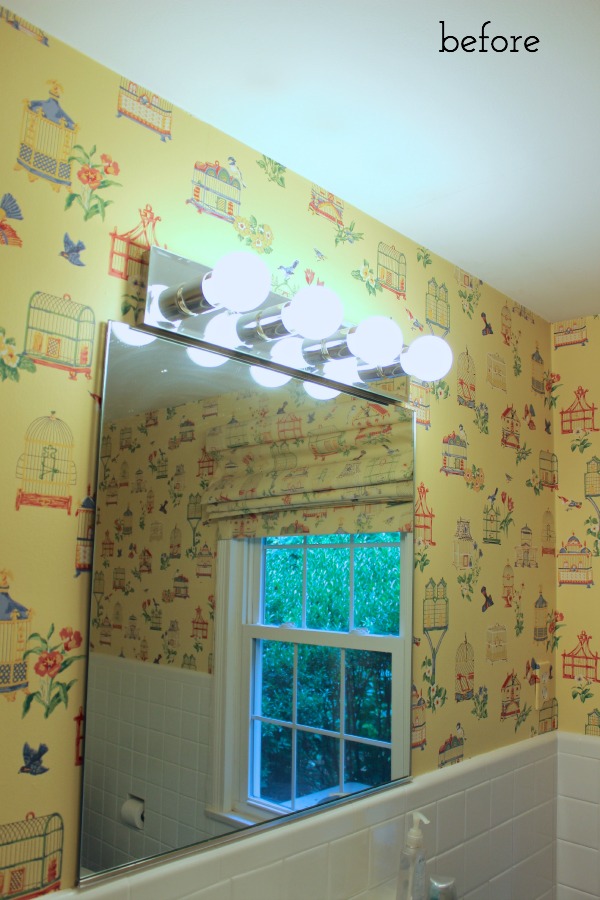 to this distressed wood medicine cabinet with plenty of room to store all of his crapola that previously cluttered up the top of the sink. No more heart palpitations when an unexpected guest to our home asks to use the bathroom!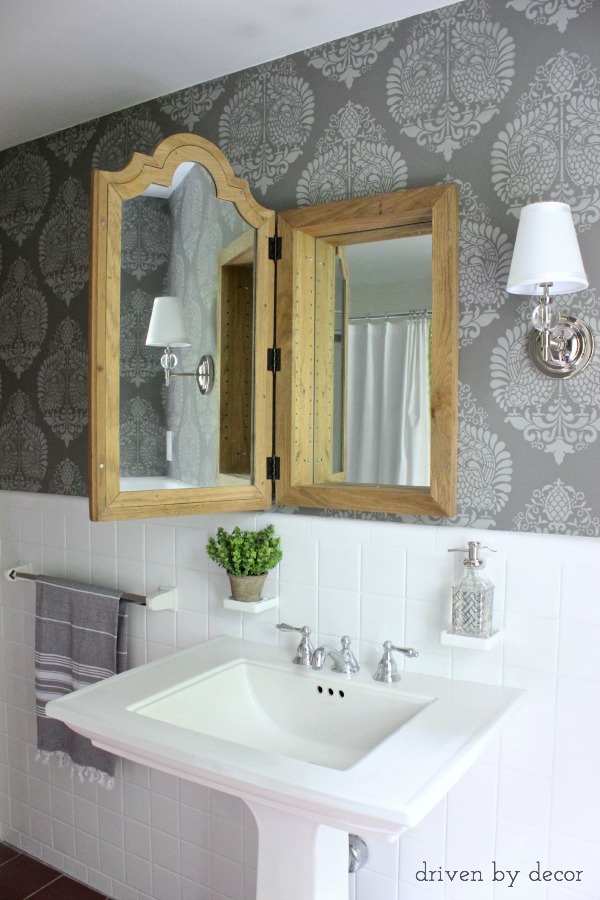 I also replaced the junky plastic towel bar…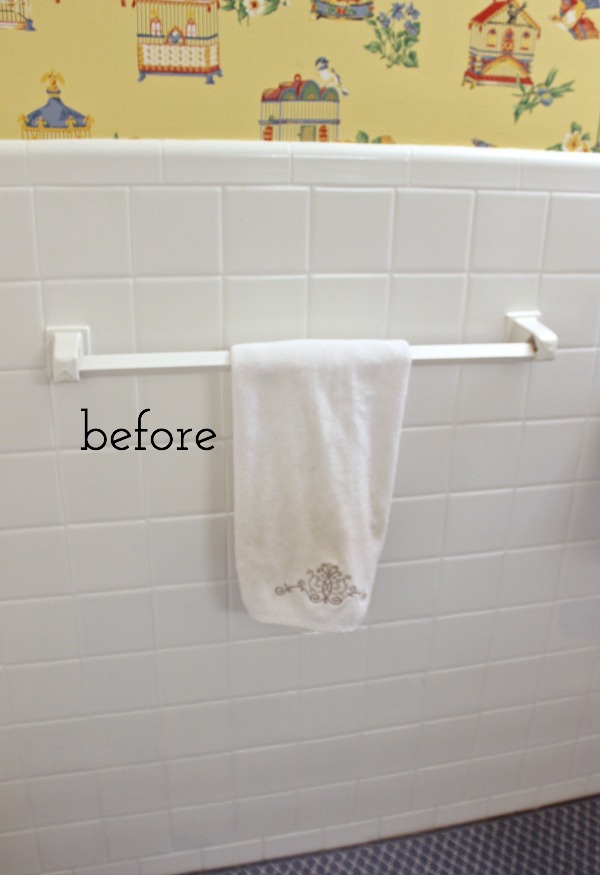 with a new chrome one and then prettied it up with a gray and white striped Turkish towel: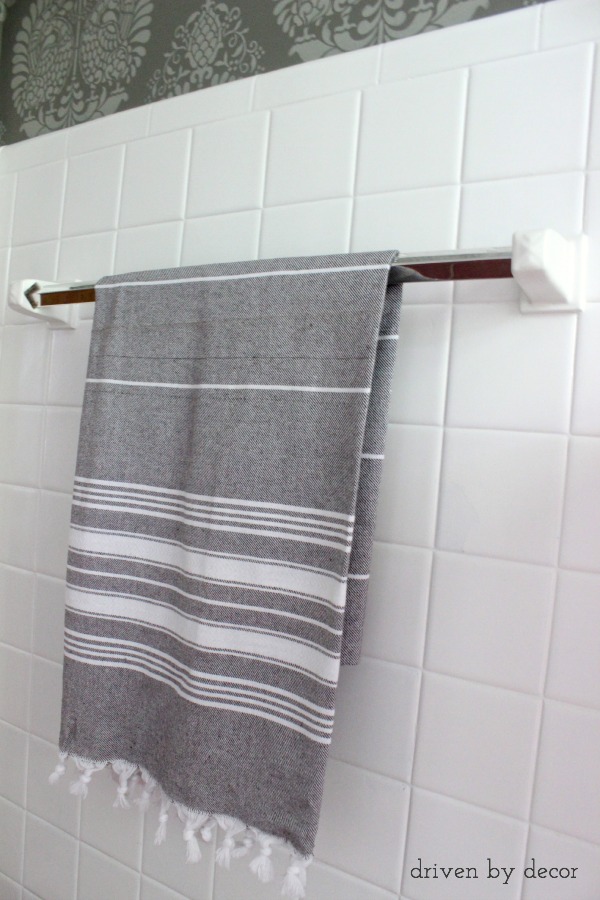 The wall space above the toilet got a little makeover too: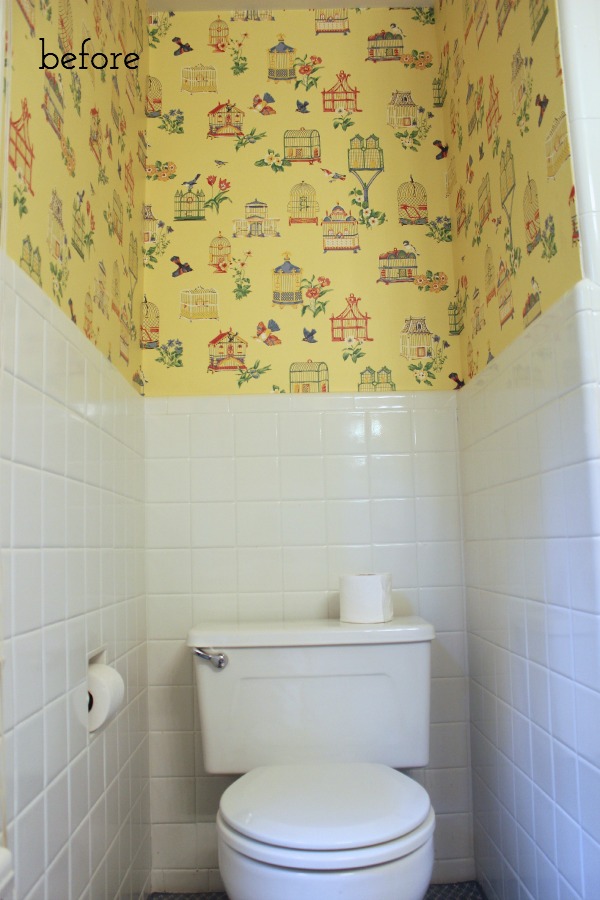 with some agate slices mounted in Target frames: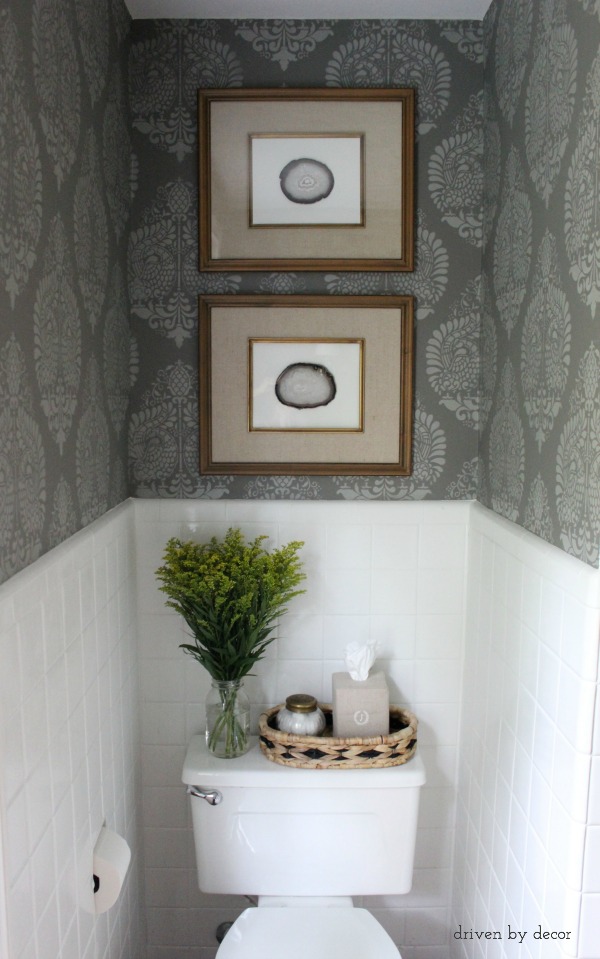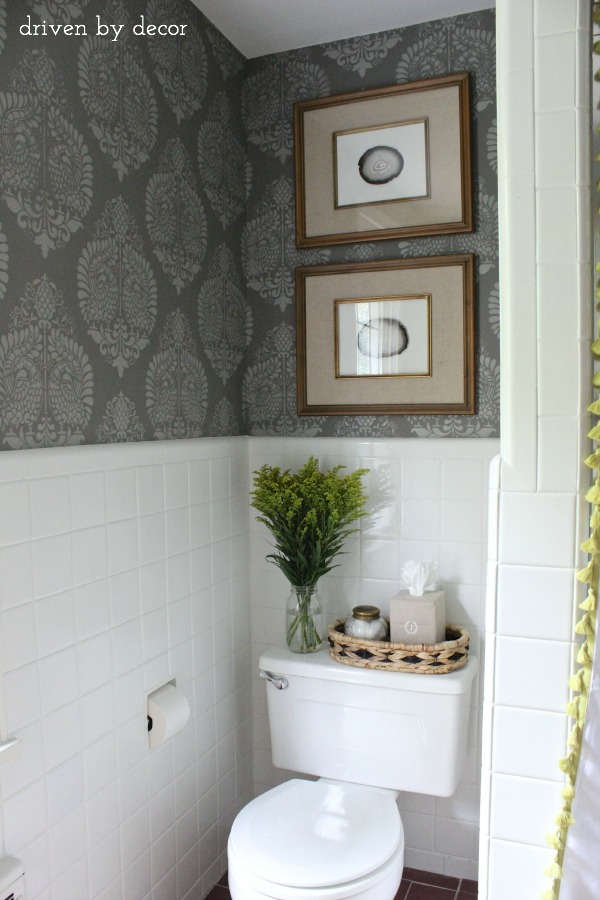 The top of the toilet tank even got a little bit of love: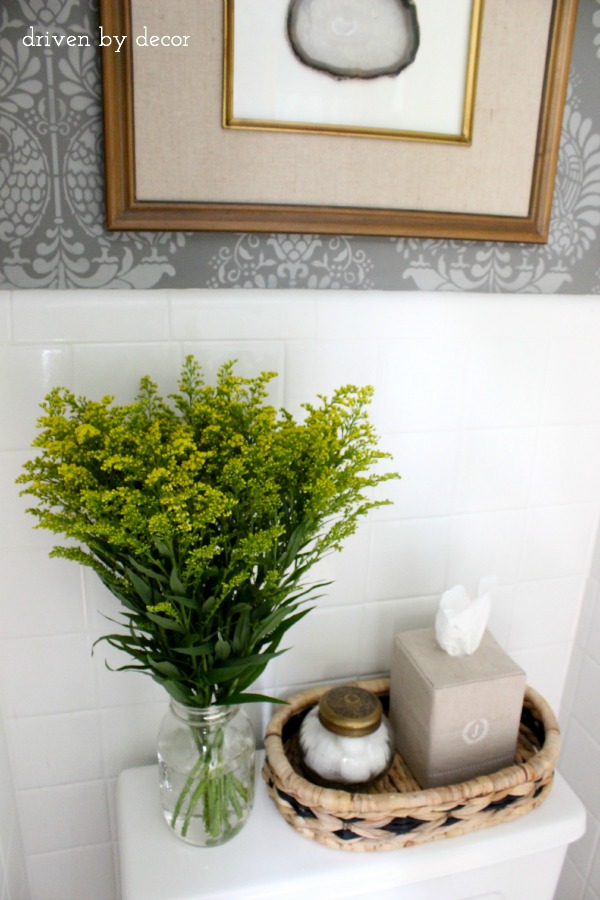 And remember when I was debating between three different shower curtains? Did you guess that this was the one that I would end up with?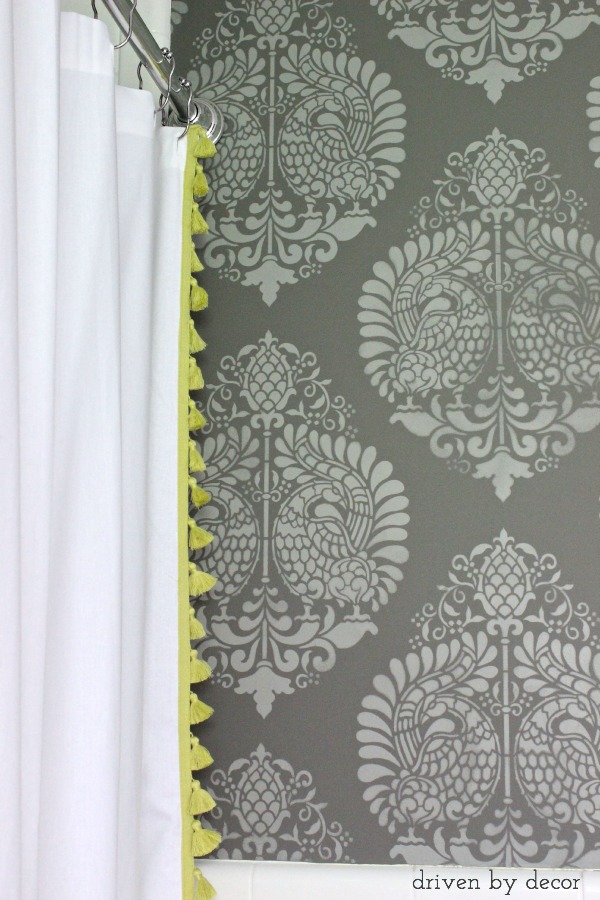 And what about my floors – how did they turn out?? Well, they didn't. With a week left to go and still lots to do on the room, I came to the realization that it just wasn't going to happen before the big reveal. So my ugly tile floors are still there (you can see them peaking out on some of my pics if you've got a sharp eye!) but they won't be for too much longer. I'm still planning on painting them and will share the results in a few weeks once they're done. But for now, I'm just going to celebrate how much farther along this bathroom is than when the One Room Challenge started six weeks ago!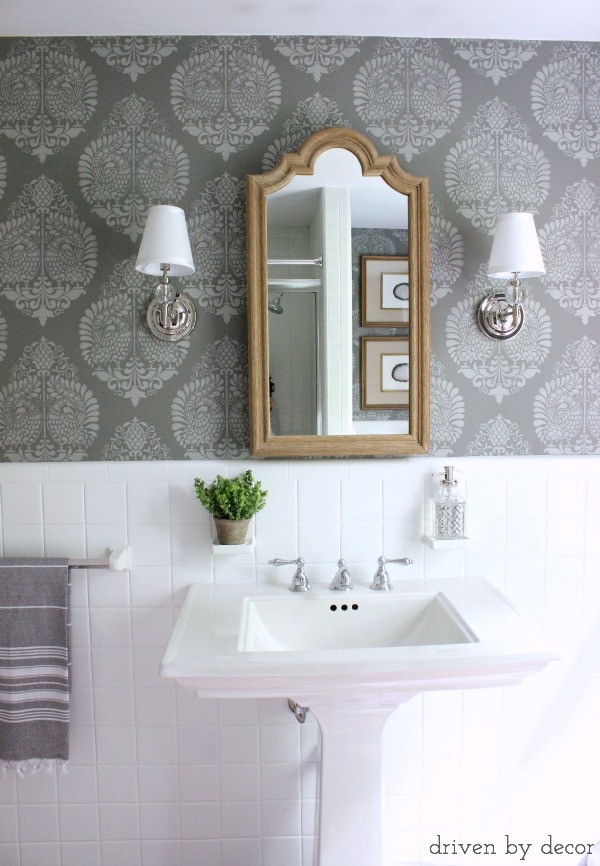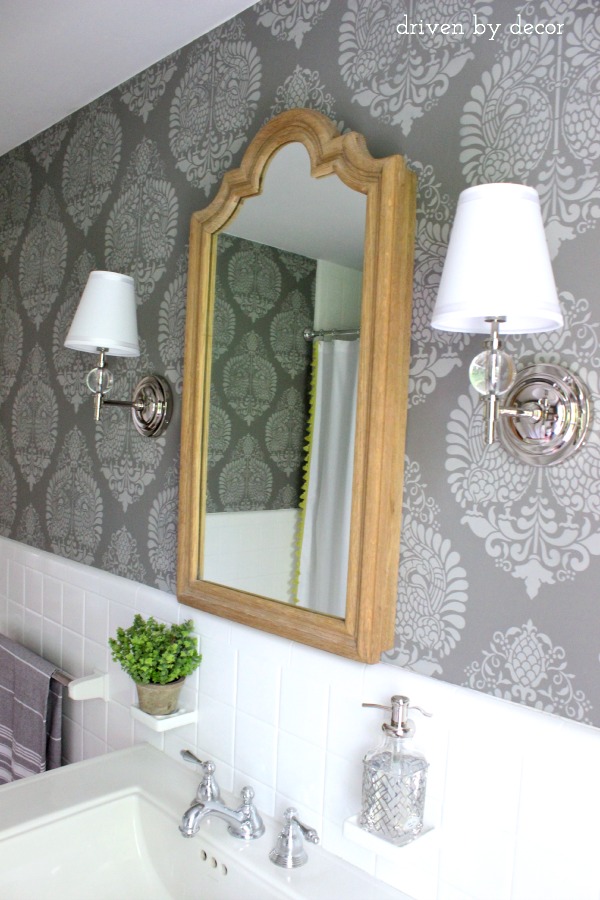 I've listed all of my sources for the bathroom below (including where I found the wall stencil – it made the room!). Thanks so much to all of you for following along and leaving comments with encouragement, opinions, and suggestions along the way – it was my favorite part of the challenge!

(note:affiliate links are indicated with an asterisk)
Wall stencil: Annapakshi Indian Damask Wall Stencil* – I used the 11.25″ x 15.5″ furniture stencil (c/o Royal Design Studio) | Basecoat paint: Benjamin Moore Aura Bath & Spa (Matte) in Chelsea Gray | Stencil paint:  Platinum Gray (Benjamin Moore color but mixed in Behr Premium Plus Ultra in Satin)
Medicine Cabinet: Small Inset Whitby Medicine Cabinet in Weathered Oak (Restoration Hardware)
Sconces: Wilshire Single Sconces in Polished Nickel (Restoration Hardware)
Shower Curtain: Tassel Shower Curtain in Citrine* (Serena & Lily)
Soap dispenser, woven basket on toilet, agate slices: HomeGoods
Gold & glass jar in basket: The Baker's Jar* (Anthropologie)
Plant: Ornamental Oregano in Linen Wrapped Pot (Terrain)
Frames: Target Threshold (no longer available online but are on clearance in stores)
Tissue Box Cover: Linen Hemstich Tissue Box Cover* (Pottery Barn)
Bath Towel: Turkish Towel in Gray and White Stripes (Pop & Circumstance) – sold out