Two decorating projects that I've been working on this month are selecting a ceiling fan for our home office and helping my sister find dining room chairs that work well with her new dining table. Once again, I've gathered together some measurement guidelines to help in making my decorating decisions and then compiled them here for easy future reference.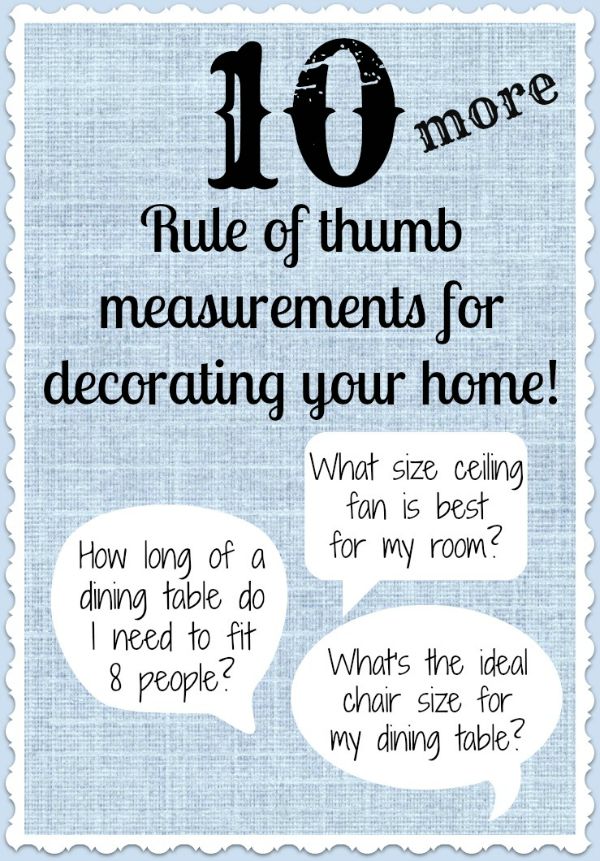 Ceiling Fans
It's important to choose a ceiling fan that is proportional to the size of your room.  To determine the fan size that's most appropriate for your space (fans are sized by the number of inches that their blades span), first determine the square feet of your room by multiplying the room's length by its width. Then use these suggested guidelines:
For rooms up to 75 sq ft, choose a 29″ – 36″ fan
For room 76 to 144 sq ft, choose a 36″ – 42″ fan
For rooms 145 to 225 sq ft, choose a 44″- 48″ fan
For rooms 225 to 400 sq ft, choose a 48″- 54″ fan
For rooms over 400 sq ft, choose a fan that is 54″ or larger. 
For large great rooms, a fan as large as 72″ may be appropriate.
If the room is over 400 sq ft, consider using two fans, particularly if the space is rectangular.  
Ceiling fans should be hung at a height so that the blades are at least 7 feet above the floor. For ceilings that are 8 feet or less in height, consider a hugger/low-profile fan to keep the fan blades from being too low.
If your ceiling is over 9 feet tall, your fan will require an extension downrod. Here are some guidelines for determining the approximate length of your downrod:
For 9 foot ceilings, use a 6″ downrod if needed
For 10 foot ceilings, use a 12-18″ downrod
For 11 foot or taller ceilings, subtract 9 feet from your ceiling height to get the length of your downrod.  For example, if you have a 12 foot ceiling, 12-9=3 so you would want a 3′ downrod.
If you have extremely tall cathedral height ceilings, fans are often hung higher off the floor than for more standard height ceilings.  For this reason, for cathedral ceilings use the above calculation to determine the maximum length of your downrod – you may wish to go with a downrod that is a foot or more shorter than what you calculate.
If ceiling height allows, the fan blades should be at least 8-9″ from the ceiling for optimal airflow.
Ceiling fans should have a minimum of 18″ clearance between the wall and the tip of the fan blades.
If you're searching for a good-looking ceiling fan for your home, you may find this recent post on ten great ceiling fans to be helpful.
Dining Chairs & Tables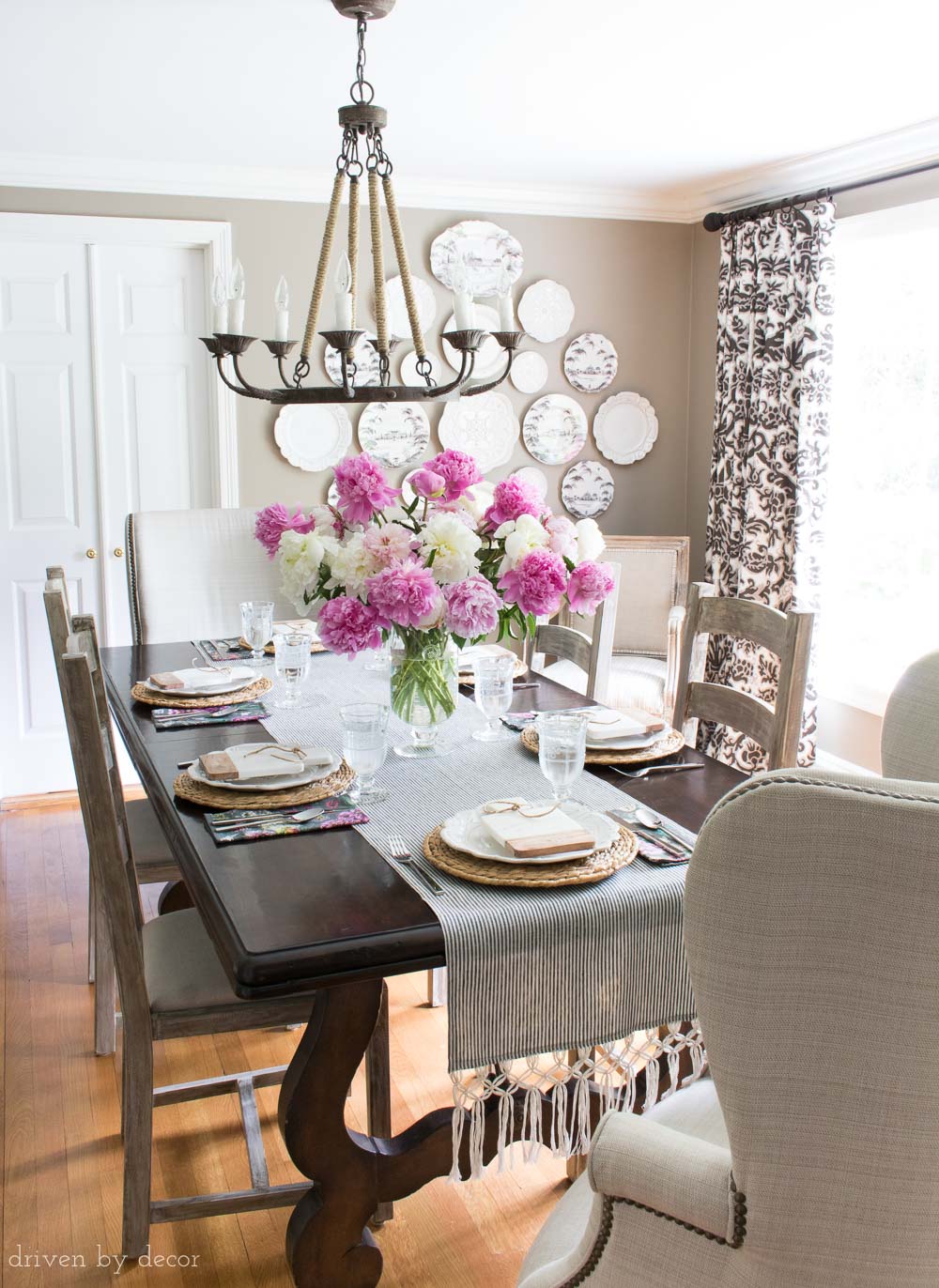 The distance between the top of the table and the chair seat should be about 12″. Therefore, to determine the seat height that's best for your table, take the height of your table and subtract 12 inches.  For example, most dining tables are 30″ high so an appropriate seat height would be 30-12=18″.
Allow at least 32-36″ of space between the back of each dining chair and the wall or furniture behind it to allow room to pull chairs in and out easily. If the area behind the chairs is a traffic pathway, increase the amount of space.
The back of your dining room chairs should be taller than the top of the dining table but how much taller is a matter of personal preference.  When dining chairs are lower in height, it feels more modern whereas taller chairs tend to make a room feel more traditional and formal. If you're using different side and end chairs, your end chairs should be taller than your side chairs.
A seat depth of 16-18″ is recommended for dining. 
For rectangular dining tables, ideally allow a minimum of 24″-28″ of table length per person and some additional inches at the corners (how much space is needed at the corners depends upon the table width – more additional space is needed for narrower tables than for wider tables). Always consider the location of the table's legs/base in determining how many people it will comfortably seat. Also consider the width of your dining chairs – if you have wider than average chairs, the amount of table length per person will need to be greater.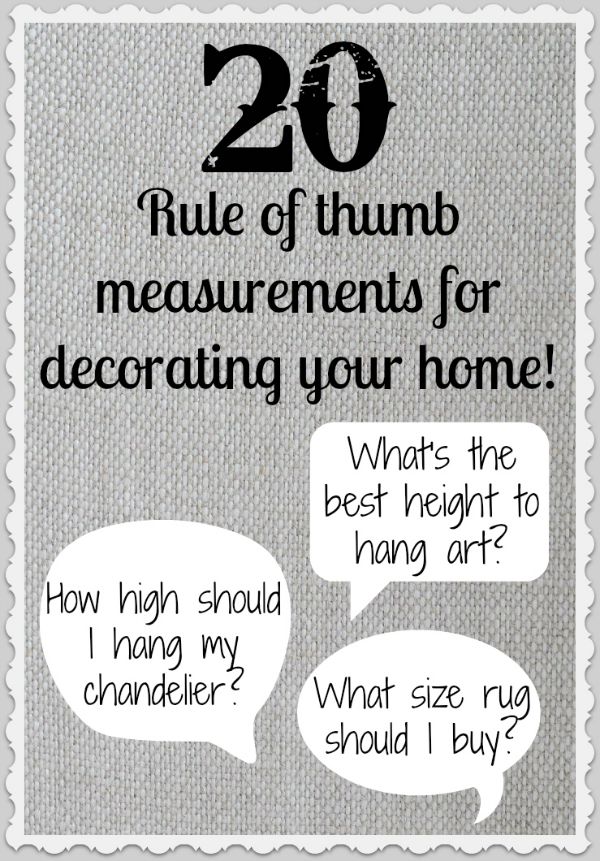 And remember that considering these measurements can help you make better decorating decisions and furniture purchases. However, if you've tried something with a room that doesn't fit with these measurement "rules" but looks and feels right to you, go for it! Some of the most unique, gorgeously designed rooms out there are ones that have broken a rule or two!