Whenever I'm getting ready to hang art or drapes or am thinking about buying overhead lighting, I have a set of go-to measurements that help me get it right every time! I've gathered together all of my tried and true measurements in this one post so you can get it right too!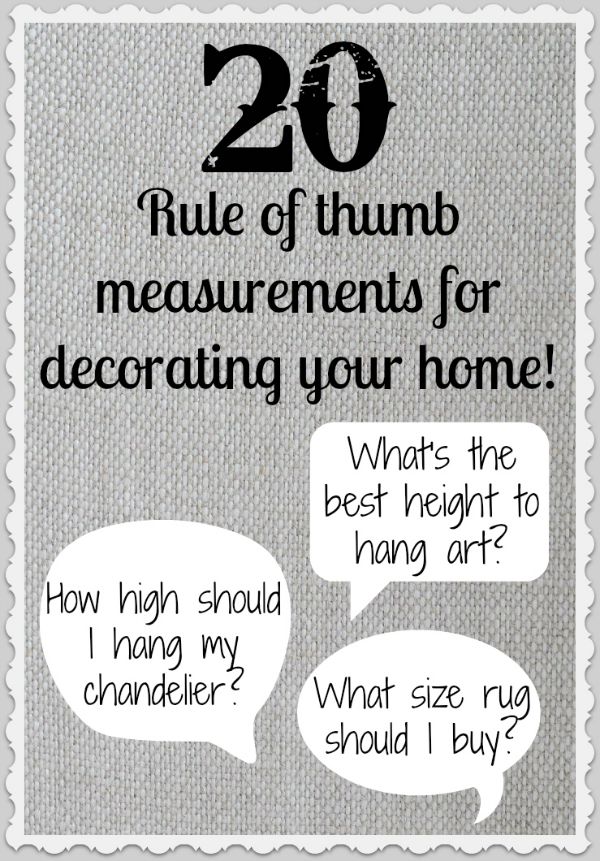 Hanging Artwork : How High to Hang Art & More!
Whether you're hanging a single picture on the wall or a a full gallery wall of art like in our home office: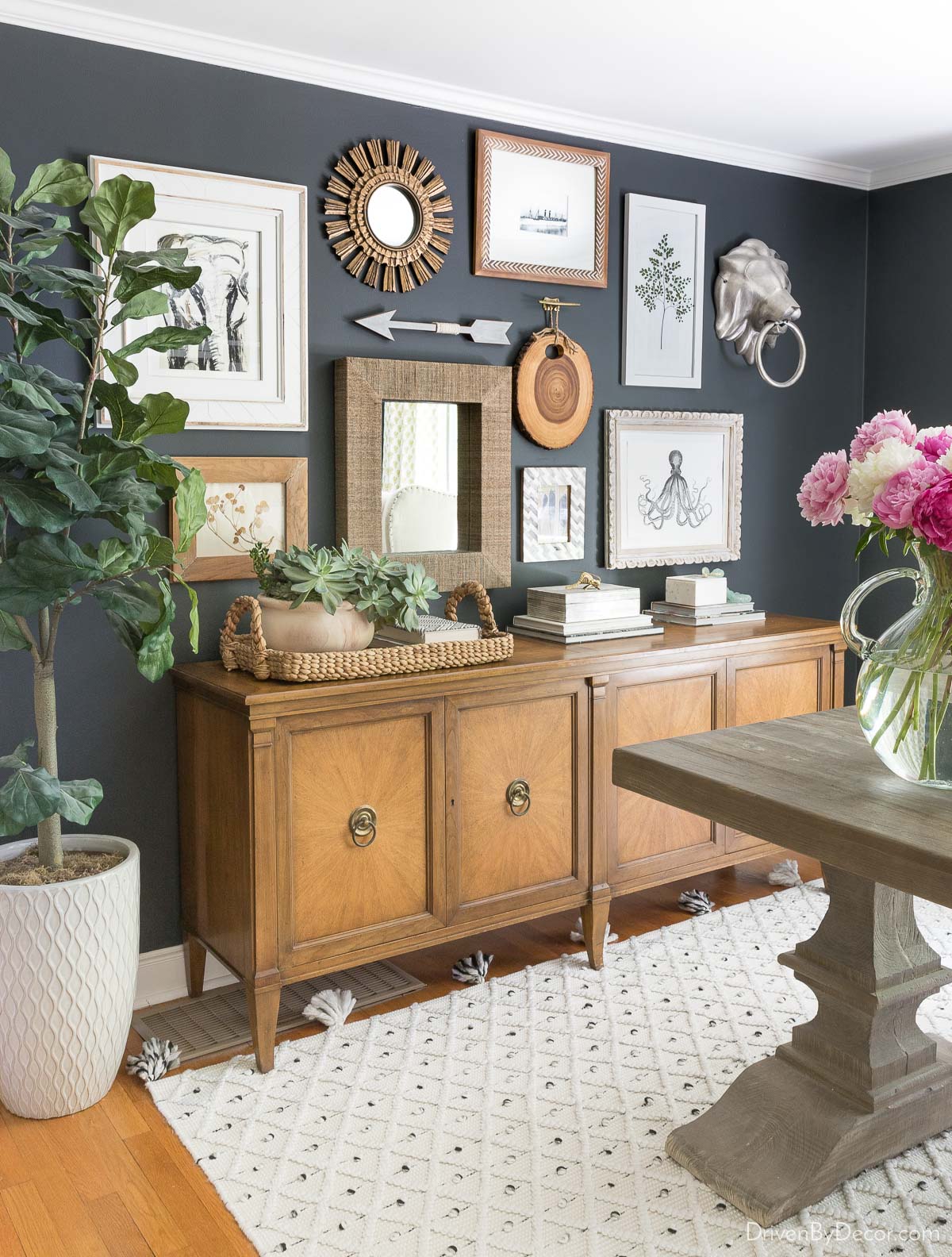 Sources:  Desk (similar)  |   Rug  |  Faux fiddle leaf fig tree (similar)  | Console is thrifted  |  Elephant art print  |  Woven tray  |  Other sources no longer available
these tips for how high and far apart to hang  art should help:
For a single piece of art, the center of the image should be at 57″ – 60″ from the floor, which places it at eye level. The larger the piece of art, the closer to 57″ it should be.
When hanging two pieces of artwork, one above another, treat them as one large picture – find the center point between them and use the 57″ – 60″ rule.
For larger pieces of art hung on the same wall, use a spacing of about 2-3″ between them. Smaller pieces can be hung a little closer together.
When hanging art pieces above a sofa or other piece of furniture, the grouping should ideally be about ⅔ the width of the furniture below it. (For example, if an art grouping is being hung over a 60″ sofa, the ideal grouping would about 40″ in length.)
When hanging artwork over a sofa or other piece of furniture, leave 3″- 8″ of space between the top of the sofa/furniture and the bottom of the art.
Window Treatments: How High to Hang Drapes
If you're not sure how high to hang your drapes above the window frame or how wide your drapes should be, these tips will help…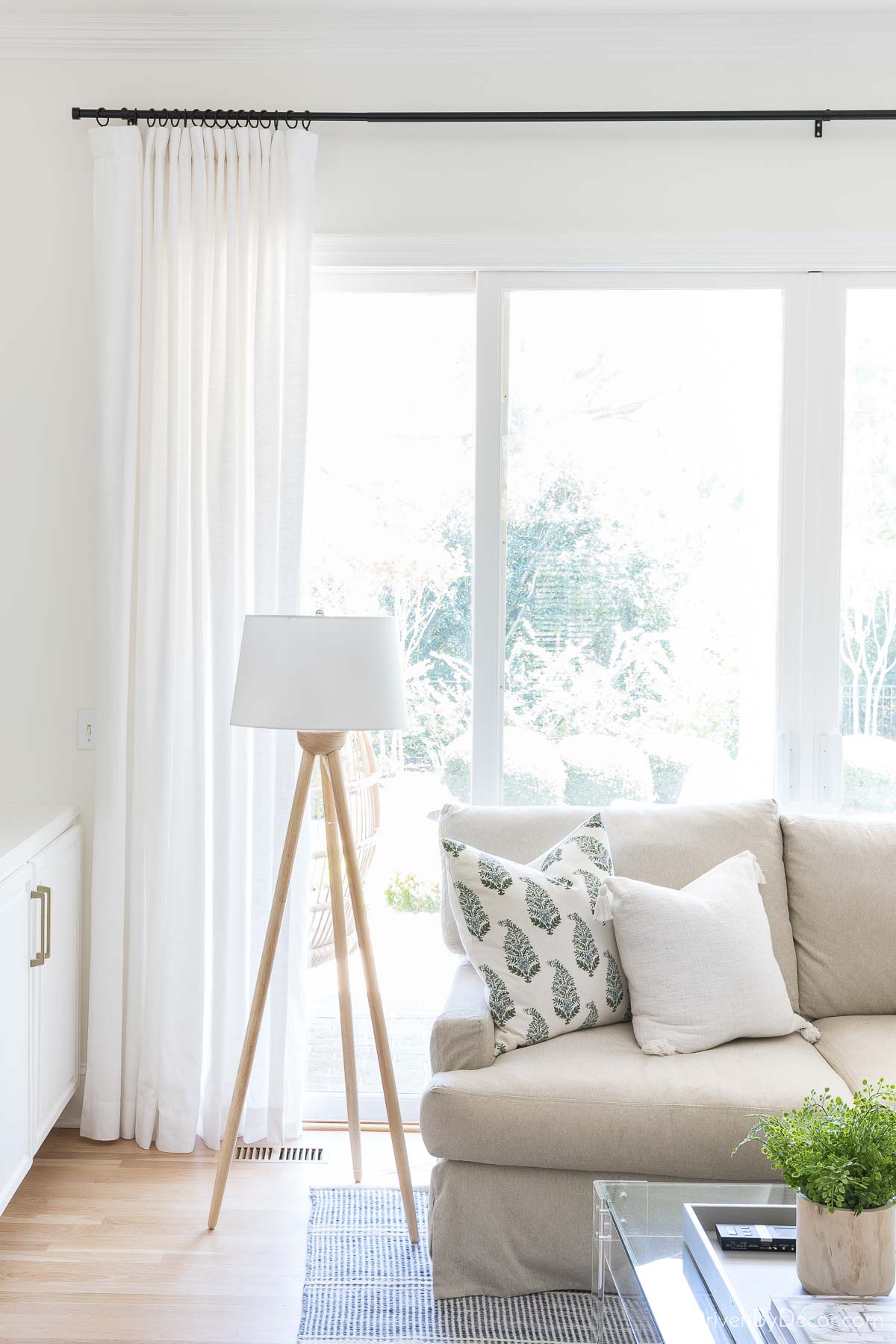 Sources: Drapes  |  Drapery rod  |  Drapery rings  |  Tripod lamp  |  Sectional sofa  |  Block print pillow  | White tassel pillow  |  Rug  |  Acrylic coffee table (similar)
Buy drapery panels that will either kiss the floor or puddle on it.
To create the illusion of a taller window, mount drapery rods at least 4″ – 8″ above the window casing if space allows.
To make your windows appear wider and let in extra light, extend the rods anywhere between 4″ and 10″ (excluding finials) beyond the window casing.
Drapery panels should have a combined width of 2-3 times the width of the window so if you have two panels framing a window, each panel should be 1 to 1½ times the window width.
Light Fixtures: What Size Light is Best
If you want to know how high to hang your chandelier above your table or how wide of a dining room chandelier you should buy, here are the measurements you need to know…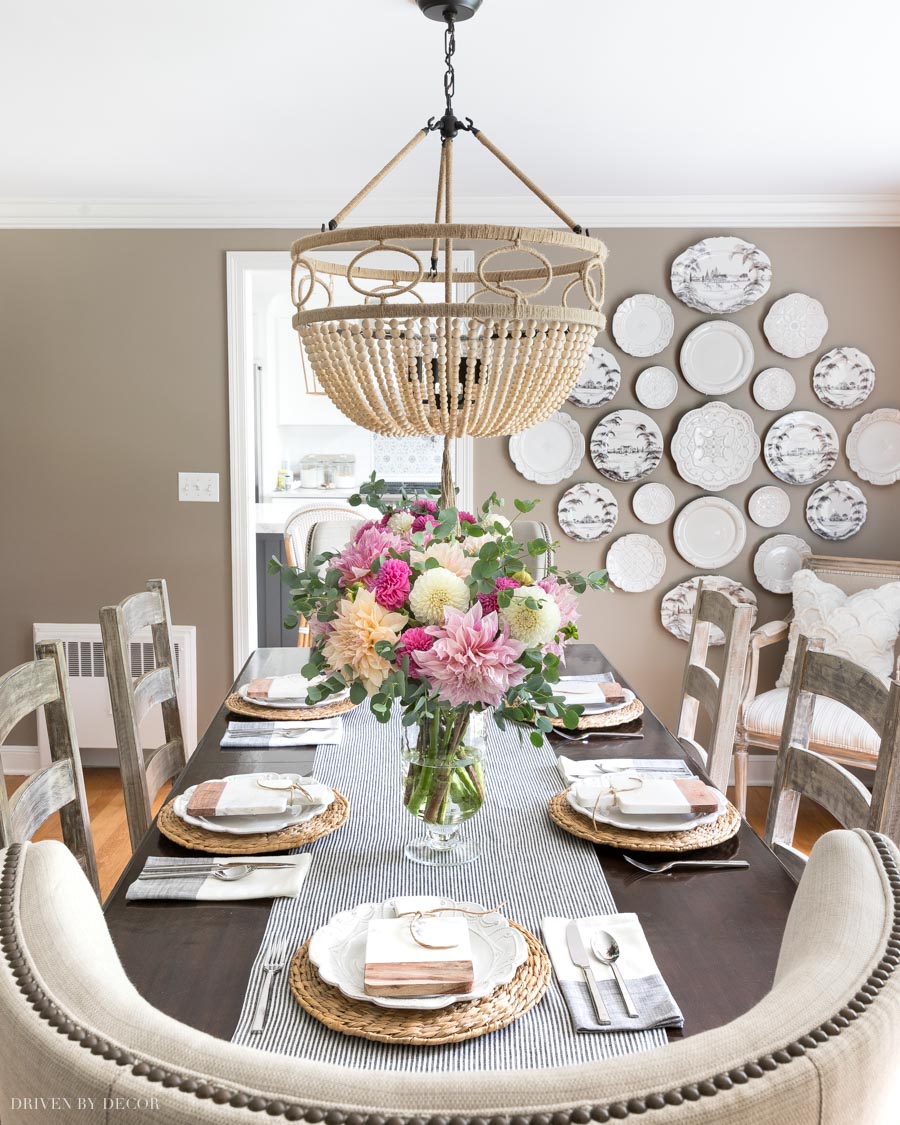 Dining Room Sources: Wood bead chandelier  | Table & chairs – no longer available  |  13″ Rattan chargers (similar)  |   Table runner (similar)  |  Glass hurricane vase  Wood vases – no longer available  |  White wall plates  |  Patterned wall plates
For a chandelier that will hang over a table:
The width of the chandelier should be about ½ to ⅔ the width of the table it will be hanging over. Another rule of thumb to also consider is that the width of the chandelier should be about a foot less than the width of the table at its widest point.
The bottom of the chandelier should hang between 30″ – 36″ above the surface of the table when there is an 8′ ceiling. For higher ceilings, you can hang the chandelier up to 3-4″ higher for each additional foot of ceiling.
For overhead fixtures in rooms such as a living room or entry way that are not hanging over a table:
To determine a good width for your light fixture, measure the length and width of the room in feet and add those two measurements together – the number that you come up with is, in inches, a good approximate width (For example, if your room measures 10 feet x 15 feet, add 10 + 15 to get 25. A 25″ wide fixture would be appropriate for this space.) For rooms with high ceilings, you can add up to 6″ or more to the width of the chandelier.
To determine a good height for your light fixture, multiply the height of your ceiling (in feet) by 2.5 and by 3. The height of your fixture should be, in inches, somewhere in this range. (For example, if you have 8 foot ceilings, 8 x 2.5 = 20 and 8 x 3 = 24. An appropriate height for your light fixture would be between 20″ and 24″ when measured from the ceiling to the bottom of the fixture).
An overhead fixture that will be walked under, such as in the entry, should hang 7 feet or more above the floor.
Rugs: What Size Rug Should I Buy
If you're trying to figure out the best size rug for your space, these tips should help you figure it out…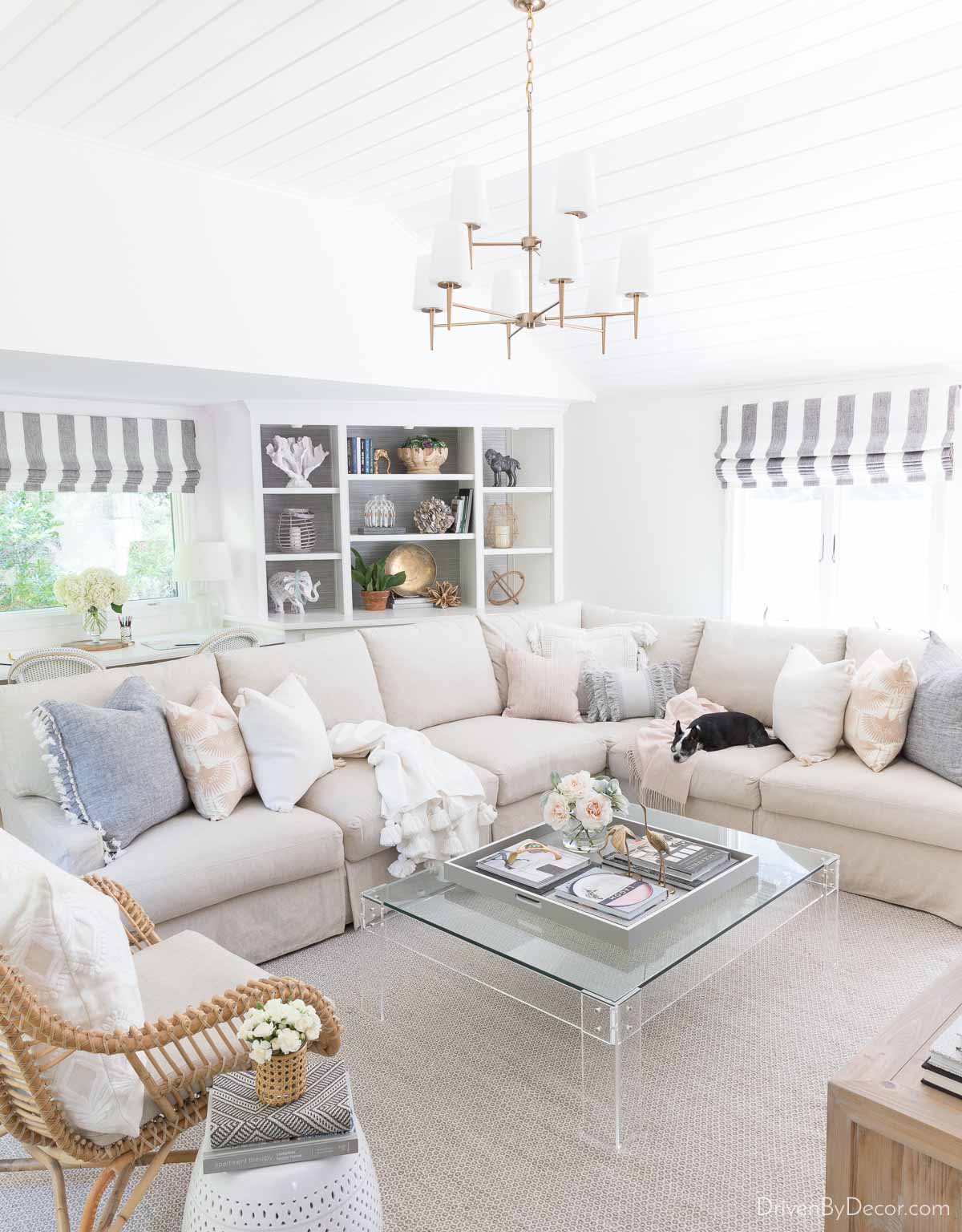 Rugs under a dining room table should be at least 24-30″ wider and longer than the table, allowing the back legs of the chairs to stay on the rug even when the chairs are pushed out.
Area rugs under a bed should extend at least 18-24″ beyond each side of the bed. For small bedrooms with a king bed, an 8 x 10 rug is usually best (with the longer 10′ side running in the same direction as the headboard) but if your bedroom is larger, a 9 x 12 can work too. For most rooms with a queen bed, an 8 x 10 rug is going to work best.
For most typically sized rooms, there should be approximately 12″ – 18″ of bare floor between the edges of the area rug and the walls of the room. For small rooms, approximately 8″ of exposed floor is a good rule of thumb.
The last two (and maybe most important) rules:
Take a few minutes to consider these measurements before purchasing drapes, lighting, or rugs – it may help you avoid making a purchase you'll later regret. However….
Don't be afraid to break the rules! The rules are meant to help you, not to squash your creativity or the fun of decorating. If you've tried something with a room that doesn't fit with these measurement "rules" but looks and feels right to you, go for it!  Some of the most gorgeously designed rooms break every rule in the book!