Hi guys! I've put together another handy guide in my must-have tips series for you – this one's all about lighting. So if you're wondering how high to hang a chandelier over your dining room table, what size lampshade will best fit your lamp, or how high to hang sconces and kitchen pendants, this post should help you out!
What size lamps and lampshades should I choose?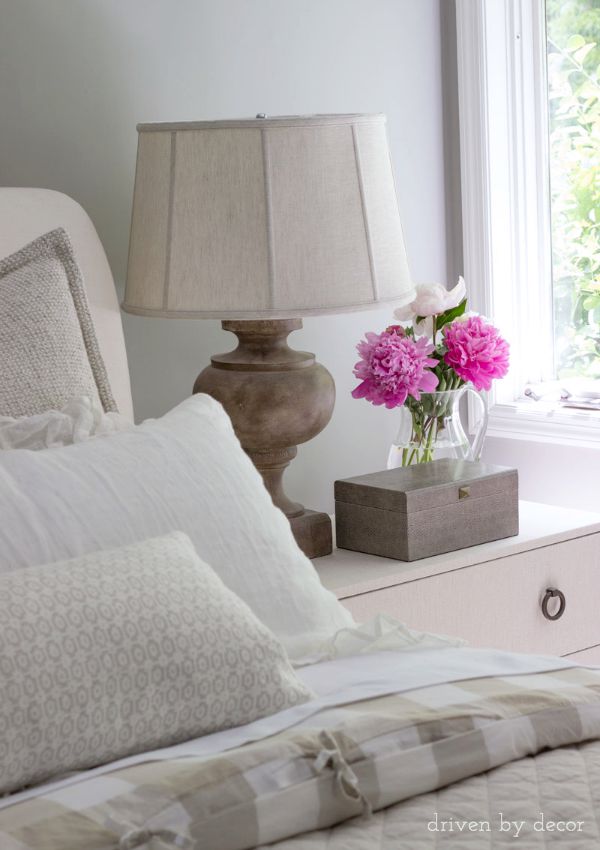 When choosing a table lamp for a nightstand or end table, the bottom of the shade should be just below eye level when you're sitting next to it.
There are a few good rules of thumb for choosing a lampshade that's a good fit for your table lamp:

Your lampshade should be about 2/3 the height of your lamp base. Make sure the lamp's harp and bulb socket aren't visible – if they are, you either need a taller lampshade or a smaller harp.
A lampshade that's about twice the width/diameter of your lamp base (at it's widest point) is typically a good size. Another helpful tip is that the bottom diameter of your lampshade should be within about 2″ of the height of your lamp base (measured from the bottom of the lamp to the bulb socket).
How high and far apart should I hang sconces?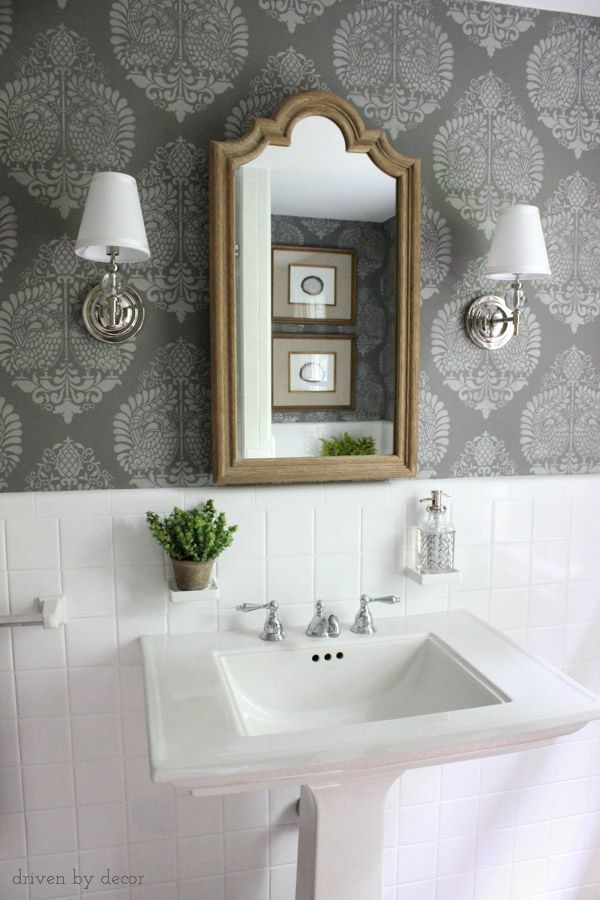 There's really no one "right" height to hang wall sconces since it depends so much upon where they're being used (flanking a mirror in the bathroom, next to your bed, etc.). The most important rule is to hang sconces so that the bulb is not visible when you are sitting (bedroom) or standing (bathroom) next to them.

In bathrooms where sconces are being used to illuminate your face, mount the sconces at about eye level.  In our bathroom, this meant that the distance from the floor to the center of the back plate is about 62″.
The standard recommendation for how far apart to mount sconces flanking a bathroom mirror is 36″ – 40″ apart but a lot depends upon the width of your mirror (and the position of the wall studs may also play a role). Our bathroom mirror is fairly narrow so our sconces are hung 33″ apart. Trust your eye on this one!
If you're using swing-arm sconces in a bedroom, the ideal height to mount them depends upon the position you're usually in when using them (i.e. do you read laying down or sitting up). A good trick is to get in your normal reading position, and measure from the floor to just above shoulder height – this measurement is a good mounting height for your sconces. Sconces can also be mounted over the headboard so that the light shines down over your shoulder much like overhead lighting.
What's the best size chandelier for my space and how high should I hang it above the table?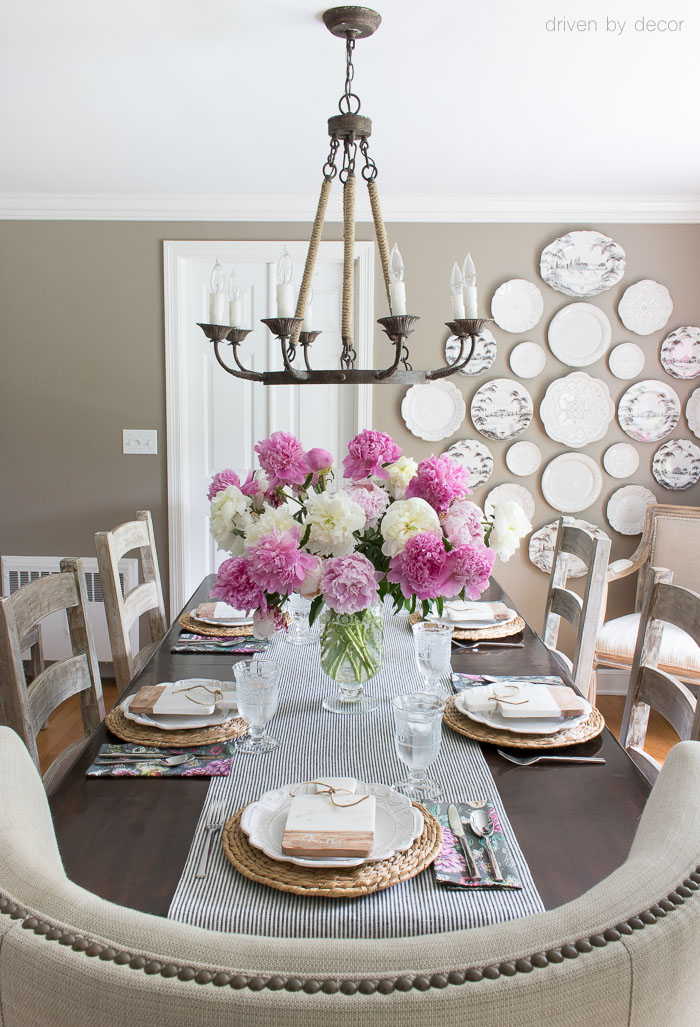 The width of the chandelier should be about 1/2 to 2/3 the width of the table it will be hanging over. It should also be at least 12″ less than than the width of your table so that you don't bump it with your head when getting in or out of your seat.
The bottom of the chandelier should hang between 30″ – 34″ above the surface of the table when there is an 8′ ceiling. For higher ceilings, you can hang the chandelier up to 3″ higher for each additional foot of ceiling.
If you have a smaller chandelier that takes up 1/4 or less the width of the table or if you have an extremely long table, consider two identical chandeliers spaced evenly from each other and the ends of the table. 
What about kitchen pendants?
When hanging pendants over a kitchen island, ideally the bottom of the shade shouldn't hang lower than the tallest person in your house – you don't want your lighting to block views across the kitchen. This generally translates to hanging pendants between 30″-36″ above the countertop.
There are no hard and fast rules to how far apart pendants should be placed over an island but a common practice is to space them out equally. For example, if you're hanging two pendants over an island that's 60″ long, hang the pendants each 20″ in from the end so that they're also 20″ apart from each other. Whatever you decide about placement, make sure that the end pendants are at least 12-15″ in from the ends of the island.
And remember that the #1 rule is to not let these rules keep you from trying something different – sometimes breaking the rules results in something fabulous! Use these helpful tips as a starting point and then trust your eye – it's always the best guide.
Did you miss any of my other must-have tips posts? Check them out here:
I'll see you guys later in the week!