I wanted to organize our walk-in closet with a great closet system – something a little nicer than ClosetMaid but less expensive than The Container Store's ELFA system.  I ended up choosing IKEA's PAX closet / wardrobe system and am so happy with my choice! It's been a few years since my husband and I installed it so we've had time to put it to the test – today I'm sharing my honest review of it including the good, the bad, and the ugly.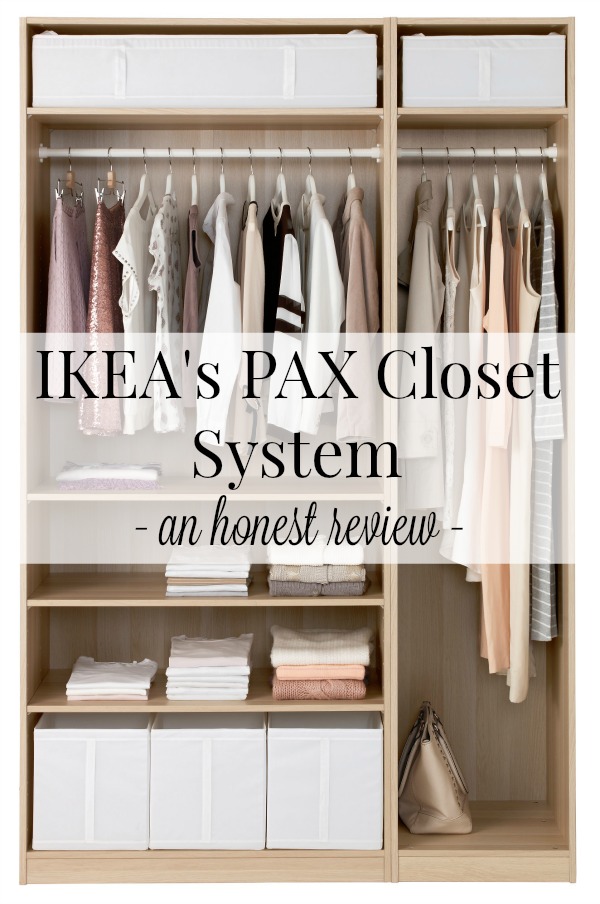 First off – a quick tour: the size and layout of our closet is such that three 39″ wide PAX wardrobe frames lined up end-to-end perfectly fit the space along the far wall, leaving just a few inches between each end and the wall. On the wall to the right when you enter the closet is a fourth 39″ wide PAX unit.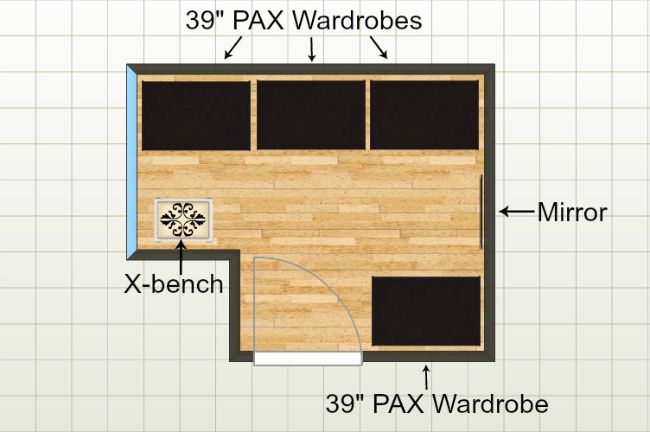 Unlike in the layout pic, the three PAX frames on the long wall are connected together with no gaps in between (unfortunately, without a wide angle lens, I can't get a pic of them all together):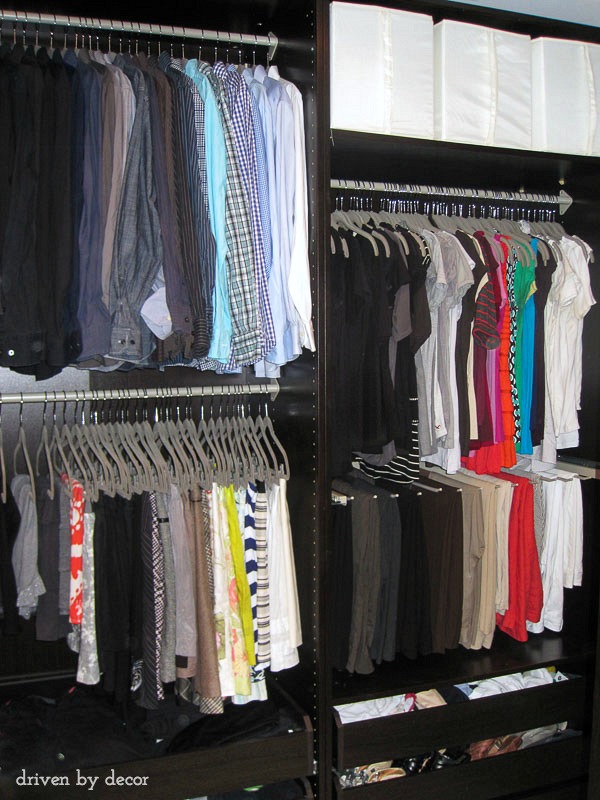 IKEA currently has three different PAX wardrobe colors to choose from: white, black-brown, and white stained oak effect. We went with black-brown since we have a similar colored vanity in the master bathroom that our closet is off of.  There are lots of options for customizing the interior of the PAX wardrobe frames – the accessories that we included in our design are:
*KOMPLEMENT clothes rails for our hanging clothes (they also sell the clothes rails in white):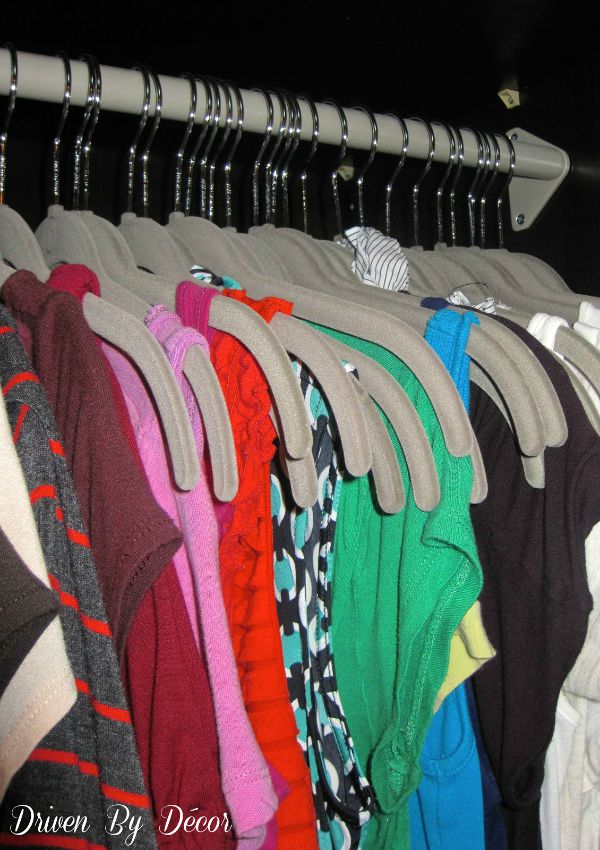 *KOMPLEMENT pull-out pants hangers (they also sell the pants hangers in white):
*KOMPLEMENT shoe organizer (Update!: IKEA has replaced this type of shoe organizer with pull out shoe shelves and trays)
*KOMPLEMENT drawers (which are now also offered with clear fronts as an option)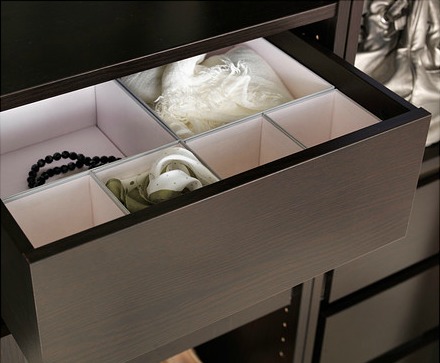 *KOMPLEMENT wire basket (UPDATE: These are no longer available)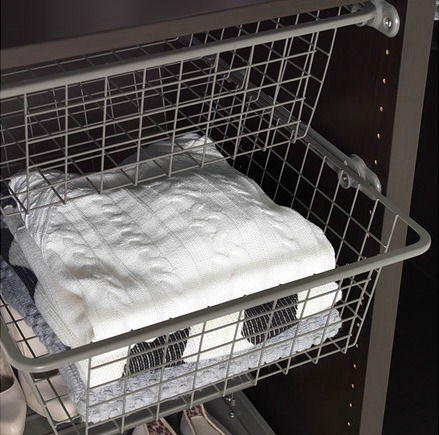 *SKUBB boxes in white – three of them placed side by side perfectly fit a 39″ wardrobe frame. As you can see, they have front handles that make it easy to pull them down from a high shelf.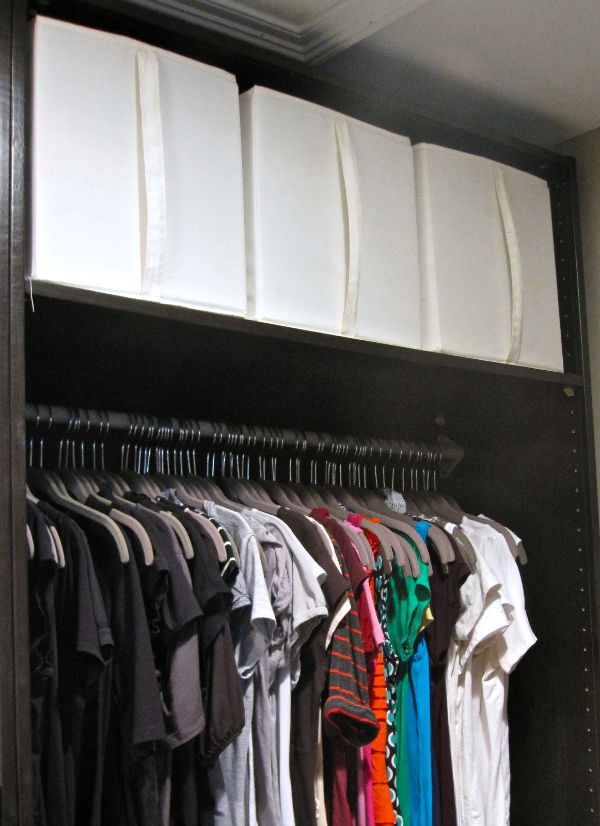 We also have a full-length mirror on the far right wall (the older version of the HEMNES mirror in black-brown)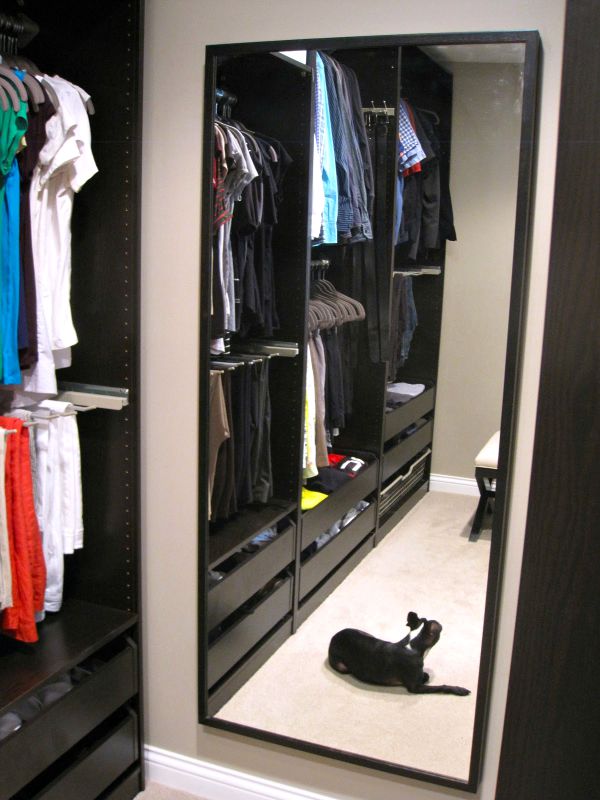 as well as an x-bench (from HomeGoods) on the left side of the closet: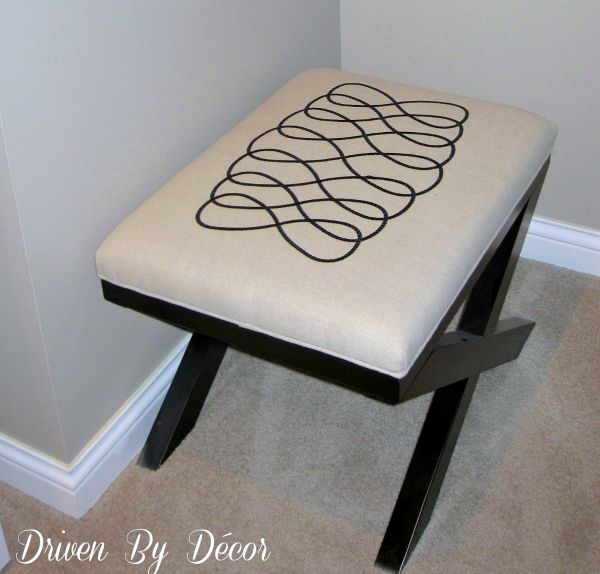 Now on to my review including the good, the bad, and the ugly of IKEA's PAX Closet System:


The Pros of IKEA's PAX Closets
*IKEA has a PAX Planner that allows you to create your dream closet online, providing you with the cost of your system and a printable list of the products you have chosen.
*The price of a custom PAX closet system is significantly less than most other custom closet systems including The Container's Store elfa system and California Closets' systems.
*It's not difficult to put the PAX wardrobes and interior accessories together – they come with instructions that I thought were pretty easy to follow and require no special tools.
*The units line up and connect to one another well (we were able to connect our three PAX frames so that there are no gaps or spaces between them and they appear to be one continuous unit) and they are very sturdy.
*The KOMPLEMENT wood drawers, shoe organizer, and pull-out pants hangers all come with a sturdy track on which these accessories can be easily and smoothly pushed in and pulled out.  They all seem very sturdy and well made.  I'm also happy with the SKUBB storage boxes and love how the three boxes fit perfectly on the shelf for storage.
*I think that the finished closet system has an attractive, custom, high-end look.


The Cons of IKEA's PAX Closets
*While the PAX closet system is easy to assemble, it requires two people and takes quite a bit of time for a large closet.
*The PAX wardrobe frames come in only three sizes – in most cases, you can create a combination of sizes that will work for your space but you most likely won't end up with a fully wall-to-wall system.
*The PAX system only works well for walk-in closets (it's generally not feasible to use inside your typical two-door closet).
*The wardrobe frames are made of particleboard so if you put a ding in them during assembly, the laminate could chip off (although we did not have this problem).
*The KOMPLEMENT wire basket/drawer is horrible – it comes with a totally different type of track than the KOMPLEMENT wood drawers and is very hard to slide in and out.  Also, it comes off of the track if pulled out too far.  I would recommend paying the extra money for the wood drawers. (UPDATE: Apparently IKEA agreed since they no longer cell these drawers)
*While I love my KOMPLEMENT shoe organizer, there isn't a lot of space between the rows of shoes so I can't use if for any of my shoes with big heels (Update! As noted above, IKEA now has shoe shelves and trays which seem like they would work much better!)
Overall, my husband and I are very happy with our PAX closet system and would choose to use it again in another home (even though I don't relish the thought of spending hours and hours putting another one together…). I'd love to hear your experience if you have a PAX closet system or wardrobe and see if it's the same as mine!