It's with a mix of pure excitement and pure terror that I'm jumping in alongside 19 amazing designers & bloggers to tackle a 6-week room makeover as part of this spring's One Room Challenge! If you're new to Driven by Decor, welcome! Our family moved to Connecticut about three years ago and we now live in a 60+ year-old classic New England home that we're slowly renovating and making our own. Thanks to past One Room Challenges, I've already transformed our guest room,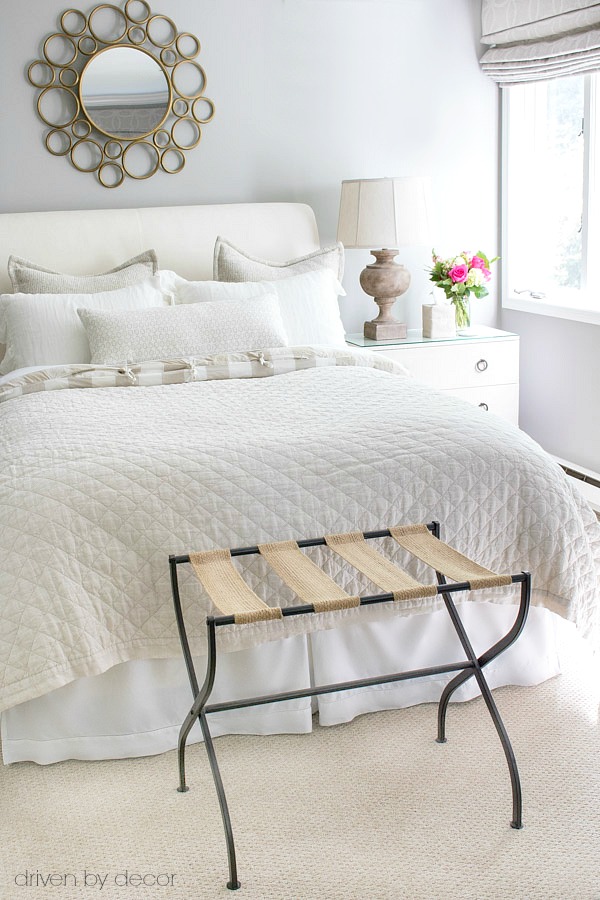 our powder room (the stenciling of those walls almost did me in!),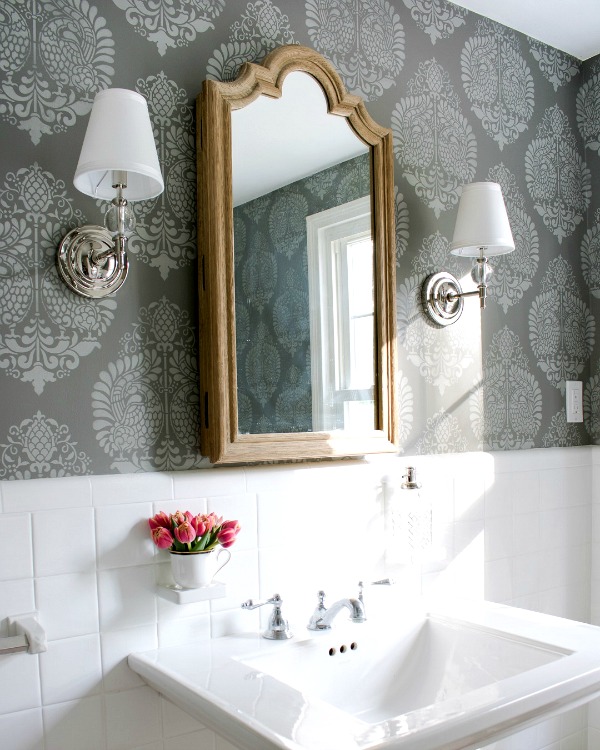 my youngest daughter's bedroom, and my teen daughter's bedroom: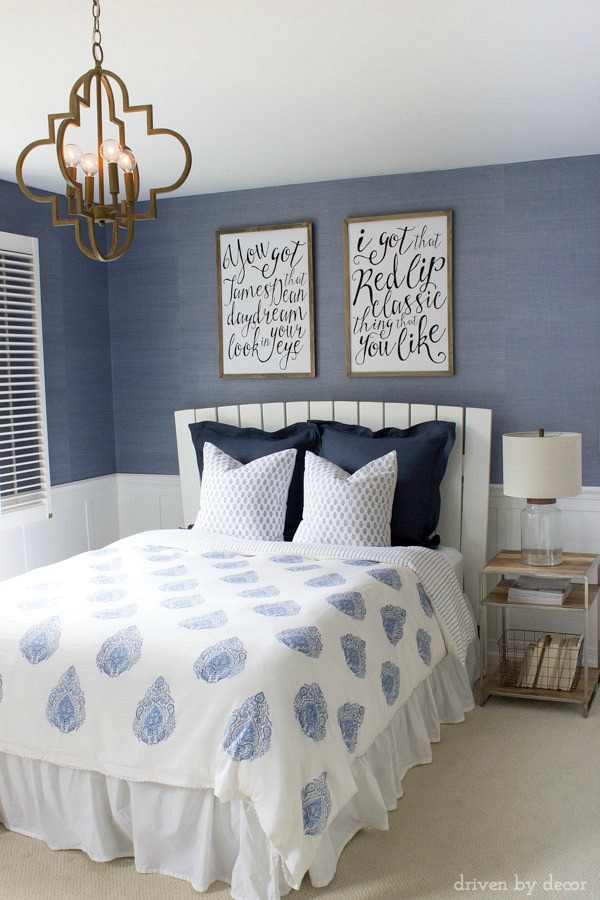 but we still have a few rooms that are pretty much untouched and in need of some extreme TLC, including our master bedroom.
Before I scare you away with the frightening "before" pics of the space, let's check out my plan for it:
I'd love for our bedroom to be a cozy, restful space so I'm planning to incorporate a lot of neutrals (no surprise to those of you who already know my style, right?) but also use different textures to keep it interesting. And on the practical side, I've got a few ideas up my sleeve for adding some much-needed storage space to the room.
I'm pretty sure that anything will be an improvement from what we're starting out with – you know how sometimes people share their "before" pics and they look better than a lot of other people's "afters"? This isn't one of those times….shield your eyes and get ready to enter our super scary master bedroom: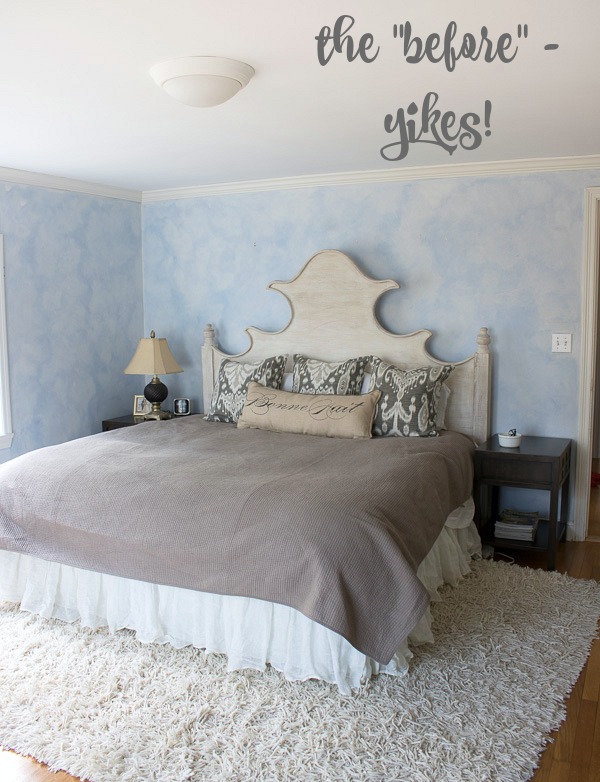 Those sky blue faux finished walls are pretty special, aren't they?! They're going to be the very first thing to go. Unfortunately the walls are plaster and they're in pretty bad shape so the whole room would need to be skim coated before moving ahead with painting or wallpaper. I did that to our dining room and it was the most hateful job ever so instead of going that route I'm simply going to cover the walls with faux shiplap paneling: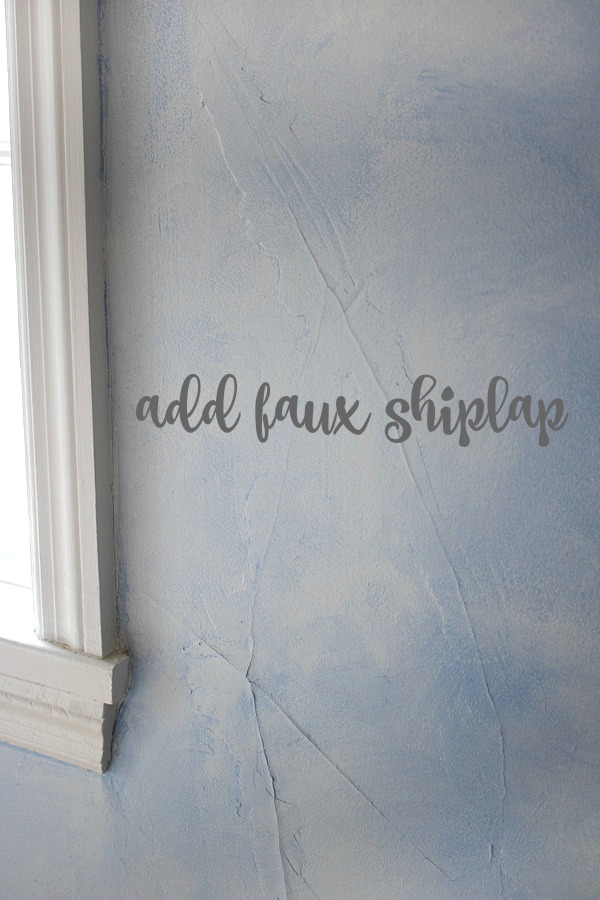 I stole the lamps from this room to use in our living room so we need new lighting on each side of the bed along with new nightstands that will fit in the teeny 18″ of space we've got (the ones there now are turned to their sides to make them fit – classy, right?).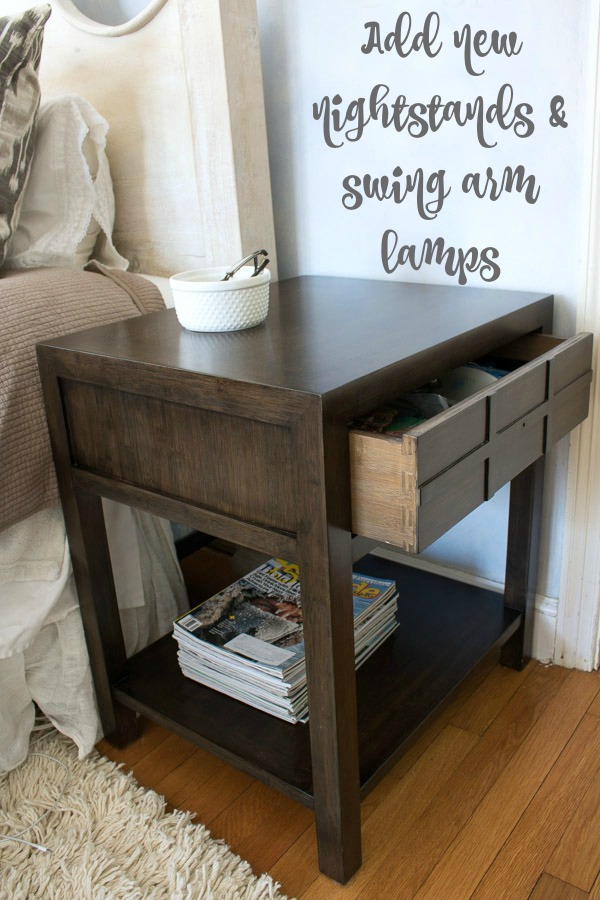 And I seriously can't wait to get a new overhead light. The dome light that's there now is only one step down on the heinous hierarchy from the dreaded boob light! Our house has low ceilings (only 7 1/2 feet) so I'm going to stick with a flush mount.
The chair in the corner of our room is one of the few things staying but the fabric is old and yellowed so I'm going to have it reupholstered in a charcoal buffalo check fabric from McGee & Co. that I love. I'll also be bringing in some fabric with drapes that will help soften the space: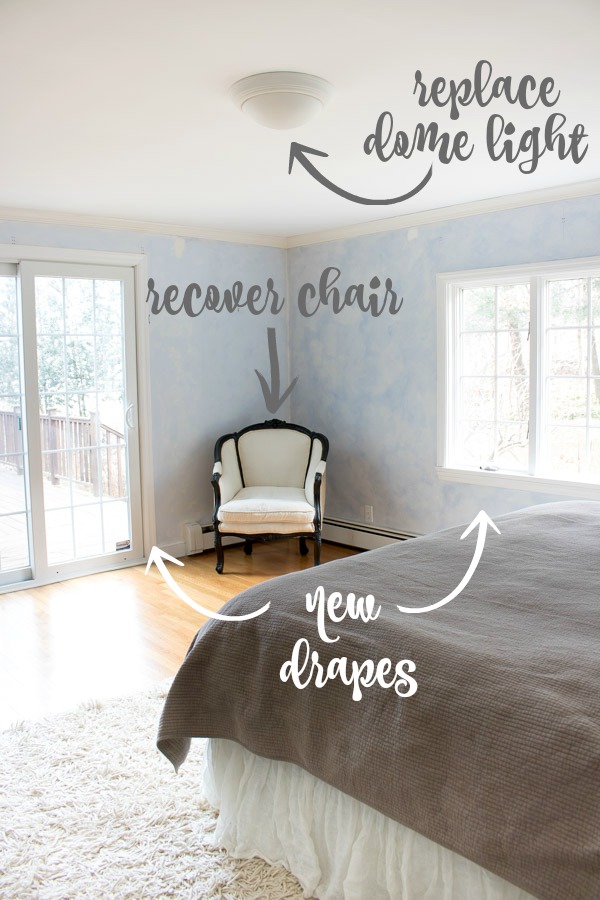 Our bedroom dresser is either going to get painted or replaced and I'm planning to add an art wall above it: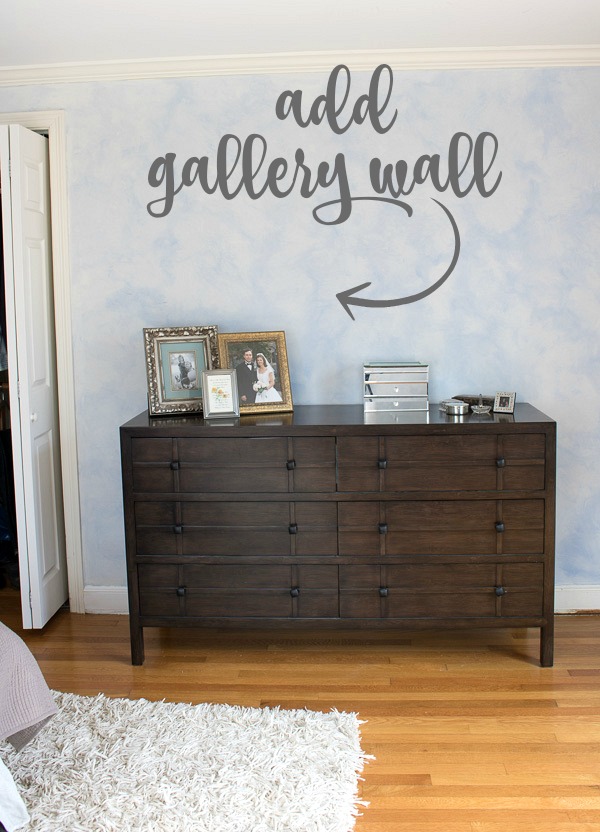 And finally…the it-drives-me-nuts closet. When you have an older house like we do, closet space is at a premium (this is the only closet on our entire first floor) so I'm planning to remove the doors and tear down the divider between the two openings to open it up and make everything inside a lot more accessible than it currently is: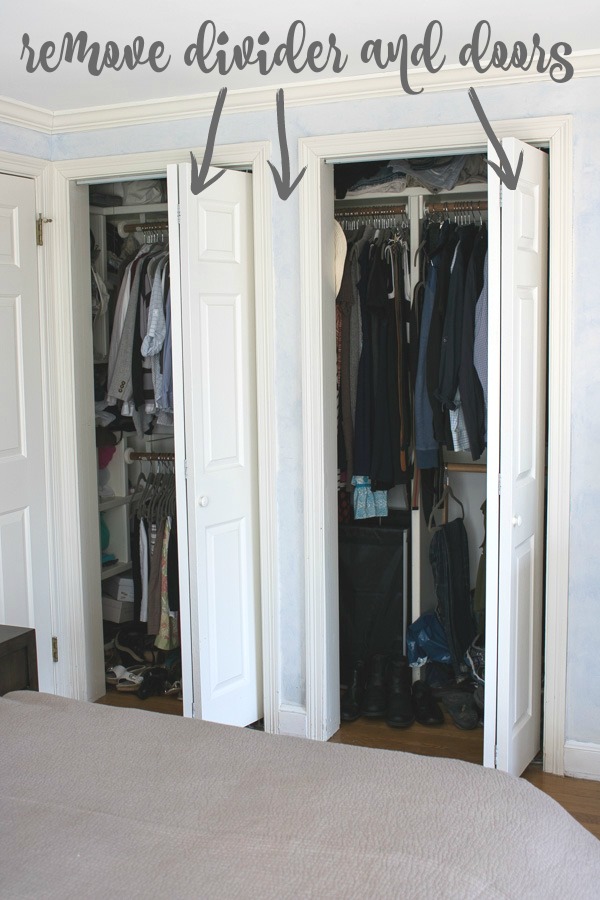 Instead of closet doors, I'm planning to use drapes – these closets from the home of Brooke Giannetti are great inspiration for closet door drapes done right: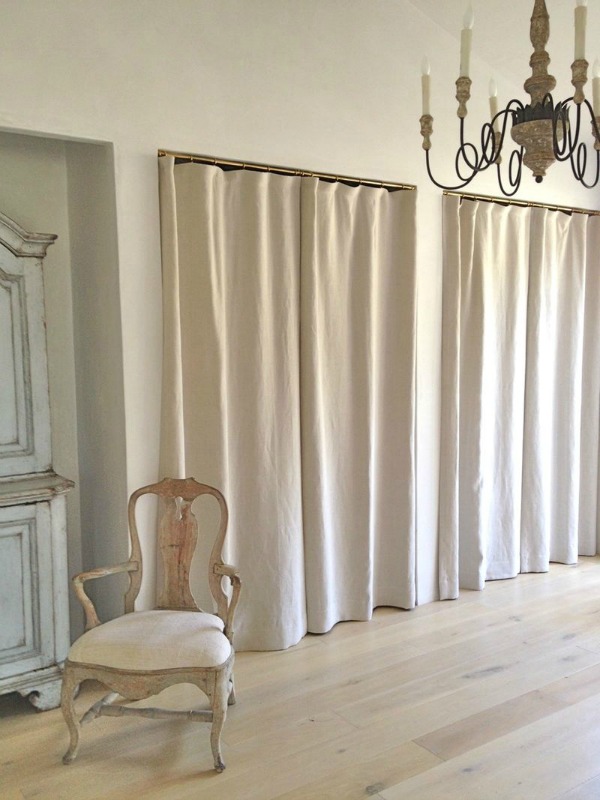 Wish me luck with the shiplap and check back in next Wednesday when (fingers-crossed) I'll have it up on the wall, a paint color picked out (Farrow & Ball's All White is the leading contender), and my fabric plans firmed up! In the meantime, I'll be posting my progress on Instagram so come on over and follow along there too!
Now it's time to visit the other designers & bloggers in the One Room Challenge and check out their makeover plans – I can't wait to see what they're all up to! Linda at Calling it Home has assembled such a fun, talented group:
XO,

Many thanks to the sponsors of my One Room Challenge room who have generously donated products to help me knock this baby out:
Decorators Best | Farrow & Ball | Joss & Main | Lamps Plus | Lowe's | Minted | Rugs USA | Studio McGee