Are you all familiar with Darryl Carter? I wasn't until about two years ago – I had been unsuccessfully shopping for a large storage piece for my dining room for months and had decided to give Thomasville a try. As I walked towards the back of the store, my eyes landed on this beauty and the decorating angels began to sing….
Certain that this china chest was well beyond my budget, I walked with dread over to the price tag – it was on major clearance – I almost fainted. It turns out that this china chest was part of a collection designed by Darryl Carter for Thomasville.  Thomasville had discontinued the collection and was clearancing out all of their remaining floor model pieces. Not only did I end up with the china cabinet of my dreams for a fraction of the original cost, but I also bought two of Darryl Carter's Wessex Wing Chairs (also on clearance) for the ends of my dining room table:
Update: Here they are at home in our dining room at Christmastime: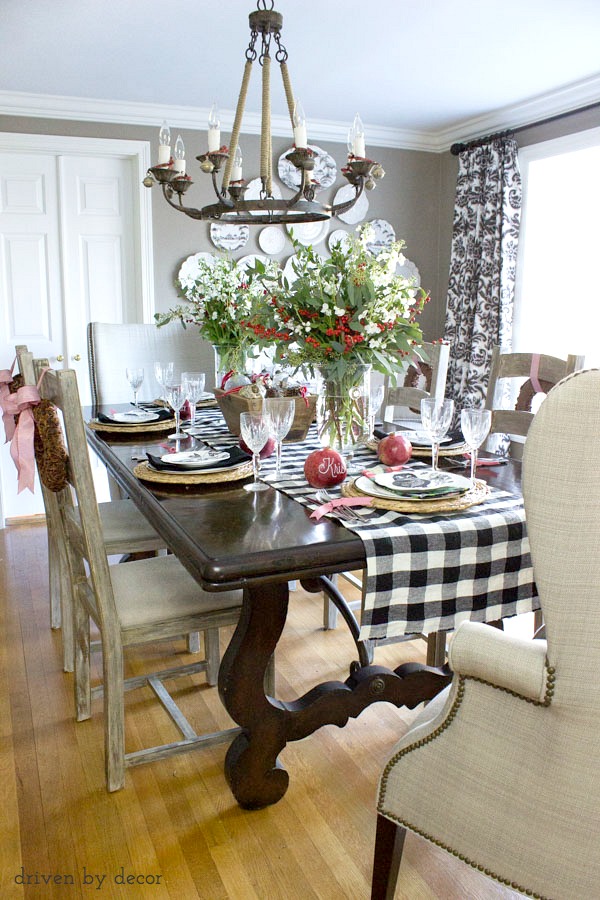 My salesperson gave me a brochure showing all of Darryl Carter's Thomasville collection and I was dying over each and every piece. After I got home, I googled Darryl Carter to see some of his work and completely fell in love with his designs.  He is known for his use of a neutral palette, rarely veering away from using a shade of white on his walls and decorating his rooms with shades of white, black, gray, and taupe. His style is classic and timeless but he incorporates some modern elements to give them a fresh feel.  To see for yourself, check out his gorgeous D.C. townhouse, this charming Virginia farmhouse, and this beautiful home in Pennsylvania.
It's my awe over all of Darryl Carter's gorgeous interiors that has me excited to see what is offered through his Tastemaker Tag Sale, which starts at 11am EST this Wednesday on One Kings Lane. His Tastemaker Tag sale is going to include a curated selection of antiques along with upholstered pieces from his newly designed collection. I have no doubt that the sale will be filled amazing things.  And unlike Kelly Wearstler's One Kings Lane Sale last week, which I loved browsing through but didn't see any "have to have" pieces for my home, I'm pretty sure the Darryl Carter sale will require lots of self restraint to not jump on that "buy" button!  Check it out and let me know what you think!