Hope you all had a wonderful weekend! I don't know what the weather was like in your neck of the woods but it was hotter and more summery feeling here than it has been in weeks. No complaining from me – winter is sneaking up on us so I'll gladly soak up as many sunshine filled days as come my way until then.
While I spent most of the weekend goofing off, I did finish up a project in our living room and am loving the change it's made to this space. You may remember that when you walk into our living room, the back of one of our slipcovered swivel chairs is facing you. It's not ideal but it's the best furniture arrangement for this long and narrow room. I was feeling the need to soften things up and bring in some more pattern and had the idea of draping a throw or runner over the back of the chair to do just that. After spending a few weeks looking for one that worked in my space, I came up empty-handed but then I found this great Nate Berkus fabric at Calico Corner (unfortunately it's no longer available) and decided that with a few added touches, it could work beautifully in my room. So with one yard of fabric and little DIY to add white knotted fringe, the backs of both of my swivel chairs are now sporting a new look!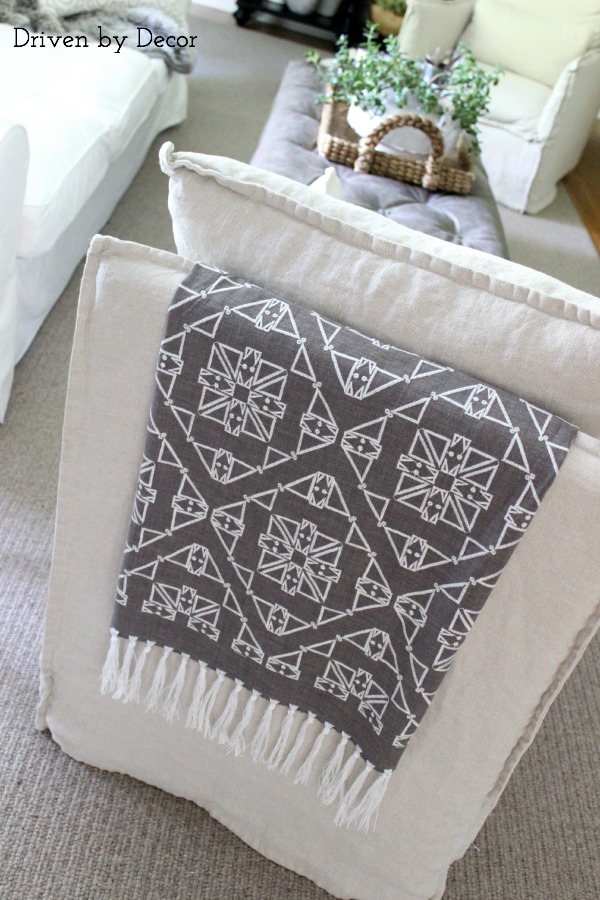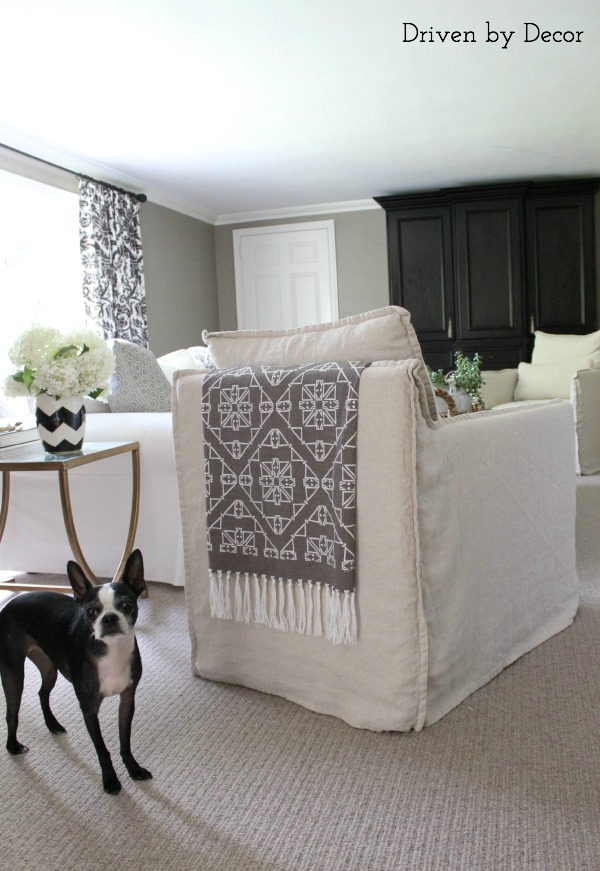 It was simple to do (no machine sewing needed) and would be a great use for a fabric remnant since not much yardage is needed. For my two chairs, I used a total of one yard of fabric, four balls of this pearl cotton thread in white (you could also use embroidery floss), a needle with a large enough eye for your thread/floss (having a needle threader helps too), and scissors.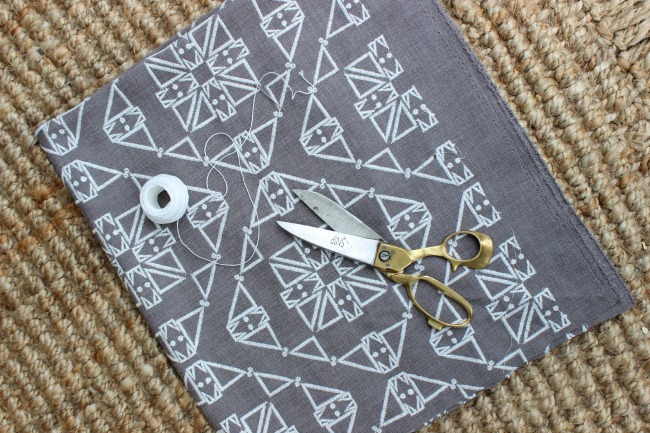 The fabric that I used has a solid grey border with an unfinished looking edge along the sides. I loved the slightly worn look of it and wanted to use it as my bottom edge so I cut my yard of fabric up the middle, turning one 55″ x 36″ yard of fabric into two 27.5″ x 36″ pieces. (If the look of a more unfinished edge isn't for you, you could fold it under and sew a tailored edge.)
I then draped my piece of fabric over the back of the chair (with pieces of the left and right sides of the fabric folded under) and adjusted the width until it looked about right to me (the width I went with was about 17-18″). Since I was working with a patterned fabric, I also made sure the pattern was centered. I marked the left and right edges (of where the fabric is folded under) with pins – this is where I started and stopped my fringe.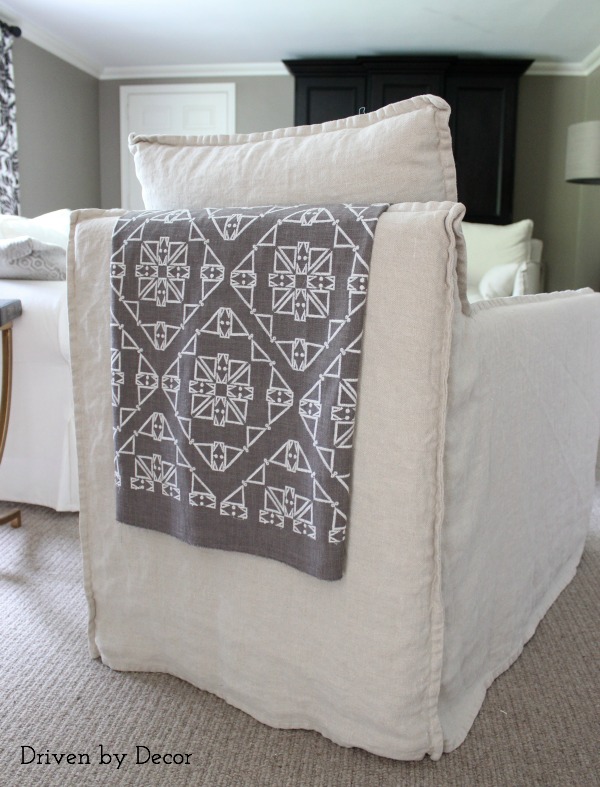 Adding the fringe to the bottom edge is a good TV watching DIY. I'm guessing that it took about two hours to add the fringe to each of my fabric pieces (four hours total) but it was pretty painless since I did it a little bit at a time as I was watching TV over several nights. To make the fringe:
(1) Cut about 14 feet of thread/floss and thread your needle. Starting near the edge of the fabric at the location you marked with your pin, thread your floss through the fabric
(2) Pull all of the floss through except the last 7-8″.
(3) Thread your needle through the fabric again to the side of (and close to) the first spot it was threaded through.
(4) Pull all of the remaining floss through except a loop that's about 7-8″ long. Repeat these steps until you've threaded your needle through the fabric ten times, leaving a 7-8″ loop each time.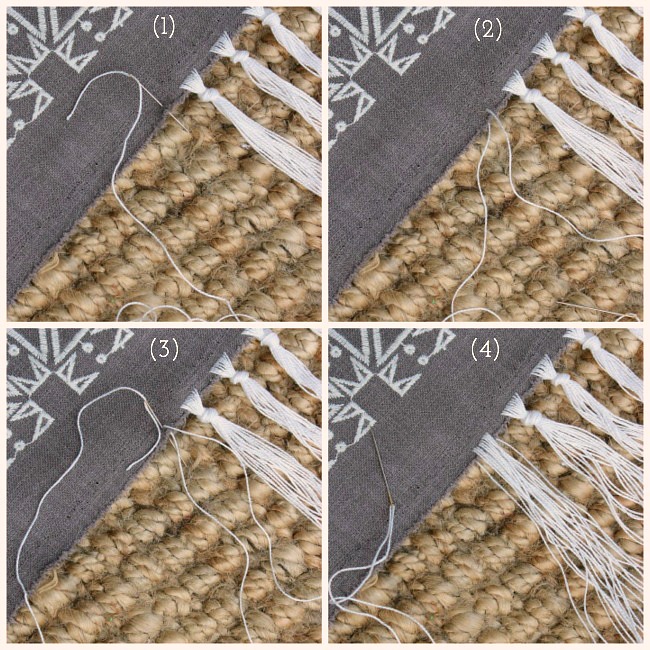 Then cut the loops of floss at the base along with the last piece of floss that was threaded through.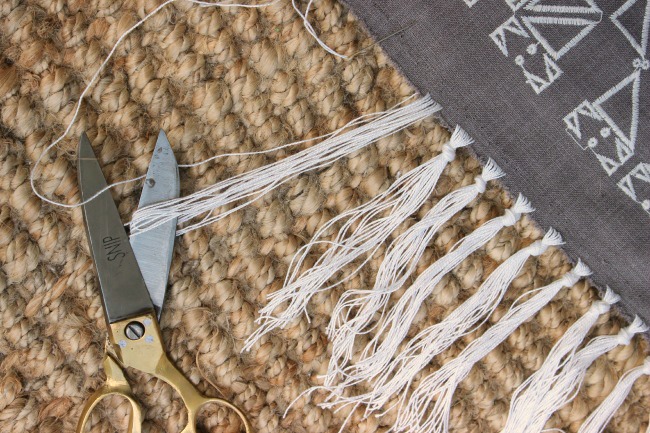 Make your knot by taking all of your pieces of thread, looping them through to make a knot, and then pulling the knot tight at the top.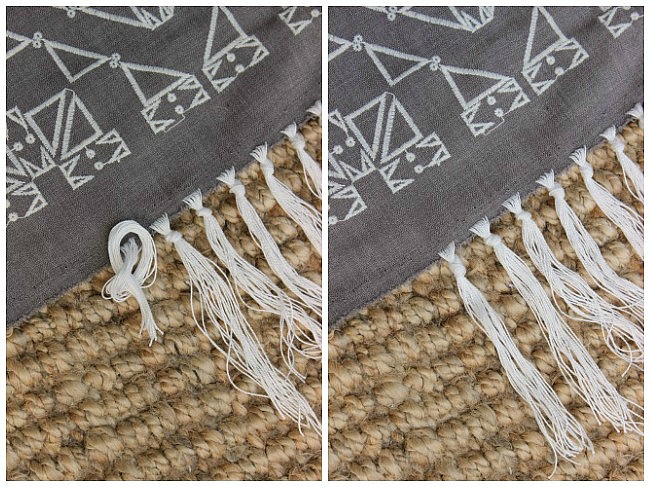 Repeat for each piece of knotted fringe, moving 1/2″ down the fabric edge before starting each new piece of fringe. Continue until you get to the point marked by your second pin. My finished piece looked like this – the last piece of fringe at each end is where I folded the left and right sides of the fabric underneath when draping it over the chair. The unfinished fabric edges won't show so there's no need to sew them.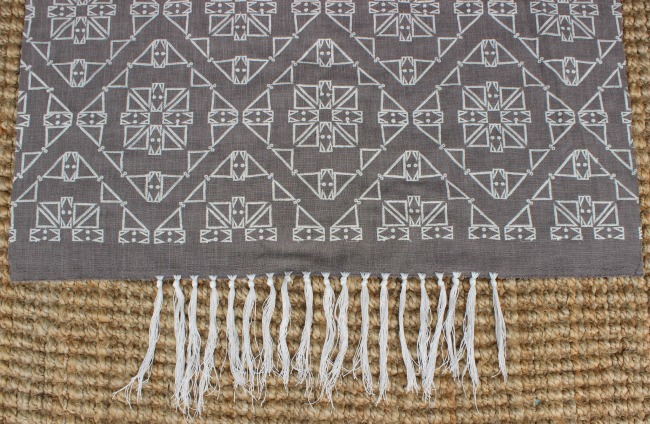 The final step after draping your fringed fabric over your chair back is to give the fringe a little haircut so that all of the fringed tassels are about the same length (I cut mine to about 5″ long).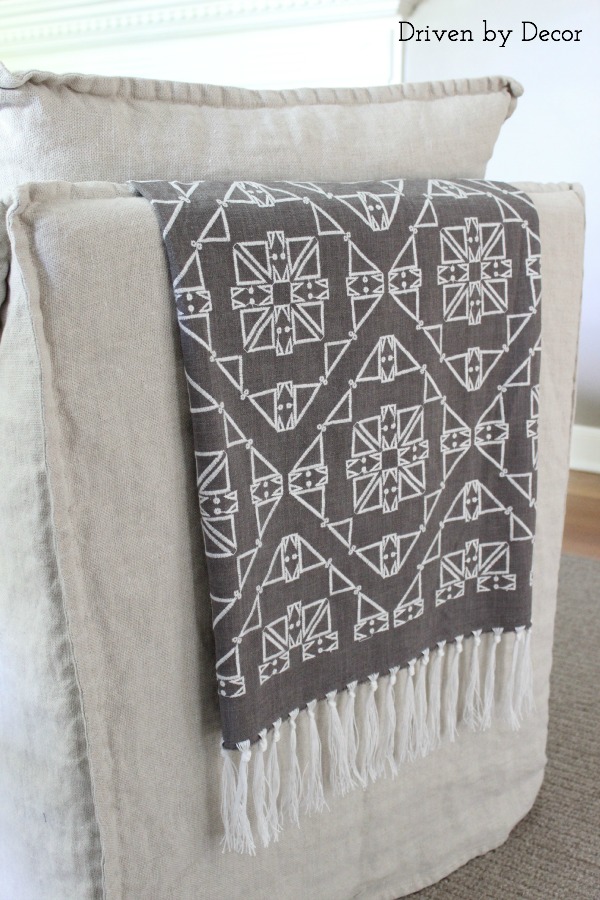 The top part of the fabric is hidden behind the back cushion of my chair so you can't tell that it has an unfinished edge or that it ends a few inches down. The fabric seems to stay pretty securely in place on the chair but if I find that it's starting to shift around, I'll pin it in place behind the back cushion.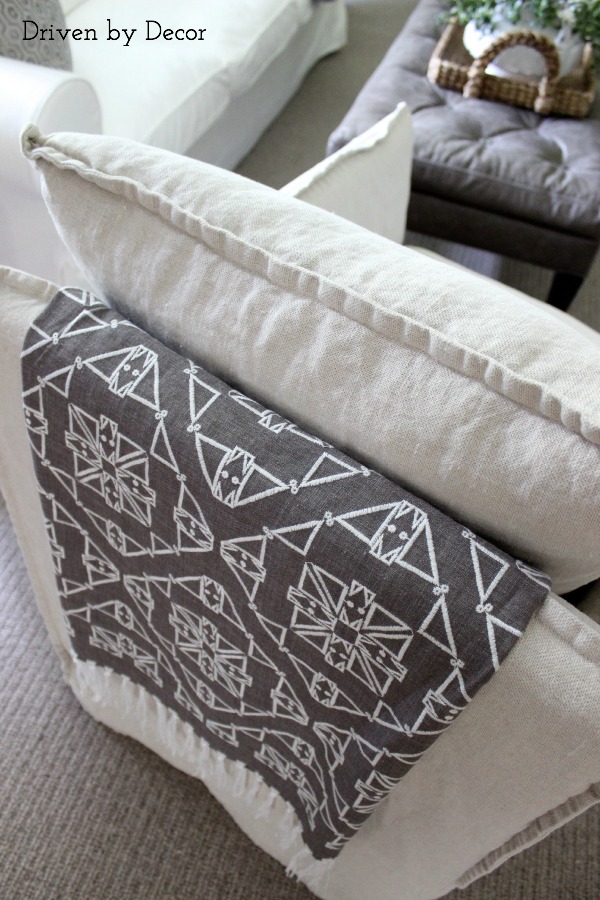 And while you can't see the back of the other swivel chair as you walk in the room, you can see it as you walk out of our family room (which is through the door you see at the far side of the room).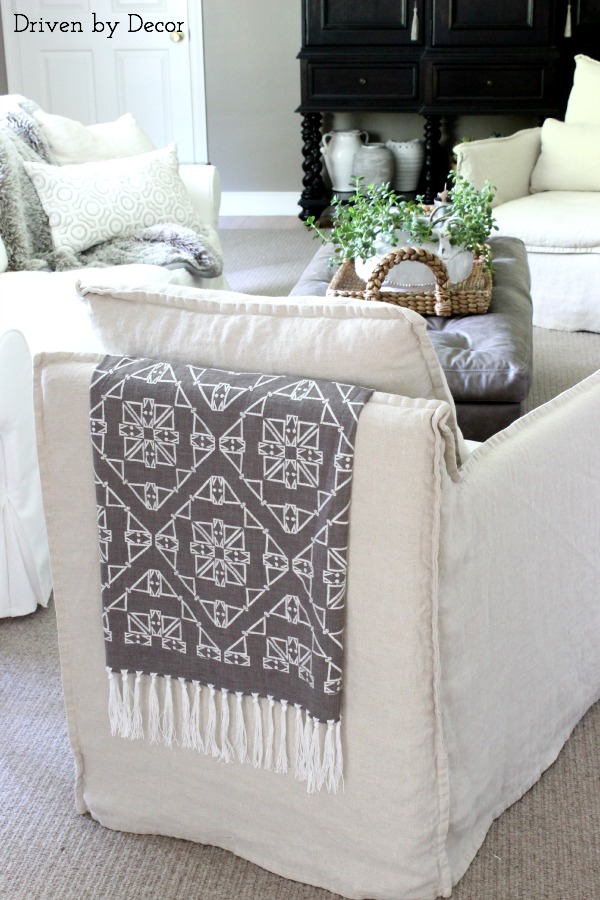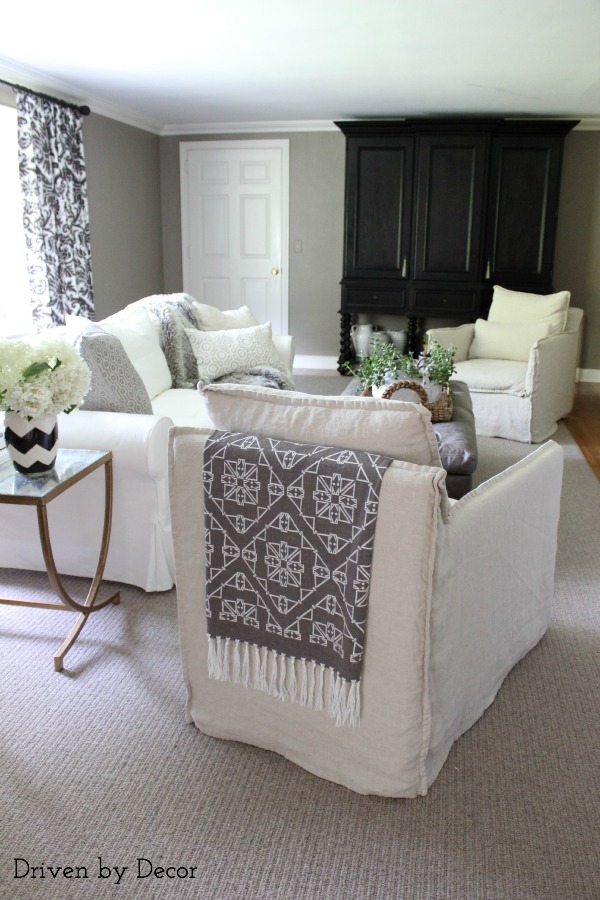 Doing the same thing for over the back of a couch (especially a couch positioned in a way that you often see the back of it) would be a great look too! And if you want something a little more decorative added to your fabric the DIY macrame fringe that I did on my table runner would be beautiful.
I've got a few other projects cooking in this room that I'll also share in the weeks to come. I'm hoping to knock them out before we hit the crazy busyness of the holidays (which will be here before we all know it…).  Hope you guys have a great start to the week!