Happy Friday my friends! One of the things I usually look forward to the most on the weekends is some downtime snuggling into the couch but after a week of having the plague along with a few snowbound days, I can't wait to get out and about. One stop I'd love to hit is Terrain – I've been dying to see their Valentine displays ever since seeing this amazing succulent heart garden on their online site: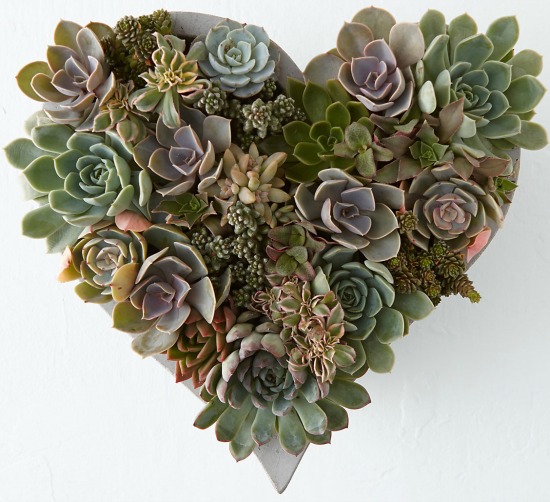 Luckily, Terrain has a Starbucks-like cafe that I can use to bribe the rest of the family to come along with me. If I find anything good there, I'll be sure to post a few pics on Instagram to share with you guys!
Hopefully you all got a chance to check out some of the great projects linked up to this month's Best of the Nest. If not, no worries because Jennifer, Pam, Becky, Lisa, and I picked some of our favorites to share with you today!
Tidbits & Twine – Guest Bathroom Makeover
Kim turned a builders-grade eyesore of a guest bathroom into a stunner that's going to make her guests never want to go home! The star of the show is the antique dresser that she converted into a vanity – so beautiful!

The Creativity Exchange – DIY Built-in Bar
Cyndy's new built-in bar has me rethinking every unused corner in my house – it's unbelievable how much style and function she added to this little corner in her dining room! Love!

Simple Stylings: DIY Faux Demijohn Bottle
You know those cool demijohn bottles that you normally have to shell out big bucks for? Summer created the same look with a $4. Yes, $4. Check out her post for more about her secret source!

Refresh Living – Birch Log Fireplace Screen
Jenny couldn't find a decent looking insulation screen for her drafty fireplace so she did what any girl with a brand spanking new table saw would do – she sliced up birch logs to create this draft-blocking beauty! Check out the easy how-to tutorial on her blog.

The Latina Next Door – Dining Chairs Before and After
Yami had six bargain Craigslist dining chairs that looked…well…we'll just say "dated" (you can see the "before" on her blog!). After painting them and recovering the seats, just look at how beautiful they are now!

Thanks so much to Becky at This Is Happiness for guest hosting with us this week! The two of us are going to get a chance to meet up at Round Top in Texas this March and I couldn't be more excited (more on that to come!).  Hope you all have a great weekend! Be sure you crank out a project between now and the last Friday of February when we'll be back for another Best of the Nest link-up party. 🙂